Executive Summary:
Myspace was a social media network that enabled users to create their own profile pages, engage in various forums, listen to music, and more.
Myspace failed because of rising competition, a poor and inconsistent product, heavy spending, as well as ongoing legal battles.
Launched in January 2004, the site became the world's leading social media platform. It was acquired for $580 million by News Corp in 2005 but eventually flamed out.
What Was Myspace?
Myspace was a social media platform that allowed its users to create web profile pages that highlighted their interest while connecting with other members.
Users on Myspace did often not use their real names (as opposed to Facebook), but rather a fictitious nickname.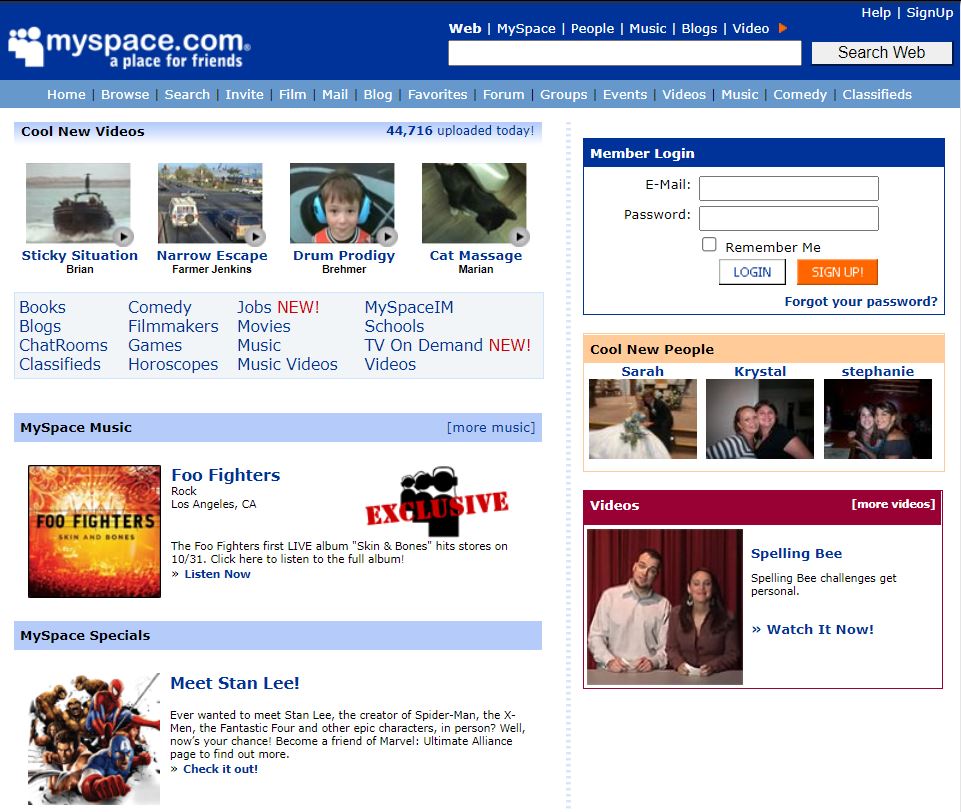 Apart from connecting with friends, members could also follow official accounts (predominantly those of musicians), publish blog posts, or engage in various forums.
In particular, Myspace was focused on promoting other musicians. It even had a dedicated section (called Myspace Music) that allowed users to listen to songs and share them with others.
Furthermore, in an effort to compete with the likes of Craigslist and YouTube, Myspace also added a classifieds and video section later on.
One of the main reasons why people loved Myspace was the fact that one could customize their profile using basic HTML and CSS commands.
These days, Myspace is tailored towards lifestyle content on movies and music while still leaning heavily on promoting artists.
In the coming section, we'll take a closer look at how the company came to be, its vast history, as well as its highs and lows.
What Happened To Myspace?
Myspace, formerly headquartered in Beverly Hills, California, was founded in August 2003 by Brad Greenspan, Chris DeWolfe, and Tom Anderson.
Chris DeWolfe used to run his own company, a marketing agency named ResponseBase, which he eventually sold to eUniverse. At eUniverse is where he ended up meeting Anderson and Greenspan, with the latter actually being his superior.
As a company, eUniverse was focused on selling physical products, ranging from bikes all the way to dietary pills, via the internet.
They were particularly skilled at building up an audience to advertise their products to, oftentimes using aggressive forms of online marketing such as email messaging and pop-up advertising. Over time, the team able to amass a massive email list of close to 20 million contacts.
A year prior, a new social network with the name of Friendster had burst into the internet scene and began taking the online world by storm.
Employees of eUniverse were starting to take notice and actually even began using the service themselves.
Seeing first-hand how influential social media can be, the team decided to rapidly code up their very own social network.
DeWolfe had actually purchased the Myspace.com domain back in 2002. In the beginning, he used it to sell $99 e-scooters.
After some internal beta testing, Myspace was eventually released to the public in January 2004. Apart from taking advantage of its massive 20-million-strong email list, the team also employed a few more growth hacks.
For instance, Friendster always tried to keep an extremely clean image and therefore removed any user who could potentially affect that. One of those users was reality TV star Tila Tequila who got kicked off of Friendster for violating their usage policies.
Myspace's team then recruited Tequila (as well as many other influencers) that got kicked off of Friendster and invited them to join their own platform.
Within a matter of months, Myspace grew from being internally beta-tested to millions in monthly users coming from all over the world. By November of that same year, over five million people were already registered on the platform.
Over the next coming months, Myspace continued to grow exponentially. Then, almost out of the blue, media conglomerate News Corp (now Fox Corporation), led by Rupert Murdoch, announced that it purchased Intermix (Myspace's parent company, which it rebranded to from eUniverse) for a whopping $580 million.
The astonishing price tag was made possible in part due to Myspace's rapid growth but also because other media conglomerates were interested in acquiring it. Viacom had been eyeing an acquisition to boost its flagging MTV channel.
Because News Corp did not possess any meaningful experience with running social media networks, it decided to place DeWolfe at the helm of the company, giving him the title of CEO. Tom Anderson would hold the role of president and be focused on all things software.
They, furthermore, received a generous bonus payment to keep them motivated to stay on and continue building the platform. By July of the next year (2006), Myspace had surpassed Google and Yahoo as the most-visited website in the United States. 60 of the 90 million users were U.S.-based.
Myspace also set up offices in countries like the United Kingdom and Germany to boost its local presence.
A month later, in August, Myspace struck one of the world's biggest-ever advertising deals with Google. The search giant committed to paying $900 million over the next three years in exchange for exclusive rights to provide web search results and sponsored links on the website.
The team used the clout that the network had built up to branch into other forms of media, for instance adding Myspace TV (a YouTube competitor) in June 2007.
Despite the platform's overwhelming success, cracks soon began to emerge. A month earlier, in May, eight U.S. attorney generals publicly announced that they had discovered thousands of known (and sometimes even convicted) sex offenders on Myspace as part of an internal investigation against the company.
The most prominent case against Myspace was that of Megan Meier, a 13-year-old girl from Missouri who committed suicide after being cyberbullied by Lori Drew, 49, who registered herself as a 16-year-old boy named Josh Evans.
Those ongoing lawsuits only added to the weakening image of Myspace. Parents did not want their children to be registered on a platform responsible for suicide and sexual abuse – all while teenagers didn't think it was cool enough to begin with.
Not only was Myspace riddled by annoying bugs, but its website was also essentially plastered with dodgy-looking advertising.
On the other hand, there was this up-and-coming platform that was free of ads and had managed to attract a predominantly young audience of teenagers and college attendees.
Its name? Facebook. Facebook's product was a lot easier to use, beautifully designed, and actually connected you with real people using their actual name.
In January 2008, a group of people even got together to declare the 30th 'International Delete Your MySpace Account Day', prompting others to get rid of their Myspace accounts and join other networks like Facebook instead.
In an effort to curb that negative development, Myspace introduced its very own developer platform, a response to Facebook's F8 (its platform for creating Facebook applications).
Facebook developers like Zynga (publisher of Farmville) were making bank, predominantly around their ability to create playable games on the platform. That, in turn, brought in even more (young) users.
By August 2008, Facebook finally overtook Myspace as the world's largest social media network. Its growth was predominantly came from other countries and regions, Europe in particular. In the United States, though, Myspace was able to maintain its leadership position – for the time being.
A month after being overtaken by Facebook on international soil, Myspace finally released its long-awaited Music product.
The product combined the music from three of the four major labels (Sony BMG, Universal Music Group, and Warner Music Group), allowing users to listen to and download music directly from the platform. Myspace invested a whopping $120 million to get it off the ground.
The launch of Myspace Music was supposed to user in a new era of collaboration among internet platforms and established media companies (who, for instance, had sued startups like Napster into oblivion), but ended up becoming a side note at best. Myspace Music was extremely buggy and, above all, almost impossible to find on the website.
Trying to salvage the sinking ship, News Corp decided to strip DeWolfe and Anderson of their leadership duties. Owen Van Natta, who had previously served as Facebook's Chief Operating Officer, was tasked with reviving the flinging social network.
His first public act of duty was to fire 30 percent of Myspace's staff, reducing the headcount from 1,000 to 700 people. Unfortunately, by that time, it was already too late. In June 2009, Facebook finally overtook Myspace in terms of user count in the United States.
Around the same time, Google's advertising deal with Myspace expired as well, leading to a decimation of the platform's revenue. Before too long, other platforms like Twitter began taking over Myspace as well.
Less than a year after joining the company, in February 2010, Van Natta already abandoned Myspace again. According to Ad Age, Van Natta grew increasingly frustrated with the firm's "slow pace of change" as well as "entrenched culture" – a death sentence to almost any company, let alone a supposedly innovative startup.
At the beginning of 2011, in January, Myspace (via News Corp) led go of another 600 employees, which was widely considered the final nail to its coffin. Then, in June of the same year, News Corp announced that it sold Myspace for a mere $35 million to Specific Media.
Over the next months, Myspace's new owner worked on completely rebranding the site. Instead of competing against the likes of Facebook and Twitter, the site's new focus was to be put solely towards music, namely discovering new artists and supporting their music.
Finally, in January 2013, Myspace relaunched with the help of Justin Timberlake. To celebrate the relaunch, Timberlake released a new single (his first since 2006) as well. Over the coming years, Myspace continued to simply exist without much public attention.
The platform popped back into headlines in February 2016 when Specific Media (now called Viant Technology) was acquired by Time Inc, thus changing ownership once again.
A few months later, in May, Myspace entered the news cycle once again. A hacker retrieved 427 million passwords that he/she then tried to sell off for a mere $2,800.
Then, in March 2019, news broke out again, stating that Myspace had accidentally deleted over 50 million digital files (including photos, songs, and videos) in a server migration. Almost all data up to 2015 was gone for good, marking an end to a meaningful internet era.
After a worldwide outage in October 2021, that took down Facebook and associated services like Instagram and WhatsApp, people around the globe posted memes and wishes about wanting Myspace to return.
Tom Anderson, who himself is rarely active on social media these days, had this to say about the outage:
gm – it wasn't me 😇

— Tom Anderson (@myspacetom) October 6, 2021
These days, Myspace is a mixture between a lifestyle news site (publishing content on music and film) as well as a social network promoting up-and-coming artists.
Meanwhile, copycat versions such as SpaceHey have since emerged and managed to attract millions of users.
Why Did Myspace Fail?
Myspace failed because of rising competition, a poor and inconsistent product, heavy spending, as well as ongoing legal battles.
Let's take a closer look at each of these in the section below.
Competition
One of the major factors why Myspace failed was the competition it faced – both within its home market of the United States as well as abroad.
Facebook started to burst onto the scene around 2005. Up until September 2006, Facebook was only available to college students and teens. After it opened itself up to the wider population, its growth literally exploded.
Another key reason for Facebook's rising popularity was the introduction of the news feed in late 2006.
While the feature was initially met with detest, it ultimately proved to be the key innovation that drove engagement on Facebook – and allowed it to become the world's most popular social network.
Furthermore, Myspace faced competition from many local social networks in the other countries it was operating in.
For instance, Bebo overtook Myspace in the UK in August 2007 (but eventually had to succumb to Facebook as well). Other social network competitors included sites like Hi5 or Google-owned Orkut.
Apart from Facebook, Twitter also quickly began to pick up some of its users after launching in July 2006.
And to make matters worse, a little music platform called Soundcloud snapped up Myspace's music-loving user base.
Product Quality
The competition only became relevant because the product experience that Myspace was offering was subpar at best.
For once, the Myspace website was just extremely hard to navigate. There were thousands of pages with limited or no content at all (apart from the ads, obviously).
Furthermore, Myspace was not only bombarding its users with tons of display ads, those ads also looked extremely spammy and sketchy.
Each member page would feature at least 3 and sometimes up to 5 adverts, which eventually became too distracting.
Remember what Sean Parker (founder of Napster) said in The Social Network when asked about ads: "Ads aren't cool; it's like you're throwing the best party on campus and someone's saying it's gotta be over by 11. This is no time to take your chips down. A million dollars isn't cool. You know what's cool?", adding ""A billion dollars. And that's where you're headed: a billion-dollar valuation. Unless you take bad advice."
It got so bad that they even had an ad called Punch The Monkey, which invited players to click on an animated monkey only to be redirected to credit cards and other offerings.
On top of that, the product lacked almost any sense of strategic direction. In an interview with The Guardian, Sean Percival (Myspace's Head of Marketing from 2009 to 2011) said the following:
"He made that statement, but as far as I was aware, no executives knew that was the directive. So everyone scurries around", he said. "And that's why we had things like MySpace Books. It's not because our users wanted to talk about books… But someone wanted to sponsor that. Someone was willing to pay us to build MySpace Books – HarperCollins – so we built it for $250,000 or $500,000. And those things were just rampant."
Last but not least, despite claiming to be a social network, Myspace was not that social at all.
For instance, members signed up for the platform using a nickname (whereas people on Facebook were incentivized to use their real name). This would lead to a substantial number of fake accounts, which dragged down the overall user experience.
In the end, there was no actual social graph connecting users to their actual friends and family, but instead to random strangers with potentially bad intentions.
Spending
Another major reason why Myspace failed was its hefty capital expenditure. For instance, the firm allegedly spent $120 million on the development and launch of Myspace Music.
At its peak, the company also employed over 1,000 people, therefore indicating high staff cost.
On top of that, Myspae had launched and operated local offices in a handful of countries like the UK and Germany – even before they were generating any meaningful revenue.
Additionally, News Corp, at least prior to the acquisition, did not realize that most of Myspace's userbase were teenagers, which means lower spending power and thus less earnings.
Once Myspace's deal with Google expired, more than 50 percent of the firm's revenue was evaporated overnight. In all fairness, though, News Corp likely recouped a majority of the cost as a result of the $900 million deal Myspace struck with Google.
In the end, News Corp (as a profit-driven public enterprise) was not able to justify clinging on to a loss-making business unit.
Legal Battles
A portion of those hefty expenditures had also to be committed to legal fees as a result of the various lawsuits the company found itself in.
For instance, in June 2006, a Texas woman filed a $30 million lawsuit after her 14-year-old daughter was sexually assaulted by someone on Myspace.
A couple of months later, a group of four families filed a class-action lawsuit, stating that their children were all subject to sexual abuse as well.
Apart from sexually motivated lawsuits, Myspace had to also fight multiple legal battles with regards to copyright infringements. The most prominent one was filed by Universal Music Group back in November 2006.
Those lawsuits eventually trickled back all the way to the product team. Every minor change implemented on the website was accompanied by a set of News Corp lawyers to ensure legal compliance.
This ultimately slowed down the speed at which decisions were made. In comparison, upstarts like Facebook were able to operate without any intervention, allowing them to churn out new features almost on a daily basis.
What Happened To Tom From Myspace?
Tom From Myspace, whose real name is Tom Anderson, was released from his role as president at Myspace in April 2009.
When Tom was released, he dabbled in a few advisory roles but did not stick around anywhere for too long.
Eventually, in 2011, after a visit to the Burning Man festival, he became entrenched in photography after seeing his friend Troy Ratcliff snap up some shots.
The event inspired Tom to travel the world and take gorgeous pictures while doing so. He documents most of that journey on his Instagram page.
Apart from traveling the world and taking shots, he also became a father of two children that he's now taking care of. That's what you call winning the game of life!
Who Owns Myspace?
Myspace is currently fully owned by Viant Technology Holding Inc. (formerly Specific Media), which acquired Myspace for $35 million from News Corp. in June 2011.
Viant itself was acquired by Time Inc in February 2016 for an undisclosed amount. Time Inc was then acquired by Meredith for $2.8 billion.
Therefore, in November 2019, Viant's founders Tim and Chris Vanderhook bought back the 60 percent they previously had sold to Time (from Meredith).
Those figures are only a fraction of what News Corp. initially paid for Myspace. The media conglomerate invested $580 million to acquire the platform back in July 2005.