Executive Summary:
Plus500 is an online trading company that specializes in the purchase and sale of contracts for difference.
Plus500 makes money via spreads on customer trades, overnight fees, currency conversion fees, as well as inactivity fees.
Founded in 2008, the company has grown to become one of the world's leading contracts for difference providers. It subsequently went public in July 2013.
What Is Plus500?
Plus500 is a FinTech company that allows its users to buy and sell contracts for difference (CFDs) on its online trading platform.
A CFD is a contract between two parties (normally a trader and online brokerage) to trade on the difference between the opening and closing price.
If the closing price is higher than the opening price, then the seller of the contract (in this case Plus500) will pay the buyer the difference, which is his or her profit. Likewise, the buyer will have to pay the seller if the closing price is lower.
As such, CFDs are very risky financial products. Online brokerages offering these types of products are obligated by law to disclose the riskiness of trading CFDs with any given provider.

According to its website, Plus500 offers CFDs on over 2,000 financial instruments, including indices, shares, forex, cryptocurrencies, exchange-traded funds (ETFs), options, and more.
Apart from offering various trading options, Plus500 also provides its users with a variety of features that aid their trading efforts. For instance, users can receive price alerts, consume its news section, or use Plus500's economic calendar to keep up with certain events.
Plus500 can be accessed by visiting the platform's website or by downloading its mobile applications (available on Android and iOS devices).
Plus500 Company History
Plus500, headquartered in Haifa, Israel, was founded in 2008 by Gal Haber, Alon Gonen, Elad Ben-Izhak, Shlomi Weizmann, Omer Elazari, and Shimon Sofer.
Gonen is widely considered to be the brains behind the launch of Plus500. After graduating from Technion Institute of Technology, he went on to launch Interlogic which operated the Play65 backgammon website.
In 2007, he exited the business for $10 million. He used some of that money to make financial bets, amongst others into CFDs.
Back then, IG Group was one of the leading providers in the space but offered an overall poor users experience and astronomically high fees.
Knowing how to build software products, Gonen decided to venture out on his own again. He recruited the other five founders, whom he either met in high school or at university, to complement his skillsets. On top of that, he invested $400,000 of his own money.
After a year of work, they unveiled Plus500 to the public in 2009 as a desktop-only application for Windows. To be able to accommodate MacOS and Linux users, the team decided to furthermore introduce a browser version, which was unveiled a year later.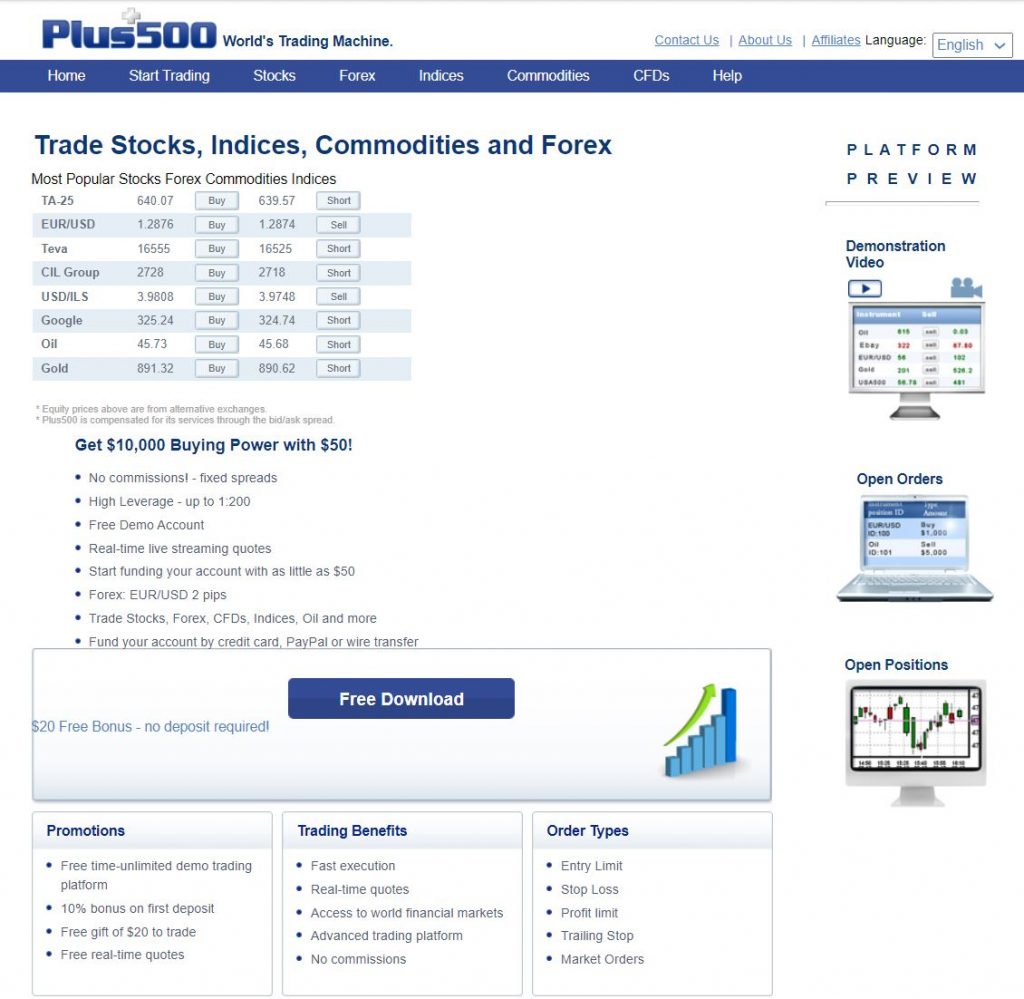 Plus500 continued to gobble up market share from its competition. By 2011, more than two million transactions were conducted on its platform every month. That same year, the team added an Android and iOS app to capitalize on that growth.
The continuous growth allowed Plus500 to eventually become a public company. In July 2013, the firm was listed on the London Stock Exchange while raising $75 million in the process (of which $25 million went into the company while the rest was used to buy out existing investors).
During the next two years, revenues and user counts continued to grow at a steady clip. Unfortunately, not every jurisdiction was in accordance with that growth.
In 2015, the British Financial Conduct Authority (FCA) ordered Plus500 to freeze its customers' accounts. The probe was the result of an ongoing money-laundering investigation in which the financial watchdog found major shortcomings in the manner in which Plus500 collect its clients' proof of residence and financial position.
While Plus500 began to severely struggle, others saw the window of opportunity being wide open. Playtech Plc, an online gambling company led by Israeli high-tech billionaire Teddy Sagi, made a $703 million bid to acquire the company (Sagi had previously purchased 10 percent of Plus500's shares to drive the price down).
The offer represented a rough 50 percent decline in valuation from the firm's all-time high. Despite the severe decline, the founding team went on to accept the bid. But as fortune would have it, the deal eventually fell through. In November 2015, both companies announced that they failed to receive the necessary FCA approval and therefore had to call the deal off.
Instead, the founders offloaded some of the shares themselves, selling around 13 percent of the company for a combined £100.75 million. The sale preluded more severe regulatory clampdowns on the CFD industry as a whole.
In December 2017, the European Securities and Markets Authority (ESMA) announced stricter regulations on CFD products, for instance limiting the amount of exposure a trader can take on or adding the previously stated disclosures to the top of their websites.
Despite those increased regulatory hurdles, 2017 actually became Plus500's most successful year. Retail investors flocked to the platform as a result of Brexit as well as the cryptocurrency craze that send Bitcoin to $20,000 (Plus500, next to eToro, was one of the first to introduce crypto trading back in 2013). Close to 250,000 clients joined the platform that year alone.
Plus500's growth in European users was furthermore aided by its various sponsorship efforts. For instance, in 2015, it had signed a jersey sponsorship deal with Atletico Madrid, one of Spain's (and Europe's) leading football clubs.
Unfortunately, Plus500 continued to face legal battles with regulators across Europe and beyond. In 2019, ESMA imposed further regulatory measures on the company, putting a severe dent in the firm's revenue.
Luckily, the next year allowed the company to bounce back in an impressive fashion. As the coronavirus pandemic (as well as subsequent government stimulus checks) forced people to quarantine at home, many of them decided to use their free time to invest in the capital markets.
Plus500 became a major beneficiary of that development. Even though the firm's CEO Asaf Elimelech resigned after four years of service in April 2020, Plus500 was still able to increase profits fourfold (from $189.3 million pre-tax in 2019 to $523.3 million in 2020).
Today, more than 500 people are employed by Plus500 which operates offices in various locations, including Israel as well as the United States.
How Does Plus500 Make Money?
Plus500 makes money via spreads, overnight fees, currency conversion fees, as well as inactivity fees.
Let's take a closer look at each of these in the section below.
Spread
The majority of the income that Plus500 generates comes from the spread that it applies to its customers' trades.
A spread is essentially the difference between the bid (sell price) and ask (buy price) for any given financial asset the user trades in.
For instance, if the user buys a CFD share for $10, then Plus500 may end up charging the user $10.02 – the difference, namely $0.02, is where the company turns a profit.
Plus500 derives those prices from various third-party market data providers as well as exchanges.
It has to furthermore be emphasized that Plus500 turns a profit whenever a user ends up losing money on a trade.
For example, a trader can purchase a CFD, speculating that the price of Tesla shares will rise. If the price ends up falling, the trader will have to pay the difference between the price when he opened and closed his or her position (hence the name contract for difference).
On the other hand, Plus500 will have to compensate the trader should his or her bet be correct. Interestingly enough, the company has lost money from customer traders for the past few years.
In all likeliness, that figure is driven by a small number of highly sophisticated traders while the vast majority on the platform still ends up losing money.
Overnight Fees
Like many other CFD trading platforms, Plus500 charges an overnight fee to allow users to maintain their contracts/positions.
The overnight fee is a quasi-interest payment on the leverage that traders take on. With CFDs, traders pay an overnight fee whenever they hold a buy (long) position overnight.
The overnight fee that a user ends up paying is dependent on a variety of factors, including the trade's size, the day's closing rate, and more.
Currency Conversion Fees
Another fee that Plus500 applies is the so-called currency conversion fee. These fees are charged whenever a user trades in a currency that is different from the one registered in his or her account.
Currency conversion fees can be as high as 0.7 percent of the trade's realized net profit and loss. Percentage points vary depending on the currency they're being exchanged in.
Inactivity Fees
Lastly, Plus500 applies an inactivity fee of up to $10 per month for accounts that have not been active for the past three months.
Inactivity fees are charged once per month once the three-month threshold is reached. Consequently, the fee is nullified once the user logs in again.
The fee is applied to the user's existing account balance, meaning it won't be deducted from his or her bank account or credit card.
Plus500 Funding, Revenue & Valuation
According to Crunchbase, Plus500 has raised a total of $152 million in one post-IPO equity funding round.
On top of that, the company had raised another $75 million when it went public on the London Stock Exchange back in July 2013.
Plus500's market capitalization is currently at around $1.35 billion. For the fiscal year 2020, Plus500 generated revenues of $872.5 million, up more than twice from the year prior ($354.5 million).