Executive Summary:
CNN+ was a premium streaming service from the namesake news station that could be accessed by paying a subscription fee.
CNN+ failed because of low subscriber numbers, extensive cost projections, a change in leadership, competition, and shifting strategic goals at Warner Bros. Discovery.
What Is CNN+?
CNN+ (spelled CNN Plus) was a premium streaming service that could be accessed by paying a subscription fee.
The service offered various price packages on a monthly and yearly basis. Early customers could soon up for a promotional monthly price of $2.99, which would remain throughout their membership.
Viewers could access dozens of original TV shows, documentaries, and movies. CNN also created dedicated shows for the platform, such as:
The Murdochs: Empire of Influence
The Land of the Giants: Titans of Tech
No Mercy / No Malice with Scott Galloway
… and many more. However, it has to be noted that regular CNN news programming was not available on the platform due to a lack of rights.
One of the unique features of CNN+ was the Interview Club where viewers could forward their own questions to the show's hosts.
The streaming service could be accessed by visiting its website or by downloading the CNN+ app (available on Android and iOS) as well as smart devices such as the Amazon TV or Roku.
CNN+ was shut down weeks after it launched in late March 2022. How it came to be and what ultimately led to its rather quick demise will be covered in the next few chapters.
What Happened To CNN+?
The launch of CNN+, despite being very short-lived, has been years in the making. In fact, it wasn't even the first time CNN tried its hand at a premium subscription service.
Back in 2005, the news network launched CNN Pipeline, which provided users with an ad-free experience of CNN news videos (if they paid a small monthly fee).
However, after 18 months, CNN discontinued the offering. Over the coming years, it had a front-row seat to consumers that began to cut their cords.
For example, in 2015, the United States had around 100 million households paying for TV. Seven years later, that number had shrunk to 76 million.
The single biggest reason for the decline in TV subscribers is the proliferation of streaming platforms. Netflix, Disney, Apple, Amazon, and others have invested tens of billions to create content that keeps customers glued to their screens.
Additionally, competing news networks had already launched premium streaming services themselves. Most notably, FOX News' Fox Nation had been made available since 2018 to anyone wanting an ad-free experience.
CNN, despite those developments, was still raking in over $1 billion in profits on an annual basis (2021). Nevertheless, the writing was plastered all over the wall – and didn't bode well for traditional TV networks.
After months of rumblings, then-AT&T CEO John Stankey confirmed in June 2021 that CNN was indeed working on a premium streaming service.
A month later, on July 19th, 2021, CNN's representatives officially announced that a streaming product was in the works. The platform was helmed by CNN president Jeff Zucker.
Alongside the announcement, CNN disclosed that it intended to hire around 450 people to get the service off the ground. The intention behind CNN+ was to serve "CNN superfans, news junkies and fans of quality non-fiction programming," the company said during the unveiling of the streaming service.
Meanwhile, CNN's executives were busy getting the streaming service developed. Simultaneously, its parent company Warner Media (which was bought by AT&T for $85 billion while it was still called Time Warner) was in the process of merging with Discovery in a deal worth $43 billion.
Over the coming months, its executives signed on a variety of talent to the service, tested out different price points, and started producing shows for the launch day. CNN remained mostly secretive about the streaming service to continue influencing the narrative.
Unfortunately, not everything was always going according to plan. In February 2022, CNN chief Jeff Zucker stepped down from his role after he failed to disclose an office romance. His replacement became Chris Licht who had spent decades as a producer for shows such as "The Late Show with Stephen Colbert," among others.
Representatives from CNN+, despite the void in leadership, announced a month later (early March 2022) that the service would launch on March 29th, 2022.
In order to entice customers to sign up, it offered a lifetime membership that would lock them in at a price point of $2.99 per month. Anyone that signed up after that offer would pay $5.99 per month.
Additionally, CNN made sure to recruit the network's best and brightest. Its streaming service would include exclusive content from beloved news anchors such as Anderson Cooper or Don Lemon, on top of many other TV personalities.
Despite the fact that the launch date was only weeks away, there were still many things left to be done. Most notably, CNN struggled to sign all necessary distribution deals. For example, the streaming service only landed on Roku over a week after being launched, which severely impacted adoption.
CNN+, in spite of those issues, went full steam ahead. After months of development, it finally debuted as expected on March 29th. The first show that aired on CNN+ was 5 Things with Kate Bolduan, a daily morning show explicitly developed for the service.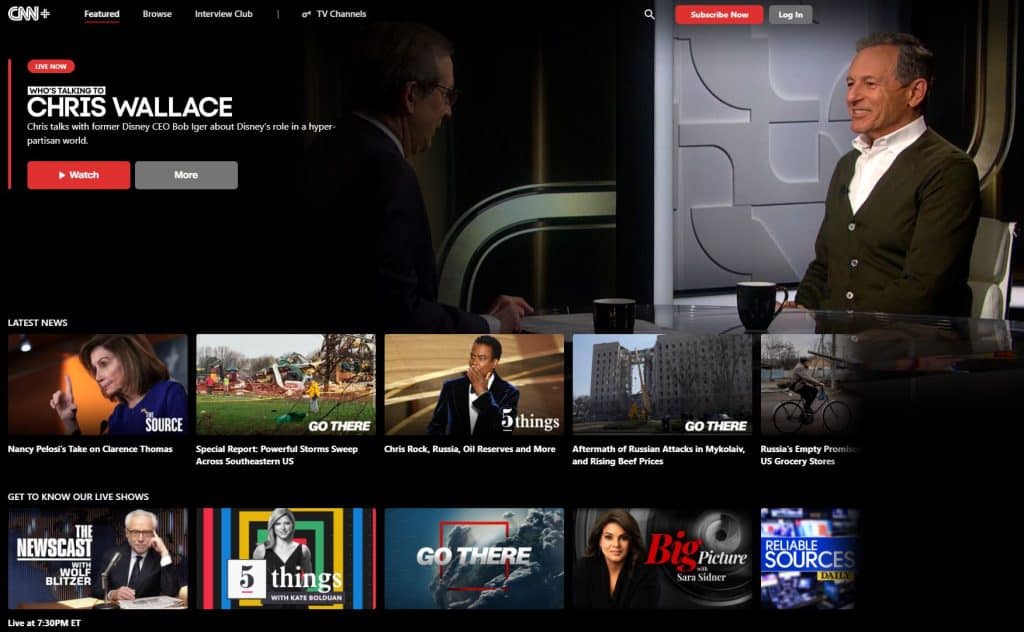 CNN even decided to sell the first five seconds of the show as a non-fungible token (NFT) via Vault by CNN, an NFT marketplace that offers digital collectibles of major moments in the firm's illustrious history.
Unfortunately, the sentiment was almost exclusively negative right out of the gate. Less than a week after CNN+ launched, reports began to culminate that the streaming platform struggled to attract subscribers. CNBC, for instance, reported that a mere 10,000 people were accessing the platform on a daily basis.
Warner Media and Discovery, while CNN execs were struggling to get their new streaming platform established, had just completed their merger in early April 2022. The merger, furthermore, enabled Discovery execs to access data (such as subscriber numbers, costs, etc.) about CNN+, which they were previously barred from.
And the new leadership didn't particularly like what it was seeing. CNN had already spent around $300 million to establish its streaming service, which only translated to about 150,000 total subscribers.
On April 19th, 2022, Axios dropped the bombshell news that Discovery had suspended all external marketing spending for CNN+. On top of that, it released its long-term Chief Financial Officer.
A mere two days later, Warner Bros. Discovery announced that it would shut down CNN+ by the end of the month (April 30th, 2022).
As a result of the shutdown, hundreds of staffers would be relieved of their duties effective immediately (with six months of severance). Luckily they were allowed to apply for other roles at CNN and Warner Bros. Discovery. On top of that, subscribers receive prorated refunds.
The sudden closure took many by surprise. After all, even failed media experiment Quibi 'only' shut down after seven months. However, it wasn't the last we heard of CNN+.
Weeks after the shutdown, Business Insider reported that the firm accidentally sent welcome baskets to employees who were laid off.
Others, like show host Chris Wallace, had a little more luck. He ultimately joined sister service HBO Max. Additionally, Discovery added the CNN Originals to its own streaming service (Discovery+) in August.
The final nail in the coffin took place a month later. In September, CNN laid off the streaming platform's remaining 20 staffers.
So, if you're curious why CNN+ was ultimately shut down, then keep your eyes glued to the screen for a few more minutes.
Why Did CNN+ Fail?
CNN+ failed because of low subscriber numbers, extensive cost projections, a change in leadership, competition, and shifting strategic goals at Warner Bros. Discovery.
As previously stated, it's been reported that CNN spent around $300 million to launch its streaming service. Executives at the firm projected that it would take a total of $1 billion to get to the minimum acceptable level of two million subscribers.
Warner Bros. Discovery CEO David Zazlav, alongside hundreds of other Discovery execs, didn't have access to CNN+ data due to the ongoing nature of the merger, which was completed in early April 2022.
Once they got access to said data, they didn't like what they were seeing (both in terms of past as well as projected costs).
It certainly didn't help that Jeff Zucker, who was believed to be the driving force behind the launch of the streaming platform, had to depart from the company two months before the launch.
And newly appointed CEO Chris Licht had no horse in the race, so sticking to the directions from HQ was certainly in his best interest.
Some in the media even began to speculate that the disappointing subscriber numbers were leaked by Discovery execs who wanted to quickly get rid of CNN+.
After all, Warner Bros. Discovery's objective was and is to double down on what's working and cut costs where possible. And when it comes to streaming, then it would be advisable that the firm puts all its eggs into the HBO Max basket.
Lastly, CNN+ also failed due to intense competition within the streaming market. These days, customers can choose from dozens of different services. Many are, furthermore, shifting their interest towards short-form video platforms like TikTok.
Even if CNN+ invested $1 billion into content, it would've only represented a literal drop in the ocean compared to the hundreds of billions that Netflix, Disney, Amazon, Apple, and many others pour into content production.
With subscription fatigue becoming more and more prevalent, it was always going to be an uphill battle to convince customers to open their wallets for yet another streaming service.