Executive Summary:
Facebook Jobs is a feature on Facebook with which business owners can post and advertise available work.
Facebook Jobs, in all likeliness, was shut down outside the United States and Canada because it wasn't popular enough.
What Is Facebook Jobs?
Facebook Jobs is a feature on the namesake social media platform that enables employers to post job ads directly on their business page.
Businesses can create dedicated pages that list necessary information such as their address, contact data (telephone and email, for example), and more.
Facebook, as part of its Business product, offers the ability for site owners to create and share job ads on the platform.
The listing itself can contain a variety of different data points including the job's title, whether it is a full-time or part-time role, salary ranges, benefits, schedules, as well as a description of the role.
Once the listing is completed, it will appear within Facebook's regular news feed. Other users can, furthermore, engage with the post by liking, sharing, or commenting on it.
Posting a job on Facebook is completely free. However, business owners can elect to boost a given listing by promoting it within a user's feed.
Job ads are monetized on a cost-per-click (CPC) basis, meaning whenever a user clicks on the ad, the advertiser pays a small fee. Business owners can limit their spending by setting up a budget, though.
The Jobs feature was ultimately shut down in most countries (except the United States and Canada) in February 2022. How it came to be and the reasons for its closure will be covered in the next few chapters.
What Happened To Facebook Jobs?
Facebook, throughout its existence, has been known to experiment with new business lines. Sometimes, the firm has even been accused of outright copying other platforms – most notably Snapchat's story feature, which propelled Instagram to new heights.
At the same time, it had become more and more entrenched with its users' lives and created additional touchpoints to serve them. It essentially aimed to become the one-stop shop for people online. For example, in October 2016, Facebook launched its now popular Marketplace products in an attempt to compete with the likes of Craigslist.
Just three months prior, Microsoft had announced that it purchased LinkedIn for an eye-popping $26.2 billion, signaling that social and online recruitment can go hand in hand. In fact, online recruitment at the time was a market worth $10+ billion in the United States alone. Additionally, there are over 40,000 job sites, which indicates just how lucrative and competitive the market is.
It, therefore, wasn't particularly surprising when TechCrunch, in November 2016, spotted the first indication of job listings on Facebook. The social media giant, soon after, confirmed that it was actively working on said product.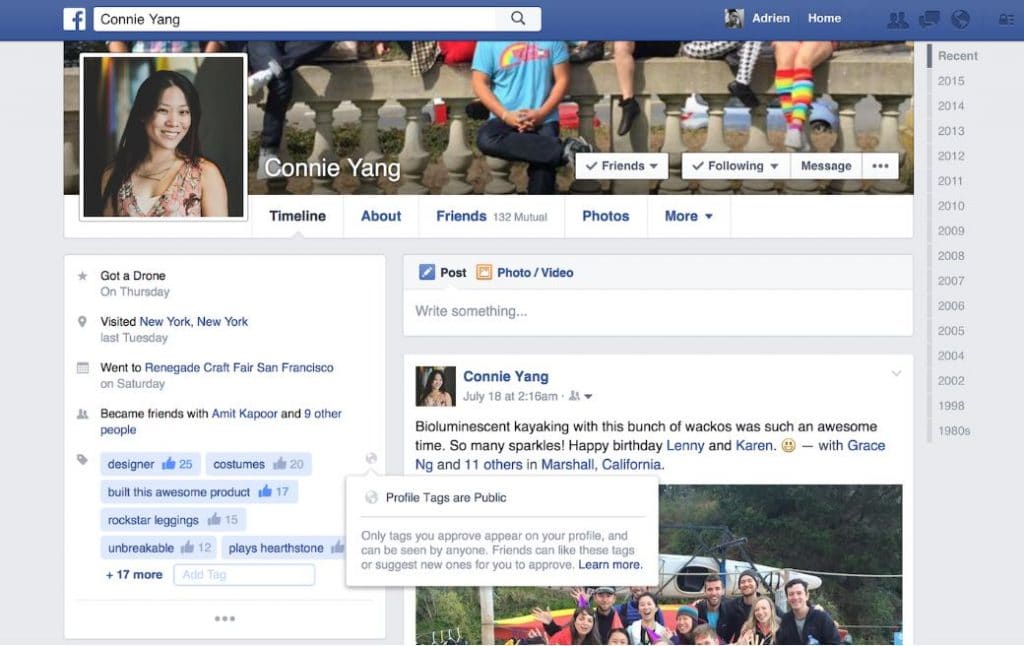 True to Facebook's style, it had almost outright copied features from existing platforms such as LinkedIn and Workable, among others. For instance, users could confirm the skills of others (similar to what LinkedIn does).
At the time, Facebook boasted close to 1.8 billion members while LinkedIn 'only' counted around 467 million members. Naturally, business owners would have a much larger pool of applicants to tap into.
However, Facebook would face one problem right from the start: the willingness of people to share their lives with prospective employers. In the past, people had been released from their job due to content they shared on social platforms such as Facebook. As a result, they could be less inclined to apply for a job – or at the very least needed to polish their profiles to make them more presentable to employers.
Despite those potential drawbacks, Facebook went full steam ahead. A few months after the TechCrunch leak, in February 2017, it officially unveiled the Jobs product. The launch was accompanied by the following message:
"Beginning today, businesses in the US will be able to post job openings, and their future employees will be able to easily find those posts on their Page or in the new jobs bookmark. This new experience will help businesses find qualified people where they're already spending their time-on Facebook and on mobile."
Many businesses had previously shared their job ads on Facebook. A more integrated version was thus in their interest. It, furthermore, provided followers with the ability to directly apply for jobs at their favorite companies. And unlike LinkedIn and other job platforms, posting an ad was completely free.
Facebook, to get even more eyeballs on those job postings, announced a partnership with ZipRecruiter in September. This meant that job ads would automatically be shared across a network of other sites.
But Facebook wouldn't be Facebook if it wouldn't have a controversy associated with its job listing product. In December, the New York Times published a piece that highlighted age discrimination against older users.
Many of the firms that created job listings and promoted them, including Amazon, Goldman Sachs, or Verizon, did so by limiting them to certain age groups. Many wondered whether those practices were in accordance with the federal Age Discrimination in Employment Act of 1967. In fairness to Facebook, though, other platforms such as LinkedIn also offered age-based targeting.
Nevertheless, a class-action lawsuit against Facebook was still filed in a federal court in San Francisco on behalf of the Communications Workers of America and its members.
Meanwhile, Facebook continued to make improvements to the product. In February 2018, it expanded its jobs feature from the United States and Canada into 40 total territories across the globe (including countries such as Germany, France, Spain, and the United Kingdom, among others).
Its business pages would also receive various updates along the way, making it easier for businesses to communicate with prospective customers as well as employees.
Facebook, in March 2019, announced that it would finally overhaul its targeted advertising system in hopes of battling discrimination. It agreed to change targeting based on demographic information such as age, gender, or ZIP codes.
Those changes not only affected job ads but also the ones in segments such as housing or lending. Facebook, furthermore, settled the ongoing class-action lawsuit and agreed to pay $5 million to all involved parties.
Over the coming months and years, Facebook Jobs largely stayed out of the limelight. However, in April 2021, independent researchers at the University of Southern California (USC) conducted another audit of its ad targeting system and found patterns of discrimination against women.
The researchers even stated that they found no difference between the algorithm prior to the fine and after. But since Facebook does not make its algorithm available to the public, it was ultimately impossible to prove those claims.
In the meantime, its jobs platform also became a cause for good. During the 'Great Resignation', which saw tropes of people quit their jobs, small business owners would be able to find restaurant and other types of workers on the platform.
Nevertheless, the feature would soon come to an end for most of its users. In December 2021, Facebook announced that it would sunset the jobs feature in all countries except the United States and Canada starting February 2022.
On top of that, the option to distribute free jobs via partner networks (such as ZipRecruiter) would not be possible as well. Lastly, all existing groups in the 'Jobs' category would be changed to 'General'.
Why Was Facebook Jobs Shut Down?
Facebook Jobs, most likely, was shut down outside the United States and Canada because it wasn't popular enough.
Unfortunately, Facebook did not provide its users with any reasoning for the closure. Others in the industry speculated that it had to do with privacy laws in the EU.
Facebook still tracks a lot of different data points about its users and is thus a welcome target for any sanctions coming from the European Union.
Additionally, Facebook did in fact decrease the targeting options for its ad products. In order to avoid any additional discrimination lawsuits, it may have decided to shut the product down.