Executive Summary:
Figleaves was an online retailer out of Great Britain that specialized in the distribution of lingerie and related female clothing.
Figleaves was shut down because interest in the company slowly began to fade while N Brown wanted to streamline its businesses to boost growth.
What Is Figleaves?
Figleaves is an online retailer based in the United Kingdom. The site was primarily known for selling lingerie.
The clothing on the site was aimed at a female demographic. However, in the past, Figleaves also distributed men's clothing.
Figleaves, apart from offering underwear, also offered clothing in a variety of other categories including nightwear, swimwear, and sports.
The clothes were sourced from dozens of different brands such as Birkenstock, Calvin Klein, Puma, Spanx, and many others.
Furthermore, the site created a variety of different content ranging from style guides for certain sizes all the way to how to properly measure a bra.
Although Figleaves was based in the U.K., it also operated a dedicated site for U.S.-based consumers. Nevertheless, it delivered clothing to more than 100 countries across the globe.
Figleaves was ultimately shut down in February 2021. How it came to be, who's behind it, and what ultimately led to its closure will be covered in the next few chapters.
What Happened To Figleaves?
Figleaves, formerly headquartered in Stevenage, England, was founded in 1998 by Daniel Nabarro and Michael Ross.
Both founders graduated from the University of Cambridge. While Nabarro did so in 1969, studying Electrical Sciences, Ross 'only' graduated in 1990 with a degree in Mathematics.
Nabarro, post-graduation, spend the first few decades of his career in engineering-related roles. He, for example, worked at GEC. In 1989, he sold his first company, Intercity Paging, providing him with enough capital to start another business.
Meanwhile, Ross had spent the early years of his career at McKinsey where he rose to the ranks of manager.
However, it was Nabarro who actually started the company. At the time, the internet hype was reaching its peak, allowing hundreds of companies to raise billions in funding.
More and more products and services, which would previously be offered in the physical world, found themselves on the world wide web.
Nabarro wanted to take advantage of that trend. When he launched the site in early 1999, it was actually named Easyshop and offered items such as lingerie, perfumes, and more.
He consequently brought on Michael Ross as an additional co-founder not long after. In fact, Ross became the firm's CEO while Nabarro served as its chairman.
Towards the end of the year, in December, the two managed to raise their first round of funding. Venture investors eHatchery poured £4 million into the business, valuing it at £20 million.
Not long after, in March 2000, they finally rebranded the company into Figleaves. Meanwhile, they also added men's clothing to appeal to a wider audience.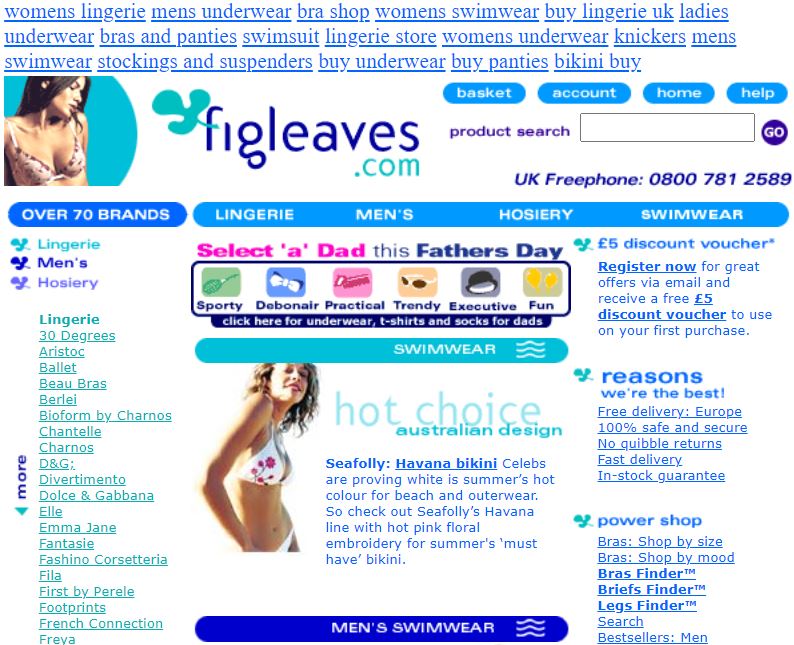 A year later, Figleaves had grown to the point where it already partnered with supermodels such as Elle Macpherson. By 2003, the firm managed to generate over £7 million in annual revenue while employing close to 100 people.
Not only did it receive multiple awards, such as E-tailer of the Year, but Figleaves also expanded into the United States, even opening a dedicated office in the country. The U.S. launch was accompanied by a deal that the firm made with Amazon to distribute its products on the marketplace.
Interestingly, the U.S. business was led by Gerald Smith, a controversial businessman who had previously been sentenced to jail for close to a year. However, it did not seem to negatively affect interest in the company and its products.
By 2004, Figleaves launched its now-famous T-Bra System, allowing women to automatically find better-fitting bras.
These days, online retailers utilize all kinds of technology, from personalized recommendations to Augmented Reality-based tools, to tailor clothing to the customer's needs. The innovation that Figleaves brought on continued to raise its profile across all of the firm's markets.
A year later, Figleave's impressive growth rate was rewarded with a second round of funding, this time led by Balderton Capital. The VC acquired a 40-percent stake in Figleaves. The backing even allowed the company to attract high-level executives from companies such as Amazon.
Two years later, in February 2007, long-time CEO and quasi-co-founder Michael Ross departed from the firm and joined Icelandic investor Baugur. He would go on to launch a software solution for the fashion industry, dubbed eCommera, in 2009.
His replacement, Julia Reynolds, was hired eight months later (in October). Reynolds had spent the past two decades working at companies such as Tesco (where she was its Central European clothing boss), Mackays, and Arcardia.
Figleaves would experience a significant clean-up under her tenure after losses in the previous years had risen to unhealthy levels. In 2006, for example, Figleaves posted a net loss of £4.2 million.
One of her first points of action was to launch new lines for men and introduce childrenswear to its offering. The firm also cut its brand portfolio by a quarter in order to streamline sales and boost profits. Lastly, Figleaves renegotiated its supplier deals to achieve more favorable terms.
A year later, in April 2009, the site also launched a clothing line, which was made possible by a £1m investment that took place just weeks prior.
This was even more remarkable considering that the Great Financial Recession had led to diminished consumer confidence and thus decreased willingness to make a purchase – especially online, which was still in its nascent stages.
That same year, Figleaves, furthermore, completely overhauled its website to accommodate the new addition. By March 2010, the site had grown to the point that its own brands, which it launched as soon as 2005, were offered in physical retail stores such as Allders.
This prompted online retailer N Brown Group to churn out £11.5 million to acquire the company. Figleaves had previously hoped to be sold for £40 million. However, due to constraints from the ongoing financial crisis, money was hard to come by.
At the time of the acquisition, Figleaves boasted 1.2 million customers and had 100 different brands in its assortment. The acquisition, furthermore, enabled N Brown Group to expand its brand portfolio to appeal to a younger demographic group.
Unfortunately, not everyone was along for the ride. CEO Reynolds, in May 2011, was poached by Blacks Leisure Group and thus departed from the company.
A departing CEO isn't too uncommon after an acquisition, though. Reynolds, in all likeliness, was hired with the implicit goal to make the company acquisition-ready. She was then compensated with equity, which she likely cashed in during the takeover.
Instead of directly replacing Reynolds, N Brown Group installed three of Figleave's executives to co-lead the company. N Brown Group also began to pour additional cash into Figleaves, which in turn was utilized to purchase expensive ad slots across the nation.
Regrettably, not all those ads were being met with love. The company had placed a poster advert featuring a half-naked woman close to where it would be seen by many children. Luckily, Figleaves avoided an advertising ban by the Advertising Standards Authority (ASA) and only received a slap on the wrist.
The next year, in 2012, Figleaves finally posted its first-ever annual profit (£0.2 million) after 14 years of being in business. The first-time profit allowed Figleaves to launch yet another in-house brand.
In August 2013, it launched a dedicated lingerie store for more erotic purposes, calling it "boudoir-inspired."
Over the coming years, the site introduced a variety of new features and products including personalized recommendations (2015), a mobile-friendly new website (2016), and a live fitting service via Skype (2017), among man other initiatives.
Meanwhile, its leadership structure changed as well. In February 2017, Figleaves hired Miriam Lahage as its newest CEO. Lahage had brought with her decades of industry experience at companies such as TJX, Net-a-Porter, and eBay.
Ironically, co-founder Michael Ross somehow returned to his roots. In January 2018, he became a board member of Figleaves owner N Brown. Meanwhile, in September 2019, Lahage announced her sudden departure from the firm she tried to revive.
Figleaves, in the previous years, had somehow lost its appeal and suffered from declining customer interest. Online retailers, such as ASOS or Zalando, as well as various Instagram-savvy direct-to-consumer (DTC) brands had overtaken Figleaves.
Even exponentially heightened demand for online shopping during the coronavirus pandemic couldn't stop the company's demise.
In January 2021, N Brown announced that it would sunset the Figleaves website two months later. Customers, as a last thank you, could purchase clothing at discounts of up to 70 percent.
(One unfortunate side-note that needs to be mentioned, though. In April 2021, co-founder Daniel Nabarro, at the age of 72, died after a long fight with Alzheimer's.)
So, why did N Brown shut down a seemingly beloved and established brand after 23 years in business? We'll discuss that in the following chapter.
Why Was Figleaves Shut Down?
Figleaves was shut down because interest in the company slowly began to fade while N Brown wanted to streamline its businesses to boost growth.
Over the previous years, interest in Figleaves had diminished quite significantly. This was highlighted by the declining traffic of its website, among others.
As previously stated, the competition had managed to take over. Instagram-focused DTC brands, which often were able to raise millions of funding, soon began to garner the customer's interest.
Figleave's Instagram account, for example, has less than 100,000 followers. In comparison, an e-commerce retailer like ASOS, which also sells lingerie, counts over 13 million followers.
It can be assumed that the declining interest probably led to mounting losses given that Figleaves was still employing over 200 people and operating three warehouses in the U.K., the U.S., and Canada.
Moreover, owner N Brown wanted to streamline the companies under its wings in an effort to save cost and double down on its core brands. A company spokesperson had this to say after the shutdown announcement:
"Last year we shared a refreshed strategy which included plans to simplify the customer proposition and focus on our five core brands, meaning that other brands are either being folded into the core brands, or closed down. Figleaves is being folded into Simply Be, meaning that the products will be traded from our Head Office in Manchester and fulfilled via our Distribution Centres in Oldham and Hadfield."
So, Figleaves was ultimately folded into Simply Be. This meant that Figleaves brands, which included Panache, Freya, and Fantasie, would consequently be sold on Simply Be. For reference, N Brown's other four brands are J D Williams, Ambrose Wilson, Jacamo, and Home Essentials.