Executive Summary:
Rarible is an online marketplace that allows users to purchase, sell, and trade non-fungible tokens (NFTs).
Rarible makes money by charging a 2.5 percent fee on every sale. The company operates an online marketplace business model.
Founded in 2019, Rarible has grown to become one of the world's leading NFT marketplaces. It has raised $16 million in funding.
What Is Rarible?
Rarible is an online marketplace that allows users to purchase, sell, and trade non-fungible tokens (NFTs).
The platform is built on the Ethereum blockchain and utilizes two NFT token standards. The first one is ERC-721, which enables the creation of one-off unique items. The second one, ERC-1155, allows items to be edited multiple times.
NFTs can be bought using Ethereum's own token Ether (ETH). In order to make a purchase, users need to link their Ethereum wallets such as Argent or MetaMask.
Apart from the Ethereum network, Rarible has also built onramps into the Flow as well as Tezos blockchains. Consequently, transactions are facilitated using the networks' native coins.
As the operator of the marketplace, Rarible takes care of listing and promoting projects as well as securely facilitating transactions.
Rarible also offers its own governance token called RARI. Owning the token gives its holders the right to influence Rarible's development. The more tokens someone owns, the greater one's voting power.
Rarible can be accessed by visiting the platform's website or by downloading its iPhone app (an Android app is expected to be released soon).
Rarible Company History
Rarible, which doesn't have formal headquarters, was founded in 2019 by Alexander Salnikov, Alexei Falin, and Ilya Komolkin.
The founders, in particular, Salnikov, possess years of experience in the crypto industry. He even managed to exit one of its projects before.
Salnikov had also worked together with Falin and Komolkin on separate blockchain-related projects. During the summer of 2019, after a five-month sabbatical, Salnikov was looking to start his next project.
Fuelled with energy, the trio looked at things that they could work on. Not long after, they landed on NFTs after having witnessed first-hand how Dapper Labs' CryptoKitties had previously taken the world by storm.
After six months of hard work, the team finally released the first version of the Rarible marketplace in January 2020.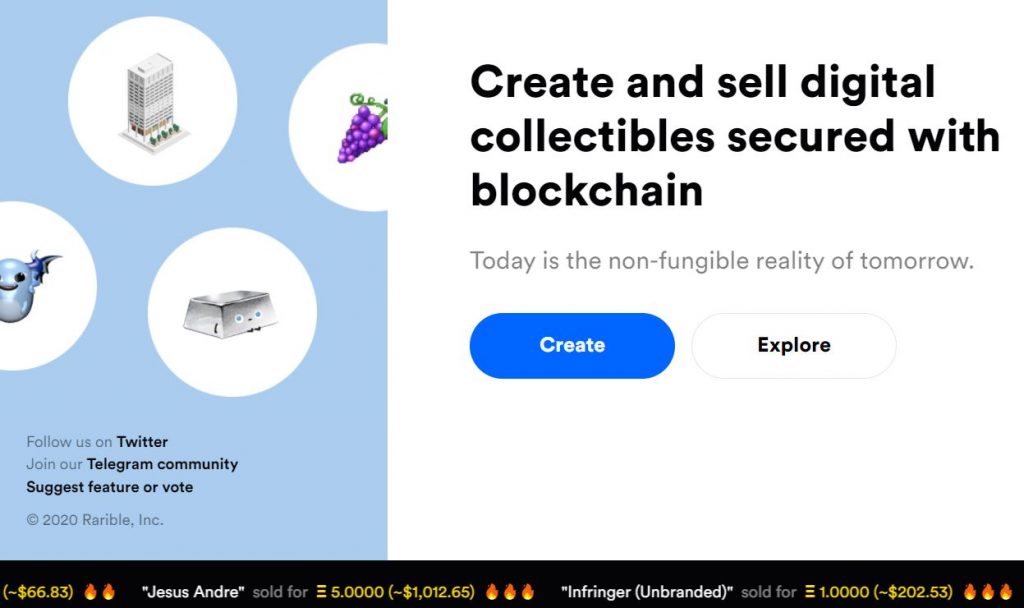 Not long after the launch, in February, Rarible already had to deal with its first set of problems. The work of designer Karan Singh had been fraudulently listed on its marketplace. While Rarible quickly banned the impersonator, it shed a light on the general problems NFT marketplaces face to this date.
Over the summer, the team also managed to launch the RARI governance token, which gave its community the option to vote on the platform's development going forward.
In September, the team was able to raise its first (undisclosed) round of funding from CoinFund. As the year progressed, so did interest in the NFT space.
As a result, even non-crypto people got involved. In January 2021, for example, billionaire entrepreneur Mark Cuban launched an NFT on the platform. A month later, Rarible raised another round of funding, this time netting them $1.4 million.
Over the coming months, the NFT industry experienced almost unprecedented growth. NFTs worth millions would be minted and sold on Rarible as well as competing platforms such as OpenSea. In June, amidst major funding rounds from competitors, Rarible managed to raise another $14.2 million in Series A funding.
Despite a major downturn over the summer, during which NFT sales dropped by almost 90 percent, Rarible continued to prevail. For example, in October 2021, it announced a partnership with Adobe to help verify artists on its platform.
Towards the end of 2021, Rarible also announced that it integrated the Flow and Tezos blockchains via its open-source protocol.
How Does Rarible Make Money?
Rarible makes money by charging a 2.5 percent fee on every sale. The company operates on an online marketplace business model.
As the operator of the marketplace, Rarible is responsible for the assortment of offers, their discovery, as well as securing a safe checkout process.
Rarible, in order to build up the demand side of its marketplace, has adopted a multi-chain strategy. In August 2021, it introduced the Rarible Protocol, an open-source API that allows it to onboard various blockchains.
While many other NFT marketplaces are mainly focused on the Ethereum blockchain, Rarible has already managed to link up with other chains such as Flow or Tezos.
Not only does this increase its total addressable market but it also makes it significantly cheaper for its users to mint and purchase NFTs due to lower gas fees.
Apart from its open-source protocol, it also facilitates adoption through the issuance of its RARI governance token. The platform distributes the token to both buyers and sellers for purchasing and selling NFTs.
Additionally, Rarible verifies sellers on its platform through its partnership with Adobe where it uses the software company's Content Credentials to verify the authenticity of the NFTs. This enhances trust, which in turn makes it likelier for users to purchase a digital art piece (since they know it's made by the actual creator).
Rarible Funding, Revenue & Valuation
Rarible, according to Crunchbase, has raised a total of $16 million across three rounds of venture capital funding.
Notable investors include CoinFund, Venrock, Coinbase Ventures, 1kx, 01 Advisors, ParaFi Capital, and many more.
Rarible does currently not disclose its revenue or valuation to the public. However, during its Series A round (announced in June 2021), the platform said it reached $150 million in sales since it went live 18 months before.
Given its 2.5 percent fee structure, this puts Rarible's total revenues at around $3.75 million. Since interest in NFTs has increased exponentially since its last funding round, it can be assumed that revenues have risen similarly.