Executive Summary:
Hinge is a dating application that enables people to connect and communicate whenever they mutually like each other.
Hinge makes money by selling premium subscriptions as well as through fees it collects from boosts and roses.
Founded in 2011, Hinge has become one of the world's most popular dating apps. The Match Group fully acquired the company for an undisclosed sum back in February 2019.
How Hinge Works
Hinge is a dating application that enables people to connect and communicate whenever they mutually like each other.
What separates Hinge from the pack is its focus on facilitating long-term relationships that prompt people to hopefully delete the app.
Hinge has implemented various features that promote those connections. For once, each match starts with someone liking or commenting on a specific part of the user's profile (such as their hobbies).
Moreover, Hinge actually asks its users how the date went whenever it sees that they exchanged phone numbers. This enables the platform to make better recommendations in the future.
Additionally, users can not only add basic information such as their age or interests but can highlight their personality via voice prompts within the profile.
Hinge itself works just like any other dating app, though. Users either have the option to like or dislike a profile. Once the other person likes you back, you can start a conversation.
However, unlike other apps, Hinge allows you to like or comment on a specific photo or text/voice prompt instead of the profile as a whole.
Users can then purchase additional packages that boost their visibility and grant them other benefits (more on that later, though).
Hinge is primarily accessed via the firm's mobile applications, which can be downloaded in either Apple's App Store or Google's Play Store.
Detailing The Founding Story of Hinge
Hinge, which is headquartered in New York City, was founded in 2011 by Justin McLeod, Matt O'Donnell, Bennett Richardson, and Frances Haugen.
Most of the above-listed founders, with the exception of Justin McLeod, departed the company soon after it was launched.
The most notable of them certainly is Frances Haugen who went on to work as a product manager for Google, Yelp, Pinterest, and Meta (formerly Facebook) until recently.
In the summer of 2021, she became a whistle-blower and revealed internal Facebook data on how the company was prioritizing profits over its users' well-being. The leaks, now known as The Facebook Files, highlighted how Facebook was affecting the health of teens or used various algorithms to incite violence in both the United States as well as developing nations abroad.
Bennett Richardson, Hinge's Chief Marketing Officer until 2013, was McLeod's former college roommate throughout their undergraduate degree at Colgate University.
In 2010, the four of them began working on an app called Secret Agent Cupid, which they renamed to Hinge just a year later. By that point, all of the original co-founders, with the exception of McLeod, had left or were about to leave the company.
After all, the idea to start Hinge was mostly driven by McLeod anyways. After wrapping up his bachelor's degree at Colgate, he decided to return to school by pursuing an MBA at Harvard Business School (HBS).
A few months into his MBA, Harvard was organizing an event that would end up sparking the idea of starting Hinge. The 'last chance dance' that the school hosted required attendees to submit names of their crushes and match up with people who liked them back.
Unfortunately, the logistics and randomness of it all proved to be too complicated and students ended up not finding appropriate partners.
"I soon discovered that the opportunity wasn't in hooking people up with their current friends, but rather using the social graph to help people discover their friends' friends. Plus, I was single," McLeod recalled in an interview with Venture Beat.
He ultimately wanted to build an application that would maximize a person's chance of success instead of facilitating random connections. In order to do that, he joined DC-based tech accelerator The Fort in March 2012, which provided him with $100,000 in seed funding.
McLeod then went on to raise another $550,000 from Fortify Ventures (the accelerator's investment arm) as well as 500 Startups. That money was used to develop the first version of Hinge, which ultimately launched in March 2013.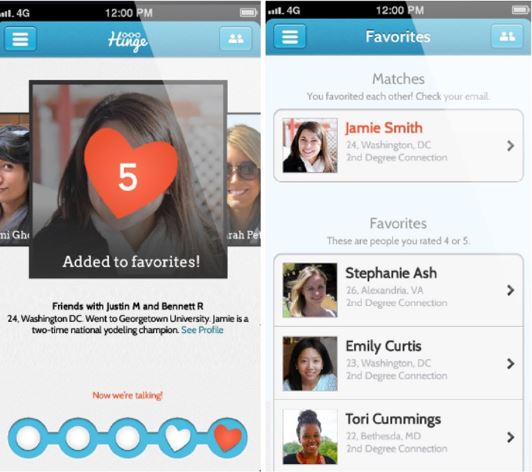 Hinge, to facilitate those meaningful connections, required users to sign up via Facebook, which allowed the app to tap into the user's list of friends. It would then present you with 25 different profiles – based on the user's Facebook friends – on a daily basis.
One would then rank a profile on a scale from 1 to 5. There would be a match if both people rated the other party either a 4 or 5.
Initially, Hinge was only available in the city of Washington to test out how users interact. As a result, it remained cautious about expanding too fast. While Tinder began taking college campuses by storm, Hinge's more measured approach meant that the app only expanded into two more cities (Boston and NYC) by the end of 2013.
This all changed in November 2013 when McLeod raised $4 million in funding from a variety of backers. Around 100,000 users had signed up for the platform at the beginning of 2014.
Throughout 2014, Hinge's executive team focused on expanding the app's reach across the nation while raising two additional rounds of funding. In July and December, investors poured $4.5 million and $12 million into Hinge, respectively.
And the cash injection was certainly much needed. For once, Hinge was still not monetizing its platform. More importantly, though, new competitors including Bumble or Coffee Meets Bagel were also branding themselves as more serious options to find meaningful connections. And Tinder, as the revolutionizer of the swiping mechanism, was continuing to amass millions of users across the globe.
Therefore, Hinge decided to go on the offensive. In February 2015, for example, it expanded into the U.K. as well as Sydney, Australia. Almost all of Hinge's launches, whether in the US or abroad, would be based on the number of signups for its waitlist.
Hinge, furthermore, experimented with a variety of features to catch up with Tinder and the rest. It introduced things such as expiring matches, the option to re-match, and Story Cards to accelerate user growth.
However, both McLeod and Hinge's users would grow increasingly dissatisfied with the app. Hinge would be barely updated throughout 2016, leading to a plethora of one-star reviews. Part of the team's inactivity could be explained by the personal circumstances McLeod went through.
Prior to launching Hinge, McLeod and his high-school sweetheart Kate Stern had ended their relationship, in part because he was drinking and partying too much during their college days at Colgate.
In December 2015, New York Times journalist Deborah Copaken interviewed McLeod for an article of hers and asked if he had ever been in love. After revealing what lead to the breakup, Copaken told McLeod that she had a similar story and regretted that she never tried to find out if the relationship could be reignited.
So, McLeod decided to fly out to Switzerland where Kate Stern was living and about to get married. But as fate would have it, the two eventually reconciled. Not only did she call off her wedding but the two eventually got married back in 2019.
Similarly, McLeod began to feel the growing dissonance between the reason why he started Hinge and where the app seemed to be going. Much like his first serious relationship, he wanted to get back to facilitating more meaningful connections among people.
Those feelings were amplified by the now-famous Vanity Fair article dubbed "Tinder and the Dawn of the Dating Apocalypse," which detailed how apps like Tinder were gamifying human connections and emphasizing profits over allowing people to build lasting relationships.
In October 2016, the team launched the redesigned Hinge app. Hinge would now require users to pay $7 per month to be able to use the new app (existing users could continue accessing the app for free, though).
But just one month into the proposed changes, Hinge decided to backtrack and got rid of forcing people to pay to be able to use the app.
Instead, it experimented with a variety of monetization options. For example, in January 2017, it launched Audrey, a personal assistant that will message your matches and schedule the date. The product, largely due to its $99/month price tag, never became a commercial success.
It even got rid of the Facebook login requirement, in large part because fewer people would access the social platform as well as due to the Cambridge Analytica scandal.
However, competing against its larger and better-capitalized competition ultimately proved to be an impossible feat. So, if you can't beat them, join them – which is what Hinge and McLeod ultimately did.
In June 2018, dating powerhouse Match Group, owner of Tinder, OkCupid, and many other dating platforms, acquired 51 percent of Hinge for an undisclosed sum. Match had previously tried to acquire Bumble but talks fell through.
Match bought the remainder of Hinge's shares in February 2019 (again not disclosing the price) and is now the sole owner of the company. Over the coming months, Match poured millions into advertising Hinge and making it a staple among its other dating apps.
This also entailed introducing Hinge in new countries, doubling the size of its team, as well as introducing a plethora of new features.
In May 2020, just as the Covid pandemic began to unravel, Hinge introduced a separate division called Hinge Labs. The division would closely monitor user behavior on the platform, which then would inform newly launched features.
Hinge would go on to launch a variety of pandemic-related features including in-app video calls, short-form mediations in partnership with Headspace, the option to send virtual roses to other users, and a complete redesign of the app.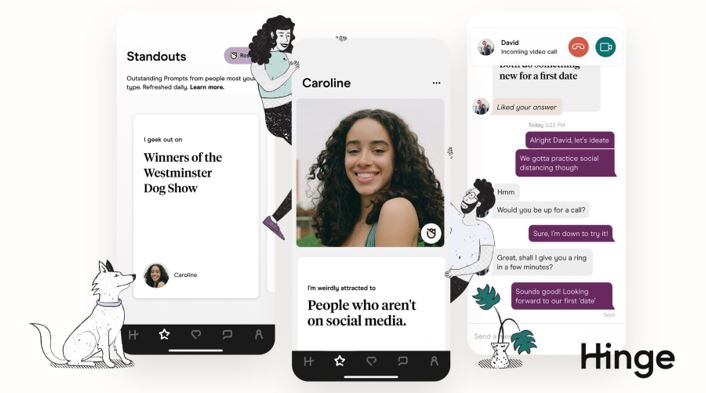 Throughout 2020, Hinge managed to grow its user count by more than twentyfold. The Covid pandemic, which led to the cancellation of events, certainly contributed to its exponential growth as well.
Hinge also did away with swiping and instead focused on prompts, namely short questions that allow users to showcase their interests and personality. While the number of likes went down, the amount of dates people were having substantially increased.
Right now, the leadership team remains focused on improving the core platform while launching Hinge in even more markets. In September 2022, for example, Hinge launched a local version in Germany following explosive growth in the US, the UK, and Australia.
How Does Hinge Make Money?
Hinge makes money by selling premium subscriptions as well as through fees it collects from boosts and roses.
Hinge operates on a freemium model, meaning the app itself can be used at no cost while users will have to pay for access to premium features (more on that in a bit).
Almost all modern-day dating applications rely on the freemium model to grow their user base and ultimately solve the chicken-and-egg problem of attracting enough users.
After all, users would only be incentivized to open up their wallets if there are enough potential matches to make it worth their while.
The key to making this business model work is to provide just enough features to make the free experience enticing enough for people to come back.
Hinge, much like Bumble or Tinder, also utilizes gamification aspects to prompt users to return. For instance, notifications notify users about new matches or likes.
This is where its subscription offering, dubbed Preferred Membership, comes in. It grants users a variety of benefits including unlimited likes, greater exposure, the ability to filter out certain user demographics, and a few more.
The subscription can cost up to $29.99 per month depending on the length you opt into (1 month, 3 months, 12 months), your country of residence, and whether it was purchased via any of the popular app stores or not (it is normally cheaper when purchased outside due the fees that Apple and Google charge developers with).
If you do not want to commit to a monthly membership, then Hinge also offers the option to purchase premium features at a one-time fee.
For example, sending a Rose to someone bumps you to the front of their feed while Boosts make your profile appear ahead of more users.
Hinge sells those premium features for a one-time fee of $9.99, which gives users access to three Boosts or Roses. The more someone purchases, the cheaper the per-item price.
Around 800,000 people are currently classified as payers on the app. For reference, Match's crown jewel Tinder boasts over 16.4 million members.
However, Hinge users are comparatively more lucrative. While Tinder makes $15.86 per paying user, Match generates around $24 per paying user from Hinge.
Hinge Funding, Revenue & Valuation
Hinge, according to Crunchbase, has raised a total of $20.6 million across four rounds of venture funding.
Notable investors include Great Oaks Venture Capital, Shasta Ventures, Lowercase Capital, Middleland Capital, and many others.
Back in 2018, Hinge was allegedly valued at $75 million. Unfortunately, The Match Group did not disclose any price when it scooped up the rest of the firm in early 2019.
Hinge generated $197 million in annual revenue during the fiscal year 2021. This represents a more than twofold increase from the $90 million it brought in during the prior year.
Who Owns Hinge?
Hinge is owned by dating powerhouse Match Group. Match owns and operates a variety of other dating services, most notably Tinder, OkCupid, Plenty of Fish, and over a dozen more.
The group first invested in Hinge back in 2017. After Match liked what it saw, its stake was upped to 51 percent in June 2018.
Some 8 months later, the Match Group acquired the remaining 49 percent and is now the sole owner of Hinge.
It did not disclose any acquisition price during either announcement. In general, there is no obligation for a public firm, which Match Group is, to disclose an acquisition price unless it is material.
Most of the time this means that the acquisition price was around or below 10 percent of the acquirer's market cap.
At the time, the Match Group was valued at around $13 billion, so the maximum that it paid was around $1 billion.
Given that Match, back in 2017, also tried to acquire Bumble, which was far more popular than Hinge at the time, for $450 million points towards a substantially lower purchase price.
However, don't feel too bad for co-founder Justin McLeod. In June 2022, he purchased an apartment in New York's Chelsea district for around $12.5 million.