Executive Summary:
GoodRx is an online platform, comprised of an app and a website, which allows users to compare drug prices at over 70,000 in the United States. Coupons offered by GoodRx then allow users to save money on their prescriptions.
GoodRx makes money via fees paid on coupon redemptions, a monthly subscription fee, online telehealth services, as well as advertising on its platform.
Founded in 2011 and headquartered in Santa Monica, GoodRx has grown to become one of the biggest online players in the healthcare industry. It ultimately went public in 2020.
What Is GoodRx?
GoodRx is a platform that allows users to compare prescription drug prices and find coupons at participating pharmacies in the United States.
The firm works together with over 70,000 pharmacies across the United States, including Walmart, Kroger, CVS Pharmacy, Walgreens, and many more.
To get started, users either visit GoodRx's website or download one of its mobile apps (available on Android and iOS devices).
They then enter the name of the drug they want to compare prices for. Next, whenever applicable, they can use a discount coupon which they show to their pharmacist.
Notably, GoodRx can not be used in conjunction with your insurance. The company compares cash prices which the user must bear. As such, the service is mostly used when insurance does not (or only partially) cover the medication.
Apart from comparing drug prices, users can also interact with the company in a variety of other ways. For instance, it offers monthly membership programs to get lower drug prices (called GoodRx Gold), a telemedicine service (HeyDoctor by GoodRx), or a marketplace to find testing labs.
On top of that, GoodRx offers extensive educational material on all things related to medication and overall wellbeing.
A Short History Of GoodRx
GoodRx, headquartered in Santa Monica, California, was founded in 2011 by Doug Hirsch, Trevor Bezdek (who both act as co-CEOs), and Scott Marlette.
Bezdek, a Biological Sciences and Computer Science graduate out of Stanford, launched his first company in 1999 right after graduating college. He founded Biowire, which developed information tools for scientific researchers.
The business never really took off. Nevertheless, it taught him some early lessons in entrepreneurship, which he used at the start of his second company.
That business was called Tryarc, a consultancy firm delivering technology strategy and implementation services aimed at healthcare and media companies.
The business grew to become one of the largest IT service providers in California and was ultimately acquired by NTT Data in 2007.
Hirsch and Marlette, on the other hand, met at Facebook where they held product and engineering-related roles, respectively. Hirsch had made his mark in the world of tech before, working in leading managerial roles at Yahoo from 1996 onwards.
He joined Facebook as their VP of Product where he helped co-create Facebook Photos and ultimately became acquainted with Marlette, who worked as an engineer at the time.
While Marlette stayed on for another 5 years, Hirsch terminated his employment after half a year to launch DailyStrength, a health-focused social network. DailyStrength raised a total of $5 million in funding and, in November 2008, was ultimately acquired by HSW International.
Hirsch stayed on at HSW to accompany the migration and run DailyStrength as a subsidiary of HSW's business. But by the end of 2009, he decided to leave HSW and work on another healthcare-related business. If you haven't guessed it by now, that business would ultimately be known as GoodRx.
Right around the same time, Hirsch turned 40 years of age. A few years prior, he had created a list of things he always wanted to do in life, and with money from his exit, he finally had the financial means to pursue it.
But first, he booked a series of doctor appointments to make sure he was up for the challenge from a health standpoint. His dermatologist gave him a prescription, which he took to the next best pharmacy.
To his shock, the pharmacists presented him with a bill of $612, which made Hirsch seek out another pharmacy. And another one, and another one. The pharmacist at CVS, where he concluded his medical trip, quoted him $416, which made him walk out the door immediately.
Much to his surprise, the pharmacist came running after Hirsch and told him he could have the drugs for $300. Hirsch, despite his previous endeavors in the world of healthcare, started questioning why there was such a steep discrepancy in pricing – and whether other pharmacies were willing to negotiate prices to lure in more customers.
He spent the next few months talking to (medical) experts and scouting the internet on how drug prices exactly come to be. What he discovered was a lack of transparency and huge discrepancies in the way drugs are priced.
The pricing process roughly works as follows: first, the manufacturer (in this case a pharma company like Johnson & Johnson) sets a list price (also known as the wholesale acquisition cost (WAC)). This is essentially the official price of the medication.
The manufacturer then sells the drug to a wholesaler, normally at a discount of 2 percent to 5 percent to the WAC. Next, the wholesaler sets a so-called average wholesale price (AWP), which is the listing price plus a markup. The markup is priced at around 20 percent.
That's where the pharmacy comes in. It buys the drug for the wholesale price minus a small discount (to give the wholesaler a small profit). From there, the pharmacy determines the usual and customary price (U&C), which is the full retail price for the drug (the one customers end up paying).
The U&C price can vary extensively, though, depending on what price the pharmacy ultimately deems appropriate. The patient then has a number of ways in which he can pay for the drug: a cash price, a discounted price (offered via coupons), a co-pay, a co-insurance pay, or via a coupon offered by the manufacturer.
Additionally, pharmacies may work together with so-called pharmacy benefit managers (PBM) to negotiate prices for customers with and without insurance. The payment method can therefore further contribute to fluctuations in pricing.
Hirsch convinced Bezdek and Marlette to join him in starting GoodRx. They launched the business in September 2011 at the Health 2.0 Conference in San Francisco after over a year of full-time work.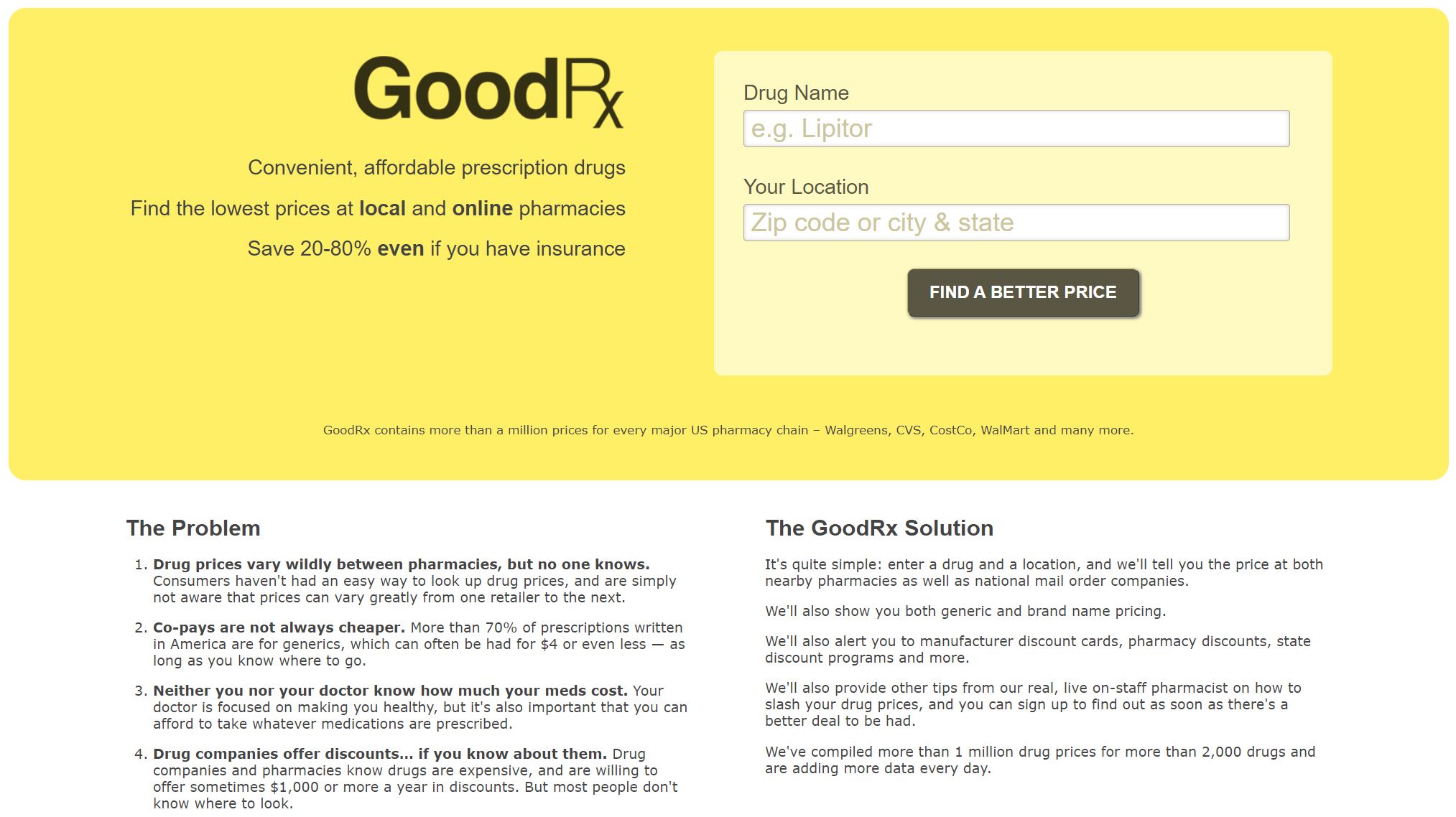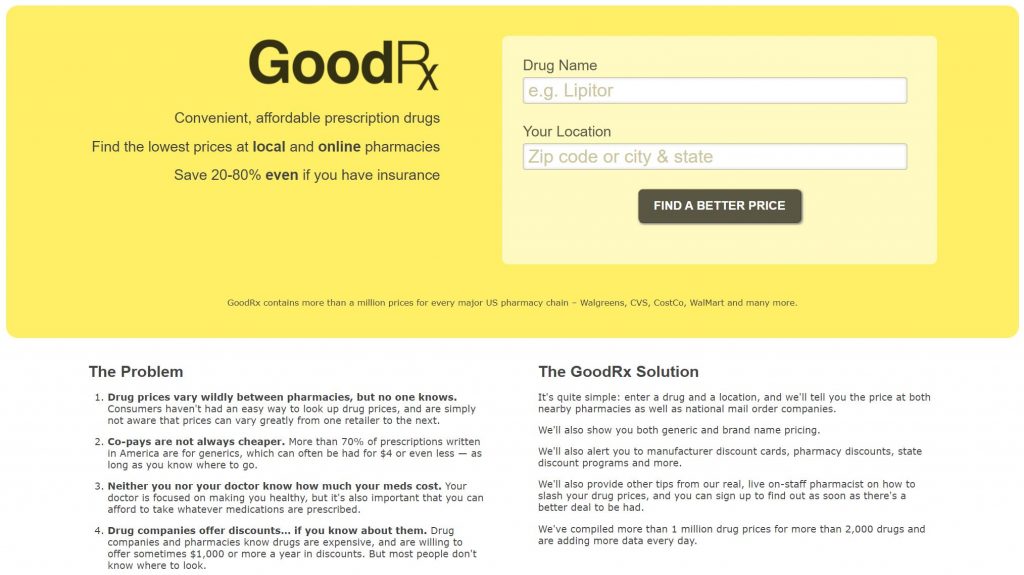 When GoodRx launched, it was already able to list over 1 million drug prices while covering close to 2,000 different drugs. Soon after, the team introduced an iPhone app that replicated its website experience.
Customers weren't the only ones immediately attracted by its business model. In February 2012, GoodRx raised a $1 million seed funding round led by top venture capital firms, including Founders Fund, GRP Partners, Highland Capital, SV Angel, and many more.
Over the coming years, GoodRx continued to grow quietly while adding more and more users to its platform. In 2016, it merged with Iodine, a company that offered a tool for quality assessment and information on medications which launched in 2014.
By 2018, GoodRx finally hit unicorn status when it $748.8 million from private equity investor Silver Lake, valuing the business at a total of $2.8 billion. Prior to the funding, GoodRx actually held acquisition talks with a few interested buyers (such as McKesson) at a price point of $3 billion. These deals ultimately never came to fruition.
A year later, in 2019, GoodRx passed a significant mark in the company's history: $10 billion total saved on prescription medication costs for its customers. By that point, GoodRx's business was mature enough to only help its customers save money but allow the company to branch out into other industries.
In September 2019, it acquired HeyDoctor, a provider of online medical services, for an undisclosed sum. The acquisition allowed GoodRx to offer its customers remote health consultations for as low as $20 (via GoodRx Care). It launched a telehealth and COVID-19 testing marketplace just a few months after.
And as it appears, helping people to save on prescriptions not only contributes to your karma but makes up for good business as well. As a result of GoodRx's ongoing expansion efforts, the firm was finally able to go public in September 2020.
The IPO netted Hirsch, Bezdek, and Marlette more than 1$ billion. On top of that, GoodRx's S-1 filing revealed that the company had been profitable for almost 3 years – a rare occurrence among modern-day tech companies.
Despite the firm's overwhelmingly positive profile, it also faced at least one instance of scrutiny in the past. In March 2020, an investigation by the Consumer Report revealed that GoodRx was sharing sensitive user data with over 20 third-party companies, including privacy luminaries like Google and Facebook.
To its credit, GoodRx announced that it would immediately stop sharing any form of data and work on finding ways to optimize user encryption.
Recently, GoodRx has been heavily focused on expanding its business amidst news that Amazon is expanding its healthcare offerings. To that extent, GoodRx acquired HealthiNation (a site making informational videos on health topics) and RxSaver (a similar service to GoodRx) for $75 million and $50 million, respectively.
The Covid-19 pandemic also affected the business to some degree as people were hesitant to step outside and go to a pharmacy.
Despite the increase in competition from Amazon and problems associated with the novel coronavirus, GoodRx continued to grow at a healthy rate. In September 2021, it launched GoodRx Health, a digital resource for all things healthcare. To realize that vision, the company announced that it had hired a 50-person editorial team in an effort to compete against platforms like WebMD or Healthline.
Today, over 20 million consumers access the firm's app and website every month. GoodRx has helped them to save over $20 billion on prescriptions over the course of the company's lifetime. Moreover, close to 300 people are now employed by the company.
How Does GoodRx Make Money?
GoodRx makes money via fees paid on coupon redemptions, a monthly subscription fee, online telehealth services, as well as advertising on its platform.
The business model of GoodRx is centered around using its coupon business as an onramp to cross-sell other services.
Prescription margins are already razor thin, so it can be assumed that the money GoodRx makes from those coupons on a per-redemption basis is not very high (although it still makes up the majority of its revenue).
However, by providing a helpful and cheap service to consumers, it potentially earns enough goodwill and trust to sell customers related (and higher margin) services such as premium subscriptions or telehealth.
Furthermore, because of its highly targeted audience as well as the data it is able to collect, GoodRx can also work together with other drug manufacturers for advertising purposes.
Without further ado, let's, therefore, take a closer look at each of GoodRx's revenue streams in the section below.
Coupons
The vast majority of GoodRx's revenue comes from the coupons it offers to patients, which in turn allow them to save money on prescriptions.
GoodRx offers over 150 billion different prescription pricing data points on its comparison platform. Furthermore, coupon codes are accepted at more than 70,000 pharmacies across the United States.
GoodRx makes money via the fees it collects whenever a customer uses that code to fill a prescription.
The company then gets paid by its partners, which are PBMs primarily. The fees can either be a percentage of the fees that the partners earn or a fixed (previously agreed upon) payment per transaction.
On the other hand, competing services such as SingleCare do not work together with PBMs. Instead, they deal directly with the pharmacy (such as CVS or Walmart) who then compensates them for every redemption.
Notably, GoodRx also generates revenue whenever a customer refills their prescription. When a customer uses their coupon, the code is saved to the customer's profile at the pharmacy. From there onwards, the coupon normally applies to all future refills.
According to the firm's S-1 filing, more than 90 percent of its annual revenue can be attributed to coupon redemptions.
GoodRx Gold
In 2017, GoodRx launched a premium subscription offering called GoodRx Gold. It is a monthly membership program that provides discounts on over 1,000 prescription drugs and healthcare services.
GoodRx Gold can be used at thousands of pharmacies across the United States, including partners like Safeway, Kroger, Albertsons, or CVS.
GoodRx generates revenue via the 2 plans it offers. Individuals can subscribe at $5.99 per month while you can insure yourself and up to for other family members for a total of $9.99 a month.
The company claims that GoodRx Gold members save an average of $106 per prescription. Just like any other modern-day subscription, Gold can be canceled at any time and be tested for free for the first 30 days.
Telehealth
As previously stated, GoodRx has built various telehealth-related products that include services such as general health checks or Covid-19 testing.
It offers both its own medical checks (via HeyDoctor by GoodRx) as well as a comparison platform for third-party medical services.
HeyDoctor by GoodRx allows you to connect with doctors that are vetted by GoodRx and who work together directly with the company to provide various medical services.
These consultations can cover anything from hair loss or acne to treating anxiety and depression. GoodRx generates revenue from the fees that patients pay for the consultation. Visits start at $19 and do not require insurance.
Second, the company operates an online marketplace in which medical professionals (who are not employed by GoodRx) can offer their services. Services, again, are wide-ranging and practically cover anything that can be attended to remotely.
With the online marketplace, GoodRx makes money via commissions. It collects a fee whenever it helps a third-party medical provider to get a new patient.
Advertising
About 20 percent of all searches on the GoodRx platform are aimed at brand medications (which is a drug protected by a trademark).
Due to their limited capacity, these medications tend to be very expensive. Furthermore, insurance coverage may not always be available.
To make them more affordable, pharmaceutical companies have developed various solutions such as co-pay cards or patient assistance programs, amongst others.
GoodRx then works together with these pharma companies to advertise these affordability solutions to its users.
The company, in most cases, receives a fixed fee in exchange for increased exposure on its platform. These advertising campaigns last for a limited period of time, depending on what has been stated in the agreement.
GoodRx Funding, Valuation & Revenue
According to Crunchbase, GoodRx has raised a total of $910.3 million across 5 rounds of equity funding. The company raised another $1.1 billion when it went public in September 2020.
Notable investors into the company include Silver Lake, Francisco Partners, Founders Fund, as well as Spectrum Equity.
GoodRx was valued at $12.7 billion when it IPO'd in 2020. As of today, its valuation largely remains around the same threshold.
GoodRx generated $550.7 million in revenue for the fiscal year 2020, up 42 percent from the year prior ($388.2 million).