Executive Summary:
SingleCare is a service that enables customers to compare prescription drug prices and purchase them at vastly reduced prices.
SingleCare makes money from referral fees paid by the pharmacies that the company works together with.
What Is SingleCare?
SingleCare is a service that enables customers to compare prescription drug prices and purchase them at vastly reduced prices.
Drug prices on the platform are discounted by up to 80 percent. Discounts are provided for more than 10,000 different drugs.
SingleCare's coupon card, which is used to purchase a drug, can be redeemed at more than 35,000 pharmacies in the United States. Partners include Albertsons, CVS, Walgreens, Walmart, Kroger, and many more.
Users can then use the SingleCare app to find pharmacies in proximity. The app lists all the different prices that a pharmacy would charge for a given drug.
Customers, in order to be able to purchase a drug, need a prescription that was filled out by a medical care professional. Their profiles are HIPAA-compliant and information about aspects such as purchase history is stored securely within the app.
SingleCare's Drug Basket feature, furthermore, enables customers to purchase products in bulk and thus save even more.
SingleCare itself can be accessed and used by visiting the service's website or by downloading any of its mobile apps (available on Android and iOS).
SingleCare Company History
SingleCare, a sub-division of RxSense and headquartered in Boston, Massachusetts, was founded in 2015 by Rick Bates.
Bates, after getting his MBA at Wharton in the mid-1990s, began working as an executive in the pharmaceutical industry.
In August 2009, after various stints at different medical and pharmaceutical companies, he joined Catalyst Health Solutions as its Chief Operating Officer.
Under his leadership, Catalyst Health grew into a Fortune 500 company and eventually went public. In 2012, the company was acquired by fellow pharmacy benefits manager SXC Health Solutions Corp. for $4.4 billion.
Bates would stay on at Catalyst for another two years but ultimately decided to venture out on his own. Interestingly, he did not work on one but two companies at the same time.
As previously stated, SingleCare is a sub-division of RxSense, which offers cloud-based software solutions for other pharmaceutical companies.
SingleCare itself, after close to two years of working on the service, was officially launched in the summer of 2015.
The company was made possible as a result of the implementation of the Affordable Care Act, which led to the expansion of Medicaid and guaranteed issue to minimum essential benefits.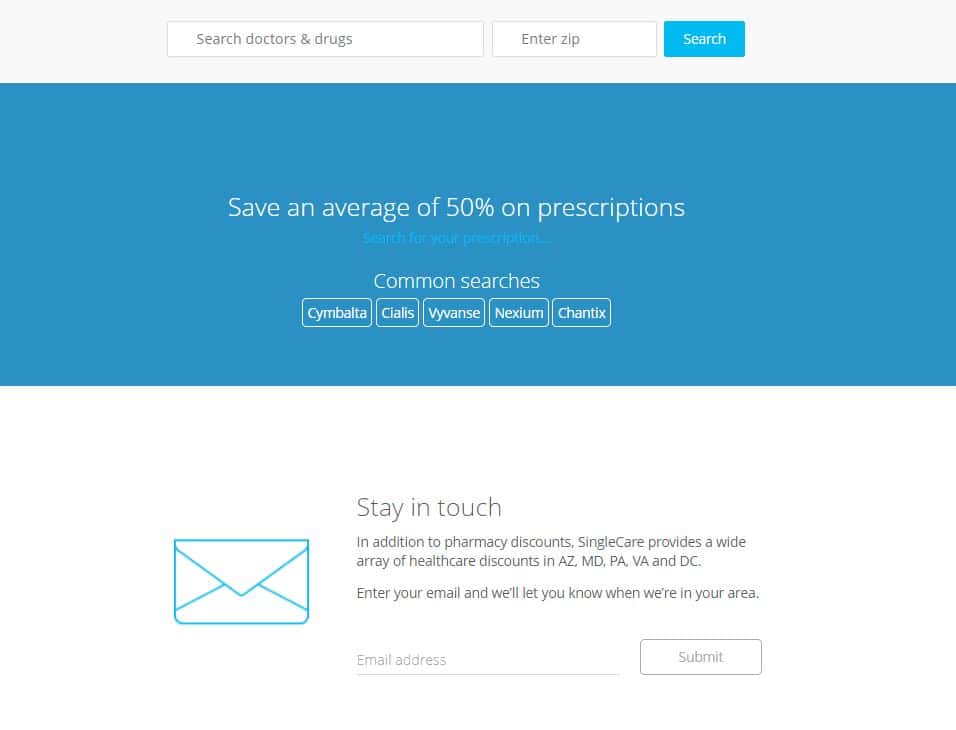 And just like that, SingleCare was off to the races. However, CEO Bates actively opted against raising money from venture capitalists. Instead, he chose "to be sustainable in the long-term."  
In the coming years, SingleCare primarily focused on signing partnerships with various healthcare startups, such as OptimizeRx, a leading aggregator of sponsored services in the electronic health records (EHR) industry.
The consistent growth allowed SingleCare to invest into expanding its service, for instance, by launching a dedicated mobile app or features such as Drug Basket in November 2019.
Fuelled by the first round of capital that SingleCare raised in May 2020 from Parthenon Capital, it was also able to launch its first national advertising campaign. More precisely, it hired famous actor Martin Sheen to do various TV commercials for the company.
The coronavirus pandemic, in particular, helped to boost the firm's bottom line. SingleCare, to better serve its customers, launched a home delivery service in November 2020.
This was almost a necessity as the drug delivery market began to heat up. For example, Amazon acquired PillPack in May 2019 for $750 million while other companies soon followed suit.
The media also began to recognize SingleCare as the firm landed on Fast Company's compilation of America's 10 most innovative health companies, among many other accolades.
SingleCare also continued to double down on its advertising strategy by announcing a partnership with actor Martin Short in December 2021.
Over 300 people are now employed by SingleCare, which has helped its customers to save more than $1 billion to date.
How Does SingleCare Make Money?
SingleCare makes money from referral fees paid by the pharmacies that the company works together with.
As previously stated, SingleCare works together with over 35,000 pharmacies across the United States that include brands such as CVS, Kroger, Walgreens, and plenty more.
Those referral fees are paid whenever a coupon is redeemed. However, the coupon card can not be used in conjunction with one's insurance and thus only allows for cash payments (I'll explain later why).
SingleCare has added a variety of features in the past to entice customers to make a purchase. For example, it offers home delivery (in conjunction with GeniusRx) and price history charts, amongst others.
Apart from offering those drugs via its own platform, SingleCare also works together with other businesses to open-source its offering. In the past, it has inked partnerships with companies such as Properi-Key or WebMD to provide their members with its offerings.
The goal here is to maximize distribution since SingleCare likely receives a portion of the referral fees that its partners generate.
SingleCare itself is able to offer those hefty discounts (up to 80 percent) due to a variety of reasons. First, the acquisition cost for any given drug is only a tiny fraction of the price that it's actually going to be listed for.
Pharmacies themselves charge a so-called usual and customary (U&C) retail list price, which is the price charged to a customer paying in cash. That price can vary heavily across pharmacies, especially for generic drugs.
Those U&C prices are normally far above the actual acquisition cost of the drug. That's because the pharmacies work together with so-called Pharmacy Benefits Managers (PBMs) who allow pharmacies to access customers with prescription drug insurance.
The PBM does not reimburse a pharmacy above the pharmacy's U&C list price, which in turn prompts pharmacies to set U&C prices that exceed the maximum reimbursement from any payer.
Competing platforms like GoodRx are then able to tap into the network rates of PBMs, which are significantly below the U&C price.
Moreover, PBMs require pharmacies to accept discount cards to remain in their network and thus be able to access insurance payers. Consequently, GoodRx gets compensated by the PBM and not the pharmacy itself.
SingleCare, on the other hand, cuts out the middleman (= PBM) and directly works together with the pharmacy.
As a result, the pharmacy does not face the same pricing pressure as it would with platforms like GoodRx (which also means that SingleCare is often more expensive since it can't tap into the PBM network rates). And it's also the reason why SingleCare only accepts cash payments and does not allow customers to use their insurance.
Consumers then benefit because the pharmacy partially passes on those savings to them, thus allowing users to save up to 80 percent in prescription costs.
Not only is the pharmacy able to bring in more customers but it can also cross-sell customers additional goods. This is especially true for chains like Walmart, which place their pharmacies in the supermarket's most-prominent locations.
In that regard, SingleCare operates somewhat like an online marketplace, meaning it connects supply (drugs and pharmacies) with demand (= customers in need of cheap prescriptions).
It then acts as the trusted intermediary, which takes care of pharmacy discovery, payment facilitation, and so forth.
Who Owns SingleCare?
SingleCare is primarily owned by its CEO and co-founder Richard Bates who has largely built the company without much outside investment.
Given that SingleCare, unlike its competitor GoodRx, remains in private ownership means that its shareholding structure does not need to be disclosed to the public.
However, it can be assumed that Bates retains a large stake in the company primarily because it only has raised one round of outside funding so far (in May 2020).
At that point, SingleCare was already five years old, which likely means it had significant amounts of revenue that would aid negotiations with investors.
Additionally, he raised funding at a time when investors were literally throwing money at tech startups, so the terms were likely in his favor.