Executive Summary:
Doximity is a social network for medical professionals that allows them to connect with other physicians as well as prospective patients.
Doximity makes money by charging subscription fees for its marketing, hiring, and telehealth solutions. Consequently, Doximity operates on a subscription-based business model.
Founded in 2010, Doximity has become the leading medical social network in the United States. The company successfully went public on the New York Stock Exchange in June 2021.
What Is Doximity?
Doximity, a mashup of 'doctors' and 'proximity', is a social network for medical professionals that allows them to connect with other physicians as well as prospective patients.
Often dubbed as the LinkedIn for doctors, Doximity allows medical professionals to communicate and share confidential information with patients and colleagues – all while being HIPAA-compliant.
Just like any other social network, Doximity offers a tailored social newsfeed that displays medical topics. Posts can be liked, shared, and commented on.
Doctors and other medical professionals can, furthermore, list their practices as well as add descriptions about what they do and how they can be reached. Additionally, they can add their CV to highlight their skills.
Within the app, they can communicate with patients, for example through text, video calls, or by being able to send HIPAA-secure faxes. The platform also allows to sign, date, and annotate documents.
Apart from finding clients, medical professionals can also search for jobs or read reviews on more than 4,000 residency programs across the United States.
Doximity can be accessed by visiting the company's website as well as by downloading its mobile or tablet app (available on Android and iOS devices).
Doximity Company History
Doximity, headquartered in San Francisco, California, was founded in 2010 by Jeffrey Tangney, Shari Buck, and Nate Gross.
CEO Tangney is certainly the most experienced of the bunch when it comes to starting a business. But first things first.
In 1993, Tangney graduated with a degree in Mathematics from the University of Wisconsin-Madison. Post-graduation, he worked as a software developer for four years and then decided to pursue an MBA at Stanford.
His healthcare journey officially started in the late 1990s when he joined Goldman Sachs' healthcare division as an investment banker. In New York, he was living with Richard Fiedotin, a trained physician.
Trying to take advantage of the raging dot-cot boom, the pair brainstormed ideas in their tiny NYC apartment. What they came up with was to develop a sort-of application for the Palm Pilot, one of the first mobile phones, which would send critical information to doctors.
Tangney and Fiedotin took their idea to Stanford's Graduate School of Business where they wound up meeting another physician named Tom Lee. They quickly became friends and, in 1999, decided to launch Epocrates.
Over the next two years, they managed to raise around $40 million from various venture capitalists who told the team to hire as fast as they can.
Unfortunately, after the burst of the dot-com bubble as well as the 9/11 terrorist attack, business sentiment was at an all-time low, forcing the founders to lay off a considerable amount of people.
While his co-founders eventually decided to leave, Tangney stuck around and helped to rebound the business. Epocrates even became one of the first five apps available on the newly released iPhone in 2007.
In 2008, he tried to take the company public. Yet again, though, his plans were cut short by the great financial crisis, which forced Epocrates to withdraw its application to go public.
Tangney finally decided to leave the business in 2009. Epocrates would eventually go public in 2011 and be purchased by Athenahealth for $293 million in 2013. Tangney, however, was already onto his next venture.
Not long after his departure, Tangney joined Interwest Partners (one of Epocrates' major investors) as an entrepreneur-in-residence where he would come up with his next big idea. He then recruited Buck, whom Tangney had worked with at Epocrates, as well as Nate Gross, who earned his MD from Emory University, to join him for the ride.
In October 2010, after working on the idea for a few months, the trio finally unveiled Doximity to the public as a mobile-centric private social network. Fiedotin and Lee, Tangney's Epocrates co-founders, acted as advisors to the business during those early years.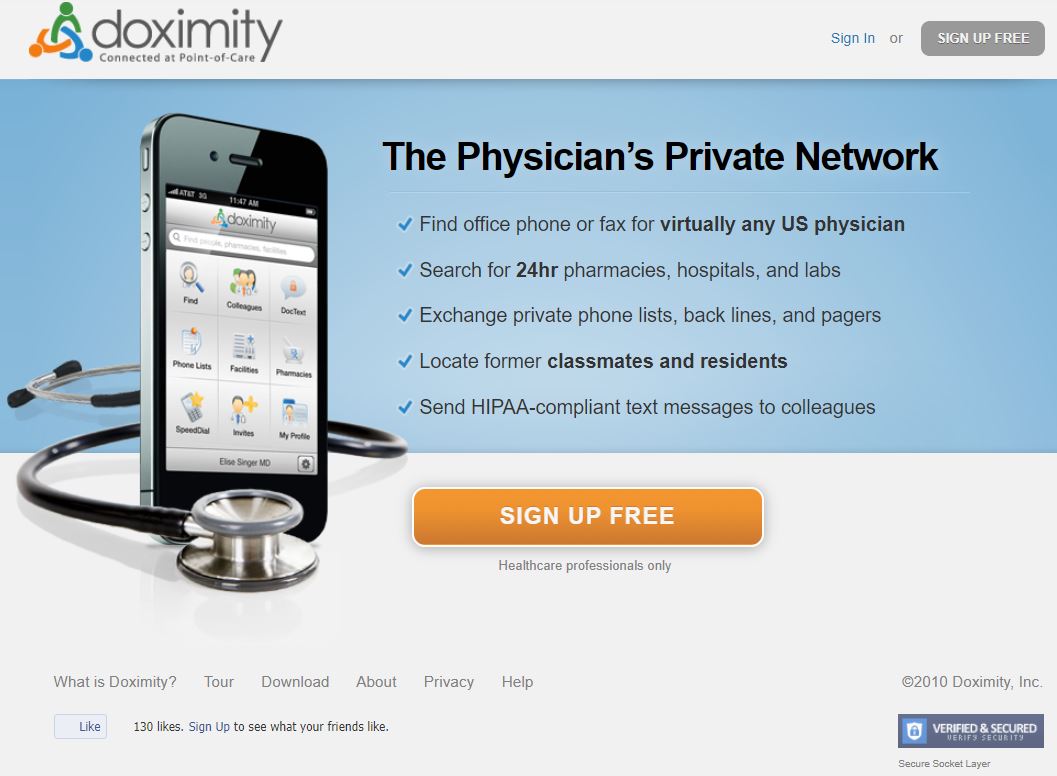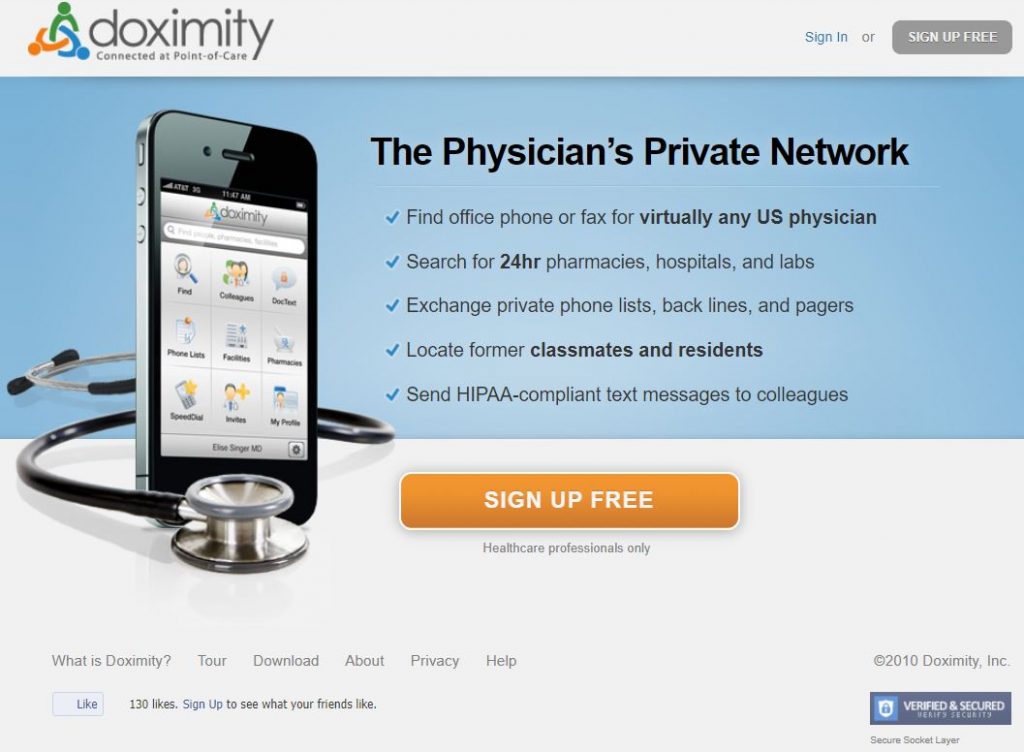 Not long after the launch, in March 2011, Doximity managed to raise its first public round of funding (InterWest Partners, in all likeliness, provided the seed capital to get the app developed), netting them $10.8 million.
By the end of 2011, Doximity had managed to sign up over 30,000 physicians, equal to about five percent of all physicians in the United States. At the time, Doximity was competing against other services like Sermo that provided similar messaging features and had a multi-year head start on the young startup.
In early 2012, Doximity made a significant move in becoming the social network it is today by introducing its Newsfeed feature. It doubled down on its social notion by introducing a separate app that would allow members from the Stanford University Medical Center Alumni Association (SUMCAA) to find and connect with each other.
The startup's consistent growth allowed it to raise another round of funding worth $17 million in September 2012. At that point, it had managed to onboard one in seven U.S. physicians to its platform. Alongside the funding round, Doximity also managed to attract Konstantin Guericke, one of LinkedIn's co-founders, to join its board.
By early 2013, over 125,000 physicians were registered on the platform. Doximity's growth could be mostly attributed to word-of-mouth, namely doctors and medical students recommending others in the traditionally tight-knit medical industry to join Doximity.
Additionally, when Doximity launched, it did so with support from thought leaders from top hospitals such as Stanford, Columbia, and others. Lastly, tightening privacy laws, which Doximity tried to abide by right from the start, also motivated many to join its platform.
In May 2013, Doximity introduced its first tablet app for the iPad, making it more convenient for doctors to use the app when engaging with patients. Throughout the year, Doximity continued to add multiple features that are still in usage to this date, for example by introducing an education platform (in corporation with the Cleveland Clinic), a digital and HIPAA-compliant fax line, or a developer API.
Doximity capped the year off by finally starting to make money vis-à-vis a recruitment tool for medical professionals (more on that in the next section). Just like any other social network, growth eventually began to snowball and took a life of its own. At the beginning of 2014 and within just one year, Doximity had managed to double its user count to over 250,000 members (equal to about 40 percent of all doctors in the U.S.).
The extraordinary growth was rewarded with yet another round of funding. This time, in April 2014, Doximity raised a $54 million Series C round at a valuation of about $400 million. By the end of the year, Doximity managed to reach over half of all U.S. physicians.
Throughout the next few years, Doximity's executive team took the very deliberate decision of cutting down on its public exposure. This was, in large part, a result of the fact that it became a profitable company from 2014 onwards. As a result, it did not need to garner additional press coverage in order to attract new investors. In fact, as it was later revealed, it never touched the money from its Series C round.
In January 2017, Doximity introduced a separate app called Doximity Dialer (which it later migrated into the main app) to enable doctors to conduct secure calls with their patients. Two months later, in March, it announced that it had crossed 800,000 members, equal to about 70 percent of the U.S. physicians. At that point, it had also surpassed its competition and was the undisputed market leader.
In February 2018, after close to eight years of being in business, Doximity managed to cross the inaugural mark of one million members. Throughout the coming months and years, Doximity continued to grow through a variety of partnerships and new feature announcements.
One of the biggest boosts to its platform came in 2020 when the coronavirus pandemic forced people across the U.S. to lockdown. As a result, Doximity introduced a telehealth solution called Doximity Dialer Video, allowing doctors to communicate with their patients over video.
During the summer of 2020, Doximity also made its first acquisition by purchasing THMED, a healthcare staffing firm, for an undisclosed amount. Doximity remained particularly focused on expanding its telehealth offering to establish itself in an industry where it would compete against the likes of GoodRx, Zocdoc, and more.
In May 2021, Doximity hired Anna Bryson, its first-ever Chief Financial Officer (CFO), which often serves as a sign of a company planning to go public. That IPO became reality just a month later, when on June 23rd, Doximity went public on the New York Stock Exchange (NYSE), raising around $605 million in the process.
One of the unique features of the firm's IPO, which propelled co-founder Tangney to billionaire status, was that Doximity reserved 15 percent of its shares to its doctor members. At the time of IPO, Doximity counted 1.8 million members, which equated to four out of five U.S. physicians.
However, being a public company also comes with an increased amount of scrutiny and exposure. In August, CNBC reported that conspiracy theories about the Covid vaccine were running rampant on the platform, which was particularly striking given that the firm only allows educated and verified medical professionals to join its platform.
Today, more than 800 people are employed by the platform which continues to mostly operate out of its San Francisco headquarters.
How Does Doximity Make Money?
Doximity makes money by charging subscription fees for its marketing, hiring, as well as telehealth solutions. Consequently, Doximity operates on a subscription-based business model.
Let's take a closer look at each of Doximity's revenue streams in the section below.
Marketing Solutions
The vast majority of the revenue that Doximity generates comes from charging subscriptions fees for placing ads on its platform.
There, Doximity primarily works together with pharmaceutical companies as well as health systems (such as hospitals) who purchase various subscription models and then execute campaigns. For example, all of the top 20 drugmakers use the platform to reach medical professionals.
Those ads then appear across Doximity's platform, in particular when a user scrolls through its newsfeed.
Doximity's advertising partners benefit from a highly-targeted audience. The platform knows exactly what a physician specializes in and whether he or she is employed or runs their own practice. It even enables advertisers to message medical professionals and directly engage with them.
This then allows Doximity's advertisers to promote products to the relevant user group, which in turn increases the likelihood of conversion.
On top of that, there are very strict rules against promoting drugs. Doximity, being solely focused on a single niche, can therefore ensure that ads are shown in a compliant manner.
Hiring Solutions
Another significant source of revenue for Doximity comes from offering hiring solutions to both health systems as well as medical recruitment firms.
Once again, it monetizes those hiring solutions by charging a subscription fee for the companies seeking to hire medical practitioners.
In this regard, Doximity is similar to LinkedIn, which derives a significant portion of its revenue from enabling recruiters to find prospective employees.
Doximity's strength, compared to LinkedIn, is being laser-focused on doctors. On top of that, it allows physicians to upload their CV and other relevant credentials, which in turn provides recruiters with detailed information about their hires.
They are, therefore, able to narrow down their search to a few selected criteria, which should increase the likelihood of finding the right candidate.
Telehealth Solutions
Lastly, Doximity has also introduced various telehealth products in 2020. These telehealth solutions, offered to health systems, medical groups, and individual medical practitioners, allow customers to conduct virtual patient visits over audio and video.
Once again, customers pay a subscription fee in order to access those telehealth products. Pricing is dependent on the type of customer. While individual practitioners pay on a per-user basis, pricing for larger health systems is dependent on the number of hospital beds.
Moving towards telehealth is a natural step for Doximity. The industry is expected to grow by double-digit percentages over the coming years.
Doximity, being top-of-mind for almost any medical professional in the United States, is, therefore, a natural option if they already spend portions of their time on the platform anyways.
On top of that, when Doximity first started out, it always made sure to comply with any potential security or privacy law. As a result, it likely has been able to build the necessary amount of customer trust to be able to offer compliant telehealth solutions.
Doximity Funding, Revenue & Valuation
Doximity, according to Crunchbase, has raised a total of $81.8 million across three rounds of venture funding.
Investors during those private rounds included T. Rowe Price, Morgan Stanley, InterWest Partners, Morgenthaler Ventures, and many more.
Doximity raised another $605.8 million when it went public in June 2021. At the time of the IPO, investors valued its business at $4.6 billion. Its market capitalization has risen to $8.5 billion at the time of writing.
For the fiscal year 2021, Doximity generated revenues of $206 million, up from the $116 million it posted the year prior.