Executive Summary:
Barstool Sports is a digital media company that produces audio, video, and text content in the areas of sports and pop culture.
Barstool Sports makes money via display, podcast, and video advertising, subscriptions, betting, pay-per-view events, as well as eCommerce sales.
Founded in 2003, Barstool has grown to become one of the leading digital media companies in the United States. More than 66 million people consume Barstool content every month.
What Is Barstool Sports?
Barstool Sports is a digital media company that produces content around sports and contemporary culture.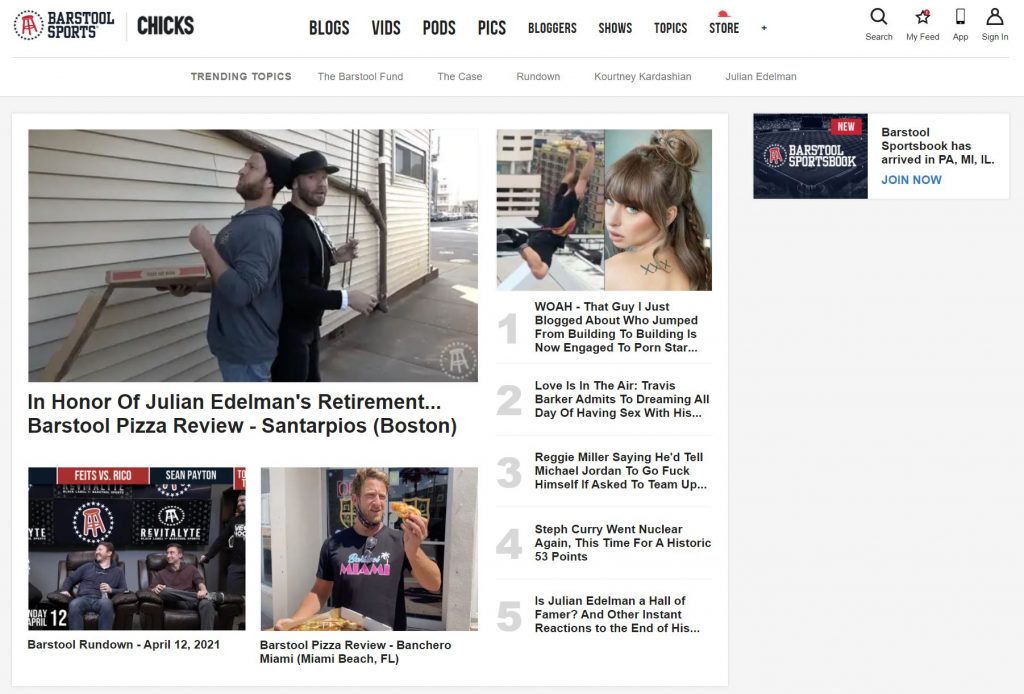 Barstool, under the company's supervision, has launched a variety of other brands. Examples include Call Her Daddy, Pardon My Take, or $Penn.
Content is delivered in a variety of formats, including blog posts, videos, podcasts, and even just pictures of good-looking women.
The company is present on basically any platform imaginable. These include Tik Tok, Instagram, YouTube, Spotify, Facebook, and plenty more.
On top of that, Barstool has also developed its own mobile and tablet application, which is available on Android and iOS devices.
Fans can then show their fandom by browsing and purchasing Barstool-branded clothing and other items.
Additionally, the company recently launched its very own sports betting app (called Barstool Sportsbook), allowing fans to place bets in states where online gambling is legalized.
Today, over 8 million people are visiting Barstool's website every month. In total, the company counts more than 66 million unique users every month.
Barstool Sports Company History
Barstool Sports, headquartered in New York City, was founded in 2003 by Dave Portnoy. Growing up, Portnoy always had a knack for sports. He played both baseball and football in high school, but a shoulder injury eventually cut his dreams of Division III baseball short.
After graduating from high school, Portnoy went on to pursue a degree in education at Michigan University. While he wanted to attend college to study business, he ultimately fell wasn't accepted due to missing foreign language credits.
Post-college, Portnoy, who spent his childhood years in Massachusetts, moved back to Boston to work as a sales rep for a local IT company.
But soon after, his itch for launching a business took over. He experimented with a variety of ideas, such as a scouting platform for underreported athletes seeking college scholarships.
Around the same time, Portnoy picked up gambling as a hobby. In fact, he became so consumed that he even flew to Vegas to get a marketing job at an offshore casino (they immediately denied him). What Portnoy quickly noticed was that there were only a few publications covering betting-related topics.
His grandiose idea: to launch a local newspaper covering anything and everything about the world of betting. Barstool's first issue was published in August 2003. In the early days, Barstool Sports was only available via its newspaper publications. Portnoy would hand it out in person outside of subway stations in Boston.
Soon after, the website was launched in December 2003. Over time, Portnoy and his editorial staff added other topics, such as commentary on men-related topics or a selection of barely dressed women.
In 2007, a fan from New York asked Portnoy to redesign the website and thus make it accessible to the wider public. Around that time, Barstool began expanding into other major cities like Chicago or Philadelphia.
Another major accelerant became the widespread adoption of social media platforms. Portnoy used those to his advantage, oftentimes posting controversial statements on his various social media handles (Twitter, in particular, became a popular avenue of his).
Much of the early 2010s were spent doubling down on the brand's winning formula. Portnoy was engaged in a variety of conflicts, including posting a naked picture of Tom Brady's son or normalizing rape culture.
Admittedly, Portnoy and his team were often early adopters of relevant media trends. After figuring out social, Barstool was one of the first media companies that embraced podcasting.
Portnoy would simply scout for regular people with extraordinary talent and train them to become podcast hosts. 'Pardon My Take', a comedic sports podcast, is now one of the most popular shows in the United States.
Nevertheless, to take that next step and enter the mainstream zeitgeist, Portnoy and his team needed to have some media experience and structure. In January 2016, Barstool announced that the Chernin Group acquired a majority stake in the company.
While Chernin became a majority shareholder, the agreement also stated that Portnoy and Barstool would retain their editorial independence. A few months later, in July 2016, Barstool hired Erika Nardini to be the firm's new CEO.
Nardini possessed decades of experience in the world of media and technology, holding managerial positions at Microsoft, Yahoo, AOL, and many more. Under her leadership, Barstool introduced a variety of different products, such as Barstool Gold or pay-per-view boxing events.
Yet, the company continued to remain in the center of attention. To name all of its controversies would probably go beyond the scope of this article, so let's just name a few:
In December 2018, Barstool stole a comedian's original content and refused to credit her appropriately
In August 2019, Portnoy made explicit threats on Twitter to fire anyone that would think about unionizing at Barstool (which is highly illegal)
Clauses in a contract offered to a prospective female hire potentially prohibiting her from reporting any instances of racial epithets, nudity, profanity, and more
Barstool releasing a video in which Portnoy repeatedly sang the N-word
A Barstool intern named "Cervix Killer" forwarded multiple sexual texts to a female colleague
… and many, many, many more. To make matters worse, Portnoy was oftentimes seen rallying up his followers to go after anyone that called him out for the above behavior. Regardless of his and the firm's antics, Barstool continued to expand its reach across all platforms.
A great example of that dedicated following was on display when Barstool introduced a pink lemonade-flavored vodka called the Pink Whitney in September 2019. The idea and name for the product arose from one of its podcasts Spittin' Chiclets, which is hosted by former NHL defenseman Ryan Whitney.
During a podcast episode the year prior, Whitney told his guest that he likes to drink New Amsterdam vodka (a sponsor of the podcast) with pink lemonade. Barstool sold over one million units of Pink Whitney within six weeks of launching the product.
In January 2020, Chernin decided to offload the majority of its Barstool stake and sell it to Penn National Gaming, a casino and racetrack operator based in Wyomissing, Pennsylvania. The deal valued Barstool at $450 million and granted Penn a 50 percent ownership stake.
Part of the reason why Penn acquired the company was that Barstool got back to its gambling roots. In September 2019, Barstool launched Barstool Bets, an app allowing its users to gather and analyze betting-relevant information.
Penn decided to take this to another level and transform Barstool into a full-fledged betting operating competing against the likes of DraftKings and FanDuel. In September 2020, it launched the Barstool Sportsbook app, which a day after launch became the number one betting app in the US App Store.
Despite his antics, Portnoy also had his fair share of positive contributions to society. In 2018, Barstool launched a pizza review app called One Bite in which Portnoy and other users review local pizza places to boost their exposure. As opposed to platforms like Yelp, One Bite doesn't charge restaurant owners anything for that exposure.
Towards the end of 2020, Portnoy furthermore announced that he would launch a COVID-19 relief fund called The Barstool Fund. The goal was to raise money in support of local businesses suffering from the pandemic. Within a matter of weeks, The Barstool Fund was able to raise over $30 million.
Today, over 500 people are employed by the company which moved its headquarters from Boston to New York in 2016.
How Does Barstool Sports Make Money?
Barstool Sports makes money via display, podcast, and video advertising, betting, pay-per-view events, subscriptions, as well as eCommerce sales.
Let's take a closer look at each of these in the section below.
Podcast Advertising
The majority of revenue that Barstool generates comes from advertising on its podcasts. Adverts are played throughout episodes, normally at the beginning, middle, and towards the end.
Advertisers then compensate the company and its creators based on a fixed fee. Podcasters are then bound to a few obligations, such as ensuring the ad has a certain length or reading out specific sales copy.
Consequently, the more listeners Barstool can amass across its various podcasts, the more it can charge for an advert.
Barstool's various podcasts rank as the third most popular in the United States, trailing only behind NPR and The New York Times.
Some of its most popular podcasts include Pardon My Take (the firm's first major podcasting success), Call Her Daddy, Spittin' Chiclets, and more.
According to Digiday, Barstool generated over $15 million in podcasting revenue for 2018. More recent numbers are, unfortunately, not available. Nevertheless, it can be assumed that the income from podcasts has substantially increased ever since.
Video Advertising
Barstool creates video content for a variety of platforms, including YouTube, Facebook, Tik Tok, Instagram, and many more.
Videos are monetized through ads that appear either at the beginning or middle of the video. This is referred to as pre-roll and mid-roll respectively.
Barstool then gets compensated for every advertisement that a user sees. While all of these platforms have different ad rates they payout, the core essence is that the more people watch videos, the higher the payout BuzzFeed will receive.
Display Advertising
Display ads, the reason why you're using ad-blocking software, are banners that are placed on different areas of your website.
Display advertising may show up on top of the page, the left and right sidebar, in the footer, or even throughout the content.
A very small fee is then paid out every time a user sees an advertisement (also referred to as an impression).
Betting
As previously stated, Barstool launched its very own sportsbook app back in September 2020. The app allows users from states where gambling is allowed to place bets.
A 2018 Supreme court ruling opened the door for states to legalize sports betting and gambling as a whole.
Barstool, just like any traditional bookmaker, generates revenue from people losing their bets. Another technique that Barstool employs is the inclusion of vigorish (also known as vig, juice, margin, or overround).
Vigorish is essentially a commission that is charged for placing the bet. Normally, it's exemplified through the odds that a bookmaker offers. By offering less favorable odds, Barstool can (in all likeliness) pocket more for themselves.
To minimize risk, Barstool furthermore reserves the right to limit the number of executable bets as well as the money that a user can bet.
Pay Per View Events
In November 2017, Barstool Sports expanded into pay-per-view boxing. Dubbed Rough N' Rowdy, the events oftentimes have amateur boxers engaging in fights.
Fans have to pay in order to access the content. Access to the one-time event normally costs $19.99. In 2018, Barstool made more than $550,000 from one event alone.
Subscriptions
In December 2018, Barstool launched a premium subscription service called Barstool Gold. The subscription grants fans access to premium content. Nevertheless, most of the site's content continues to be freely accessible.
Within a year of launch, Barstool was able to sell over 30,000 subscriptions. Subscriptions come in two years, costing $50 and $100 a year, respectively.
established media outlets, such as The New York Times or The Wall Street Journal, have implemented similar offerings in the past few years.
E-Commerce
Fans of Barstool (also called Stoolies) can express their admiration for the company and its creators by purchasing various merchandise offered on its website.
Barstool offers hundreds of articles, mostly centered around clothing (such as t-shirts or hoodies) items.
The majority of products that Barstool offers carry some sort of messaging from one of its shows. Some of the biggest sellers are Pardon My Take or Call Her Daddy merchandise.
Barstool Sports Funding, Revenue & Valuation
According to Crunchbase, Barstool Sports has raised a total of $178 million across two rounds of venture capital funding.
The last time the firm's valuation was disclosed when it was acquired by Penn National Gaming for $450 million.
Penn National Gaming does currently not disclose how much exactly it makes from Barstool. Previous estimates have put the companies annual revenue between $90 million to $100 million.