Executive Summary:
Zip is a FinTech company that provides 'Buy Now, Pay Later' (BNPL) solutions to both merchants and customers.
Zip makes money via merchant fees, interest from loans, account establishment fees, as well as penalty fees.
Founded in 2013, Zip has grown to become one of Australia's largest BNPL providers. The company has raised close to US$900 million in funding to this date.
What Is Zip?
Zip is a FinTech company that provides 'Buy Now, Pay Later' solutions to both merchants and customers.
For individual customers, Zip offers two different products, namely Zip Pay and Zip Money. The main difference between the two is the amount of money a customer can borrow.
Zip Pay is intended for purchases in the range of $250 to $1,000 while Zip Money is geared towards anything that costs more than $1,000.
After registering and having their credit worthiness checked, customers can shop with Zip in a variety of ways.
Most often, customers will select Zip as a payment option when purchasing via the merchant's online store. Alternatively, they can also shop within Zip's own app (available on Android and iOS devices), Chrome extension, as well as in retail stores.
Customers can purchase products in a variety of categories, including automotive, electronics, fashion, furniture, and more. They can even settle outstanding bills, which ultimately depends on their country of residence.
Individuals are not the only ones who can use Zip, though. Businesses can also take advantage of its instalment plans, for instance when shopping for office supplies or paying wages.
Zip is currently available in six countries, namely Australia, Canada, Mexico, New Zealand, the United Kingdom, and the United States (which it entered through the acquisition of rival Quadpay).
How Zip Started: Company History
Zip (formerly zipMoney), headquartered in Sydney, Australia, was founded in 2013 by Larry Diamond and Peter Gray.
Diamond, who grew up in the Sydney's eastern suburbs, learnt to code in BASIC when he was eight years old. His love for computer eventually culminated in him pursuing a degree in Information Technology.
After graduating, he joined Pacific Brands as an IT Manager. However, he eventually pivoted towards a more commercial career and ended up working in investment banking at Macquarie.
However, Diamond soon grew dissatisfied with his employer's handling of the financial crisis, which broke out two years after he joined. Although Diamond himself wasn't made redundant, he grew to dislike how Macquarie treated most of its employees post financial crisis.
As a result, he joined Deutsche Bank in 2010. To his disappointment, the bank's stifling bureaucracy made working ever less enjoyable. Around the middle of 2012, Diamond was made redundant, in large parts because he simply did not care to perform to the best of his abilities.
In hindsight, being laid off was likely the best thing that could've happened to him. Over the next few months, he helped a friend named Greg Moshal to raise money for his own startup named Prospa, which is now an ASX-listed company.
Not long after, he decided to pursue a business himself. Being from a finance background, he saw first-hand how predatory and inconvenient most lending companies operated. Payday lenders like FlexiGroup charged overdraft interest of more than 30 percent. Applying for a consumer loan at retailers like Harvey Norman meant customers had to fill out lengthy forms and wait for extensive amounts of time until they were approved.
Meanwhile, foreign startups began to prove that obtaining a loan did not need to be that inconvenient. Sweden-based Klarna, for instance, was expanding across Europe and the United States.
Once he was settled on the idea to disrupt lending, Diamond got to work. He began to pitch a variety of potential investors who all emphasized that it was a great idea, yet did not think Diamond could build it by himself as he lacked any meaningful lending experience.
Diamond hired a recruiter to help him find a co-founder. That resulted in him eventually connecting with Gray who had just been made redundant himself. He had previously been made redundant from Once Credit, a point-of-sale finance company, which had just been acquired by FlexiGroup.
Over the next six months, the pair worked out their business plan and pitch. They eventually incorporated the company in June 2013 while raising AU$170,000 from families and friends. Next, they began pitching potential retailers to join their service. Chappelli Cycles, which sells AU$500 bikes, was the first one to join. Later that year, around December, they finally unveiled zipMoney to the wider public.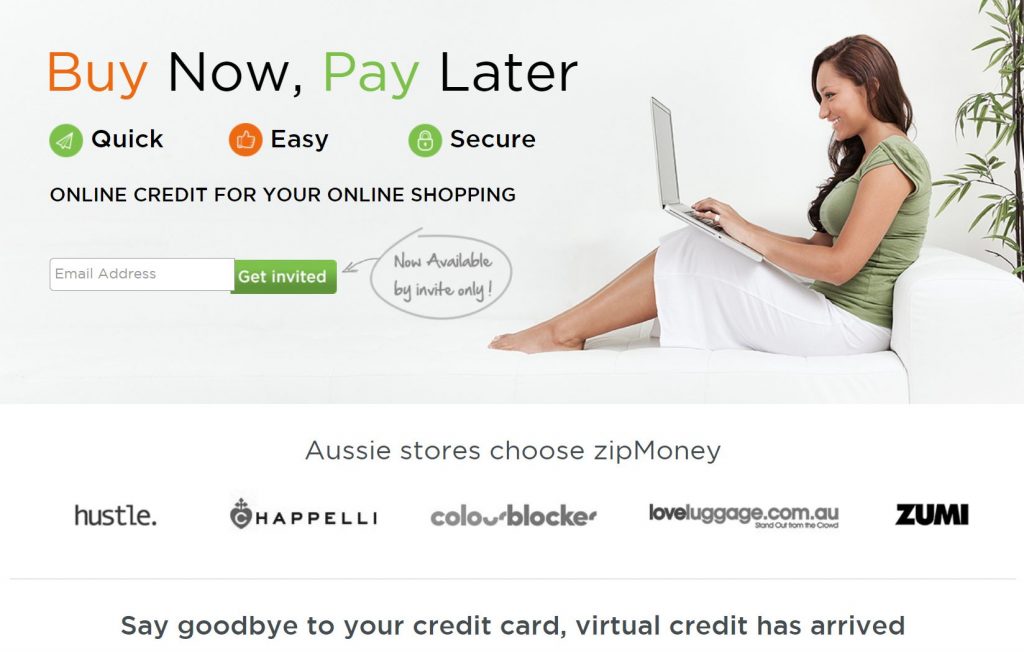 Despite early success, they soon found themselves in need of more funding. Unfortunately, the Australian venture capital market was not able to provide those funding capabilities. In 2014, VCs in Australia had only invested AU$100 million into local startups.
Therefore, the founders decided to go public on the Australian Stock Exchange (ASX) via a so-called reverse takeover. During a reverse takeover, a privately held firms purchases enough shares to take control of a publicly traded company or vice versa. The shareholders of the private company then exchange their shares for the public ones.
Many investors and VCs were highly critical of the method, saying its sketchy and lags any form of necessary due diligence. However, the reverse takeover does provide companies with some benefits, such as faster time to market. Plus, being a public company allowed zipMoney to have greater access to capital, ease conversations with potential (merchant) partners, and brand itself as a legitimate option to both customers and potential employees.
Within a month, zipMoney completed the process of going public by merging with Rubianna Resources. The IPO allowed the company to raise another AU$5 million, which went into the hiring of more employees and expansion of its merchant base. The company even began poaching high-ranking employees from the likes of FlexiGroup and PayPal.
The benefits of being a public company soon came into full display. In November 2015, zipMoney received a US$100 million loan from US asset manager Victory Park Capital. The debt funding allowed Zip to issue even more loans to customers.
The funding, furthermore, allowed Zip to make its first-ever acquisition. In September 2016, the company purchased personal finance management app Pocketbook for around AU$7.5 million. The acquisition allowed Zip to source an abundance of additional data points to feed its credit and fraud decision technology.
Over the course of 2017, the company continued to add capital to its balance sheet. It first raised a US$260 million round of debt from National Australia Bank (NAB) in May and followed that up with US$40 million in equity funding (led by Westpac) in August.
The Westpac deal saw Zip developing additional integrations with the bank. It, furthermore, became the third-largest equity fundraise for an Australian tech company up until that point. At the time, Zip counted around 650,000 customers.
However, not everything always went according to plan. In November 2017, the firm's former head of enterprise sales sued the company for wrongful termination. He was released from his duties a month prior to receiving his performance bonus.
Despite small setbacks, Zip continued to grow at a tremendous rate. By May 2019, the company finally crossed the $1 billion valuation mark, becoming one of Australia's most valuable tech companies.
Although Zip's valuation growth remained increasing, it was often dwarfed by its biggest rival Afterpay. To keep up with its rival's pace, Zip began expanding into other countries. Its expansion efforts were officially launched in August 2019 when it purchased PartPay, a BNPL provider based in New Zealand, for AU$50 million.
Apart from expanding into new markets, Zip also entered new product verticals. That same month it acquired PartPay, it launched ZipBiz, a payments product for small businesses, providing interest-free line of credit for up to 60 days for payments up to AU$25,000.
Zip capped the very successful year off by announcing a partnership with Amazon Australia, which would see it to becoming the marketplace giant's first BNPL partner in Down Under.
Across 2020, the company's growth would quite literally skyrocket. As the coronavirus pandemic wreaked havoc across the world, many people (forcefully) turned to online shopping to conduct their purchases.
Many of these people took advantage of the many BNPL options that were by now made available to them. As a result, order volumes simply exploded. In June, it closed an AU$200 million funding deal with US investor Heights Capital Management.
That capital was immediately put to use. Just days later, Zip announced that it acquired the remaining 85 percent of Quadpay, a BNPL provider out of the United States, for AU$446 million worth of Zip shares. Zip previously already held a 15 percent stake in Quadpay as a result of its PartPay acquisition as well as separate investments.
The acquisition allowed Zip to enter the world's most lucrative consumer market where it would compete against the likes of Affirm, Klarna, Splitit, and Sezzle. To beef up its war chest, Zip raised two more rounds of funding, namely AU$100 million (debt) and AU$120 (equity) in November and December, respectively.
Despite a whopping AU$453.8 million loss recorded for the fiscal year 2021, Zip continued its expansion efforts to capitalize on selected opportunities. After another AU$400 million debt fundraise in April 2021, it announced the acquisition of two more BNPL providers in May.
Zip paid €89 million for Twisto and US$16.3 million for Spotii, giving it access to markets like the Czech Republic or United Arab Emirates.
Today, over two million customers are part of Zip's platform. Additionally, the company employs more than 1,000 people across multiple offices.
How Does Zip Make Money?
Zip makes money via merchant fees, interest from loans, account establishment fees, as well as penalty fees.
The following analysis does not take revenue originated from its subsidiaries, such as Pocketbook or Quadpay, into account.
Let's take a closer look at each of Zip's revenue streams in the section below.
Merchant Fees
The majority of the income that Zip generates comes from the fees that merchants pay. Merchants are charged a fixed as well as variable fee on every transaction.
The fixed fee is equal to $0.15 per transaction. On top of that, a variable fee of between 2 to 4 percent is being applied. The percentage charged ultimately depends on the rates that the merchant is able to negotiate with Zip.
Even though merchants are the ones that pay the fees, they end up profiting in a variety of other ways. For once, average order values substantially increase when a merchant provides BNPL options.
Second, offering BNPL solutions to customers often also increase conversion rates as customers are more willing to spend (especially when considering higher ticket items).
To that extent, the company has begun to build an ecosystem around its payment service. For instance, customers can now download a mobile app which allows them to discover deals and other exclusive offers. Customers can even settle their electricity (and other) bills within the app.
Interest
While Zip claims to not charge any interest, that is technically not true. For instance, with ZipMoney, the company imposes a 19.9 percent interest fee on any balance that is outstanding after a certain period (normally three months).
Similarly, the company also applies interest on for Zip Trade Plus, which allows business owners to take out loans between AU$3,000 to AU$150,000.
Account Establishment Fee
When setting up an account, Zip has to conduct a variety of background checks to ensure a customer can pay the loan.
Zip, therefore, charges a so-called establishment fee for setting up the account and conducting those checks. The fee is dependent on the limit that the customer chooses.
Penalty Fees
In some markets like the U.K. Zip also levies penalty (or late) fees on its customers. These fees are charged if a customer fails to make a payment in due time.
Sticking to the U.K. example, customers of Zip will have to pay £6 if they miss a payment. Fees are capped at £18 per order. However, customers can't use the service anymore until they settle their outstanding debt.
Zip Funding, Revenue & Valuation
According to Crunchbase, Zip has raised a total of $893.6 million across eight rounds of debt and equity funding.
Notable investors include the likes of FIIG Securities, Victory Park Capital, Westpac, National Australia Bank (NAB), and many others. Zip Co is currently being valued at around US$4 billion.
For the fiscal year 2021, the company generated annual revenues of US$403.2 million, up 150 percent from the year prior (US$161 million in FY20).