In 2021 alone, nine of the biggest banks in Nigeria raked in ₦554 billion (~ $1.31 billion) in account management fees according to the World Bank.
Another $2.94 billion in fees was spent between 2020 and 2021 by people living outside Nigeria to send back a total of $34.8 billion to their home country – most of which goes to support their loved ones.
Babs Ogundeyi and Musty Mustapha, the founders of the financial technology (FinTech) startup Kuda Bank, wanted to get rid of the exorbitant fees that traditional banks in Nigeria charge when they started the company.
Kuda Bank is currently majority-owned by Babs Ogundeyi and Musty Mustapha. The founders have raised over $91 million in venture funding thus far, which means that they gave up some equity in the process.
With a valuation of $500 million, Kuda Bank is currently one of the highest-valued startups in Africa. How it came to be, who is behind it and owns how much, and what's next for the promising upstart will be detailed in the coming chapters.
First Of All: What Is Kuda Bank?
Kuda is a FinTech company that offers various banking solutions to customers in Nigeria. As a so-called neobank, it does not operate any physical branches.
As a result, all of its services are provided over the web as well as its mobile apps, which can be downloaded if you have an Android or iOS device.
At the core of Kuda's offering stands its free bank account, which customers can open within a matter of minutes.
The account works just like any other regular bank account and allows customers to send and receive money or track their spending.
Users can send money to each other via a uniquely assigned Pay ID, no account numbers are required. Furthermore, they get 25 free transfers at the beginning of each month.
Kuda has also partnered with Access Bank and GTBank to allow users to retrieve money free of charge at over 3,000 ATMs in Nigeria.
The money can be retrieved using Kuda's own debit card, which the firm offers in partnership with payment processor Visa.
However, Kuda doesn't just encourage you to spend your money. Additionally, customers can earn up to 15 percent annual interest on their account balances, create savings goals and track budgets, categorize spending, and set up automatic savings.
Kuda, unlike many of its competitors, is actually a fully-licensed bank. It has been licensed by and registered with the Central Bank of Nigeria (CBN) since 2019. In fact, it became the first Nigerian neobank to achieve this feat!
And since it is a fully-licensed bank, it can actually issue loans, which it does in the form of short-term overdrafts. Borrowers currently pay 0.3 percent interest on those short-term loans.
Lastly, Kuda offers a bank account for business owners as well. The account enables them to pay expenses (e.g., vendors and staff) or receive payments for their own services, track expenses, and so much more.
Detailing the Rise of Kuda Bank
Kuda Bank, which is formerly headquartered in London, United Kingdom, was founded in 2019 by Babs Ogundeyi and Musty Mustapha.
At least for Babs, this has certainly not been his first entrepreneurial rodeo. He was actually born in England to Nigerian parents.
While his parents eventually moved back to Nigeria, Babs remained in England to attend boarding school and eventually university (he graduated with an accounting degree from Brunel University in London).
By the way, despite having grown up in the UK and still spending his time between London and Nigeria, Babs actually considers himself Nigerian instead of British.
Apart from being Nigerian, he also has been entrepreneurially minded since forever. In 2003, just one year after launching the business, he sold classifieds publication Motortrader to a major Newspaper company in Nigeria.
Over the next 10+ years, he spent time in the corporate world for world-renowned organizations such as PwC. In 2011, he began advising the Oyo State Governor on fiscal policies.
However, by the middle of the 2010s, the urge to start a business came back in full force. In 2015, he quit his job to work on a startup that would take advantage of the extensive banking experience he gained throughout the past decade.
After close to two years of working on the concept, he launched a company called Kudimoney in April 2017.
Kudimoney was a fully licensed online lending platform that offered unsecured personal loans to people in Nigeria. Unlike its competitors, which included Kiakia, Snapcredit, and many others, Kudimoney's time to issue a loan only took a maximum of one hour.
Over 5,000 customers registered to receive loans within a matter of weeks given how easy it was to receive those loans.
However, it seemed that the business didn't grow as Babs had initially hoped as no further updates about its progress were shared with the wider public.
The company showed some signs of life a year later, in July 2018, when it participated in the Startupbootcamp accelerator – under the name Kudimoney Bank. This was certainly a sign of things to come.
But it took yet another year until we heard about the company again. This time, though, it came with a bombshell announcement.
In June 2019, Babs Ogundeyi and Musty Mustapha, the firm's CTO who spent years in banking at firms such as CBC, First Bank, and Stanbic IBTC (where he met Babs), unveiled the rebranded Kuda to the public.
What was particularly surprising about the launch announcement was the fact that Kuda had secured a banking license from CBN, which was a first among FinTech startups in Nigeria.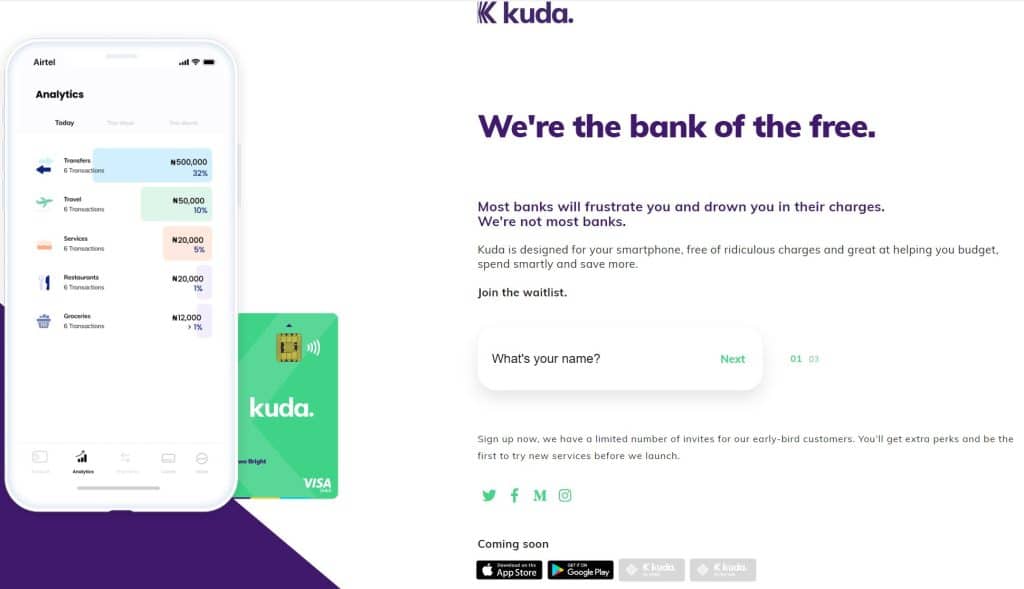 But why did Babs pivot from lending toward banking? For once, the top 11 Nigerian charged their customers ₦143 billion in account maintenance fees during 2018. Kuda, on the other hand, was completely free to use.
Additionally, access to credit in the form of loans had always been hard to come by for the 190 million Nigerians living in the country. Lastly, over 70 percent of all Nigerian citizens are 30 or younger, thus boasting a population that is more open to trying out new digital products.
Meanwhile, neobanks across the world were raising billions in funding to disrupt established financial institutions. Brazil's Nubank, for example, had just reached a valuation of $10 billion when Kuda launched and subsequently went public in late 2021.
But back to Kuda. Three months after the announcement, in September, the founders managed to raise $1.6 million in pre-seed funding. Kuda, in the meantime, was still in beta to refine the product experience (especially considering that they are dealing with people's money).
Over the coming months, the founders continued to refine the product experience. In June 2020, for instance, they launched a web version of Kuda. Furthermore, Kuda managed to score a partnership with international payments provider Payoneer to allow customers to receive payments from the United Kingdom, the United States, and Europe.
By the end of 2020, Kuda already had amassed a customer base of 300,000 people. One key component to its growth was the support of the 'End SARS' campaign, which prompted many Nigerians to declare their allegiance to the bank.
Due to the firm's impressive growth as well as heightened interest in the Nigerian FinTech scene (Paystack had just been acquired by Stripe for $200 million), Kuda was able to raise $10 million in seed funding led by Target Global.
Just four months later, in March 2021, the firm announced that it had just raised $25 million in Series A funding. The round was led by Peter Thiel's Valar Ventures, the firm's first investment in an African startup.
Meanwhile, Kuda's customer count more than doubled from 300,000 to now over 650,000. In February alone, the firm processed over $2.2 billion in transactions. Kuda Bank used the funding to expand its product suite and add more integrations.
It took just another five more months for the firm's next funding round. In August 2021, Kuda Bank announced that it raised $55 million in Series B funding at a valuation of $500 million. The same investors from its Series A round led the round again, which is oftentimes a good sign because it indicates that they believe in the company and want to participate in future growth.
The cash injection enabled Kuda to introduce new products including short-term loans or issuing its own debit card in partnership with Visa. By December, Kuda Bank reached the impressive milestone of two million customers, growing more than 200 percent year-over-year.
With some serious cash on its hand, it was time to beef up its marketing efforts. For example, the bank hired musician Fireboy DML to become its first brand ambassador. Additionally, it invested some serious cash into putting up billboards and street posters across Lagos and other cities.
Interestingly, a similar growth strategy has been utilized by its (indirect) competitors such as Chipper Cash.
The firm even managed to hire some absolute superstars, for instance, Pavel Khristolubov who became its first COO, or Elena Lavezzi who kUDA snapped away from British neobank Revolut.
As of the time of writing, Kuda Bank is preparing to launch its product in Ghana and Uganda to fulfill its mission of making banking accessible across the entire African continent.
So, Who Owns Kuda Bank?
As I wrote in the introductory paragraph, Kuda Bank remains in private ownership, which means there is no definitive information on who owns how much of the company.
However, there are a few data points that help us to derive how much equity its founders have given up so far.
As previously stated, Kuda Bank raised $55 million in Series C funding at a post-money valuation of $500 million.
This means that investors, assuming that this is all primary and not secondary investment, acquired 11 percent (= $55 million / $500 million) of the company.
Kuda Bank had raised three rounds of funding before, namely:
09/2019: Pre-seed round of $1.6 million
11/2020: Seed round of $10 million
03/2021: Series A round of $25 million
A general rule of thumb is that the equity founders give up decreases as the rounds increase (from pre-seed to Series A/B/C/etc.).
This is because the risk for investors generally diminishes because the business itself is somewhat established and there are more data points to work with (such as revenue, user growth, profit, and so forth).
Therefore, Kuda's founders likely gave up around 20 percent in the first pre-seed round and probably around 15 percent each in the subsequent two rounds.
However, there was likely some secondary investment involved, meaning the founders did not sell additional equity but the previous investors cashed out some of their equity.
As a result, founders Babs Ogundeyi and Musty Mustapha own a majority of Kuda Bank. Whenever Kuda Bank inevitably goes public in the future, they will probably still own around 20 percent or more of the company.
For reference, Nubank founder and CEO David Velez still held 23 percent of all shares when Nubank went public back in December 2021.