Executive Summary:
Photobucket is an image and video hosting platform that has stored over 15 billion personal images since its inception.
Photobucket failed because of heightened competition as well as due to its dependency on other platforms.
What Is Photobucket?
Photobucket is an image and video hosting platform that has stored over 15 billion personal images since its inception.
The service is available either for free (with limited storage) or by paying a monthly/yearly subscription fee. For example, hosting up to 25GB costs $6 per month (or $65 per year).
Once the files are uploaded, they can be embedded on a variety of third-party platforms like forums or social media networks.
Images can, furthermore, be altered by cropping them, adding filters or stickers, or adding annotations, amongst others.
The files uploaded on Photobucket are safely encrypted while the removal of EXIF data on downloads ensures that images will not share personal information.
Apart from safely storing files, users can also order canvases, photo books, gift cards, and similar products from Photobucket's store.
Photobucket itself can be accessed by visiting the company's website or downloading any of its mobile apps (available on Android and iOS devices).
Photobucket was once one of the world's most frequented websites but eventually lost out to the likes of Instagram and others. How it came to be, who is behind it, and what ultimately led to its demise will be covered in the next few chapters.
What Happened To Photobucket?
Photobucket, which is headquartered in Denver, Colorado, was launched in 2003 by Alex Welch and Darren Crystal.
The two founders became acquainted with each other as employees of Broomfield-based Level 3 Communications where they worked as engineers.
At the time, more and more mobile phones began sporting cameras that people would use to take pictures.
Unfortunately, opportunities to upload and share those pictures were still scarce due to the sheer cost of hosting files.
Welch and Crystal, to satisfy those image-sharing needs, decided to launch Photobucket in May 2003.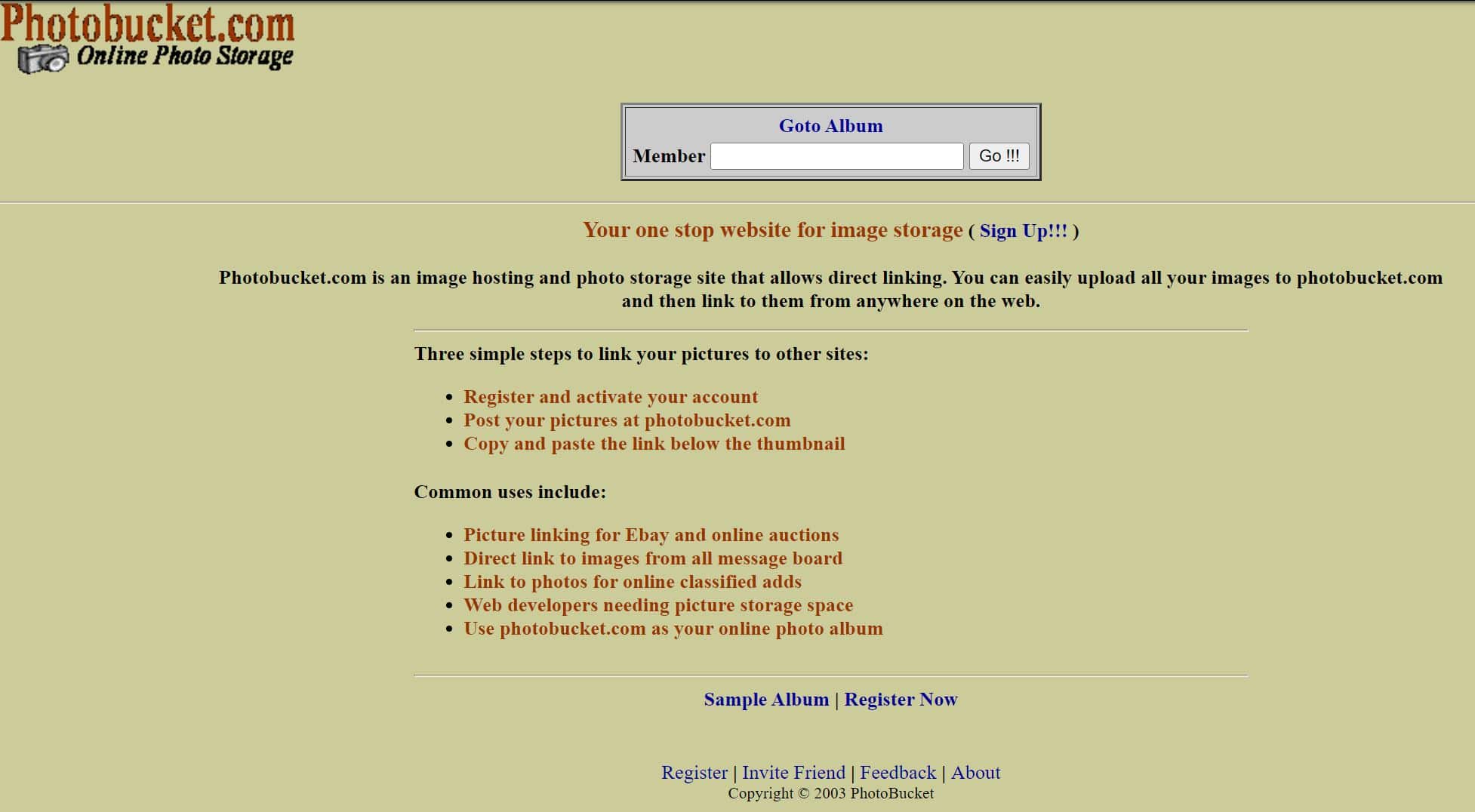 During those early days, Photobucket, which was self-funded by Crystal and Welch, was primarily used for sharing images on eBay and online classifieds sites as well as a personal photo album.
Apart from raising a $3 million round that was led by Insight Partners, the founders largely stayed in the background and did not seek media attention.
The first serious media mention came in April 2006, almost three years after its inception, when Photobucket introduced the ability to upload and share videos as well. At the time, the company had managed to amass over 14 million users and employed 35 people. Moreover, its site accounted for around two percent of all U.S.-based internet traffic.
Within a month of launching the video feature more than one million videos had been uploaded already. The firm's stellar growth was rewarded with another funding round of $10.5 million in May.
And it only took another three months for the company to expand the May round to $14.17 million, effectively raising another $4 million. By the end of the year, the service managed to more than double its user count to over 30 million.
To commemorate the start of the new year, Photobucket announced that it would launch a Flash-based video and sound editing tool in partnership with Adobe. The buzz even prompted the company to hire an M&A advisor who would explore the possibility of a sale.
However, Photobucket's prospects abruptly changed on April 10th, 2007. Sometime around 10:30 pm PST, Myspace, by far the largest traffic source for Photobucket at the time, began blocking videos that were embedded from the image hosting site into Myspace.
Myspace accused Photobucket of violating the terms of their agreement by pushing customers to post ads in the photo slide shows they posted on their Myspace accounts. On April 24th, after multiple rounds of public accusations from both sides, Myspace finally put Photobucket videos back on its platform.
A mere two weeks later, on May 7th, things even got weirder. News Corp (owner of Fox News, amongst others), which had purchased Myspace for $580 million in 2005, announced that it came to an agreement with Photobucket to acquire it for $250 million (plus $50 million in earn-outs which were met later).
Over the coming months, Photobucket kept busy with churning out new features and products, for example by introducing bulk uploads (September), search labels (November), or integrations with Myspace and TiVo (December), amongst others.
2008 very much continued with the same theme of advancing the Photobucket platform. These entailed even more integrations with other web startups as well as the introduction of its very own developer API (allowing third parties to utilize Photobucket images on their own applications).
Unfortunately, not everything was always going according to plan. In June 2008, a Turkish hacker group called NetDevilz hijacked the platform's DNS records to return a hacked page courtesy of the group.
Despite the hiccup, interest in the platform remained undeterred. Photobucket announced even more partnerships, for example with Ask Jeeves (July), Target, or with Scrapblog, a start-up that allows members to create online scrapbooks.
Nevertheless, News Corp also didn't entirely know what to do with Photobucket and its digital department as a whole. The financial recession, on top of that, negatively the firm's financial wellbeing. As a result, in January 2009, it laid off over 100 people from its digital arm. Photobucket was hit the hardest with 22 layoffs.
Despite releasing its own mobile apps and announcing more partnerships with the likes of T-Mobile, layoffs also continue to plague the company. In June, one-third of Photobucket's staff, around 40 people, were let go.
Two months later, co-founders Crystal and Welch departed from the company as well after meeting the threshold for their respective earn-outs. Finally, in December 2009, News Corp admitted that it wasn't equipped to manage the company.
That month, Photobucket was sold to mobile imagine service provider Ontela for a total of $60 million. Ontela's backers, in particular Disney-affiliated venture capital firm Steamboat Ventures, committed to funding the newly created entity and finance portions of the deal.
Tom Munro, Ontela's Chief Financial Officer, was announced Photobucket's newest CEO in October 2010 after months of searching. The company, furthermore, moved its mobile development office from Seattle to its San Francisco and Denver offices, which resulted in 11 more layoffs.
At the time, Photobucket boasted around 100 million members who uploaded more than four million images each day. The saved cost as well as continuous backing of Steamboat Ventures allowed Photobucket to make its first-ever acquisition in January 2011. That month, it bought video portal ibeatYou for an undisclosed sum.
While CEO Munro publicly announced that he intended to grow Photobucket via acquisitions, that strategy never came to fruition under his leadership. Instead, Photobucket launched a separate app called Snapbucket in May 2011 to compete against the likes of Instagram.
A month later, Photobucket announced a major deal with Twitter to power its native photo-sharing feature. Unfortunately, its best days were far behind it. The company entered the news cycle again in the summer of 2012 after various news outlets reported on a huge vulnerability that plagued the service.
Photobucket's privacy settings could be exploited to access nude photos of unsuspecting women using a method dubbed "fusking." CEO Munro tried to calm down the situation by clarifying that most of the exposed photos came from public and not private accounts.
The timing on this couldn't have been any worse. Photobucket, just a few weeks prior to the breaking news, unveiled a major redesign of its site, which was supposed to reignite demand in its services.
To make matters worse, Twitter decided to stop working together with Photobucket and began hosting images and videos on its own. In order to keep the company going, its executives raised $5.7 million from Steamboat Ventures in March 2013.
Another major redesign was introduced in the fall of 2013. The goal was to add more social features to the platform, such as the ability to post stories, to compete against Instagram, Tumblr, and others.
A year later, in August 2014, it got another $3.2 million from Steamboat. Furthermore, Photobucket introduced the ability to print pictures hosted on the platform and third-party applications such as Facebook, Dropbox, or Instagram.
In March 2015, Photobucket announced that it acquired Lasso, a private photo-sharing and chat app that was started by its own co-founder Alex Welch. The intention was to bring back Welch as an advisor and turn the company around.
Photobucket, fuelled by another $3.6 million funding round in April, also purchased social video platform Milyoni for an undisclosed sum. Unfortunately, despite additional funding rounds of $4.2 million (October 2015) and $4.4 million (August 2016), Photobucket wasn't able to restore its former glory.
It re-entered the public consciousness in late 2016 after a 41-year-old Colorado hacker was sentenced to 29 months in prison for selling code that allowed blackmailers to scan Photobucket's library of 10 billion images.
Photobucket itself was also responsible for some of the repercussions it received throughout the years. In early July 2017, it faced a massive public backlash for quietly introducing a $399 annual plan for anyone wishing to keep their images with the platform.
It took almost a year for the company to come to its senses again. In May 2018, under the leadership of its new CEO Ted Leonard (who became chief executive in March), it adjusted its pricing to a more sensible $24.99 a year.
Under Leonard's leadership, Photobucket would finally be able to grow its bottom line once again. When he took over in March 2018, the company only employed around 11 people. Over the next few years, its employee count grew back to over 130 people, equal to the number it boasted back in the mid-2000s.
In August 2021, Photobucket made news when it announced a partnership with Facebook, which enabled its users to move their photos to the image hosting platform.
Despite becoming a fairly healthy company that can stand on its own, Photobucket ultimately failed to grow into the powerhouse many had hoped it would become. After all, it was once responsible for two percent of all US internet traffic. The next chapter will explore why it failed to fulfill that promise.
Why Did Photobucket Fail?
Photobucket primarily failed because of heightened competition as well as due to its dependency on other platforms.
For the longest time, Photobucket was able to live in peaceful co-existence with other social media platforms.
These platforms, such as Friendster or Myspace, were furthermore dependent on Photobucket's ability to store images and videos at a much cheaper rate.
To that extent, Photobucket always prided itself in the fact that it owned and operated its own datacenter, which allowed it to significantly cut down hosting costs.
At the time, cloud platforms like Amazon Web Services (AWS) or Microsoft's Azure were just getting off the ground (or, in some cases, not even started), which significantly decreased hosting options.
This was also one of many reasons why YouTube decided to sell itself to Google since it couldn't stomach the cost of hosting videos.
However, in the late 2000s, the cost of bandwidth and hosting, due to the proliferation of cloud services, allowed new social startups to get off the ground at a very low price. Instagram, for example, was built on AWS.
On top of that, other hosting platforms such as Dropbox or even Apple's Cloud allowed customers to host their images at either no or much lower cost.
And once platforms like Twitter, which had existing partnerships with Photobucket, were able to self-host their images and videos, the need for using the service almost evaporated overnight.
The pricing of Photobucket as well as its lack of social features ultimately caused other platforms and services to overtake the company, which is now serving customers as a simple image hosting service.