Executive Summary:
Ask Jeeves, now called Ask.com, is a question-and-answer site as well as a search engine that allows users to browse the web for answers.
Ask Jeeves was shut down because Ask.com, the company behind it, wanted to undergo a rebrand to further enhance its position in the search industry.
What Is Ask Jeeves?
Ask Jeeves, now called Ask.com, is a question-and-answer (Q&A) site as well as a search engine that allows users to browse the web for answers.
The site was accommodated by a butler called Jeeves who originated from P. G. Wodehouse's famous novels.
After typing in a question, users would be presented with a result page that originated from three major sources. These were human-powered editorial content, crawler-based results from Teoma (owned by Ask Jeeves), as well as paid listings powered by Google.
If Ask Jeeves did not offer a suitable answer, then it sent the query to one of its many editors, some of whom were employed by the company (while others simply volunteered to share their expertise).
The site also offered a variety of sections to discover content, for example, 'Most Recent Questions' or category-based sections such as travel, health, money, and more. It had a dedicated news site as well as a kids' section as well.
Ask Jeeves, furthermore, licensed its search engine to other companies, for example, Nike, to power the search results on their websites.
Just like any other search engine, Ask Jeeves surfaced sponsored results. Those sponsored listings were based on results powered by Google.
In 2006, Ask Jeeves rebranded into Ask.com and, after close to 10 years, put its beloved butler to rest. How it came to be, who was behind it, and why it ultimately rebranded will be covered in the next few chapters.
What Happened To Ask Jeeves?
Ask Jeeves, formerly headquartered in Oakland, California, was founded in 1996 by Garrett Gruener and David Warthen.
Warthen, prior to launching the search site, was the co-founder of a software development company that did projects for the likes of Microsoft or Logicraft, amongst others.
He eventually became acquainted with Gruener who, at the time, was working as a venture capitalist and, therefore, had a front-row seat into how internet businesses were taking off.
At the time, search was dominated by AltaVista, which was launched in December 1995. Although AltaVista represented a vast improvement compared to the search engines that were out there, its search functionality was dominated by simple one to two-word combinations.
Gruener and Warthen figured that internet users would want to search the web by being able to use natural language. Results, as previously stated, would then be supported by tropes of human editors.
In June 1996, the two officially incorporated the company. To highlight the search engine's personal touch, they took inspiration from the work of P. G. Wodehouse. His fiction entailed a valet named Jeeves who served the English gentleman Bertie Wooster.
After close to a year of working on the business, Ask Jeeves was unveiled to the public on June 1st, 1997.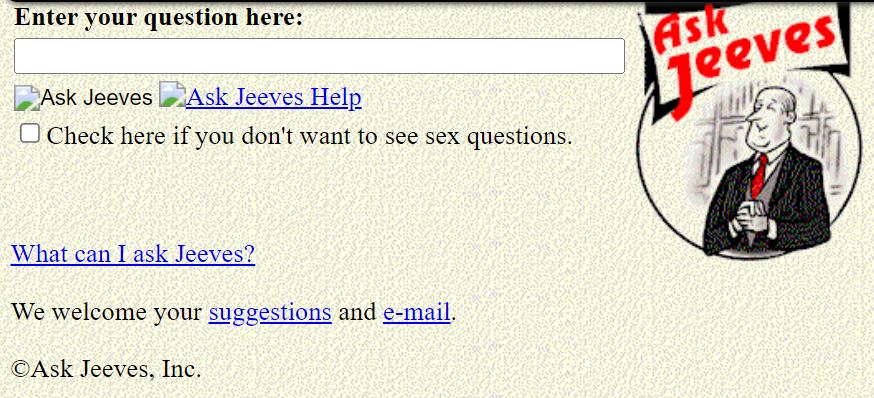 Not long after the launch, in September, the duo managed to raise a first institutional round of funding from The Roda Group. Due to its novel human-centered approach, Ask Jeeves quickly managed to grow its traffic numbers.
By October 1998, over 300,000 searches were conducted on the website – every day. Not long after, it began to license its software to other websites, which in turn would pay the company a fee for powering its internal search results.
Ask Jeeves' rapid ascend, furthermore, allowed the team to raise a second round of funding from Institutional Venture Partners (IVP) and Highland Capital Partners. The two VCs poured a combined $25 million into the company.
During the summer of 1999, with now more than one million daily searches and the dot-com frenzy at its all-time high, Ask Jeeves executive team decided to enter the public markets as well. In July 1999, Ask Jeeves went public on the Nasdaq stock exchange, raising $42 million in the process.
The Ask Jeeves IPO became the third best stock debut at the time. During the first day of trading, the firm's stock soared from $14 to over $80. All of this hype came on the backbone of a mere $800,000 in revenue the company posted in 1998 (while losing $4.26 million over the same timespan).
Demand for the stock remained undeterred, especially after Ask Jeeves struck a deal with Microsoft to answer support questions for Windows 98. The publicity, furthermore, allowed Ask Jeeves to onboard a variety of additional clients who all licensed its search technology.
Riding on its high, the company, in November, announced that it agreed to acquire closely-held online customer-support software maker Net Effect Systems, Inc. for about $288 million in an all-stock deal.
In order to fund the acquisition, Ask Jeeves raised another £50 million from British television companies Carlton Communication and Granada Group in early December. Throughout the coming weeks, Ask Jeeves signed even more licensing deals with the likes of About.com, Nike, Fidelity, and dozens more.
With revenues rising sharply, Ask Jeeves announced its second acquisition on February 3rd, 2000. It purchased Direct Hit in a $500 million stock deal. Direct Hit would provide Ask Jeeves with an automated, crawler-based solution to surface even more results.
Unfortunately, the firm's fortunes would soon change for the worst. A month after the acquisition, the dot-com bubble finally burst, which led to dozens of internet company bankruptcies. The ones that survived, including Ask Jeeves, saw their stock prices being evaporated literally overnight.
Ask Jeeves continued to post massive losses on top of that. One of the negative ramifications of its declining stock price was the departure of key employees such as its COO Ted Briscoe who left the company after only two months.
To soften the fall, Ask Jeeves tried to capitalize on its brand recognition. In June 2000, for example, it released a book for kids that heavily featured its butler. For the fiscal year 1999, the company lost a whopping $42.4 million on revenues of $22 million.
As a result of its continuous financial struggles, long-time CEO Rob Wrubel stepped down from his position in December. On top of that, Ask Jeeves was forced to lay off 25 percent of its staff.
However, one advantage of the economic downturn was that other companies could also be purchased for cents on the dollar. In May 2001, Ask Jeeves acquired direct-marketing company eTour. Four months later, it also purchased Teoma Technologies to boost its search engine capabilities and enhance the results it was surfacing.
Other acquisitions weren't that successful, though. Direct Hit, for example, had been left fallow for over a year without any significant resources being poured into it. Despite posting a whopping $400 million loss for 2001, Ask Jeeves continued to acquire more companies such as Octopus Software in January 2002.
It, furthermore, completely redesigned and trimmed down its web to mimic the likes of Google and Yahoo, with the former growing at an extremely aggressive pace. Talking about Google, the two companies inked a deal in July 2002 that would surface Google ads on Ask Jeeves search results.
While the move was somewhat of an admission that Google was just better at generating money, it eventually enabled Ask Jeeves to reach profitability in the second half of 2002.
In the meantime, Ask Jeeves poured more resources into its Teoma search engine, which by the beginning of 2003 reached about 25 percent of internet surfers in North America. With the advertising industry rebounding, Ask Jeeves was able to plow more resources into its business.
To further boost its profitability, the company decided to sell its enterprise software unit for about $4.25 million in cash. This allowed the company to fully commit to its search engine, for example by adding flight and weather information or country maps.
While Google became the undisputed leader in search by 2004, its rapid ascend also allowed less popular search engines to grow at a tremendous rate. As a result, Ask Jeeves was back on the acquisition train, acquiring Interactive Search Holdings Inc. for $343 million in cash and stock in March 2004. The acquisition granted it ownership of other web search and portal brands such as My Way, My Search, My Web Search, Excite, iWon, and MaxOnline.
Three months after, in June, it purchased technology company Tukaroo to add desktop search to its offerings. In August, Ask Jeeves also expanded into Japan (vis-a-vis a joint enterprise with Tokyo-based software company Transcosmos), its first market expansion in over four years.
However, the first signs of what was about to unfold would arrive in September. For almost a week, Ask Jeeves took down its famous butler, with the company stating that they put him on "gardening leave". After about a week of being absent, he was reinstated with a new and younger-looking design.
The company continued to grow at a positive rate, which allowed it to make another acquisition in February 2005. It purchased Trustic, which owned Blogline and allowed Ask Jeeves to add blog publishing capabilities to the site (which Google and Yahoo already offered). Moreover, the company, after four years, began to advertise its service via TV ads again.
Those announcements were trumped by much bigger news, though. In late March 2005, InterActiveCorp (IAC), led by legendary media executive Barry Diller, disclosed that it would purchase Ask Jeeves for a whopping $1.95 billion. The acquisition ultimately went through in July.
Now that it had the backing of IAC, one of the first points of action was to cut down on the aggressive banner ads that plagued the site, thus offering a much cleaner user experience. Furthermore, Ask Jeeves disclosed its intentions to aggressively into other countries. It even introduced an ad bidding system similar to the one that made Google so successful.
Conversely, Ask Jeeves would be integrated into a variety of other IAC web properties, including LendingTree.com, Match.com, CollegeHumor, Vimeo, Ticketmaster, and others.
Nevertheless, the biggest change was yet to be announced. After a multitude of suggestive comments, it was made official on February 26th, 2006. The company announced that it would rebrand from Ask Jeeves towards Ask.com and effectively get rid of its beloved butler (alongside introducing a variety of new features such as enhanced maps and driving directions, encyclopedia search, and web-based desktop search).
However, this was certainly not the end of the company. To lead it into this new era, Ask.com announced that long-time executive Jim Lazone would become its newest CEO in April, effectively replacing Steve Berkowitz).
Some of its initiatives included integrating Bloglines into Ask.com search results, a deal with Lycos to power its search results, or introducing a new maps product called AskCity, amongst others. In 2007, IAC spent over $100 million on promoting Ask.com across TV and other types of ads but caught some heat over the final execution.
But as expected, even the most aggressive marketing campaigns weren't enough to cause a dent. While Ask.com eventually managed to surpass AOL and became America's fourth most popular search engine, trailing Google, Yahoo Search, and Bing, it couldn't break Google's dominance in the end.
In February 2008, Ask.com laid off 40 of its engineers (equal to 8 percent of its workforce), sold off its Teoma search engine, and switched its CEO (with Jim Lazone being replaced by Jim Safka). Interestingly enough, that didn't stop the company from continuing to make hefty purchases.
In May, Ask.com bought Dictionary.com parent Lexico (which also owned and operated Thesaurus) for a whopping $100 million. Having realized that it lost its battle to Google, Ask.com began yet again to plaster its site with ads to maximize its revenue. In fact, it became the only major search engine that had display ads (mainly from other IAC companies such as Match.com) on.
Amazingly enough, and almost out of the blue, the firm's U.K. unit announced in April 2009 that it would bring back the butler and rebrand back into Ask Jeeves. On top of that, it would invest millions into promoting the relaunched brand. The rebrand was the result of customers repeatedly asking to bring Jeeves back.
Ironically, the company decided to go full circle in the end. In early 2010, question and answer sites such as Quora, Yahoo Answers, or ChaCha were gaining popularity among consumers, which prompted Ask.com to rebrand once again.
The company moved away from being a search engine and became a question answering site once again. The transition wasn't without pain, though. In November, Ask.com had to cut 130 engineering jobs.
In the coming years, Ask released two different mobile apps, integrated with the likes of Lonely Planet, or added polling to its platform. However, the firm's best days were long gone by that point.
Nevertheless, the site is still being visited by tens of millions of people every month, in large parts due to the strength of its brand. Moreover, around 250 people are still employed by the company.
Why Did Ask Jeeves Fail?
Ask Jeeves was shut down because Ask.com, the company behind it, wanted to undergo a rebrand to further enhance its position in the search industry.
At the time of the shutdown, right after Ask Jeeves was acquired by IAC, the company had made it known that it wanted to become a stronger competitor to Google.
As a result, it invested heavily into advertising, skimmed down the ads on its site, and made some hefty acquisitions.
In order to be associated as a search and not a Q&A brand, the executives figured that it was best to get rid of the butler.
After all, Ask Jeeves did manage to acquire a lot of customer goodwill and, as a result, had a strong brand associated with it.
Certainly, the company did conduct tons of interviews and research to ensure that the brand switch was the correct strategic move.
In the end, it wasn't enough to compete with the likes of Google, Bing, and others who all simply were too far ahead to be caught.