Executive Summary:
Wayfair is an online retailer that sells products in the home category, such as furniture, kitchen appliances, and even pet items.
Wayfair makes money from the sale of products, installation services, advertising on its platform, as well as interchange and interest fees. The company operates on a wholesale cost business model.
Founded in 2002 (initially as CSN Stores), Wayfair has grown to become one of the world's largest online retailers of home-related products. It went public in 2014.
What Is Wayfair?
Wayfair is an e-commerce platform that sells furniture, appliances, and other home-related products.
In fact, customers can shop from dozens of categories that are related to the home, even including pet and baby products or renovation tools.
The company works together with hundreds of brands such as Bosch, Kohler, Samsung, Three Posts, and many more.
On top of that, Wayfair owns and operates a few lifestyle brands, namely Joss & Main, AllModern, Perigold, and Birch Lane. Lastly, the company also sells Wayfair-branded items that are only available on its platform.
To entice purchases, Wayfair has created its very own Room Ideas section which provides customers with inspiration on how to design their space.
Wayfair customers can pay for the items using a variety of payment methods, such as wire transfers, debit or credit cards (and even Wayfair's very own branded credit card), checks, PayPal, gift cards, and even financing (using lending providers like Affirm, Genesis, or Katapult).
Customers can shop on Wayfair by visiting its website or downloading its mobile and tablet applications (available on Android and iOS devices).
Wayfair Company History
Wayfair (initially branded CSN Stores), headquartered in Boston, Massachusetts, was founded in 2002 by Niraj Shah (CEO) and Steve Conine.
Shah and Conine go all the way back to 1991. Both of them did their undergraduate studies at Cornell University where they met during an Entrepreneurship class – and immediately hit it off.
After graduating from Cornell, Conine and Shah immediately launched their first business called Spinners. They were providing IT and web design services to companies of all kinds. Three years later, in 1998, they managed to exit the business to iXL.
The pair stayed on at iXL for another 2 years but eventually decided to try their luck at another business. In 2001, they launched Simplify Mobile, a mobile phone aimed at corporate customers. Unfortunately, after eight months of hard work, they had to shut the business down due to a lack of traction.
Inspired by Conine's mother, who operated two outdoor furniture stores in New Vernon, the guys decided to pivot into e-commerce. That decision was certainly surprising given just a year prior, in March 2000, dozens of internet companies went bust as a result of the bursting dot-com bubble.
In August 2002, they launched a website called RacksAndStands.com, which sold items like speaker or television stands. During those early days, the pair ran the business from Conine's Boston apartment (which also meant storing many of the products there).
Due to their extensive digital experience, in particular, within search engine optimization (SEO), RacksAndStands became an immediate success. In fact, they received their first few orders within 24 hours of their launch.
What differentiated RacksAndStands from other providers, such as BestBuy, was its extensive selection of products. Many of its customers even took the courtesy to call and thank them for making those products available.
The initial success of RacksAndStands motivated the guys to scale the category-focused approach by launching other websites. There was just one problem: many manufacturers grew skeptical of Internet retailers and their ability to pay for those product orders.
In order to circumvent that skepticism, Conine and Shah launched a holding company called CSN Stores, which was derived from their initials, to give the appearance of being a bigger company.
With suppliers on board, the team began expanding into other product categories and essentially copy the RacksAndStands model. They launched sites like SimplyDogBeds.com or LuggageSetsAndMore.com, which all reached varying levels of success.
And since you should never change a winning formula, Conine and Shah continued scaling their winning formula. By 2006, they launched nearly 150 websites, employed 250 people, and generated $100 million in annual revenue.
At its peak, CSN Stores operated more than 200 sites that were visited by close to 5 million customers every month. In 2010, those sites helped them generate a whopping $380 million in sales – all without a cent of outside funding.
They, furthermore, launched a variety of luxury lifestyle brands, such as AllModern, in an effort to tap into a wealthier customer demographic. Nevertheless, it became increasingly tougher to scale all of those brands and websites as their respective use cases had often category-based limitations (after all, there are only so many people that need TV stands).
By mid-2011 (CSN was on track to clear the $500 million revenue mark), the founders realized that in order to overcome those limitations, they would have to consolidate all those websites and build a unified brand experience.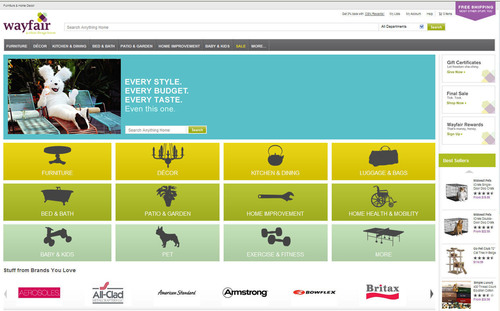 On September 1st, 2011, that vision finally came to fruition with the launch of Wayfair.com. Prior to Wayfair, most of CSN's customers arrived on the site by means of search engines (Google predominantly).
Redirecting all those sites to the Wayfair domain meant that it would cause some severe traffic losses. At its lowest point, the company saw a loss in traffic of up to 75 percent. To overcome the revenue decrease, Conine and Shah decided to raise $165 million in funding with participation from Spark Capital (and three other funds).
Notably, they did not redirect all of their 200+ sites at once. In fact, they slowly migrated them over in batches – a process that took more than a year to complete. In December 2012, they raised another $36 million in funding as a result of that migration process (and the lack of revenue that came with it).
By 2013, those changes were completed. Nevertheless, some of their luxury brands, including AllModern, Joss & Main, or Birch Lane were kept as separate websites due to their large existing and loyal customer base.
The successive months were therefore spent on improving the Wayfair product. In April 2013, for instance, Wayfair launched a clipboard that allowed customers to save designs and products they like – a feature that catapulted both Houzz and Pinterest to millions of monthly users.
On the backbone of the firm's most successful year ever (it generated $915.8 million in revenue), Wayfair acquired DwellStudio, a lifestyle brand that produces furniture. The acquisition was part of the firm's growth story that it wanted to tell to public investors.
Why? Because a year later, in October 2014, Wayfair debuted on The New York Stock Exchange (under the ticker symbol W). HubSpot, another Boston-based tech darling, coincidentally went public the same week as well.
Realities of being a public company would soon be bothering Wayfair as well, though. In July 2015, amidst a lack of profitability, Wayfair announced that it would sell off its Australian business unit to Temple & Webster.
Over the coming years, Wayfair's revenue grew alongside its losses. Those losses were primarily driven by hefty investments in advertising, hiring, and its logistics infrastructure. Given that Wayfair was only launched a few years prior, its business was still unknown to many customers. Plus, the majority of furniture shopping was still conducted offline. To raise awareness for its brand, Wayfair even began to purchase national TV spots.
On the online side, Wayfair also competed against the likes of Amazon and Walmart. Both companies possessed a much greater network of fulfillment and storage facilities, which allowed them to deliver items much faster. Product on Wayfair, which back in those days often relied on its brand partners to organize shipping, would sometimes take weeks to arrive. Therefore, the company decided to invest heavily in facilities that would close that gap and decrease lead times.
As a result, the firm's revenue essentially grew every quarter and year. In June 2017, Conine and Shah both became billionaires after a reported surge in revenue send its stock to a record high.
To capitalize on that growth, Wayfair launched Way Day, a single-day event that would offer hundreds of heavily discounted (up to 80 percent) products, in April 2018. Way Day was a direct copy of Amazon's Prime Day as well as Alibaba's Single's Day, some of the world's biggest e-commerce sales events.
That same year, Wayfair finally expanded into physical retail by launching its first-ever pop-up store. A few months later, in February 2019, it opened a big outlet store nearby its Kentucky warehouse.
Yet, not all was rosy during those days. In June 2019, the firm's employees staged a walkout in protest of Wayfair's decision to sell furniture for use in immigration detention facilities at the U.S. southern border (it received a $200,000 order just a few days prior).
During the start of 2020, in February, Wayfair had to lay off 500 people (equal to 3 percent of its workforce) to combat losses. For reference, the company lost a combined $330 million in 2019 alone.
But fortune would soon be with the bold again. As the coronavirus pandemic forced people to work from home, many of them began to redesign the homes that they were now spending the majority of their time in. By May, the company was already back on its hiring spree, hiring over 1,000 frontline workers.
Apparently, the lockdown also seemed to have boosted some of its customers' creativity (or craziness, but I let you be the judge of that). In July 2020, a conspiracy theory emerged on Reddit, stating that the firm was using storage cabinets to cover for child trafficking.
As you would've guessed, none of these claims had any substance or truth to them. Luckily, it didn't seem to bother the firm's performance, and later that year, in August 2020, Wayfair reported its first-ever quarterly profit. A profit was turned in the three quarters thereafter.
Today, Wayfair counts over 33 million customers in total. The company, furthermore, employs more than 17,000 people across dozens of globally located offices.
How Does Wayfair Make Money?
Wayfair makes money from the sale of products, installation services, advertising on its platform, as well as interchange and interest fees.
The company initially operated primarily on a dropshipping model. It has ever since pivoted wholesale cost business model in which it purchases items in bulk and sells them at a profit.
Let's take a closer look at each of Wayfair's revenue streams in the section below.
Product Sales
The bulk of the revenue that Wayfair generates simply comes from the products that it sells on its web properties.
More precisely, the firm purchases products from thousands of brands in bulk and then makes money whenever that product is sold at a profit.
Nevertheless, some of its partners still work together with Wayfair on a dropship basis. That means Wayfair routes the customer order to them and the brand/retailer is then responsible for shipping the product to the customer.
Interestingly enough, Wayfair will cover 100 percent of the shipping cost. Moreover, Wayfair does not charge any fees on those orders. For comparison: Amazon makes its Dropshipping partners pay anywhere between 10 to 15 percent in fees (plus other associated costs).
Installation Services
For those who aren't too savvy with their hands (just like me), Wayfair offers furniture assembly services in cooperation with Handy.
The cost of the service is dependent on the assembled product. Customers can opt-in during the checkout process.
While the majority of the assembly fees will go to Handy, it can be assumed that Wayfair receives a share of the fee for referring additional customers. The actual percentage share is not disclosed.
Advertising
Wayfair, just like any modern-day online marketplace, allows its supply-side (in this case furniture retailers) to buy sponsored placements on the platform.
These sponsored placements grant brands additional visibility. Given that Wayfair has over 33 million customers, advertising on its platform can lead to significant earnings increases.
There are multiple ways to advertise on the platform itself. First and foremost, products can receive preferential placements within search results or category pages (see example below).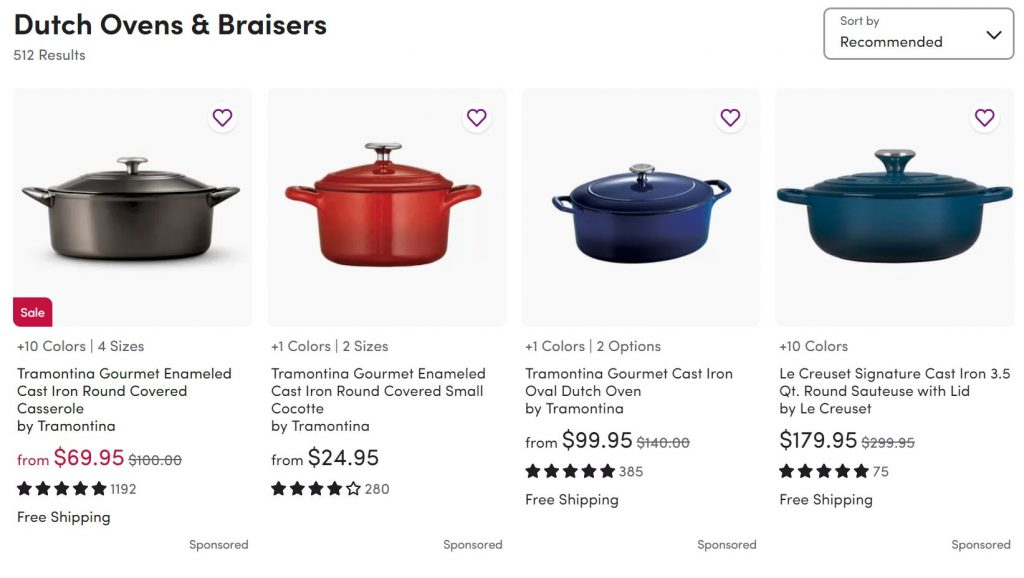 Other means of promotion can include native advertising (for instance within Wayfair's YouTube channel) or dedicated content published on the brand (also referred to as sponsored posts).
Wayfair then gets compensated by those advertisers. With sponsored posts, a fixed fee is most likely paid. With the above-outlined sponsored products, it likely charges advertisers based on clicks.
Interchange Fees
In September 2020, Wayfair launched two credit cards. One is offered in conjunction with Mastercard and the other one together with Citi Bank.
While the Wayfair Credit Card can only be used within the firm's own web properties, the Mastercard can be used wherever Mastercard payments are accepted.
The credit cards offer a variety of benefits, including 5 percent cashback rewards at Wayfair, no annual fees, or discounts on the first purchase.
Whenever you pay with the credit card, a so-called interchange fee is applied. Interchange fees are paid by the merchant and normally are less than 1 percent. Mastercard, in this case, would be the one charging the fee (since the Wayfair-branded card can not be used outside of its store).
Wayfair would then receive a portion of that fee in exchange for promoting the card to its users. The actual percentage share is not publicly disclosed.
Interest
Apart from the interchange, Wayfair also charges interest (Annual Percentage Rate, or APR) whenever cardholders pay using their available credit.
No interest is charged when the order is paid in full. Wayfair applies the following repayment periods:
6-month financing on orders over $199
12-month financing on orders over $499
18-month financing on orders over $1499
24-month financing on orders over $2999
If customers fail to make payments, then an APR of 26.99 percent is charged on the outstanding balance. The minimum interest charge is $2.
Wayfair Funding, Valuation & Revenue
According to Crunchbase, Wayfair has raised a total of $1.7 billion across four rounds of debt and equity funding.
Notable company investors include Battery Ventures, Great Hill Partners, T. Rowe Price, Spark Capital, and many more.
When Wayfair went public (it raised another $304.5 million during its IPO) in 2014, its business was valued at $2.4 billion. Today, that valuation has risen to over $34 billion.
For the fiscal year 2020, Wayfair has generated $14.1 billion in revenue, up 55 percent from the $9.1 billion it made the year prior. Net income rose to $185 million over that same time span.