Executive Summary:
Vivino is an online marketplace that enables users to search, compare, rate, and even purchase millions of wines from over 231,000 wineries across the world.
Vivino makes money via marketing fees, by selling subscriptions, advertising on its platform, as well as by offering aggregated rating data to other businesses. The company operates a marketplace business model.
Founded in 2009, Vivino has risen to become the world's biggest wine-related platform. The company has raised over $221 million throughout its existence.
How Vivino Works
Vivino is an online marketplace that allows customers to search, compare, rate, and purchase a variety of different wines from over 231,000 wineries across the globe.
Here's how it works: first, you either visit the company's website or download any of its mobile apps (available on Android and iOS devices).
Next, you snap a photo of the wine label. Alternatively, you can also browse the app and website by entering the name of the wine in the search bar.
Once Vivino finds a match, it instantly presents you with the wine's rating, reviews, price, tasting notes, and even suggested food pairings (such as a specific type of cheese or meat).
Customers can then directly purchase the wine within the platform. Consequently, bottles you like can also be reviewed and saved in your cellar, which is Vivino's virtual wish list.
Vivino also does a lot to help its users discover new wines. Not only does its platform list local bestsellers but its annual Vivino Wine Style Awards highlight the world's best wines.
As a marketplace, Vivino is responsible for the curation of products as well as handling the payment process. The wines themselves are sold and distributed by the wineries.
To that extent, Vivino has also created a separate platform for wineries, which allows them to set up detailed business profiles and receive personalized data insights.
Vivino's biggest fans can, furthermore, join its Wine Club in which the company sends members six bottles of wine every six weeks.
Vivino's apps have been downloaded more than 50 million times while the platform itself offers hundreds of thousands of wines across 17 markets.
Vivino Company History
Vivino, headquartered in San Francisco, California, was founded in 2009 by Heini Zachariassen and Theis Søndergaard.
The pair met in the early 2000s at BullGuard, a cybersecurity firm that Søndergaard had co-founded. Zachariassen joined the company as COO a few months after it was founded and eventually became its CEO.
They managed to expand the company from two to over a hundred employees. In early 2009, they successfully sold the business to a private equity firm for an undisclosed sum.
So how do two founders, who never even worked in the wine industry, come to launch a platform dedicated to that very same topic? According to them, it's the desire of wanting to do something fun and challenging.
The initial spark for Vivino came when Zachariassen was shopping for a bottle of wine in Copenhagen where he was residing at the time. He'd stand in front of the shelf and was simply overwhelmed by the vast selection of different wines. He eventually figured out that he wasn't the only one facing that problem.
Their naïveté as well as the previous entrepreneurial experience was certainly a key factor in getting the business off the ground. In the beginning, they went to wineries and told them that they intended to build the world's largest wine database.
Many of those wineries assumed they were crazy and told them to focus on one type of wine, such as Bordeaux or Burgundy. That's because there are millions of different wines available for purchase, with thousands being added every year.
On top of that, Vivino would compete against around 600 other wine apps that were already present on the App Store, many of whom targeted the same customer base. Also, wineries aren't necessarily the most digital-savvy partners, so early conversations would prove to be tricky at times.
However, not only the complexity of the problem but also the worldwide adoption of smartphones convinced the founding team that this was the right problem to solve. Additionally, the team did possess a few distinct advantages. Not only did they have valuable contacts (and thus easier access to capital) but also fewer competitors (back then, they were still located in Copenhagen while the other wine apps were mostly US-based).
They started the development process by partnering with Kooaba, a Swiss company that provided them with the necessary image recognition technology, which would then allow users to scan the wine labels.
Next, it was time to collect the necessary data. First, they hired people from Macedonia, India, and Ukraine to manually enter all required data points. They also launched various competitions where people would send in pictures of their favorite wine brands for a chance to win a corkscrew.
The development of the app and gathering of data was financed by seed money the founders had raised from Janus Friis, who is most notably known for co-founding Skype (which he sold to eBay for $2.6 billion in 2005).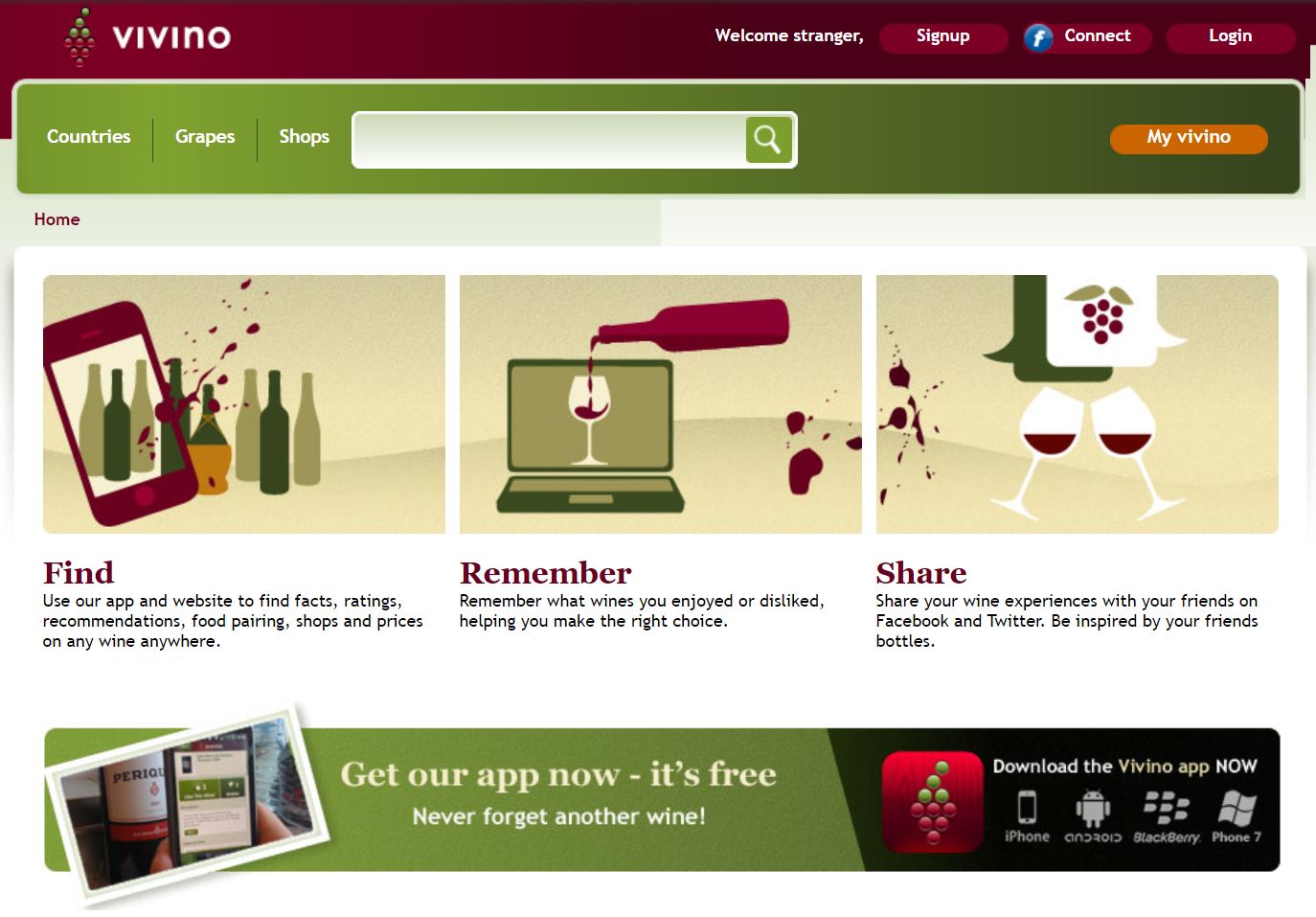 After over a year of gathering data, Vivino finally unveiled its first app (on iOS) in July 2011. At the time, they had managed to gather information about 450,000 different wines, which was equal to a 60-percent success rate for its label recognition technology. While this may seem low, it was actually significantly better than any other competitor at the time.
Months after the launch, in November, Vivino's team was able to raise another undisclosed round of funding. This was followed up a year later with a $1 million Series A led by Creandum. By that time, more than 100,000 people were downloading its app – every month.
The team also continued to improve its product. At the beginning of 2013, they integrated Optical Character Recognition (OCR) technology, which increased its success rate of matching wine labels to over 86 percent.
Slowly but steady, it became evident that Vivino would be able to outcompete all the hundreds of wine apps out there. To be able to do that, its team raised another round of funding in July, this time netting them $10.3 million. All of the firm's existing investors participated again, indicating that the company was on the right path to success.
The most notable event of 2014 was that the company decided to move its headquarters away from Copenhagen to San Francisco. At that point, the founders captured a significant chunk of the European market and were now looking to do the same in the States.
To be able to fund this expansion, it raised another round of funding in January 2016. SCP Neptune International, the investment arm of Moet Hennessy's global CEO Christophe Navarre, alongside existing backers poured $25 million into the business.
Vivino had over 13 million users from 228 countries at the time of the funding. In an effort to differentiate itself, the platform also began to partner with industry experts like Christophe Navarre and Karen MacNeil, who'd provide Vivino with more elaborate reviews.
In June, Vivino entered its first of many partnerships with other supermarkets and retail chains. It worked together with Marsh, a supermarket chain in Indiana and Ohio, to display its rating data within Marsh's stores.
Then, in October, the company launched Vivino Checkout, which would enable customers in the UK and US to actually order the wines they review and check out. The bottles would then be sold and shipped by the local wineries that Vivino worked together with.
By 2017, Vivino had amassed enough users and thus data to be able to build a recommendation engine (much like Netflix's) that would propose new wines based on ratings and purchases users had previously made. It also launched a premium wine delivery service in December for the now 27 million users it counted.
All these efforts enabled the team to raise another significant round of funding. This time, in February 2018, the company raised $20 million (Series C) from the very same investors that led its Series B round.
A month later, co-founder and long-time CEO Heini Zachariassen decided to step down from his role and handed the keys to Chris Tsakalakis who served as a president at StubHub for close to eight years.
Under the helm of Tsakalakis, Vivino continued to expand its e-commerce business to five new countries. Whenever the company launched in a new country, such as in Hong Kong in September 2018, it did so by having a network of partner merchants in place. This allowed them to immediately capitalize on the launch hype while providing customers will a good buying experience.
However, less than two years after joining the company, Tsakalakis already left it again (no official reason for his departure was ever mentioned). In October 2019, Zachariassen became its CEO once again.
He assumed his role in what would become Vivino's most important year to date. Orders on the platform surged as a result of the coronavirus pandemic, which forced customers around the world to quarantine at home.
As a result, wine sales on the platform more than doubled in 2020 to $265 million. Furthermore, Vivino managed to grow from around 29 million to over 50 million users.
Unfortunately, not everything was always going according to plan. In February 2020, Swedish alcohol monopoly, Systembolaget, sued the company for SEK 3 million, stating that Vivino's marketing is in breach of the country's alcohol act.
Despite this minor setback, interest in the company remained undeterred. In February 2021, Vivino was able to raise another round of funding, this time netting them $155 million. The deal valued Vivino between $600 million to $800 million according to people familiar with the matter.
Once again, though, Zachariassen made room for another CEO to take his place in June 2021. This time, Olivier Grémillon, a former executive of Booking.com and Airbnb, assumed the role. Meanwhile, Zachariassen became a board member who's also focused on growing his YouTube channel.
Today, Vivino employs close to 300 people across offices in Copenhagen and San Francisco. The company is actively selling wine in 17 global markets.
How Does Vivino Make Money?
Vivino makes money via marketing fees, by selling subscriptions, advertising on its platform, as well as by offering aggregated rating data to other businesses.
Vivino operates on a marketplace business model. That means the platform matches suppliers (here: wineries) with demand for wine consumption from consumers.
The moat with which it is able to attract both supply and demand is its extensive database of millions of wines. Users who take photos and provide the platform with reviews, as well as new product suggestions, add to its flywheel by continuing to add more data. This, in turn, makes Vivino more defensible against potential competitors.
Let's take a closer look at each of the firm's revenue streams in the section below.
Marketing Fees
The bulk of the revenue that Vivino generates comes from the so-called marketing fees it charges its partners whenever a sale is made through its platform.
The fee is a percentage of the purchase price and is likely bound to the agreement between Vivino and the individual winery. In all likeliness, wineries that are lesser known for their wines will pay a higher fee than their more established counterparts.
Selling on Vivino comes with multiple benefits. First, wineries can simply tap into a much greater audience than if they were to only sell on their website (or even just offline).
Second, Vivino itself does a lot to promote wines, for instance through its annual Wine Style Awards, which highlight the best wines across the globe and categories.
Third, Vivino also helps to educate customers about a winery's products, for instance by showing what to best pair the wine with.
And as opposed to marketplaces like Amazon, which have started to compete against the sellers on their platform, it can be assumed that Vivino will never do the same. After all, producing wine is an extremely complex process, which requires a completely different set of skills.
Subscriptions
Another income stream for Vivino comes from selling subscriptions to its most loyal users. Dubbed Vivino Wine Club, members receive a curated shipment of wines based on their activity and taste profile.
The subscription costs $120 per shipment. Shipments, which are sent out every six weeks, contain six bottles of wine. The shipment fee is included in the above-mentioned price.
Not only is Vivino able to build customer loyalty (especially if it is able to recommend great wines) but by bundling multiple products into one, it is likely generating greater margins from those products.
Advertising
With tens of millions of users, being displayed on Vivino's most prominent pages can certainly be considered valuable advertising real estate.
Vivino sells those spots to wineries and other businesses seeking to promote their products. It then collects a fee based on the duration of the advertising campaign as well as the competitiveness of the category.
Selling Data
As previously stated, Vivino has gathered tens of millions of data points on almost any wine that's out there.
Now, this data is not only valuable to Vivino but can be potentially interesting for other partners as well.
Take, for instance, a supermarket that tries to figure out which wines to place on their shelves. With Vivino's rating data, it can determine what types of wines are trending or simply must-haves.
In all likeliness, Vivino collects a fee for selling that aggregated data. It has to be noted though that the company does not sell any personal user data (as indicated at the bottom of its privacy policy).
Vivino Funding, Revenue & Valuation
According to Crunchbase, Vivino has raised a total of $221.8 million across seven rounds of venture capital funding.
Notable investors include Kinnevik, Creandum, Seed Capital, GP Bullhound, Balderton Capital, Armada Investment AG, and many others.
While Vivino does not disclose its valuation nor revenue to the public, reporting by Bloomberg has indicated that the company is currently being valued at between $600 million and $800 million.