Executive Summary:
Unsplash is a platform, accessible via its website, mobile and tablet apps, as well as on smart TVs, which offers over 2 million high-resolution images that can be downloaded free of charge.
Unsplash makes money via native advertising on its platform as well as from subscription fees.
Founded in 2013, Unsplash has grown to become one of the most frequented stock photo platforms across the globe.
What Is Unsplash?
Unsplash is a platform that allows users to download and use high-resolution images without paying for them.
The images can be utilized for both commercial and non-commercial purposes. Furthermore, no permission is required from the creator (although Unsplash urges users to properly attribute creators).
Users can download images from dozens of categories, including architecture, nature, technology, travel, and many more.
The platform also runs a yearly competition called The Unsplash Awards in which a jury recognizes and votes for the best imagery available on its platform.
Apart from its website, Unsplash can be accessed and used in a variety of other ways. Users can download its mobile apps (available on Android and iOS devices), install a Chrome extension (called Unsplash Instant) or have its images run on an Apple TV.
As of July 2020, more than 200,000 people have made contributions to Unsplash, totaling over 2 million uploaded images.
A Short History Of Unsplash
Unsplash, headquartered in Montreal, Canada, was founded in 2013 by Mikael Cho, Luke Chesser, and Stephanie Liverani.
The firm's story begins earlier than that, though. In 2011, Cho and his co-founders started a company called Crew (initially named Ooomf), which was an online marketplace for designers to find freelance work.
All of Crew's founders came from a design or software development background and had first-hand experience into how tough it can be to find jobs.
Despite being able to raise $2.1 million, the team sound found themselves running out of money. At the time (2013), Crew had to compete for users and projects against more established services like oDesk (which later merged with Elance into Upwork).
Cho and team, therefore, had to find a way to make payroll. Paid advertising wasn't sustainable and traditional marketing, like a blog post, would've taken too much time to yield any meaningful returns.
When they began working on Crew, the team hired a professional photographer to get some solid photos for their homepage (at the time existing stock photo websites were simply not able to offer any high-quality images).
The photoshoot gave them a ton of leftovers that they could not use for their website. Instead of throwing them into the digital trash can, the team decided to set up a $19 Tumblr blog to share its free images.
Cho then made a post on Hacker News, prompting people to check out its free stock imagery. Within a few hours, the post skyrocketed to the top of the forum, leading to an influx of thousands of people.
The site immediately crashed because images were hosted on a public Dropbox repository. Luckily, the Head of Engineering at Dropbox saw the Hacker News post and immediately upgraded them to the maximum pro plan for the day.
Despite the bumpy start, Unsplash became a major growth channel for Crew. Those initial 10 photos that Cho uploaded have been seen over 60 million times. The team put a small referral link to Crew in the bottom of the blog, which then drove additional traffic to its site.
Within two years of launching the Unsplash project, Crew was able to facilitate over $20 million in project volume to freelancers on its platform while raising another $10 million in the process.
The ascend of Crew allowed Cho, who was living in the basement of Liverani's parents for the past seven years (him and Liverani are, in fact, a married couple now), to finally get his own place.
But back to Crew/Unsplash. Co-founder Luke Chesser actually started working on Unsplash full-time a month after the Tumblr launch. A year after the launch, in September 2014, Unsplash passed 1 million image downloads per month and, thus, moved to its own dedicated website.
Led by Chesser, Unsplash continued to add more features and photos to its platform. For instance, it partnered with Apple to launch a 'Shot with iPhone' campaign where Apple Stores were turned into galleries with images from Unsplash.
That same year, in 2015, Unsplash launched an API that allowed third-party app developers like Trello to add Unsplash imagery to their own tools.
The continuous growth of Unsplash led the team to reconsider its priorities and eventually conclude that they want to focus all their efforts on growing Unsplash. In January 2017, they finally incorporated Unsplash Inc. as a standalone company.
Meanwhile, Crew was sold to competing service Dribbble for an undisclosed amount. Crew had grown to support designers from over 32 countries while facilitating more than $40 million in project spend.
To support the growth of Unsplash, Cho (who's now the company's acting CEO) and team raised $5 million in funding. One of the lead investors, Berlin-based blockchain company OST, provided 80 percent of the money in cash and the remaining 20 percent in OST tokens, a cryptocurrency that was trading at $0.30 at the time (February 2018).
The capital injection allowed Unsplash to develop and launch its first-ever app. In April 2018, it launched on iOS for both iPhone and iPad devices.
Despite continuous growth, Unsplash also had to deal with the pains of a growing platform. It faced numerous instances of criticism from photographers – notably the most important people on its platform.
They argue that Unsplash is reaping off the benefits of their hard labor. Photos can be used without paying for them. Oftentimes, people don't even properly attribute creators. Even other businesses like Facebook, which have used Unsplash imagery in the past, have done so without proper compensation.
To better support its photographer community, Unsplash has introduced multiple initiatives and features in the past. In 2017, for instance, it launched The Unsplash Awards, a month-long event that highlights the best work uploaded on the platform. The event has been running ever since.
Furthermore, it added multiple supporting features, including the ability to follow creators (and subsequent notifications whenever they upload new work) as well as Unsplash Stories, which allows photographers to add more context to their images.
In April 2021, Unsplash announced that it would be acquired by Seattle-based Getty Image. The company would remain a standalone business and images would still be accessible free of charge.
Over 9 billion photos were viewed on Unsplash to date. The company now employs close to 25 people working remotely on the product.
How Does Unsplash Make Money?
Unsplash makes money via native advertising on its platform as well as from subscriptions.
The company partners with the likes of Microsoft or Square to deliver various ad placements.
The feature is dubbed Unsplash for Brands and was launched in December 2019. Prior to that, the company only ever made money from the sale of a book (you can find the Kickstarter campaign here).
Ad placements are currently provided in two major ways, namely by being put on a category page as well as by providing their own imagery.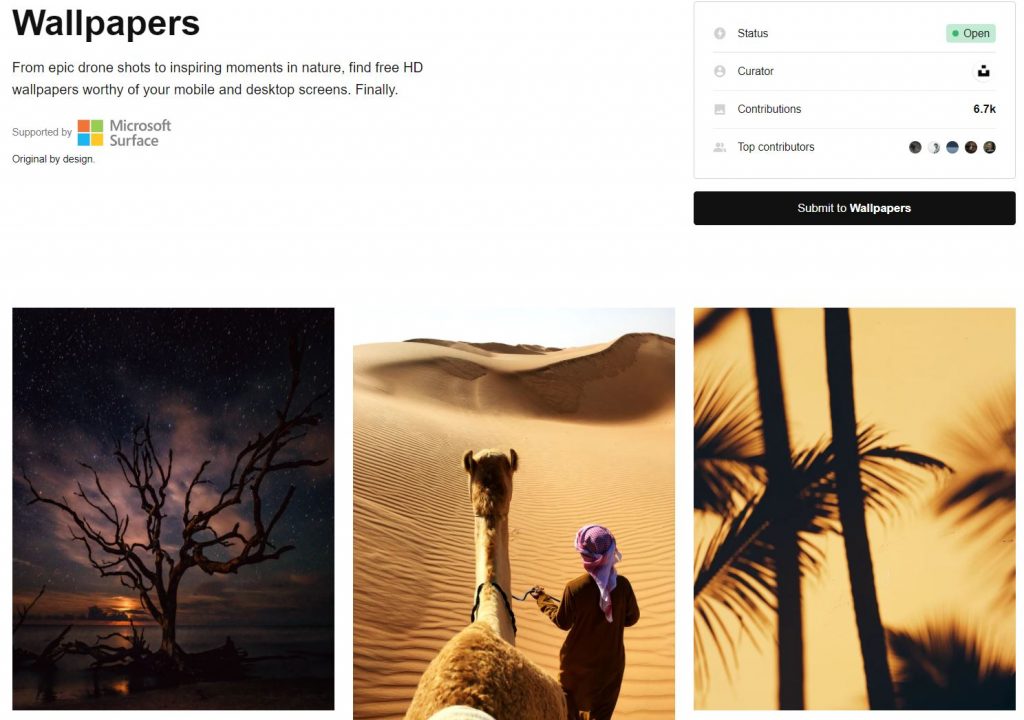 For instance, if a user browses a certain category, such as fashion or technology, they will see a small banner placement of the company's logo.
Alternatively, other brands can upload their own images to the platform. Payment provider Square has done so for example. If a user searches for terms like 'payment', then they will also be shown pictures taken by Square.
The major advantage for Square (and other brands) is that these images are being downloaded and distributed all over the internet, which increases the brand's visibility.
This represents a win-win-win situation for all the parties involved. Users get highly relevant images for free, the brand increases awareness, and Unsplash gets to make money.
Interestingly, Unsplash competitors like Pexels also monetize their platforms via advertising.
Apart from advertising, Unsplash also generates revenue through monthly and yearly subscription plans.
The subscription, dubbed Unsplash+, grants users access to a variety of benefits, including members-only content, unlimited royalty-free downloads, ad-free experiences, priority support, and so forth.
In exchange, Starlink charges users either $8 per month for the annual or $12 for the monthly plan.
Unsplash+ contributors will be paid for content created specifically for the Unsplash+ library, so they are incentivized to continue adding new photos, which in turn will increase the quality of the subscription offering.
Creators are compensated on a one-time, per-image basis, meaning they won't receive royalties.
Unsplash Funding, Revenue & Valuation
According to Crunchbase, Unsplash has raised a total of $30.3 million across three rounds of venture capital funding.
Notable investors include Real Ventures, Betaworks, Bedrock Capital, OST, Roger Dickey, Rahul Vohra, and more.
Neither a valuation nor exact revenue figures have been disclosed by the company or any of its representatives to date.