Executive Summary:
Morning Brew is a media organization that is primarily known for sending out a daily newsletter about the world of business, politics, and tech.
Morning Brew makes money from advertising, sponsorships, organizing events, selling various items through its own online shop, and offering premium courses. The firm operates on an advertising-based business model.
Founded in 2015, Morning Brew has since grown into one of the biggest newsletter brands out there. It was ultimately acquired by Business Insider for $75 million in 2020.
What Is Morning Brew?
Morning Brew is a media organization that is primarily known for sending out a daily newsletter about the world of business, politics, and tech.
The company has since branched out into a variety of different topics, formats, and brands to become a modern-day media powerhouse.
On the newsletter side, Morning Brew now runs various publications aimed at different topics. Examples include CFO Brew, Emerging Tech Brew, HR Brew, IT Brew, Retail Brew, and Marketing Brew, among others.
Additionally, it created media companies that don't utilize the 'Brew' moniker as well. Business Casual, for instance, is a podcast that interviews various leaders on a weekly basis. Other associate brands are Money Scoop, Imposters, Money With Kate, or The Crazy Ones.
Morning Brew, being a modern-day media company, publishes its content wherever people spend their time, whether that's Facebook, LinkedIn, Twitter, TikTok, YouTube, or obviously its own website and newsletter.
Apart from producing content, Morning Brew also sells a variety of physical and digital items such as courses, Excel files, t-shirts, mugs, and so forth.
Detailing the Founding Story of Morning Brew
Morning Brew, headquartered in New York City, was founded in 2014 by then-college students Alex Lieberman and Austin Rief.
The two founders, at the time, both pursued finance degrees at the University of Michigan, ultimately with the intention of making it big in the world of investment banking.
Lieberman, who is three years older than Rief, already secured a job at Morgan Stanley when all he had to do was to finish his remaining two classes at Michigan.
However, having all this free time on his hand led to some significant boredom, which he luckily funneled into something more productive: starting a newsletter.
"I asked students how they kept up with business news, and they all had the same canned answer," he recalled in an interview with Forbes. "They read the Wall Street Journal and such but had no time to read it cover to cover."
And since millennials are not particularly known for their amazing attention spans, he figured that there'd be a need for sending out engaging and somewhat witty finance content.
So, in late 2014, he began sending out a PDF-formatted newsletter to his college friends dubbed The Market Corner.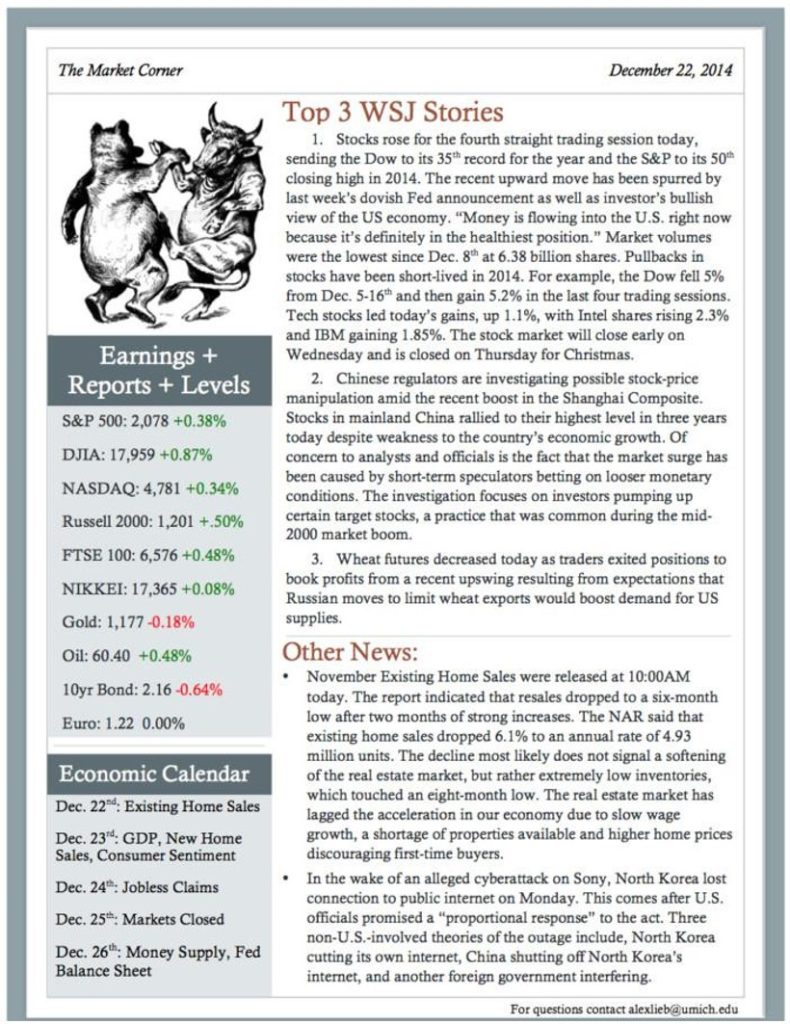 At the time, Rief was six months into his studies at Michigan when he first discovered and read Lieberman's newsletter. Enamored by his wit and the potential to build a new type of media company, he asked Lieberman if the two could team up.
The two officially unveiled what was renamed Morning Brew a few months later, in March 2015. After running a quick advertising campaign, they already had amassed 1,500 readers at launch.
"Our plan is to grow this in the college market," said Lieberman soon after the launch. "And then, come summer, bring this to all of the internship summer analyst classes in these major business cities — whether that's L.A., Chicago, Miami, New York."
Meanwhile, Lieberman did end up joining Morgan Stanley while Rief only graduated from college two years later in 2017. The two, in spite of their other commitments, continued to publish their daily newsletter every day at 6:30 am without making a single cent.
By late 2017, the two guys had grown the newsletter to over 100,000 members and started monetizing it, which enabled both of them to finally focus on The Morning Brew full-time.
Lieberman and Rief, to make sure that they could compete against other newsletter publications like The Hustle, decided to raise a seed round of $750,000 led by friends and family – a decision that would prove to be the right one years down the line.
Large business-focused media organizations like TechCrunch soon began covering the duo and their newsletter, which continued to grow at a rapid clip. Their success was greatly influenced by two factors, namely a focus on Morning Brew's core audience as well as its referral program.
Early on, the founders nailed down their target persona, which they identified to be a 28-year-old male working in finance, tech, or consulting. This enabled them to craft a message that would appeal to most of their readers who, in turn, started sharing the newsletter with their friends and colleagues.
Another growth hack was the firm's now almost legendary referral program, which would reward users with merch and other things if they brought on new readers. As a result, Morning Brew was able to grow its subscriber base from 125,000 in early 2018 to over 1 million at the start of 2019.
To keep growing, Morning Brew started to launch ancillary brands such as Emerging Tech Brew in March 2019. This also meant branching out into other forms of media, including podcasting or videos.
Meanwhile, the Covid-19 pandemic, although causing a short shock to advertising revenue, only helped boost the firm's subscriber numbers. By the summer of 2020, Morning Brew and its associated brands had already amassed over 2 million subscribers.
The impressive growth eventually prompted Insider Inc., the parent company of Business Insider, to churn out $75 million to acquire a controlling stake in Morning Brew.
Lieberman and Rief, regardless of the change in ownership, remained involved on a day-to-day basis. Together, they grew the company to over 4 million subscribers by the beginning of 2022 while employing over 230 people.
One interesting approach they adopted was to focus on individual creators. In August 2022, for instance, Morning Brew officially unveiled its very own creator program with which it would push existing content creators, like Katie Gatti of Money with Katie, to grow their own offerings.
Acquisitions also became a means of growing the business. In January 2023, Morning Brew bought Our Future, a short-form video startup, for an undisclosed sum.
Today, over 350 people are employed by Morning Brew, which continues to attract millions of readers across its staple of media brands.
How Does Morning Brew Make Money?
Morning Brew makes money from advertising, sponsorships, organizing events, selling various items through its own online shop, and by offering premium courses.
Let's dive into each of these in the section below.
Advertising
The overwhelming majority of the revenue that Morning Brew generates comes from advertising within the content it publishes.
The business model strategy Morning Brew consequently pursues is predicated on maximizing the eyeballs (or ears) its content attracts.
What advertisers care about is that their products or services are seen by as many relevant customers as possible.
Morning Brew, in order to maximize their advertisers' return on investment, has followed two different approaches.
First, it continues to run its core Morning Brew newsletter, which is aimed at no specific demographic and thus appeals to a larger pool of people.
It then uses that newsletter as an engine to grow its ancillary and more focused brands, for instance mentioning those brands in the core newsletter.
Additionally, it utilizes influencers to grow in verticals the company may not have expertise in. Advertising and other revenue generated by those creators are then shared with Morning Brew.
Advertising and sponsorship revenue is generated in a variety of different ways. When it comes to the newsletter, companies normally just sponsor it and consequently mentioned on top of each mail.
Interestingly, Morning Brew only charges advertisers when a reader actually opens the mail and sees their logo. Therefore, it is Morning Brew that is incentivized to come up with the best copy possible, which then boosts its readership, too.
Advertising revenue is also generated within the other mediums in that Morning Brew creates content. Within its various podcasts, ads normally appear before, during, and after an episode. Similarly, its YouTube videos also display pre-roll, mid-roll, and post-roll ads.
Shop & Course Sales
Morning Brew sells a variety of digital and physical items via its own online store, which can be found here.
The products it offers are either developed by the firm itself or created in partnership with the creators it works together with.
In all likelihood, creators working together with Morning Brew receive a portion of the sales their products generate. Meanwhile, Morning Brew pockets the whole profit margin on its own items.
Product-wise, Morning Brew sells anything you would imagine, ranging from t-shirts all the way to coffee mugs and even Excel files.
Apart from opening up a new revenue stream, its products also serve as a marketing channel that expands the reach of its brand.
Selling your own products, whether physical or digital, isn't anything revolutionary. Media brands like Buzzfeed or Barstool Sports have adopted similar monetization tactics, too.
Similarly, Morning Brew has also developed a variety of different courses, which are either set up in sprints or as accelerators.
A sprint can cost anywhere from $500 to $750 while accelerators will cost students $1,499 to $2,499, depending on the type of course they take.
Morning Brew incentivizes students to take their courses by granting alumni access to multiple benefits, including being able to join its dedicated Slack community, reading exclusive newsletters, being placed on a job board, and so forth.
Events
The last way in which Morning Brew monetizes its vast reach is by organizing various online and in-person events.
Whether it is TED Talks, Kara Swisher's Code conference, or TechCrunch's Disrupt, media brands have always relied on events to boost their margins.
The biggest advantage that Morning Brew possesses in this regard is the fact that it runs several dedicated brands aimed at different industries.
By running topically focused events, it can clearly define who should speak at the event and who might be interested in attending.
In 2022, for example, the firm's Marketing Brew brand organized an event aimed at marketers, costing anywhere from $499 to $699 per person.
Interestingly, Morning Brew also generates revenue from sponsorships when it runs those events. The just-mentioned marketing event, for instance, was sponsored by Vimeo, Smartsheet, mntn, and Attest.
Who Owns Morning Brew?
Morning Brew is currently majority-owned by Insider Inc., the parent company of Business Insider, which acquired a controlling stake in the firm back in October 2020.
Insider paid $75 million in that transaction. The year prior, in 2019, Morning Brew generated revenues of $13 million while in 2020 that figure rose to $20 million.
At the time Morning Brew's founders negotiated with Insider, its annual revenue run rate was probably hovering around $15 million.
Consequently, Insider acquired Morning Brew at a revenue multiple of roughly 5x, which is slightly above the 2x – 4x media companies sell for.
However, that deal proved to be an absolute homerun for Insider. A year later, in 2021, Morning Brew and its associated brands had already grown their revenues to $50 million, thus implying a valuation in the ballpark of around $200 million.
Meanwhile, founders Alex Lieberman and Austin Rief continue to participate in the upside as well. They retained a portion of their equity and thus continued to be minority owners of Morning Brew.