Executive Summary:
FreePrints, as the name suggests, is a mobile app that allows you to print photos directly from your phone without paying for it.
FreePrints makes money via shipment fees as well as by upselling customers on premium offers such as alternate photo sizes.
Launched in 2014, FreePrints has now been downloaded millions of times. The app itself is owned by PlanetArt, a subsidiary of the Claranova group.
What Is FreePrints?
FreePrints, as the name suggests, is a mobile app that allows you to print photos directly from your phone without paying for it.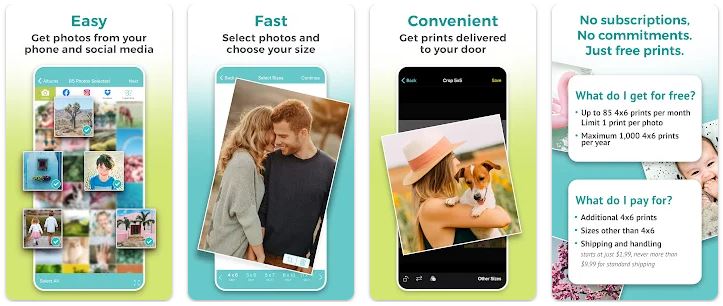 Here's how it works. First, you download the app, which is available for either Android or iOS devices and can be accessed on both phones and tablets.
After registering your account, you can directly import the photos from your phone and social media accounts into the app.
There, users choose the size they want to order. You can order up to 85 free 4×6 prints per month (1,000/year), with every photo only being printed once.
Users only have to pay the postage fee. In the U.K. shipping cost are between £1.49 and £3.99 while in the U.S. it ranges from $1.99 to $9.99.
Additionally, users pay whenever they want to order a photo that's outside the 4×6 format. FreePrints offers sizes such as 5×5, 5×7, 8×10, 11×14, 12×18, 16×20, and 20×30.
FreePrints, apart from its free photo printing service, also has launched ancillary apps. These include photobooks, photo tiles, gifts, and more.
FreePrints itself is available in over a dozen countries such as India, the United States, France, Germany, Italy, Spain, and the United Kingdom, among others.
How Does FreePrints Make Money?
FreePrints makes money via shipment fees as well as by upselling customers on premium offers such as alternate photo sizes.
As previously stated, FreePrints charges shipping fees for every batch of photos that customers order.
The shipment charge is dependent on the number of photos a customer orders. The more an order contains, the higher said fees.
Those photos are mostly shipped in letter envelopes, which means that the cost that FreePrints incurs isn't particularly high, to begin with.
Depending on how efficiently its backend processes are arranged, it wouldn't even be too surprising if the company already turned a profit on the shipping fees alone. After all, it doesn't pay for the shipment and printing itself but works with external partners who take care of those processes.
Therefore, any revenue it generates from upselling customers and offering additional photo sizes is likely pure profit.
FreePrints essentially relies on the freemium model to grow its business. This means that, in essence, its core offering is free while more premium features or products can be accessed by paying for them.
Taking advantage of the freemium model has various benefits. First, because of the free nature, it is much easier to grow the user base.
Those users, if the experience is satisfying, then create a positive feedback loop of recommending the product to others in their social circle, which in turn brings on new users.
This feedback loop particularly came into play during the pandemic when FreePrints exponentially increased its user base.
Another reason why the freemium model is so successful is the psychological effects it takes advantage of.
More precisely, that psychological effect is called Reciprocation. If you receive a gift or favor from another person, you often feel indebted to that person. The feeling of indebtedness makes you more likely to repay said person.
The same conclusion likely applies to FreePrints as well. Customers (repeatedly) taking advantage of the free photos may eventually feel like they owe the company.
Another factor is convenience. If they are already ordering photos on the app and want a different size, they might as well order those photos on FreePrints itself.
Consequently, the same concept applies to all of FreePrints' ancillary businesses, such as gifts or photo tiles, as well. Given that it has rolled out the concept across a variety of different business lines likely means that its business model is working and profitable.
Interestingly, offering a service completely free of charge and then banking on the customer's generosity isn't too uncommon. Earnin, which enables customers to take out loans without charging interest, makes most of its money via donations.
Who Owns FreePrints?
FreePrints is fully owned by PlanetArt. The service was launched back in 2014 by PlanetArt, which itself is a subsidiary of the France-based Claranova group.
Claranova itself is a software company that has been in business since 1984 and initially started out as Avanquest.
In 2007, Avanquest acquired the software development company Nova Development. Its founders Todd Helfstein and Roger Bloxberg stayed on at Avanquest and, in 2010, founded PlanetArt within the company.
The subsidiary experimented with a variety of businesses until it landed on the freemium concept with the launch of FreePrints in 2014.
Over the next years, it not only launched ancillary businesses (such as gift cards) but acquired other companies as well.
In 2019, for example, PlanetArt acquired the personalized gifts business Personal Creations for $18.1 million. A year later, it purchased Louisville-based CafePress.
PlanetArt has now become Claranova's main revenue driver. In 2021 alone, PlanetArt generated €366 million in revenue. The group as a whole made €474 million over that same time span.