Executive Summary:
Gympass is a membership service that allows corporate employees to get access to gyms, studios, and wellbeing apps.
Gympass makes money via monthly membership fees. The company operates under an online marketplace business model.
Founded in 2012, Gympass has managed to raise over $525 million in funding, It is currently being valued at $2.2 billion.
How Gympass Works
Gympass is a membership service that allows corporate employees to get access to gyms, studios, and wellbeing apps.
Gympass works together with corporate clients who want to provide their employees with access to workouts. Example partners include Heineken, McDonald's, Kraft Heinz, SAP, Red Bull, and over 4,000 more.
By subscribing to a plan, users receive one check-in per day to access personal or live classes in gyms, studios, or with personal trainers. Gympass provides access to more than 50,000 locations.
For an additional fee, customers can also include dependents who then have the option to train together.
Gympass, furthermore, integrates with more than 50 booking and club management systems, which easily allows gyms and studios to integrate themselves with the service.
Gympass can be accessed by visiting its website or by downloading its mobile applications (available on Android and iOS devices).
Gympass Company History
Gympass, which is headquartered in New York City, was founded in 2012 by Cesar Carvalho and Joao Barbosa.
Carvalho, who grew up in the Brazilian state of Minas Gerais, spent his first few career years at ACNielsen and McKinsey.
After two years at the consulting behemoth, he went on to join CVC Corp, the largest travel and tourism group of the Americas, as its Head of Business Development.
That's also where he ended up meeting his co-founder Joao Barbosa who had been working as an analyst at CVC.
However, it would still take another two years until they started their first business. That's because Carvalho took a detour and enrolled at the prestigious Harvard Business School to pursue his MBA.
At Harvard, he met multiple U.S.-based investors who were interested in putting their money into Brazil amidst a growing startup boom. During that period, companies like Nubank were formed and tens of millions were invested.
The MBA summer vacation, during which many of his peers went on to do internships, presented Carvalho with what he thought was his last opportunity to start a business. After all, he would likely end up with a cushy corporate job and a family to support, which would make it hard to branch out on his own.
So, in June 2012, after convincing his former colleague Barbosa to join, the two launched Gympass in their native country Brazil.
The initial idea of Gympass was to go after individual and not corporate customers. That business model was inspired by Carvalho's previous experience at McKinsey during which he had to pay for three different gym memberships.
He figured that it would be much more intuitive (and frankly cheaper) to bundle these memberships into one and sell them to people. To get the business off the ground, the pair had also raised an undisclosed seed round earlier that year in January.
Despite the fact that his idea seemed promising, growth was very slow in those early days. However, as these things go, the founders would soon catch a lucky break.
One of their customers was an executive at PwC Brazil and absolutely loved using the products. He, therefore, came to the two and asked them whether he would be able to promote it to the 5,000 Brazilian employees of PwC. One thing led to another and Gympass managed to sign up PwC Brazil as its first corporate customer.
For the next three years, the founders focused on attracting as many corporate clients as possible. They, furthermore, abandoned the B2C side of their business altogether. In May 2015, they managed to raise another undisclosed Series A round.
Around the same time, one of Gympass' biggest Brazilian clients asked the team whether they would be able to offer their services to employees in their Mexican branch. After they managed to attract Santander Bank as a client in Mexico, the Spanish bank then asked them to offer the same services to their Spanish employees. And just like that, Gympass had managed to expand into two more countries by 2016.
By the end of 2017, after two more rounds of funding, Gympass had expanded into a total of 10 countries. Not long after, in March 2018, the company also decided to enter the United States, the world's most lucrative market.
In order to speed up its expansion efforts, Gympass also moved its headquarters from Sao Paolo to New York City. Amidst a funding frenzy, which saw direct and indirect competitors like ClassPass or Freeletics raise hundreds of millions of dollars, Gympass also stepped up its fundraising efforts.
In June 2019, Gympass announced that it had raised $300 million from Softbank and others. The round valued the company at $1 billion, allowing it to become a unicorn seven years after its foundation.
The funding, furthermore, allowed Gympass to make its first-ever acquisition in December. It purchased Lisbon-based artificial intelligence company Flaner for an undisclosed amount. The intention behind the acquisition was to beef up its employee count in Europe as well as build recommendation technology to suggest workouts to users.
Although Gympass had grown without many public hardships, it would soon face a once-in-a-lifetime challenge. The emergence of the novel coronavirus put much of its business to a standstill. As a result of those economic hardships, Gympass was forced to lay off about a third (~ 465 employees) of its workforce in April 2020.
However, the pandemic also gave Gympass the unique opportunity to restructure its business towards a more digital approach. It introduced online classes, added nutritional consulting, and announced partnerships with health apps like Calm or Strava to ensure its offering was still attractive enough.
Due to all those efforts, Gympass only ended up losing about 5 percent of its customer base. Not only that, demand soon began to reach unprecedented levels with the global rollout of Covid vaccines.
In May 2021, for example, the company saw a record 4 million monthly check-ins across its gym network. Throughout the pandemic, Gympass managed to attract more than 1,000 corporate clients as customers.
To take advantage of that growth, Gympass raised another round of funding in June. This time, many of the firm's existing backers invested another $220 million at a valuation of $2.2 billion.
The funding allowed Gympass to make yet another acquisition. In December 2021, it purchased Seattle-based Trainiac, which makes software to facilitate 1-on-1 online training workouts, for an undisclosed amount.
Today, Gympass works together with over 3,000 corporate clients and offers access to more than 50,000 locations. It, furthermore, employs close to 2,000 people.
How Does Gympass Make Money?
Gympass makes money via monthly membership fees. The company operates under an online marketplace business model.
The currently offers five different plans called Starter, Basic, Gold, Platinum, as well as Diamond. While Starters costs $9.99 per month, Diamond comes in at a monthly fee of $249.99.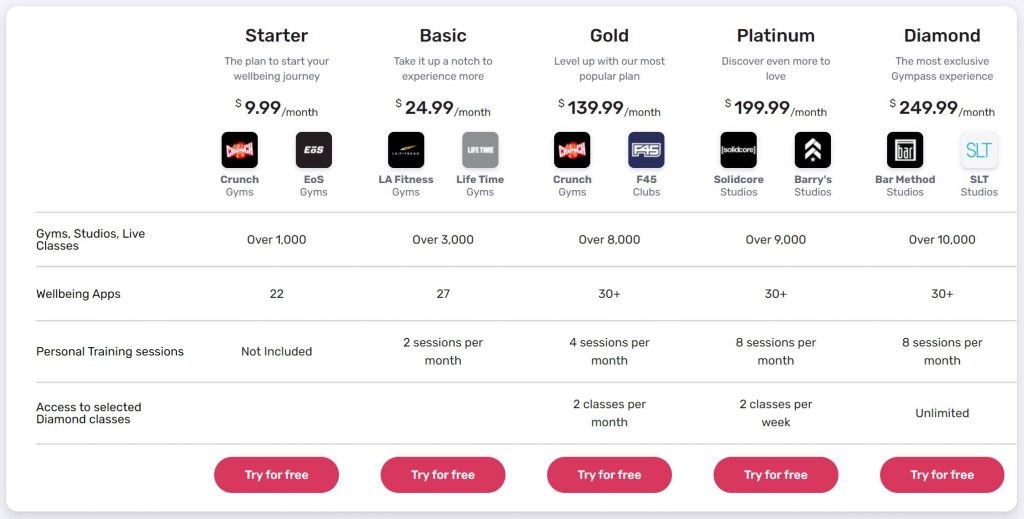 These plans then grant users a varying number of benefits. The higher up the tiers one goes, the greater the access to gyms, studios, and wellbeing apps. Additionally, some plans grant users access to personal training sessions and Diamond classes.
Consequently, Gympass does not keep all of the membership fees by itself. Instead, depending on usage, it then distributes a portion of those membership fees to its partners.
As previously stated, Gympass operates as a three-sided online marketplace. That means it not only has to satisfy employees but also manage to attract corporate clients as well as gyms and other types of partners.
The more partners it has and the more services, such as personal training sessions or nutrition advice, it provides, the greater the likelihood that a corporate client will sign up.
Corporate clients, in turn, benefit by not only having a healthier workforce but being able to attract and retain employees based on those benefits it provides.
"People always talk about the chicken-egg [dilemma], but in our case we have the egg, the chicken and the perch, because we're a three-sided business that needs to focus on corporate HR departments, gyms and users. That requires a rather large investment," CEO Carvalho said in an interview with Forbes.
According to him, over 70 percent of the employees using the platform did not attend gyms before using the service. Therefore, the more services it can provide, the likelier it is that a given employee will find a suitable workout regimen.
Gympass' expansion into online workouts as well as its partnerships with apps like Calm is a direct result of that reality.
Gympass Funding, Revenue & Valuation
Gympass, according to Crunchbase, has raised a total of $525.4 million across seven rounds of venture capital funding.
Notable investors include Valor Capital Group, Atomico, General Atlantic, SoftBank, Moore Strategic Ventures, and many more.
Gympass is currently being valued at $2.2 billion after raising $220 million in Series E funding in June 2021.
The company does currently not disclose revenue figures to the public. Once Gympass decides to go public, its revenue figures will be revealed during the filing process.