Executive Summary:
Figma is a collaborative design application that allows users to collaborate on projects over a web browser.
Figma makes money via various subscription plans for its software products as well as through plugin fees it collects from third-party developers.
Founded in 2012, Figma has grown to become one of the most popular design tools. Adobe paid $20 billion in 2022 to acquire the firm.
What Is Figma?
Figma is a collaborative design application that allows users to collaborate on projects over a web browser.
The tool was created for a variety of design purposes including:
UI and UX design
Graphic design
Prototyping and wireframing
Diagramming
… and many more. One of the key distinctions that sets Figma apart is its collaborative aspect. The users themselves can upload and share templates they use.
The capability of Figma's software can furthermore be extended vis-a-vis its plugins and widgets marketplace. Those plugins/widgets are either published by Figma itself or third-party developers.
Figma, apart from its core design software, has also developed an online whiteboarding tool for teams called FigJam.
Whether its Figma or FigJam, the company has been able to attract some of the world's biggest enterprise clients. Its customers include tech powerhouses such as Airbnb, Dropbox, Netflix, and Twitter.
And although Figma is used via your web browser, it also boasts various integrations with essential software tools like Microsoft's Teams, Notion, Slack, and many more.
Detailing the Founding Story of Figma
Figma, which is headquartered in San Francisco, California, was founded in 2012 by Dylan Field and Evan Wallace.
To say that both Field and Wallace are overachievers would indeed be quite the understatement. While still in high-school, Fields completed internships at O'Reilly Media, Indinero, and Microsoft.
After graduating from high school, he wound up studying Computer Science at Brown University, which is where he wound up meeting his future co-founder Wallace.
Wallace's resume was nothing to scoff at, either. He wowed executives at Pixar, where he interned, after creating an algorithm to render a ball bobbing in a 3-D pool.
Field also continued to seek work experiences at various other companies including LinkedIn and news sharing platform Flipboard.
During his second internship at Flipboard, Field decided to work in the product design department, which sparked his passion for the field and showed him first hand how complex the design process can be.
"They have an amazing design team," he recalled during a Business Insider interview. "People have gone on to do incredible things. As part of that internship, as I was going through it, I realized I wanted to work on these kinds of problems full time."
So, he decided what any sane person full of confidence would do: drop out of college. Luckily, the $100,000 he received from his Thiel fellowship provided him with enough of a runway to get the ball rolling.
Wallace, who was in his last year at Brown, would join him a few months later. In the beginning, the duo experimented with a variety of different ideas from software for drones all the way to a meme generator.
Eventually, after a year of tinkering, they landed on the idea of Figma. Wider technology advancements, apart from the fact that existing tools Adobe's Photoshop were complicated to use and even harder to collaborate on, played a crucial role in their decision to pursue Figma.
Specifically, the technology they were drawn to was WebGL. Released two years prior by the Mozilla Foundation (the people behind the Firefox web browser), WebGL enabled developers to render interactive 2D and 3D graphics within any compatible web browser without relying on plugins.
Meanwhile, startups like Canva had warmed up investors to the idea of pouring money into startups solely aimed at designers.
However, being in the same industry like industry giants such as Adobe meant that the team needed to attract some capital first. A year after receiving the $100,000, in June 2013, Figma announced that it had just raised $3.9 million in seed funding.
This was the last we heard of Figma's founders for a while, though. Over the course of the next 2+ years, they relentlessly focused on getting a working prototype released.
On December 3rd, with the help of various start up-focused media outlets, Figma was unveiled to the public.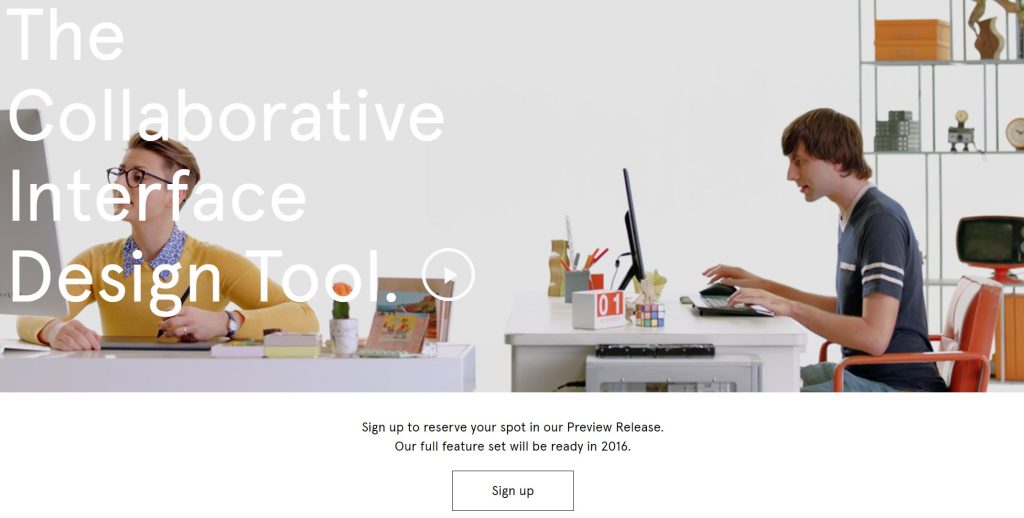 And they didn't shy away from going on the offense. Field, during launch day, told TechCrunch that Adobe "doesn't understand collaboration" and its Creative Cloud product is "really cloud in name only".
Alongside the launch announcement, Figma also disclosed that it had just raised an additional $14 million in Series A funding. And the cash injection was certainly necessary.
Figma didn't charge initial customers who joined its Preview Program a single cent up until 2017. Meanwhile, the team of 15 worked on refining the product experience, for instance by releasing a Multiplayer feature back in September 2016.
And the company and its founders seemingly went from strength to strength, raising two rounds of funding. An initial $25 million Series B round in February 2018 was topped up with another $40 million in Series C funding just a year later (02/2019).
As disclosures would later reveal, Figma essentially more than tripled its revenue figures every year throughout that timespan. Word of mouth became a key piece of its seemingly steep adoption curve.
Another key advantage was that, for the first time, non-designers would be able to participate in the process due to Figma's collaboration tools. This ultimately made it easier for Figma to sell into enterprises since the relevant stakeholders it pitched to were often already familiar with the tool.
And to Figma's and the founding team's credit: they absolutely doubled down on the collaborative aspect of the application, a move that would prove to be key in its rapid ascend. In October 2019, it introduced Figma Community, which enabled organizations on its platform to share live design files with each other.
Everything that would be shared was falling under Creative Commons Attribution 4.0, thus allowing the original publishers to retain their ownership rights – and incentivizing them to create popular designs, which would in turn attract more designers.
As a result of the continuous adoption, Figma managed to close another funding round. In April 2020, right after the Covid pandemic began to wreak havoc, it announced a $50 million Series D round led by Andreessen Horowitz. Figma officially reached unicorn status after being valued at $2.05 billion.
Users were also starting to come up with more and more unique designs. In one instance, someone even created a virtual city mapping many of San Francisco's tech companies. Even playable games would be made available by Figma's powerful community.
The cash injection enabled Figma to go on offense. Meanwhile, Covid-19 proved to be one of its biggest headwinds. Figma's enabling of greater collaboration among team members proved to be particularly useful when everyone had to lockdown at home.
Additionally, it set up shop in a variety of new locations, such as New York or London, to be closer to the customers it serves. Figma was even able to hire rockstars like Ken Norton who had spent the last 14 years as a product leader at Google.
However, the biggest splash it made came later in April 2022. That month, Figma announced the launch of FigJam, its whiteboarding tool that would put it in direct competition with the likes of Miro.
Continuous fundraising, such as its $200 million Series E round at a valuation of $10 billion in June 2021, fueled the rocket ship that became Figma. Another huge reason for why Figma grew that fast was Field's obsession with solving customer problems.
Prior to Covid, he even flew to Ukraine and Nigeria to personally speak to clients. And during lockdowns, he relentlessly consumed customer support tickets and interacted directly with users on Twitter.
Figma's popularity even led to tensions between companies that traditionally been friendly to each other. Reporting by CNBC revealed that Figma had become instrumental to the work of Microsoft employees.
"Figma's become, I would say, sort of the No. 1 common tool we use to collaborate across all of the design community in the community and beyond," said one former Microsoft employee.
Adobe, however, didn't share that love. More and more of Microsoft's employees as well as those of other tech giants stopped using the software giant's XD Cloud in favor of Figma. To put an end to that looming threat, Adobe had to pull the cheque book out.
So, in order to protect itself from those competitive pressures, Adobe essentially had no other choice but to purchase Figma. On September 15th, 2022, Adobe announced its intention to acquire Figma for a whopping $20 billion.
Around half of that money would be paid in Adobe shares, which meant the software giant diluted itself quite substantially. The deal itself is still pending regulatory approval. In November, rumors began to emerge that the Department of Justice (DOJ) prepared to open an investigation into the transaction.
How Does Figma Make Money?
Figma makes money via various subscription plans for its software products as well as through plugin fees it collects from third-party developers.
The overwhelming majority of the revenue that Figma generates comes from the subscription fees it charges for its software.
For example, the Professional version of Figma costs $12 per month (when billed annually) while its Enterprise option costs businesses $75 per month and user.
Similarly, its whiteboarding software FigJam is also monetized on a subscription-basis. Interestingly, its pricing, with $5 per user per month for an enterprise seat, is substantially cheaper compared to competitors such as Miro.
The aggressive pricing strategy is utilized to boost adoption. Business and especially enterprise customers are some of the stickiest out there, so luring them in with lower price points can help to boost adoption and dependency. Prices can then be raised later on.
The other, albeit substantially smaller, revenue stream of Figma are the fees it charges to developers whenever they sell a plugin through its platform.
As stated above, Figma introduced its Community product back in October 2019 – and it has since become one of its key growth pillars.
Both Figma and outside developers can share design files, plugins, and widgets that enhance the overall product experience for everyone involved.
Figma then charges third-party developers a flat fee of 10 percent for every paid plugin or widget sold via its platform.
And becoming a platform is the business model that Figma is ultimately gunning for. By allowing outside parties to make money on the platform, it incentivizes more creators to join it.
And the better the product experience becomes; the more designers would want to choose it over competitors such as Adobe. Readily available Figma designs, in particular, decrease the friction of getting acquainted with the platform and further boost adoption.
It also allows Figma to monetize those features while saving the money and time it would've taken to create them in the first place.
Opening up a platform to outside developers is a strategy that has been successfully employed by a variety of other software companies such as Notion, Shopify, or WordPress (both the commercial and non-commercial version).
Another key pillar to Figma's growth was the freemium growth strategy it adopted. By allowing individuals to test out the software at no cost, it can ease designers into the thought of recommending it within their organization.
In the software industry, this is referred to as bottom-up sales. Free users become advocates for a product within their organization. Once Figma's sales personnel comes in, it already deals with a fairly 'warm' lead, which heightens the chances of converting the customer.
Another underappreciated genius of Figma are its cross-collaboration features. By actively incorporating non-designers into the design process, which is as simple as sharing a link and allowing them to comment on work in progress.
This ultimately creates cross-departmental network effects within an organization. Figma's software becomes more useful as more people within an organization start using it. And the more users are onboarded, the more money Figma ultimately makes while its products become stickier and thus harder to replace.
Figma Funding, Revenue & Valuation
Figma, according to Crunchbase, has raised a total of $332.9 million across 6 rounds of equity-based funding.
Notable investors in the firm include Andreessen Horowitz, Sequoia Capital, Kleiner Perkins, Greylock, Index Ventures, and many more.
Figma is currently valued at $20 billion – at least to Adobe, which paid that sum in September 2022 to acquire the firm. Previously, Figma had been valued at $10 billion in its latest funding round (Series E announced in June 2021).
Various news outlets during the acquisition announcement reported that Figma is projected to generate $400 million in revenue in fiscal year 2022.