Executive Summary:
Cameo is an online service that allows customers to hire celebrities to create personalized videos. Other products include Zoom calls or the ability to chat with a celebrity.
Cameo makes money by taking a 25 percent cut from every transaction facilitated via its marketplace.
Founded in 2016 and headquartered in Chicago, Cameo has been able to raise over $65 million and amass a valuation of $300 million. More than 30,000 creators are now part of the platform.
How Does Cameo Work?
Cameo is an online marketplace where people can hire celebrities to create personalized video messages.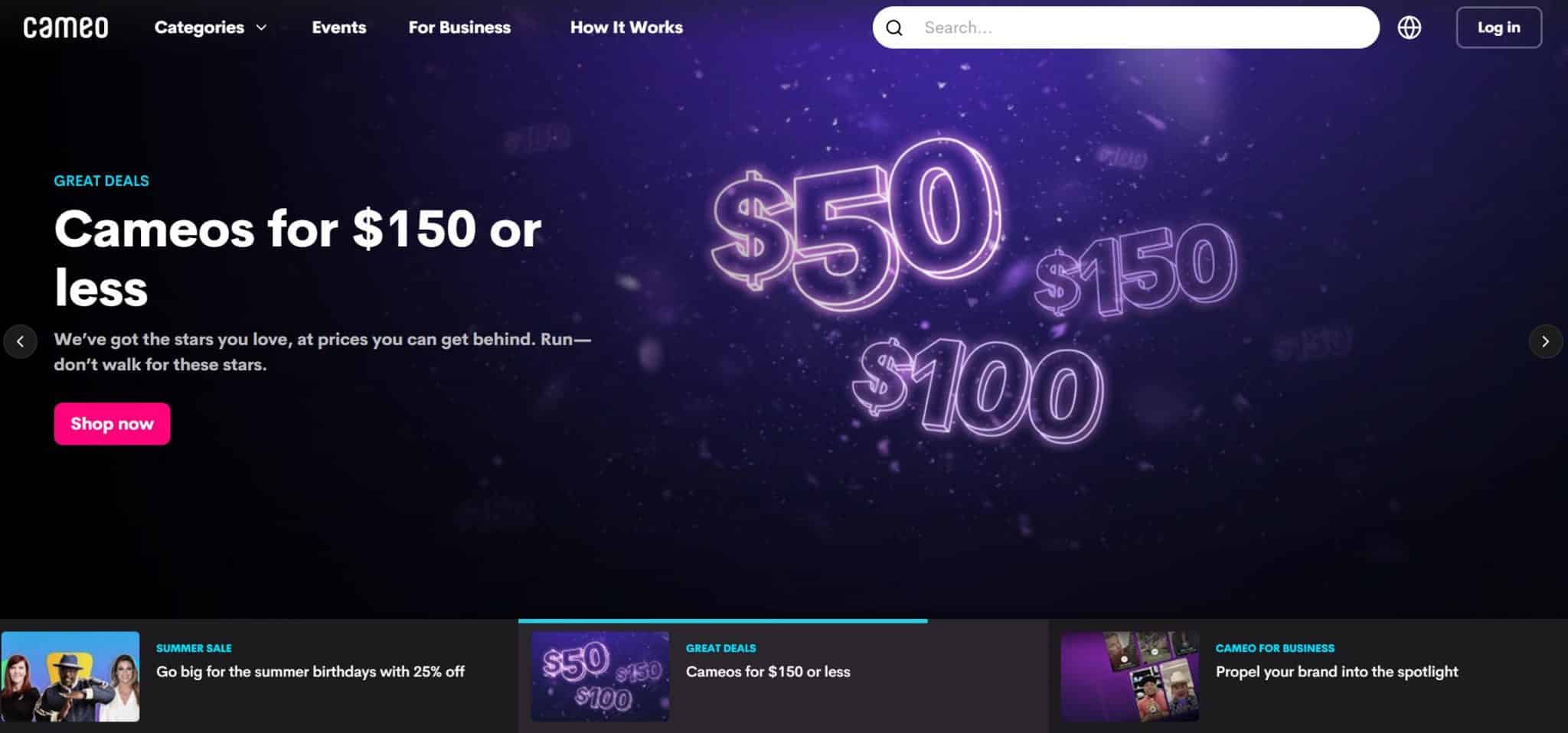 Users can access Cameo via the company's website as well as its mobile phone applications (available on Android and iOS).
They can then browse the platform's directory to find celebrities. Those celebrities come from a wide range of backgrounds, including actors, athletes, musicians, comedians, or even animals.
Each celebrity sets their own price, which starts at $5 and can reach well into the thousands. A personal shout-out from Caitlyn Jenner, coming in at $2,500 per video, is currently the most expensive offering on the platform.
Video creators have reviews, star ratings, and recent video examples available on their Cameo page to show customers what they're getting themselves into.
Once a video creator is chosen, the customer is prompted to fill out a form detailing his or her request. Customers can specify whether they want the video for themselves or someone else, what occasion the video is made for, and give any other special instructions.
Videos can either be of personal or promotional nature. With promotional videos, the video creator advertises either your company or product.
When the request has been made, video creators have up to 7 days to create the personalized video. Nevertheless, creators can decline to create the video should they disagree with any of the specifications made.
Users on the platform can, furthermore, do live calls with celebrities. Calls can last for up to 15 minutes. Cameo Calls is the successor of Cameo Live, which allowed customers to have group calls (up to four people) with a celebrity via Zoom.
Cameo has even developed its own Instagram-like feed, allowing users to follow news regarding their favorite celebrity.
As of the time of writing, Cameo works together with over 30,000 creators that serve close to a million customers.
A Short History Of Cameo
Cameo, headquartered in Chicago, Illinois, was founded in 2016 by Steven Galanis (CEO), Martin Blencowe, and Devon Spinnler Townsend (CTO). The 3 founders came from varying backgrounds that perfectly blended into what they eventually created with Cameo.
CEO Galanis, a History and Economics graduate out of Duke University, started his first business in college. He co-founded Spartan Entertainment, which ended up becoming a highly-frequented bar around the campus area.
After graduating from Duke, Galanis went on to hold various positions in the financial world. At some point in time, he became acquainted with Blencowe, a UK-native who moved to America in the mid-2000s to pursue a degree in Political Science at the University of Southern California (USC).
Like many other USC graduates, he went on to work as a producer in the film industry. Galanis and Blencowe decided to launch a production company but the business was eventually shut down. Galanis returned to his hometown Chicago to work at LinkedIn while Blencowe decided to pursue a career as an NFL agent.
They reunited again in 2016 when Blencowe came to visit Galanis in Chicago and attend his grandmother's funeral. When Galanis gave Blencowe a ride back to the airport, he began talking about his agent career and how he was trying to find new business opportunities for his clients.
At some point during the airport drive, Blencowe pulled out his phone and showed Galanis a video of Seattle Seahawks player Cassius Marsh congratulating a friend of Blencowe's to his newly born baby. Hearing Blencowe talk about how much his friend loved the video created the seed for what would eventually become Cameo.
The pair eventually recruited Townsend, who became friends with Galanis during their studies at Duke, to join as CTO. Townsend certainly looked the part. Back in the day, his short-formed videos on Vine made him rise to popularity, allowing him to capture millions of viewers. Furthermore, he had 3 years of experience as a Product Manager at Microsoft after wrapping up his Computer Science studies at Duke.
With the team in place, they soon got to work. They launched the website in March 2017 under the slug bookcameo.com (back then, they simply couldn't afford the cameo.com domain).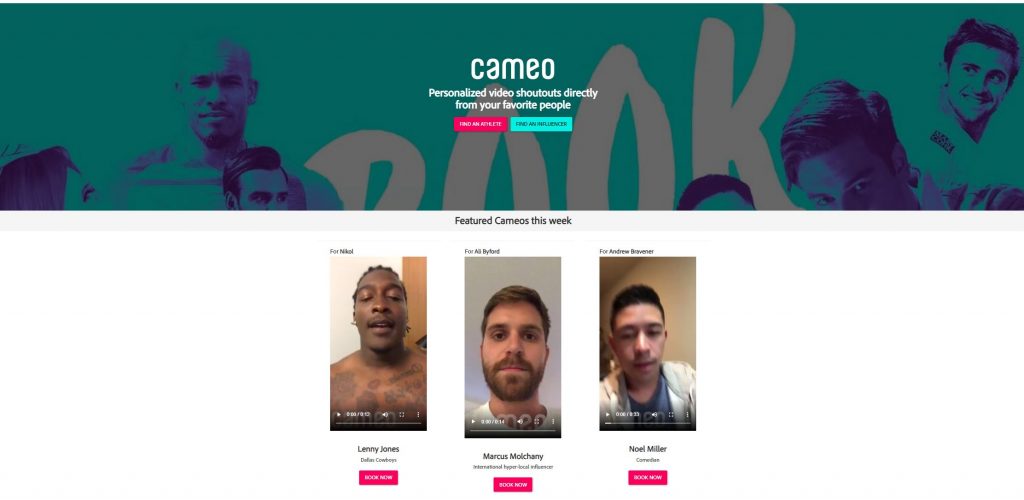 The startup's early days were scrappy and riddled by bugs, to say the least. For instance, the website's original backend was so basic that video requests were sent to celebrities' Facebook inboxes via a bot.
Celebrities would then have to remember the request, record a video on their phone, upload it to Facebook's messenger from where it would be emailed to the customer. As such, many videos in the early days would either arrive delayed (not so good if the intention is a birthday wish, for instance) or have incorrect information (such as a wrong name).
In the end, it did do no harm to Cameo's growth though. What made the service stand out from the early days was the strong supply of celebrities that would be present on the platform. Similar concepts, such as Britain's CelebVM, had already been in place for many years.
But due to the founding team's extensive and diverse network in the sports, film (Blencowe), as well as influencer (Townsend) industry, it was able to sign up celebrities at a rapid pace. Cameo onboarded more than 1,600 celebrities creating over 26,000 videos within its first year of operation.
Another growth hack that the founders employed to build up the supply side of the marketplace was to introduce a celebrity referral program. Creators on the platform would earn some extra money whenever they helped to sign up another celebrity.
Interestingly enough, Cameo didn't have to spend much on acquiring new users (i.e. through paid ads). Celebrities and customers alike were often encouraged to post the videos they received on their social profiles, which made some of them go viral. Cameo tags at the bottom of each video (similar to Dubsmash) then help users to recognize where the video originated from.
Lastly, some celebrities like Ellen Degeneres and Howard Stern would end up name-dropping the platform, which helped to improve trust and further heightened awareness.
Unfortunately, not everything was going according to plan. In 2018, an account linked to an anti-Jewish organization had duped former NFL quarterback Brett Favre, rapper Soulja Boy, and comedian Andy Dick into making Cameo videos using coded anti-Semitic language. The videos were then uploaded to YouTube with the title "Brett Favre calls out the Jews".
Cameo reacted swiftly by deleting the account, contacting YouTube to take the videos down, and create an automated system that would monitor incoming requests and mark the ones that could include hate speech, symbols, and/or groups.
In recent months, Cameo has experienced exponential growth as a result of the coronavirus pandemic. Events like birthdays or weddings had to be canceled, leading people to seek alternative ways to delight their loved ones.
Furthermore, many celebrities that previously declined to join Cameo (e.g. musicians) were finding themselves having nothing else to do. As such, more famous artists like Akon have recently joined the platform, in turn making it even more attractive for customers.
The platform's growth was thus rewarded with another round of funding. In March 2021, Cameo raised $100 million in Series C funding. Investors valued the firm at $1 billion, thus allowing it to reach unicorn status within four years of being founded.
Cameo used portions of that funding to spread the word of its product across the globe. Simultaneously, it launched an offering aimed at business customers that would want to display Cameo videos during events.
During the summer of 2021, Cameo added NBA legend Magic Johnson to both its board and user base. Many college athletes, who due to a change in NCAA regulations were allowed to generate money, also flocked in masses to the platform.
Success continued well into the fall. In September, Cameo launched a live calls product. A month later, it acquired fan merch platform Represent, which allows celebrities and brands set up individualized online storefronts, for an undisclosed sum.
The platform, furthermore, capitalized on the crypto craze when it unveiled its own NFT in February 2022. Dubbed Cameo Pass, the service gives users access to limited release artworks, exclusive in-person and virtual events, and early access to new Cameo features.
In May 2022, Snapchat announced that it partnered with Cameo to release more snap original series and a new ad format. Unfortunately, times weren't always rosy.
That same month, Cameo laid off 25 percent of its workforce, equal to around 87 people. While it didn't provide any official reasoning, many in the industry assumed that it was in preparation of the looming recession.
How Does Cameo Make Money?
Cameo makes money by taking a 25 percent cut from every transaction facilitated via its marketplace.
As previously stated, the majority of its revenue is generated by the short-form videos that are created by celebrities.
In June 2020, Cameo added 2 more products to its roster. The first one allows customers to buy 10-minute Zoom calls with their favorite celebrity. These normally come at 2 to 3 times the price of a video.
Another product allows customers to chat with a star of their choice. Messages are limited to 250 characters.
The fees that Cameo charges are in line with its competitors, which include platforms such as Thrillz or StarSona.
Cameo has since expanded its product offering to replace the Zoom calls with live celebrity calls. It has also added a news feed that enables users to follow their favorite celebrities.
Additionally, the platform also offers business customers the option to purchase celebrity shout outs.
The platform has since added new revenue streams. Its Cameo Pass can, for instance, can be bought for 0.2 ETH, which stands at around $350 at the time of writing. It grants customers access to a variety of benefits such as being able to attend in-person events.
Additionally, Cameo has purchased fan merch platform Represent in September 2021. Represent charges fees to the brands and celebrities it works together with.
All of those features and products feed the marketplace business model Cameo operates under.
As a marketplace, Cameo's priority is to maximize liquidity, meaning that both buyers and sellers can have enough options at any given time to transact with.
Cameo, as the intermediary, ensures that payments are stored securely while providing customers with high-quality videos by vetted sellers (= celebrities).
Cameo also caters to celebrities by allowing them to monetize their status through different products.
So, not only can they send pre-recorded messages but also engage with fans via live calls or even in-person events, which in turn raises their popularity – both on Cameo and as a whole.
Cameo's vision is, therefore, to create a fan-driven ecosystem on which celebrities can interact with their followers all while getting paid.
Traditionally, their platforms of choice, such as Instagram, did not provide any native monetization options. Influencers thus had to revert to external means of revenue generation, whether that's sponsoring or patronage (via services such as Patreon).
It can thus be expected that Cameo will continue to expand the functionality of its platform. For example, it could natively integrate the Represent acquisition into its site, thus giving celebrities another option to monetize their following.
Cameo Funding, Valuation & Revenue
According to Crunchbase, Cameo has raised a total of $165.7 million across 5 rounds of venture capital funding.
Notable company investors include Spark Capital, Kleiner Perkins, Bain Capital, Lightspeed Venture Partners, or LinkedIn founder Jeff Weiner.
Cameo is currently valued at $1 billion after raising $100 million in Series C funding back in March 2021.
Cameo has stated in a blog post that the company had generated over $100 million in GMV for the year 2020. With a take-rate of around 25 percent, this would translate to roughly $25 million in annual revenue. Year-over-year, the company grew by 4.5 times.