Zelle is a peer-to-peer (P2P) payment application that enables people to transfer funds between each other free of charge.
The company, which is headquartered in Scottsdale, Arizona, was founded in 2016 by banking conglomerates Bank of America, JPMorgan Chase, and Wells Fargo.
Users can sign up for Zelle by connecting their banking app and phone number with the service. Each user can set up a unique ID that they can utilize to connect with others.
Zelle works together with over 1,000 banking apps. Users can, furthermore, not only send money to their friends and family but also pay merchants for their goods and services.
The ease of usage has, unfortunately, also led to various instances of people being scammed in the past. For instance, scammers would pretend to work for the user's bank and request them to send money to a malicious account.
Zelle, in spite of those issues, has quickly grown into one of the biggest P2P payment apps in the United States. Part of that can be explained by the firm's ties to the financial industry.
Bank of America, JPMorgan Chase, and Wells Fargo, back in 2011, began working on a product dubbed clearXchange. The product was meant to compete with the likes of PayPal and Venmo, which the banks feared would eventually attract all their customers.
However, they ultimately struggled to get a product developed and thus sold the business to banking software developer Early Warning Services, which itself is owned by a consortium of banks, in 2016.
It took Early Warning Services less than a year to get a product out. In 2017, the rebranded Zelle was finally launched. Within two years, Zelle already managed to overtake established services such as Venmo.
Today, Zelle's annual transaction volume is equal to $490 billion. In 2021, it processed 1.8 billion transactions while growing close to 50 percent. Currently, Zelle does not monetize its popularity and does not make money from fees or anything related.
The methodology with which competitors of Zelle are ranked is based on publicly available data. Information such as revenue, (annual) payment volumes, the number of users, and anything else in between will be considered.
Only competitors from the United States will be taken into account since this is the only country Zelle operates in.
It has to be noted that indirect competitors of Zelle will, furthermore, be excluded. For example, we won't consider payment solutions aimed at merchants such as Stripe.
It has to be noted that this analysis should not be seen as an endorsement of either service. It is merely a summary of the competition that Zelle faces as of today.
So, without further ado, let's take a closer look at the top 7 competitors of Zelle.
1. Venmo
Headquarters: New York City, New York

Founder(s): Andrew Kortina, Iqram Magdon-Ismail

Year Founded: 2009
Venmo is not only Zelle's biggest competitor but considered one of the OGs in the space. The app, within months of launching in 2012 (Venmo was previously in private beta for two years), managed to attract over 250,000 users.
This led Braintree, the spiritual predecessor to Stripe, to acquire Venmo for $26.2 million back in August 2012. A year later, in September 2013, PayPal (then still owned by eBay) purchased Braintree for $800 million. It has thus been running Venmo ever since.
Venmo, apart from popularizing mobile P2P payments, has also been popular due to the app's social aspects. Users can send each other text messages, emojis, GIFs, and all kinds of other files.
Its users can, furthermore, earn cashback rewards when paying other merchants for their goods and services, apply for a company-branded debit or credit card, split bills, and even buy and sell a variety of cryptocurrencies.
Today, Venmo boasts 83 million members in the United States. In 2021, the firm's payment volume was equal to $230 billion.
Unlike Zelle, Venmo has also become a huge money maker for PayPal. The firm currently generates around $900 million in revenue on an annual basis. Venmo derives its income from trading fees, commissions, interchange fees, and more.
However, Venmo has been embroiled in various controversies as well. For instance, its social focus has led the firm to be criticized by privacy advocates. PayPal even had to settle with the FTC over a complaint about the company's handling of privacy disclosures back in February 2018. And in March 2021, U.S. President Joe Biden had his Venmo account history publicized, which only added fuel to the fire.
Source: eBay, TechCrunch, Venmo
2. Cash App
Headquarters: San Francisco, California

Founder(s): Block (formerly Square)

Year Founded: 2013
Cash App, which was created by Block (formerly known as Square), is the third most popular pure-play P2P app in the United States.
Square, which has been founded by Twitter co-founder Jack Dorsey, launched the app to compete with the likes of Venmo and PayPal. The Cash App, which launched in October 2013, allowed users to send money to each other using their phone's email app.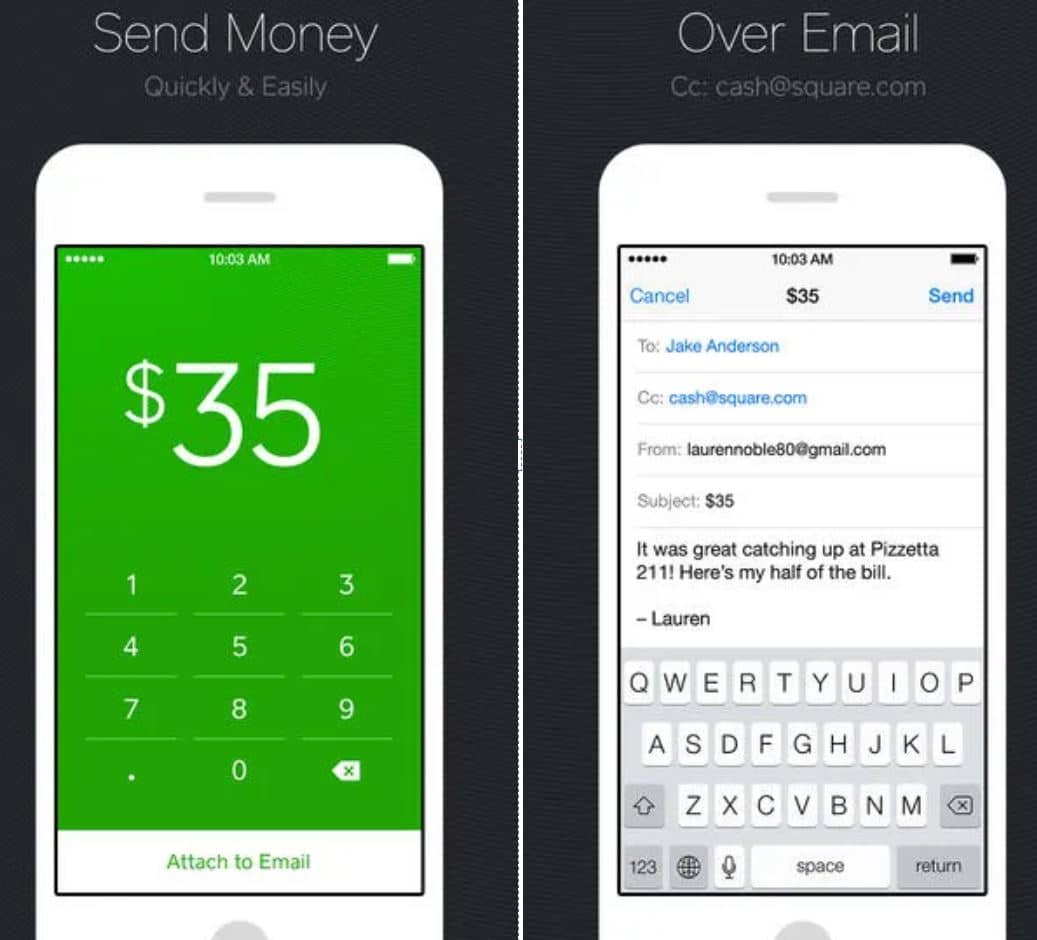 Over the coming years, then-Square continued to expand the product's functionality. In March 2015, for instance, Square added the ability to pay businesses. Months later, it became a digital wallet and finally allowed users to hold a balance.
Since then, it has introduced hundreds of new features including the ability to get paid faster, purchase and sell crypto, invest in a variety of stocks (commission-free), file one's taxes, and apply for a debit card.
In 2021, the Cash App generated $12.32 billion in revenue and $2.07 billion in gross profit for Block. The app boasts 44 million active users of which 13 million are subscribed to the debit card. Unfortunately, Block does currently not disclose annual payment volumes.
Source: Cash App, SEC, TechCrunch
3. Apple Pay
Headquarters: Cupertino, California

Founder(s): Apple

Year Founded: 2014
Apple Pay is Apple's mobile payment service that allows users to pay for goods and services using their device's NFC technology.
Apart from being able to pay merchants (85 percent of all U.S. merchants accept Apple Pay), Apple Pay also enables users to send money to friends and family via Apple Cash (which is only available in the United States).
Additionally, Apple enables its users to purchase cryptocurrencies via services like Crypto.com or earn cashback rewards.
Apple Pay was announced in September 2014 and rolled out to the firm's 200 million iPhone owners throughout 2015. Four years later, Apple also unveiled a company-branded credit card in partnership with Goldman Sachs. Recently, it introduced a BNPL product to allow customers to pay in multiple installments.
The strategy behind Apple Pay is for Apple to engrain itself even more in the user's life. This allows Apple to monetize its mobile devices in yet another way (on top of the revenue it derives from the App Store fees and its own subscription revenue). For example, it already makes money from merchant fees and interchange fees vis-a-vis the credit card.
Over 500 million people have now activated Apple Pay on their iPhones and smartwatch. Close to 50 million of those can be attributed to the United States.
With regards to merchant payments, Apple Pay now has a market share of 43.9 percent in the United States.
4. PayPal
Headquarters: San Jose, California

Founder(s): Elon Musk, Ken Howery, Luke Nosek, Mallikarjun Yagnavajulla, Max Levchin, Peter Thiel, Rod D. Martin, Senthil Udayasooriyan

Year Founded: 1998
PayPal is the de-facto pioneer in online payments and revolutionized modern commerce as it stands. Much has been said about the firm's illustrious history, which involved a merger with Elon Musk's X.com, being acquired by eBay in 2002 (leading to the creation of the so-called PayPal Mafia), and the company being spun out of eBay in 2015. We did an extensive piece about PayPal's business model and its history, which you can read in the linked article.
PayPal is primarily used to pay for goods and services online. Over 30 million merchants are now part of its platform and receive payments from its 429 million active accounts.
Apart from paying merchants, PayPal is also known for allowing users to send money to friends and family at no cost. However, fees are being charged if you send money to a foreign bank account and between two different currencies.
In 2021, PayPal generated revenues of $25.3 billion. A total of 19.3 billion transactions were conducted over that time span, totaling $1.25 trillion (!) in payment volume.
While PayPal is primarily known for facilitating online payments, it also offers a variety of other products. These include BNPL payment options, a branded debit card with which users can earn rewards, or donate to a charity they like, among many other features.
Source: PayPal
5. Google Pay
Headquarters: Mountain View, California

Founder(s): Google

Year Founded: 2015
Google Pay is the search giant's answer to Apple's and Samsung's own payment solutions. Google's ambitions in finance go back all the way to 2011 when it introduced its Wallet product. Four years later, it launched Android Pay to allow Android users to pay using their phone's NFC technology.
Android Pay and the Google Wallet would ultimately be merged in 2018 to create what is now known as Google Pay. The Google Pay app allows you to pay for goods and services, earn rewards for everyday payments, understand spending habits, and send money to other users free of charge.
The Google Pay app has been downloaded over 500 million times thus far. While the app is available on iOS devices as well, most of its users own an Android phone. Google's wearable products are also compatible with the service.
Google, unfortunately, remains fairly secretive about the performance of its payment app. This can largely be attributed to the firm's ongoing legal battles during which it is being accused of monopolistic practices, among others.
The last time it published data was back in 2019. The service, back then, had enabled 2.5 billion transactions and was on track to reach $110 billion in transaction value in annual transaction volume. Those numbers have probably increased substantially ever since.
Furthermore, estimates project that Google Pay is currently being used by 27.1 million people in the United States alone.
Source: Google Play, Google Pay
6. Chime
Headquarters: San Francisco, California

Founder(s): Chris Britt, Ryan King

Year Founded: 2013
Chime is a technologically-enabled bank that doesn't own any physical branches. Instead, customers are served completely online. It has to be noted, though, that Chime is technically not a bank. Instead, its banking license is provided by The Bancorp Bank. As a result, Chime accounts are FDIC insured for up to $250,000.
It seeks to disrupt traditional banks by offering a variety of unique features including overdraft protections, free ATM withdrawals, the ability to get paid earlier, and a company-branded debit card.
Chime competes with Zelle when it comes to P2P payments as well. Users send each other money instantly via the firm's Pay Anyone feature. Everyone receives a $ChimeSign, which is a unique ID that acts as a username.
With over 12 million users, Chime is widely considered to be the most popular neobank in the United States. The firm is currently valued at $25 billion, which has been made possible by the $2.3 billion it raised in venture funding.
In 2021, Chime allegedly generated around $1 billion in revenue. Unfortunately, Chime also had to suffer some setbacks. The firm recently had to postpone its plan to go public due to unfavorable market conditions.
Source: Chime, Crunchbase, Forbes, Statista
7. Samsung Pay
Headquarters: Suwon-si, South Korea

Founder(s): Samsung Electronics

Year Founded: 2015
Samsung entered the P2P payments space by means of acquisition when, in February 2015, it purchased Massachusetts-based LoopPay for $250 million. LoopPay had previously worked on technology that allowed people to pay by using specialized hardware embedded in phone cases and such.
That technology would ultimately be integrated into Samsung smartphones, starting with the Samsung Galaxy 6. The introduction of Samsung Pay came in direct response to Apple, which had just unrolled its own payment feature.
Samsung Pay, which is currently only available on Android devices, allows you to send money to friends and family as well as pay businesses, earn cashback rewards, own a branded debit card, purchase train tickets or crypto, and even allows people to add their vaccine records.
Samsung Pay only trails Apple and Google when it comes to usage numbers. It currently has close to 17 million members in the United States alone. However, most of its users are located in Asian countries such as South Korea.
Source: Payments Dive, Samsung, Vox
Honorable Mentions
The global mobile payments market is projected to reach $11.83 trillion by 2028. Naturally, there are a plethora of other services that try to carve out a bigger slice of the industry's pie.
For once, there are dozens of other neobanks just like Chime. Examples include startups such as Current or Revolut which all offer similar sets of features.
Even investment platforms such as Robinhood or comparison sites like SoFi have moved towards allowing people to hold money and send it to each other.
Moreover, Apple, Google, and Samsung aren't the only tech giants trying to enter the payment space. Facebook launched its own payments product back in November 2019. Years later, in June 2022, that product was rebranded into Meta Pay.
Similarly, Amazon, the world's biggest online marketplace, also enables customers to check out substantially faster using Amazon Pay.
Technically, traditional banks compete with P2P payment apps as well. Some, such as Chase Pay, even offer instant transfers between their users.
In fact, almost all of the above-highlighted P2P payment apps do require a traditional bank account to be connected to.
Additionally, all banks offer basic account protections such as FDIC insurance (important in case of bankruptcies) as well as the ability to issue chargebacks.
Users of P2P payment platforms such as Venmo or Zelle have been subject to many scams in the past where they ultimately lost their money and don't have any option to recover those funds.