The global athleisure market is set to grow by over $150 billion from 2020 to 2025. These numbers, as lucrative as they may seem, were not the reason why Joe Kudla started Vuori, though.
All he wanted to achieve when he launched the brand back in 2015 was to solve his own issues of not being able to find appropriate yoga clothing – and figured that there would be a lot more men feeling the same.
Those early assumptions certainly proved to be correct. He has since grown Vuori to a company that is worth $4 billion, making it one of the world's most valuable pure-play athleisure brands.
According to our calculations, founder and CEO Joseph Kudla remains the majority owner of Vuori Clothing. The remaining shares are mostly owned by investors as well as employees of the company.
But how did Kudla manage to establish the activewear brand in an industry that is dominated by juggernauts like Lululemon and Nike?
In the coming sections, we will detail the rise of Vuori from a small project that started in Kudla's garage to a brand that is now set to expand across the globe.
First Things First: What Is Vuori?
Vuori is a premium performance apparel brand that sells female and male clothing through a variety of channels.
Its athleisure pieces are designed to be worn for all kinds of situations, for example when working out or during different types of everyday activities.
Vuori designs and sells a variety of clothes and accessories including t-shirts, leggings, pants, shorts, long sleeves, socks, and so much more.
Those designs are either sold via the firm's online and physical retail shops as well as via partner merchants such as Nordstrom or REI.
Vuori's stores, apart from featuring their own clothes, also host a variety of events. Customers can attend weekly yoga sessions, art galleries, and fundraisers.
Furthermore, Vuori prides itself on ensuring that its clothes are manufactured ethically. Most of the firm's factories are located in either Colombia or China.
Sustainability is the third pillow around which the Vuori brand revolves. The firm has been Climate Neutral Certified for three years running now.
Detailing the Rise of Vuori
Vuori, which is headquartered in Encinitas, California, was founded in 2013 by Joseph 'Joe' Kudla. Launching Vuori has not been Kudla's first entrepreneurial rodeo, though.
Growing up in the area, he attended the University of San Diego from which he graduated in 2000. But instead of heading straight into the corporate world, life had other plans for him.
For the next two years, Kudla took on various modeling jobs for brands such as Dolce & Gabbana, living between Italy, Germany, Spain, and New York City.
The modeling gigs provided him with a front-row experience into what it takes to get fashion from the catwalk to the hands of consumers.
But instead of spending the entirety of his career in fashion, he chose a more grounded profession. In 2002, Kudla joined consulting firm Ernst & Young (EY) as an auditor. He would remain in that position until 2005.
That same year, he joined San Diego-based recruiting firm Vaco as a partner. The firm essentially provided staffing for accounting and finance companies, which was certainly a great fit given Joe's stint at EY.
Kudla stayed on as a partner for the next eight years and helped Vaco to grow from almost zero to tens of millions in annual revenue. Today, the staffing firm employs over 4,000 people and has blossomed into one of the industry's biggest service providers.
Eventually, though, life began catching up with Kudla. Marked by years of playing lacrosse and long office hours, his back would often trouble him.
A friend of Joe's, knowing how much he loved working out, recommended that he should start doing yoga to relieve some of his pain.
What he soon discovered were two things: first, yoga indeed had a positive impact on his health. But second, none of the clothes he was working out in were really that comfortable.
Back then, brands like Nike or Under Armour had mostly focused their efforts on serving athletes in sports like basketball or football. And brands like Lululemon, although they essentially defined the athleisure category, weren't serving the over 20 million men that were practicing yoga in the United States alone.
In a 2017 interview with the San Diego Business Journal, Kudla underlined that fact, saying that "for guys like me, Lululemon always felt like my wife's brand."
So, in 2013, he decided it was time to change that. Joe, to fund the project, raised $300,000 from friends and family. However, it took some time until he figured out the brand's messaging.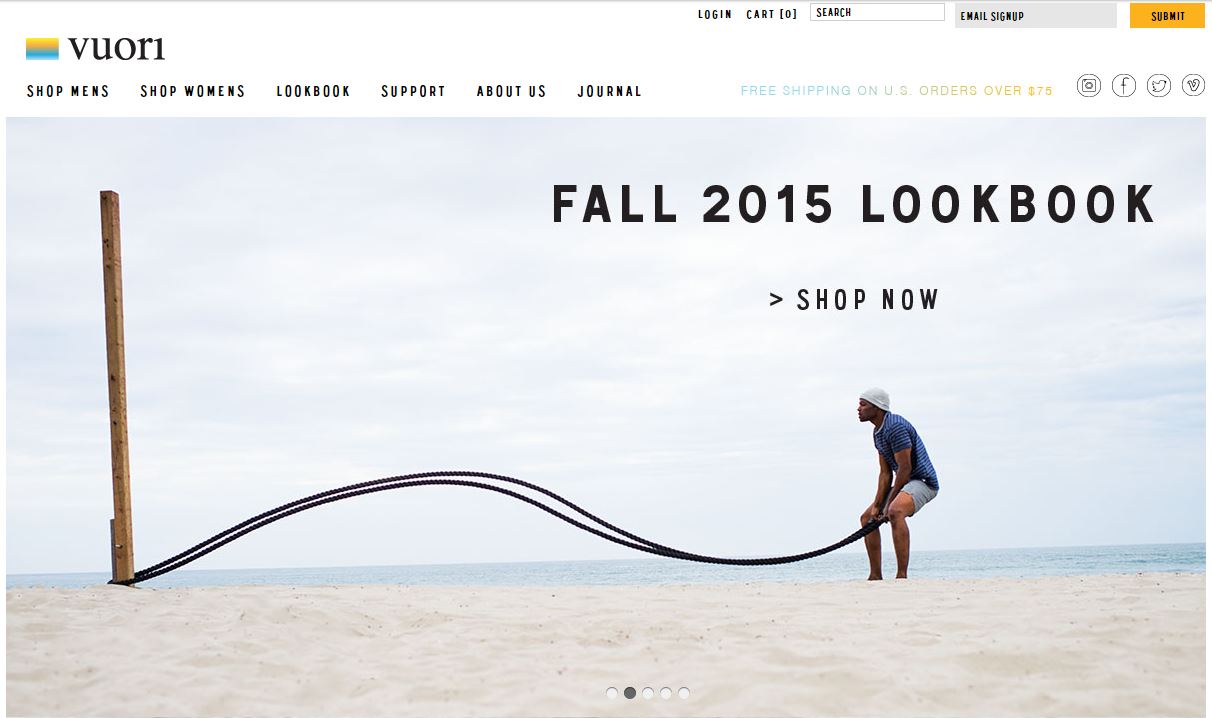 When Vuori launched in early 2015 as a men's-only brand, he initially tried to sell the clothes in local yoga shops (on top of its own online store). But Kudla quickly realized that building the business through wholesale wouldn't work.
Men simply did not want to shop for clothes before or after their yoga sessions. As a result, Vuori shifted its brand messaging away from B2B towards becoming a B2C brand. Facebook, in particular, would become one of the brand's most efficient advertising channels.
The firm also adapted its designs. Instead of just creating clothes for the purpose of doing yoga, Vuori expanded into all kinds of athleisure styles.
Kudla, to continue expanding the business, raised around $2 million in additional funding from a set of undisclosed investors. Soon, bigger players came knocking on their doors.
Outdoor chain REI contacted the firm sometime in 2016 as they were experimenting with men's fitness. They asked Kudla whether he would be interested in Vuori joining REI's incubation program, which would feature various legacy and emerging brands.
The initial roll-out across 10 of REI's stores proved to be a runaway success. Soon, they added Vuori's clothing to 60 other stores and, by 2017, across all of its 150+ physical outlets. Vuori even became the number 2 brand across many of REI's stores.
Other chains took notice as well. By the end of 2017, Vuori was being sold in over 600 retail stores including Segal, Equinox, and Paragon Sports. That same year, the firm became profitable for the first time ever – and has remained so ever since.
Being profitable and an emerging brand also enabled Kudla to hire industry veterans who took the brand to the next level. For example, its Director of Sales, Luis Alvarez, had previously worked for Asics and Nixon Watches while Head of Design Rebecca Bray came from surf brand Rip Curl.
Furthermore, Vuori began to open its own physical stores as well. It already operated a store in Encinitas since launching. Throughout 2018, Vuori opened additional stores in Manhattan Beach and San Francisco. Those decisions were primarily data-driven and based on where Vuori's customers reside.
In October of the same year, Vuori finally expanded into female clothing. Lululemon, likely its fiercest competitor, had added a men's collection back in September 2017. Meanwhile, some of Vuori's customers were actually women that liked its clothes so much that they ended up purchasing smaller-sized clothing aimed at males.
Vuori, to test the waters, launched a small collection in October. Months later, in January 2019, it went on the offense and created a national advertising campaign to raise awareness for its female clothing line. The female division would be spearheaded by activewear veteran Sarah Carlson who previously served as VP of Design and Product Innovation at competing brand Athleta.
The firm's staggering growth ultimately prompted private equity firm Norwest Venture Partners to pour $45 million into the company in August 2019. The investment round valued Vuori at $200 million and made Norwest become a minority shareholder.
While Vuori's leadership team had some ambitious plans on how they would use the money, they would soon come to a screeching halt. The Covid-19 pandemic forced Vuori to temporarily close down its three existing retail locations.
Luckily, the firm's strong online presence allowed it to weather the loss in revenue. In the meantime, it retrained many of its sales associates who would go on to work in the firm's headquarters.
Additionally, it would start hosting online yoga sessions. For selected events such as Mother's Day, the firm's employees would even hand-deliver articles to the customer's doorstep after facetiming them directly from the store.
However, by the end of 2020, the firm was back into expansion mode once again and began opening new stores across the country. Over the course of the next 9 months, Vuori opened 7 more stores across the United States.
It still came as somewhat of a shock when, in October 2021, Vuori announced that it had just raised $200 million in funding from WeWork investor SoftBank. The funding round valued Vuori at a whopping $4 billion, thus making it one of the highest-valued brands in the athleisure industry.
Due to its newly found riches, Vuori said that it planned to expand its retail footprint in the United States to over 100 stores by the end of 2026.
Months later, in March 2022, the firm announced that it would plunge into international markets as well. Over the course of the year, Vuori aims to introduce its brands to customers in Australia, France, the United Kingdom, Ireland, the Netherlands, Germany, and Canada. The clothes would be distributed via its own website as well as local retailers such as Selfridges.
Vuori, to support the expansion, would open a distribution hub in the UK. Additionally, the firm plans to launch an innovation center in Taiwan to prep for a possible entry into various Asian countries.
Who Owns How Much of Vuori?
As previously stated, founder and CEO Joe Kudla remains the majority owner of Vuori. Since Vuori remains a private company, its ownership structure is not openly accessible to the public.
Luckily, we have a few cues to work with that would allow us to dissect who owns how much of Vuori.
What we know is that the firm raised two venture rounds, namely in:
August 2019: $45 million at a post-money valuation of $200 million led by Norwest Venture Partners
October 2021: $400 million at a post-money valuation of $4 billion led by SoftBank
As a result, Norwest Venture Partners ($45 million / $200 million = 22.5 percent) and SoftBank ($400 million / $ 4 billion = 10 percent) acquired a maximum stake of 33.5 percent. This assumes no secondary investment (i.e., previous investors selling their stake to the new investor) in either of those two rounds took place.
Previously, founder Kudla had raised $300,000 from friends and family as well as around $2 million from a set of undisclosed investors.
Those backers likely acquired anywhere between 20 percent to 40 percent of the business. Given Kudla's entrepreneurial background as well as the fact that Vuori was operating profitably early on, I would probably lean towards the lower figure.
Additionally, key employees of Vuori were likely given equity as well. An option pool for a startup is normally ranging from 10 percent to 20 percent. Given that Vuori has hired industry veterans from competitors such as Lululemon, Athleta, and more, it likely attracted many of them with generous equity packages.
However, both employees, as well as existing investors, likely sold portions of their shares to future investors during the above-mentioned funding rounds.
In summary, we can assume that founder Joe Kudla remains the majority owner of Vuori Clothing as of the time of this writing.