Executive Summary:
VERO is a social networking app that surfaces content without relying on algorithms and advertising. Instead, the content is shown in chronological order.
VERO currently makes money by taking a cut of 5 percent from any sale facilitated through its platform.
How VERO Works
VERO is a social networking platform that, unlike its competitors, claims to be "optimized for connection, not addiction."
On the surface level, it works just like any other social media site. Users can follow others, post content, and engage with posts by liking or commenting on them.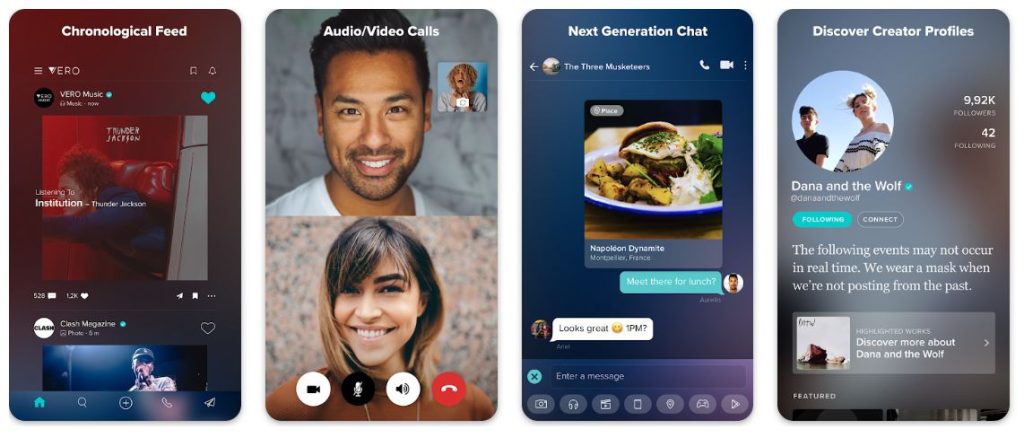 Where VERO tries to differentiate itself is how that content is surfaced. For once, it does not utilize algorithms to arrange a user's feed. Instead, the content is presented in chronological order.
Furthermore, users can classify their audience into various categories such as close friends, acquaintances, or public to be presented with the most relevant content.
VERO also enables you to communicate with others via private text and audio messages. Users can even have video calls directly within the platform.
Another focus of VERO is the promotion of music and film artists. Not only can users follow them but they have the option to bookmark and classify their content into different categories.
Lastly, VERO offers the option to shop for goods and services or even donate directly within the app as well.
VERO itself can be accessed by either downloading its mobile app (available on Android and iOS) or its desktop software for macOS and Windows.
Detailing VERO's Founding Story
VERO, which is headquartered in New York City, was founded in 2015 by Ayman Hariri, Motaz Nabulsi, and Scott Birnbaum.
Hariri, unlike many of his peers in tech, certainly had a more turbulent upbringing. He is the second-youngest son of Rafic Hariri, the former Prime Minister of Lebanon from 1992 to 1998.
Ayman, just like many other Lebanese elites, left the country when he was a teenager to attend high school in Paris. His family's riches then enabled him to pursue a computer science degree at Georgetown University from which he graduated in 1999.
Much like his father, who made a name for himself by founding the construction company Saudi Oger (which is handling many of the projects of the Saudi Royal family), Ayman went straight into business himself.
Together with partner and venture capitalist Scott Birnbaum, he co-founded the identity management company EPOK in 2001.
Unfortunately, the two were never able to fully see the company through. Ayman, in February 2005, was forced to return to his home country after his father (and 23 other people) were assassinated in a bombing.
Over the next 8 years, he worked at his family's business where he eventually rose to deputy CEO and deputy chairman.
Saudi Oger and Ayman oversaw some of Saudi Arabia's biggest construction projects during that timeframe including the creation of the King Abdullah University for Science and Technology (KAUST) campus.
However, in 2013, his desire to get back into the world of tech became too great to ignore. Meanwhile, his brother Saad continued to run the Saudi Oger and the family's other businesses, which include a bank among others.
And with the billions of dollars and influence his family managed to amass, he certainly had the cash to get something off the ground. Over the next two years, he worked on what would eventually turn into VERO.
But how got Ayman, in a world where platforms like Facebook, Instagram, Twitter, and Vine were dominating social, the idea for starting VERO?
"I got into social quite late and when I did I noticed that my friends were acting quite strangely, in a way that I didn't recognize in them in the real world. I mean even events dinners that we went to, they were just blatantly exaggerated," he recalled in a 2019 interview with GQ.
With those downsides in mind, VERO tried to counter-position itself right now from the get-go. For example, it heavily leaned on private groups that enabled users to stay in contact and share meaningful content with each other.
Unfortunately, that message alone wasn't enough to draw users into the app. The network effects that platforms like Instagram had amassed were simply too strong to motivate people to switch to an unknown new site.
So, Ayman and the team went back to the drawing board and continued refining the app, which was officially unveiled back in the summer of 2015.
For example, they introduced the ability to make commerce transactions sometime in 2016. To celebrate the launch of the feature, they auctioned off a 1964 Aston Martin DB5 for $1 million. Interestingly, the transaction was conducted using Apple Pay, which itself had just launched.
Hariri also utilized his family's riches to get VERO into the hands of celebrities. For example, during a charity auction, he won a walk-on role in Zack Snyder's Batman V Superman: Dawn of Justice. The two eventually became friends, prompting Snyder to not only join but also heavily promote VERO on his other social outlets.
Finally, in early 2018, VERO seemed to have its breakthrough moment. More and more artists on Instagram began pushing the app, which led to an onslaught of new users. Unfortunately, those new users also caused a whole new set of problems.
First of all, the app would start to repeatedly crash, an issue that the burgeoning social platforms like BeReal have struggled with as well. This certainly wasn't surprising given that VERO had amassed more downloads in one viral week than it did in the 3 years it had been operating.
Users also uncovered portions of Hariri's more troubled past. A 2016 article by Reuters highlighted the horrible working conditions migrants were working under at Saudi Oger.
By late 2015, the firm's financials took a turn for the worse, which meant that over 9,000 Filipino workers were not paid for months at a time. To make matters worse, their visa situation didn't allow them to leave Saudi Arabia, thus forcing them to rely on food donations during the entire time.
In all fairness, though, Ayman Hariri had not been operationally involved in Saudi Oger since 2013. He even shared documents that showed he had been divested from the firm since July 2014.
Lastly, the firm's employees seemed highly suspicious as well. The predominantly Russian-born developers did not possess any form of meaningful web presence, which led some people to assume that criminal data harvesting activities could be at play.
All this negative sentiment even prompted sites like Mashable to publish articles on how to delete VERO. Meanwhile, Hariri simply denied any form of wrongdoing and promised to improve the platform's speed.
Instead of capitalizing on the hype, Hariri and the rest of the team went into hiding and only made a few media appearances here and there. For example, a 2021 story by Business Insider highlighted how VERO had been instrumental in getting Zach Snyder's Justice League cut made.
By the end of 2019, VERO had amassed over 5 million users – a figure that hasn't changed much since. Even the coronavirus pandemic, which accelerated the trajectory of many online businesses, did not contribute to VERO's growth.
That did not mean that Hariri and the rest of the team were lazy, though. In December 2020, they unveiled VERO 2.0, which introduced new features such as video calls or different post types.
In recent times, sparked by the dissatisfaction that many Instagram users feel over the platform's focus on short videos, more people began flocking to VERO again. It remains to be seen if the platform can capitalize on the despair this time around…
How Does VERO Make Money?
VERO currently makes money by taking a cut of 5 percent from any sale facilitated through its platform.
Interestingly, VERO became the first social network to introduce commerce capabilities back in 2016. For reference, Instagram, which it is often compared to, only did so back in 2018.
Users can essentially purchase goods and services directly within the app. The same applies to making donations.
However, with under 6 million registered (and not active) users, it is likely that VERO's commerce activities are still fairly minuscule.
In the past, founder Hariri has hinted at introducing subscription fees instead of relying on invasive ads and the selling of user data.
So far, monetizing via subscriptions has yet to become a reality. Charging users for access would severely hamper adoption and engagement, which is the essence of any thriving social network.
Nevertheless, charging subscriptions to online platforms has picked up steam in the recent past. Twitter, for instance, offers a premium subscription to creators called Blue.
On the other hand, Neva, founded by former Google executives, aims to become a search engine free of ads.
Hariri said that a potential subscription wouldn't cost more than a couple of cups of coffee a year. And there are examples where this could still translate to big business.
WhatsApp, up until 2016, charged users $1 per year to access the service. The company was still highly profitable because it had hundreds of millions of users but only employed a few dozen people.
Unfortunately, while VERO continues to operate in a lean manner, it still doesn't boast the relevant user base to make this model work.
Additionally, its cost base would substantially increase with millions of additional users, simply because it would have to invest in more server space and up its content moderation capabilities.
The other issue is that the longer it remains free, the less likely it is that its users are willing to pay for it down the road (as they get used to the free product). VERO claims that those who join now will be able to enjoy the platform without ever paying.
As a result, VERO remains largely self-funded by its billionaire CEO Ayman Hariri until it can eventually settle on a winning business model.
Who Owns VERO?
VERO remains majority-owned by its founder and billionaire CEO Ayman Hariri. He has self-funded the platform with the money he and his family made from the construction company Saudi Oger.
"We haven't taken outside capital investment, which allows us to really be true to our concept, that the real social network is the one that exists in the real world. Our job is to try to put that online," Hariri said in the above-mentioned GQ interview.
Self-funding the business certainly makes sense from Hariri's perspective. VERO, at least by social networking standards, still lacks the traction that many renowned investors would look for.
If he were to raise money from outside venture backers at this stage, he would likely have to give up significant portions of equity while relinquishing some control.
Pavel Durov, the founder of Telegram, followed a similar approach. He previously sold Russia's version of Facebook, dubbed VKontakte, for hundreds of millions of dollars only to use that cash to launch Telegram.