FlixBus is one of Europe's leading mobility platforms, enabling consumers to take cheap inter-city travels via bus and train.
But how a fairly young upstart challenge the many existing and well-established operators in the old continent? And how does FlixBus generate its revenue?
Let's dive into its platform, history and business model in more detail.
How FlixBus Works
FlixBus is a mobility provider offering long-distance train and bus rides. It does so by teaming up with local bus companies, who execute the rides on FlixBus' behalf.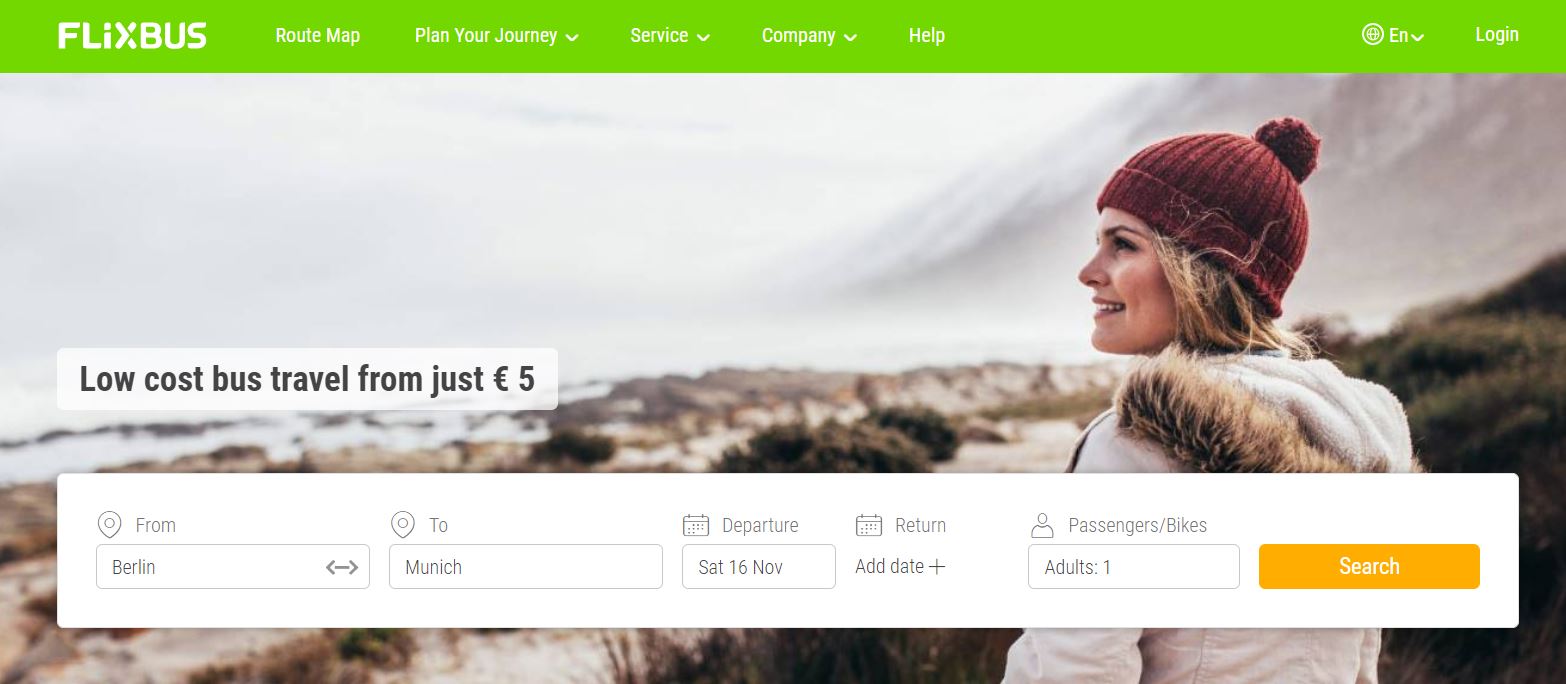 FlixBus itself does not own many of the buses it operates. Instead, they handle commercial management duties (i.e. route planning, pricing, selling tickets, or marketing) of the business and leave the daily operational tasks (i.e driving) for the partners to take care of.
This has slightly changed in October 2021 when FlixBus acquired U.S.-based bus company Greyhound.
Regardless of ownership, their buses are branded in their distinct green company color. This helped them building a strong brand while making it easier for customers to find.
Furthermore, they offer additional services such as on-board Wi-Fi, various entertainment options and the ability to conveniently book through an app or their website (as opposed to long reservation calls).
Other offerings on the platform include train rides, the ability to rent a bus (e.g. for groups), or a trip to different holiday destinations.
As of 2022, the company connects more than 2,500 destinations in 40 countries. The platform transports over 60 million people on an annual basis.
A Short History Of FlixBus
The idea of FlixBus originated somewhere in 2011. During this time, Jochen Engert and Andre Schwämmlein worked consulting jobs at strategic advisor Boston Consulting Group. They bounced many ideas of each other and their third co-founder, Daniel Krauss, who worked at Microsoft during that time.
And as fortune would have it, the introduction of a new regulation would allow them to start what became FlixBus. For the previous 70 years, the state-owned railway and train operator Deutsche Bahn had a monopoly for intercity travel.
With deregulation introduced in 2013, private companies were allowed to operate intercity buses and trains and thus compete with state-run subsidized railways.
The trio got to work and launched the platform along with the deregulation in 2013. Unfortunately, they weren't the only ones launching during that time.
Competitor MeinFernbus, for instance, was granted a special permit and launched a year prior in 2012. Another notable competitor included the PostBus, an initiative started by DHL.
So what allowed FlixBus to become Europe's absolute market leader, despite financially potent and early starting competition? Its asset light approach.
As mentioned previously, FlixBus only owns one bus for licensing reasons and sources out operational execution to its driving partners (similar to the Uber model).
Their competitors, on the other side, operated the buses themselves. And because of that, FlixBus was able to scale at a much quicker pace as it tapped into the local resources of their driving partners.
Furthermore, they put great emphasis on their digital product. Their differentiating features include aspects such as dynamic price calculation based on demand, more available routes, and an intuitive and easy to use design.
Therefore, the company was able to acquire most of its competitors over the past few years. For instance, they merged together with MeinFernbus in 2015 and acquired the fleet of PostBus in the same year.
Since they conquered the European bus market, it was time for some bigger fish to catch. Therefore, in 2016, the company rebranded to FlixMobility.
Under the new name, they've launched a set of other mobility solutions aimed at intercity travel. In 2018, they introduced FlixTrain, which enables inter-city travel via train.
In that same year, the FlixBus service launched in the US to expand the brand past Europe. It did so by offering substantial discounts to lure customers into the new service.
In order to finance that expansion FlixBus raised another €500 million in funding back in July 2019. This, at the time, became the largest funding round ever for a German tech company.
It also meant that the company had grander plans including launching a charter service, a BlaBlaCar-like platform, as well as expanding its footprint into Latin America and Asia.
Unfortunately, those plans came to a screeching halt in early 2020. The Covid-19 pandemic essentially killed the firm's momentum over night. It had to stop its services for three months in many of the countries it operated in.
Luckily, that demand eventually rebounded as vaccines all across the world would begin to roll out. FlixBus, to prepare itself for the upcoming travel boom, raised another round of funding worth $650 million back in July 2021.
Months later, in October, the company made a splashy announcement when it disclosed the acquisition of iconic U.S. company Greyhound for $78 million.
Explaining The FlixBus Business Model
As previously eluded, FlixBus offers the ability to book inter-city travels via bus or train. It acts as a lead generating mediator, but relies on partners to execute the transport.
To finance the cost of its operation, FlixBus implemented a revenue-sharing business model. That means that the company shares the revenue from every booking with the partner who executed the ride.
In the case of FlixBus, they keep 25 to 30 percent of the booking price. The rest goes to the train or bus operator.
Contracts with their partners normally last 3 to 5 years. Afterwards, depending on performance, they are normally renegotiated.
And because they are very confident in their ability to dynamically calculate the "right" prices and draw in enough customers, they guarantee to pay a minimum level of income to their partners.
FlixBus Valuation & Revenue
FlixBus, according to Crunchbase, has raised a total of $1.2 billion across seven rounds of venture funding.
Notable investors include General Atlantic, TCV, BlackRock, Cherry Ventures, UVC Partners, and many others.
FlixBus is currently valued at a whopping $3 billion after its $650 million fundraise back in June 2021.
FlixBus does currently not disclose revenue figures to the public. It may decide to do so during a future round of funding.
Who Owns FlixBus?
FlixBus, as previously indicated, remains in private ownership. As such, it is not obligated to share its ownership structure.
However, we can derive portions of its dilution from previous rounds. It raised a €500 million Series F round at a valuation of €2 billion (July 2019) and a $650 million round at a $3.05 billion valuation.
As a result, investors in those two rounds (assuming this has all been primary funding) were able to acquire a total ownership stake of around 46 percent (= 500 million / 2 billion + 650 million / 3.05 billion).
Unfortunately, valuations in its previous five rounds were not publicized. It can probably be assumed that investors received similar terms, though.
The founders, therefore, likely own around 10 percent of the company combined, which is not uncommon right before a liquidation event such as an IPO.
On the institutional side, investors such as UVC Partners, HV Capital, and General Atlantic likely own a large chunk of the firm. They have personally all invested in multiple rounds.