Executive Summary:
Swagbucks is an online rewards platform that allows members to earn point-based cashback rewards as well as gift cards.
Swagbucks makes money via affiliate commissions (also called referral fees) paid by the brands it partners with. It operates under an affiliate business model.
Launched in 2008, Swagbucks has grown to become one of the leading rewards sites in the United States with a presence in a variety of other countries.
How Swagbucks Works
Swagbucks is an online rewards platform that enables site members to earn various rewards, including gift cards or cashback points, by engaging in different activities.
Here's how it works. First, you sign up to the platform using either your email address or Facebook account. Membership is obviously free of charge.
There are seven ways with which members can earn rewards:
Online shopping at over 1,500 selected partners, including Walmart, HP, or Expedia
Filling out surveys, granting you anywhere between 40 to 200 points
Watching videos that range anywhere between 10 to 60 minutes
Swagbucks Discover, which allows you to earn points when reading about one of Swagbucks' featured deals
Using Swagbucks as your default search engine (via Swagbucks Search)
Playing online games like Angry Bird and spending within the game
Downloading and enabling the SwagButton, a Chrome extension notifying you about applicable deals (much like Honey)
Once you've earned a certain amount of Swagbucks points, you can redeem them for retailer gift cards (such as Amazon or IKEA) or cash them out directly via PayPal.
Members can furthermore use their points and donate them to a charity that Swagbucks works together with.
Swagbucks can be accessed and used in a variety of ways, either by visiting the platform's website or by downloading its mobile app (available on Android and iOS devices).
Swagbucks Company History
Swagbucks, headquartered in El Segundo, California, was launched in 2008 by Josef Gorowitz, Scott Dudelson, and Eron Zehavi.
The story of Swagbucks, which is a subsidiary of Prodege LLC, starts three years earlier though. Gorowitz, a Jewish rabbi, had founded Prodege in 2005.
Back then, Prodege's main product was a charity-focused search engine. The search engine, much like Google or DuckDuckGo, would make money via keyword-based advertising. The twist was that a portion of that revenue would then go to charities.
That was also how Gorowitz became acquainted with Dudelson, his other co-founder. Back then, Dudelson used to run Music for Charity Product, a company connecting bands to charitable organizations.
One of his clients was the rock band Linkin Park whose attorney was also representing Gorowitz and Prodege. After helping to connect the two, Gorowitz and Dudelson eventually became business partners (with Dudelson joining the Prodege team).
Unfortunately, the search engine market is notoriously hard to succeed in. Google's grip on the industry became tighter and tighter over time, thus forcing them to pivot.
That faithful pivot eventually led to the creation of Swagbucks, which successfully launched in early 2008.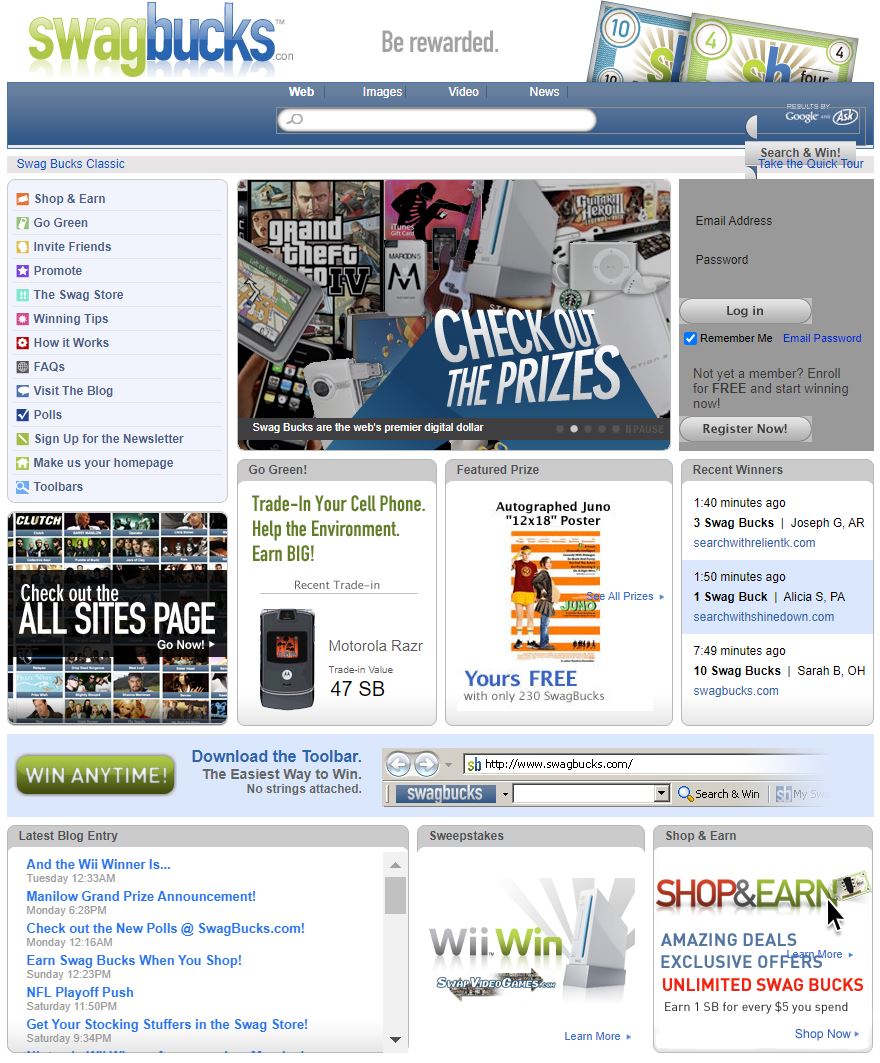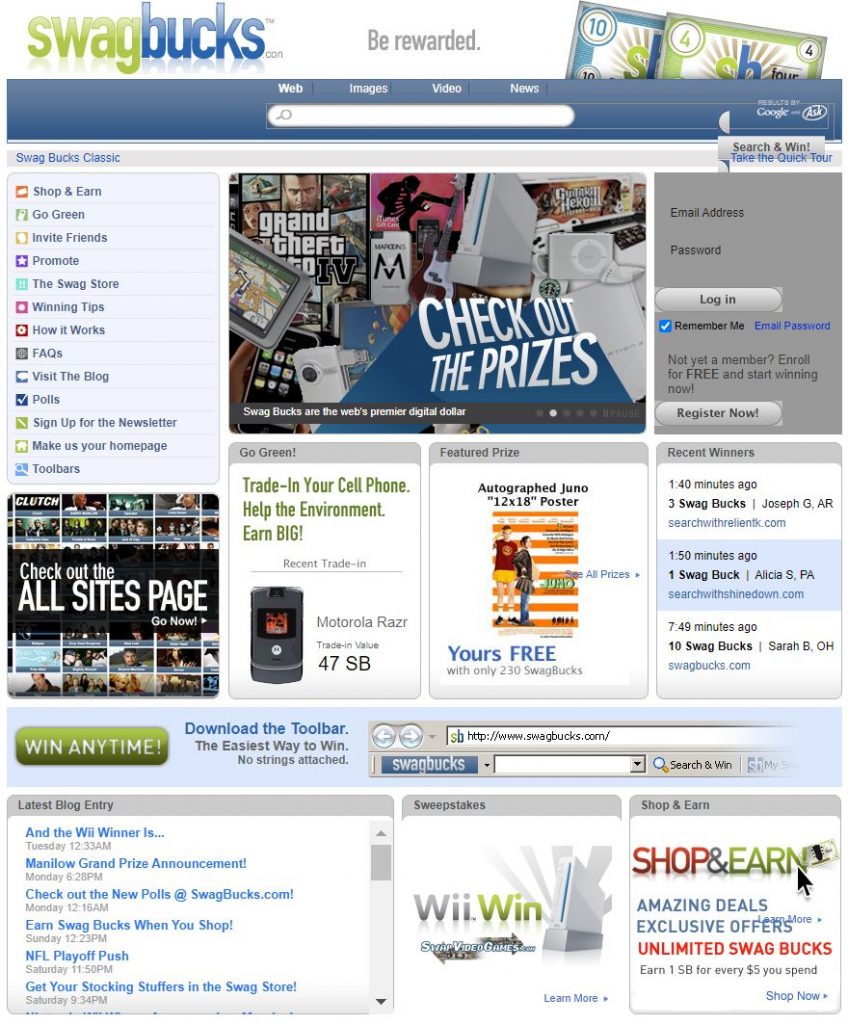 One of the site's major growth factors became its early adoption of social media networks. Swagbucks had one of the first business pages on both Facebook and Twitter, which helped them attract thousands of users.
On top of that, they implemented a referral program that would grant members points for bringing their friends on. The platform ended up growing rapidly due to those recommendations as well as word-of-mouth marketing.
Within the first full year of being live (2008), Swagbucks was already generating $3 million in annual revenue. The founders reinvested all that cash into different products, such as surveys or video advertising.
By 2010, the company had already 3.3. million registered users while generating more than $10 million in annual revenue.
In 2012, it introduced its so-called shopping pages which now allowed members to get cashback points for shopping at selected retail partners.
A year later, in 2013, Swagbucks generated more than $53 million in revenue while being operationally profitable.
To bring the business to the next level, the founding team decided to raise its first-ever round of funding. Technology Crossover Ventures (TCV) invested a whopping $60 million in Swagbuck's seed round.
On top of that, TCV's managing partner Chuck Davis, who had Shopzilla and Fandango to enormous exits, became Prodege' (and thus Swagbuck's) new CEO. Gorowitz moved into the role of president.
Over the next few years, Swagbucks simply continued to grow without much public attention. The founders are still very much involved in the business while Davis continues to be its CEO.
More than 300 people are now employed by its parent company Prodege. Swagbucks itself is available throughout dozens of countries across the world.
How Does Swagbucks Make Money?
Swagbucks makes money via affiliate commissions (also called referral fees) paid by the brands it partners with.
Swagbucks works together with thousands of different brands, including ExpressVPN, Vueling, Groupon, Just Eat, and many more.
Those companies compensate Swagbucks whenever a shopper purchases any of their products. Swagbucks then receives a small percentage of that revenue as commission.
The exact percentage share is subject to the contractual agreement signed between Swagbucks and its brand partner. Companies like Ibotta, Rakuten, and Upside offer similar services.
Apart from product purchases, partners also compensate Swagbucks whenever a member fills out a survey or watches a video.
There's a variety of reasons why brands are willing to pay Swagbucks. First, Swagbucks simply increases their sales and thus exposure within highly desirable customer demographics.
Second, the company is able to collect a variety of data points (for instance from those surveys), which brands can use to inform their own product launches or adjustments.
Third, because activity on Swagbucks is tracked via so-called cookies, brands can reliably assess how much they spend on those promotions and what return on investment that yields (which is next to impossible with TV ads or physical banners).
The business model of Swagbucks is thus predicated on increasing the number of users that access the service. The more that do, the greater the chance of facilitating a successful transaction.
And more users also allow Swagbucks to onboard attractive partners that want to tap into its customer base. This ultimately strengthens the firm's negotiating power when discussing commission rates with brand partners.
Who Owns Swagbucks?
Swagbucks is owned and operated by Prodege LLC, a marketing company based out of El Segundo, California.
Prodege owns and operates a variety of other companies, including SodaHead, nCrave, and ProdegeMR.
While Prodege likely owns 100 percent of Swagbucks, it can be assumed that the company itself is not fully owned by its founders.
The $60 million investment by TCV back in 2014 allowed the venture found to likely acquire a substantial share of the company.
Unfortunately, no valuation of Prodege was disclosed during that funding round. Therefore, it is impossible to reverse-engineer how much its founders gave up.
With annual revenue of $53 million at the time of funding, it can probably be assumed that the TCV got around 20 to 30 percent in equity at best.