Executive Summary:
Imgur is an image hosting platform that allows users to upload, like, and comment on both static and animated pictures as well as videos.
Imgur makes money from serving ads, via subscriptions, by selling items via its online store, as well as referral fees from its commercial API.
Founded in 2009, Imgur has risen to become one of the world's most frequented websites. It was acquired in September 2021 by MediaLab.
What Is Imgur?
Imgur (pronounced "imager") is an image hosting platform that allows users to upload, like, and comment on both static and animated pictures as well as videos.
The platform itself is powered by its millions of users. They are the ones who upload the GIFs, memes, or visual stories.
Once a file is uploaded, users can up- or downvote it. This ultimately affects how viral an image or video can become.
Imgur itself makes sure to further promote those images on its main homepage. Content can be sorted by a variety of factors, such as 'Highest Scoring' or 'Most Viral', amongst others.
Additionally, users can add a file to their Favourites section and comment on it. If a user uploads a file, he or she can also add tags, which allows Imgur to better classify it. One can also follow other users.
The only prerequisite is to sign up for the platform, which users can do by adding their email or linking a social account.
Signing up for an account also allows Imgur to learn about a user's preferences, which in turn enables it to surface more relevant content.
Fans of the platform can, furthermore, purchase a variety of items, such as hoodies or shirts, from Imgur's online store.
Imgur can be accessed by visiting the company's website or by downloading its mobile application (available for Android and iOS devices).
Imgur Company History
Imgur, headquartered in San Francisco, California, was launched in 2009 by Alan Schaaf. His sister Sarah later joined him as a co-founder.
At the time, Alan was a Junior at Ohio University in Athens and, just like many other young males, an avid Reddit visitor.
However, Reddit, at least in Alan's mind, had one major problem: there was no way to quickly upload and share images on the site.
Traffic from Reddit was often overwhelming image-hosting sites like Photobucket. For in-demand images, these sites would often pull the file and ask the owner to pay for a premium account. This led many people to delete their files altogether.
So unlike videos on YouTube, which was heavily subsidized by Google, images had a tough time going viral.
Consequently, Alan took matters into his own hands and built the service himself. In February 2009, he shared his project on Reddit in a post titled "My Gift to Reddit: I created an image hosting service that doesn't suck. What do you think?".
In the comments section, he added:
I got fed up with all the other image hosts out there so I made my own. It doesn't force you to compress your images, and it has neat things like crop, resize, rotate, and compression from 10-100. It's my gift to you. Let's not see anymore imageshack/photobucket around here 😉
The site immediately took off and quickly prompted him to move servers multiple times to keep up with demand.
For the first six months of its existence, Imgur solely ran on donations. He was also able to receive a $25,000 grant from Ohio University. Around the beginning of 2010, he began running Google Ads to pay for his storage cost.
In 2011, during its Crunchie awards, TechCrunch named Imgur the "Best Bootstrapped Startup" of the year, which accelerated growth even further. That same year, the Schaafs moved the firm's headquarters from Ohio to San Francisco to be closer to the tech scene.
By February 2012, Imgur had already managed to cross the inaugural mark of one billion page views – per month. Within a span of five months, Imgur managed to double that figure. One key factor was the usage of a CDN service dubbed EdgeCast, which the company began using a year prior. It allowed Imgur's users to quickly upload images without suffering any outages.
However, Imgur was still largely dependent on Reddit for its traffic. In fact, 60 percent of the site's visitors could be attributed to the aggregator. In order to be more like Reddit, Imgur introduced the ability to up- and downvote files in October 2012. Furthermore, Imgur removed the need to share the image on another site and instead enabled users to share images directly to the gallery feed.
Another major growth accelerator was Imgur's introduction of an API earlier in 2012. This allowed third-party developers to tap into its image database and host it on their applications. Many of those developers created knock-off mobile apps since Imgur itself did not have one.
2012 also became the year where he not only graduated but also convinced his sister Sarah, who was studying to become a veterinary, to join the burgeoning startup as a co-founder and its Head of Community. Her appointment was necessary as Imgur's traffic exploded after the site added a Gallery feature, which helped organize and display the most popular visuals.
That, however, changed in June 2013 when Imgur introduced its first-ever Android app. It took the company another two months to launch an iPhone app after Apple repeatedly rejected its submission over fears of copyrighted and sexually-explicit image usage.
Additionally, Imgur launched its own meme generator, which made the platform even stickier and further accelerated the contributions made on Imgur. By the end of 2013, Imgur had managed to become one of the 30 most trafficked sites in the United States with 100 million unique monthly users. Ironically enough, it even surpassed Reddit, its biggest traffic source.
Rumors soon began to emerge that the company could eventually be acquired. Yahoo, in particular, was one of the alleged interested parties.
In order to further professionalize its platform and make it more attractive to advertisers, Imgur introduced an analytics tool in January 2014. This would allow advertisers to track how well their image-based campaigns perform and where there would be room for optimization.
After more than five years of bootstrapping the business, Imgur finally raised its first round of funding in April. The round, which provided the platform with $40 million in cash and valued it at $200 million, was led by Andreessen Horowitz (with a minor contribution from Reddit to solidify their relationship).
The funding was used to substantially increase its hiring efforts. For example, Imgur was able to hire Tim Hwang, amongst others the founder of ROFLcon, a company that organized events for people shown in memes, as its Director of Strategic Partnerships.
Throughout 2014, Imgur added a variety of new features, such as the ability to tag images (July) or convert GIFs into videos (September). The company also became socially and politically active, for example by protesting against the NSA, giving researchers access to its data, or spending the entire month of December raising funds for San Francisco's Society for the Prevention of Cruelty to Animals (SF SPCA).
Imgur remained on its impressive growth trajectory during 2015 as well. In February, it ditched its Pro plan which had users pay $3 per month to remove limits on file sizes, upload numbers, and more. Even more images would be uploaded to the platform as a result. That same month, Imgur also launched a 'Topics' section to further improve discoverability.
A month later, Imgur returned to the mobile game by re-releasing its iOS app. The company had previously taken down both its Android and iOS app after not being happy with the way it looked and was performing.
However, the iOS app, since it was a completely different experience from the desktop version, was only uploaded to the App Store in June after missing critical features such as an upload button. The Android app was released a few days after.
Imgur and its founders also began to experience what it feels like to be a leading social platform. After enforcing stricter guidelines about the type of content (both comments and images) it accepts, such as removing certain comments, users began to protest. Community manager and co-founder Sarah Schaaf even received death threats.
Over the coming months, Imgur continued to focus on attracting more advertising partners and further expansion. In March 2016, for example, it released an app for the iPad. Unfortunately, the company also received a major blow.
Reddit, in May, announced that users would now be able to upload images directly on the platform and didn't need to do so via Imgur. Then, in November, Imgur had to lay off about 15 percent of its workforce.
According to CEO Alan Schaaf, these layoffs were not a result of Reddit's actions but merely reflected a shift in strategic direction. This was supported by the fact that Imgur was still on the lookout for new hires.
By the end of the year, Imgur had more than 150 million monthly users coming to its platform. In 2017, the company completely revamped and redesigned its platform, the first one since 2014. Amongst others, it added favorite folders, one of its most-requested features.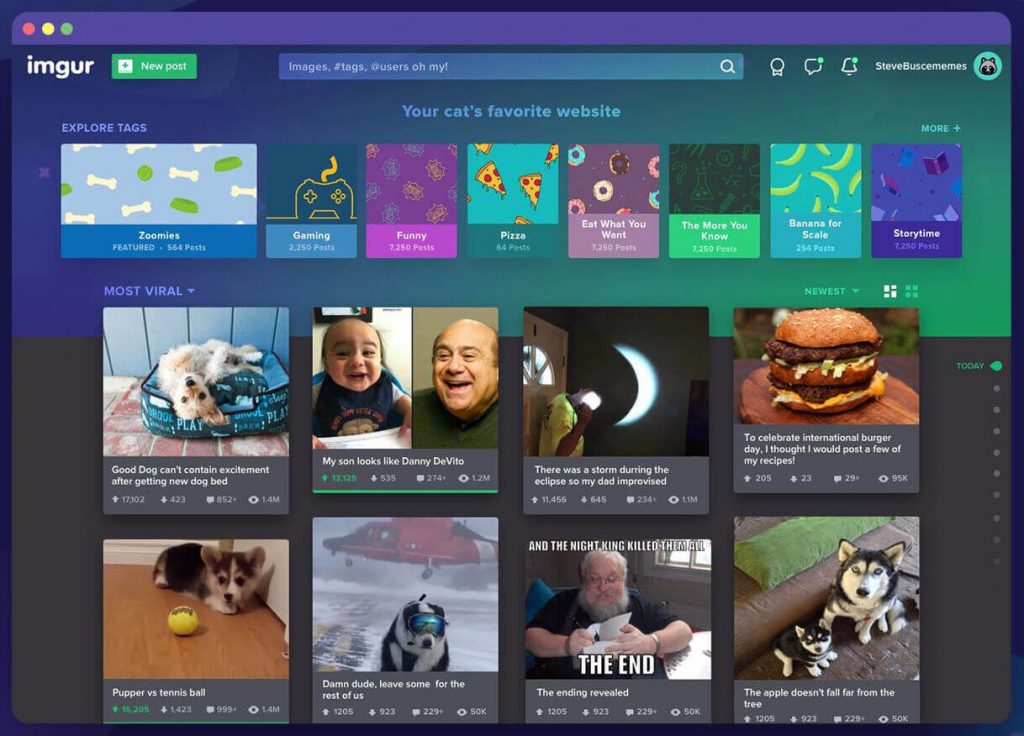 Unfortunately, reports in November revealed that, back in 2014, the platform had been hacked. The attacker was able to retrieve around 1.7 million emails and passwords. Despite this public setback, Imgur capped the year off by hitting 250 million monthly users.
Over the coming years, excitement about the platform visibly died down, which was exemplified by the lack of reporting regarding feature updates and more. Despite the lack of press attention, Imgur still managed to hit 300 million monthly users by June 2019.
The consistent growth was rewarded with another $20 million in funding led by Coil, a micropayment tool for creators. The two companies also entered a partnership to launch a membership service (more on that later).
A month after the funding, U.K. broadband provider Virgin Media mistakenly blocked access to the website. In December 2019, Imgur also launched a separate app called Melee, allowing users to subscribe to games they love and consume memes and other files about them.
The next thing we heard about the company was probably also the biggest news of its existence. In September 2021, Imgur announced that it had just been acquired by MediaLab, Santa Monica-based firm that owns various internet brands such as WorldStarHipHop, messaging apps Kik and Whisper, or lyrics annotator Genius.
Today, close to 100 people are employed by Imgur which continues to operate from its San Francisco headquarters.
How Does Imgur Make Money?
Imgur makes money from serving ads, via subscriptions, by selling items via its online store, as well as referral fees from its commercial API.
Let's take a closer look at each of these revenue streams in the section below.
Advertising
The bulk of the revenue that Imgur generates comes from serving ads across its website as well as mobile apps.
Ads are served in a variety of formats, namely through banners and videos as well as by doing sponsored posts with other advertisers.
Example advertising partners include Dell, McDonald's, KFC, Hulu, Ubisoft, Netflix, Nintendo, Taco Bell, and many more.
Imgur's pitch to advertisers is that it's able to sell "geek culture at massive scale", with the majority of its users being male and interested in topics like gaming.
Furthermore, users spend an average of more than 4 hours per week on the platform, which indicates high engagement.
Not only are companies able to promote their products and services but they can also build customer goodwill by launching creative and funny campaigns that natively fit into Imgur's meme-loving audience.
Imgur generates income by serving programmatic ads (for every ad impression served) as well as by running campaigns with its advertising partners. The campaigns are likely negotiated on a fixed-fee basis.
As a result, Imgur needs to continue to focus on maintaining user growth. The more people it manages to attract, the greater the number of ad impressions that it can serve (and thus the more money it generates).
Subscriptions
In June 2020, Imgur launched a subscription service, dubbed Emerald, that grants customers access to a variety of premium features.
Perks include an ad-free browsing experience, access to exclusive avatars and trophies, their own accolades, and ad-free experiences on other platforms like Twitch or Simmer.
The membership service is powered by Coil, the company that invested $20 million into Imgur back in 2019, and costs $5 per month.
Coil itself then distributes the money it generates to all of the creators and platforms it works together with. The revenue share is based on the amount of time a user spends on a given site.
The move towards premium memberships to monetize content and provide users with an ad-free experience had been increasing over the past few years.
Platforms like YouTube or news outlets like the New York Times have pioneered the concept of paying for content.
Online Store
Another, albeit smaller, stream of income for the company comes from selling Imgur-branded items via its own online store.
Users can shop from a variety of items such as t-shirts, hoodies, socks, pillows, sweatshirts, and many more.
Apart from being able to generate some additional revenue, those items also serve as a form of marketing for the company.
They essentially allow Imgur's biggest advocates to not only publicly show their love for the platform but also make others aware of it.
API
Lastly, Imgur also makes money from referral fees for its commercial API. The API allows developers to use the platform's files for their own commercial products.
Imgur works together with RapidAPI to provide that solution. RapidAPI, in turn, charges a fee that is dependent on the amount of data that is being exchanged.
It can be assumed that Imgur will receive a portion of the revenue that RapidAPI generates. The actual revenue split, however, is not publicly disclosed.
Imgur Funding, Revenue & Valuation
Imgur, according to Crunchbase, has raised a total of $60 million across two rounds of venture capital funding.
The company counts a total of three investors, namely Coil, Reddit, as well as leading venture firm Andreessen Horowitz.
As a company in private ownership, Imgur is not obligated to disclose revenue figures to the public. Even when it was acquired by MediaLab in September 2021, valuation figures were unfortunately not disclosed.