CoinMarketCap is a platform that tracks the price development of blockchain-related assets like cryptocurrencies, non-fungible tokens (NFTs), indices, and more.
The company, which is headquartered in Dover, Delaware, was founded in 2013 by software developer Brandon Chez.
CoinMarketCap calculates the prices on its site by obtaining the volume-weighted average of all market pair prices. The platform is connected to over 500 exchanges that supply it with data.
As a result, CoinMarketCap is able to track price developments for more than 20,200 crypto-related digital assets.
Developers who want to list their projects on CoinMarketCap will have to meet various requirements, including a functioning website, being operational for a set number of days, and more.
Example data points tracked by CoinMarketCap, apart from the price, include an asset's market cap, 24h trading volume, the supply that is in circulation, and many more.
Businesses can, furthermore, tap into that data by subscribing to CoinMarketCap's API. The platform, apart from those subscription fees, also makes money via job listing fees, advertising, as well as referral fees.
CoinMarketCap's consistent growth allowed the firm to be eventually acquired by Binance. The world's largest crypto exchange (by trading volume) paid $400 million in April 2020 to acquire CoinMarketCap.
However, success wasn't always guaranteed. Founder Brandon Chez, who to this date keeps an extremely low public profile, created CoinMarketCap as a side project, which he ran as a side hustle for the first three years.
Yet, two years after going full-time in 2016, CoinMarketCap had already become one of the 200 most popular websites in the world – largely driven by the crypto and ICO mania at that time.
Impressively, he grew the business without taking on a cent of outside venture funding. Chez departed from CoinMarketCap, which remains independent from Binance, right after the acquisition was completed.
Today, CoinMarketCap is widely considered one of the biggest sites for tracking blockchain-related assets. In 2021 alone, CoinMarketCap recorded 13.2 billion pageviews.
The methodology with which competitors of CoinMarketCap are ranked is based on publicly available data. Information such as valuations, the number of supported coins and exchanges, and anything else in between will be considered.
This analysis is solely focused on CoinMarketCap's portfolio tracking competitors. Companies in its other business lines, for example, job boards, will be excluded.
Additionally, due to CoinMarketCap's global footprint, we will take available competitors across the world into account.
It has to be noted that this analysis should not be seen as an endorsement of either service. It is merely a summary of the competition that CoinMarketCap currently faces.
So, without further ado, let's take a closer look at the top 5 competitors of CoinMarketCap.
1. CoinGecko
Headquarters: Singapore

Founder(s): Bobby Ong, TM Lee

Year Founded: 2014
CoinGecko, without a doubt, is the biggest competitor to CoinMarketCap. The platform, although being self-funded as well, has managed to attract a monthly user base of over 10 million people who record 200+ million page views combined.
It currently tracks over 13,000+ crypto-related assets coming from more than 530 different exchanges. Tracked data points are largely similar to CoinMarketCap and include 1h, 24h, and 7d price changes, the market cap, 24h trading volumes, the total supply, and more. The platform also uses a global volume-weighted average formula to calculate asset prices.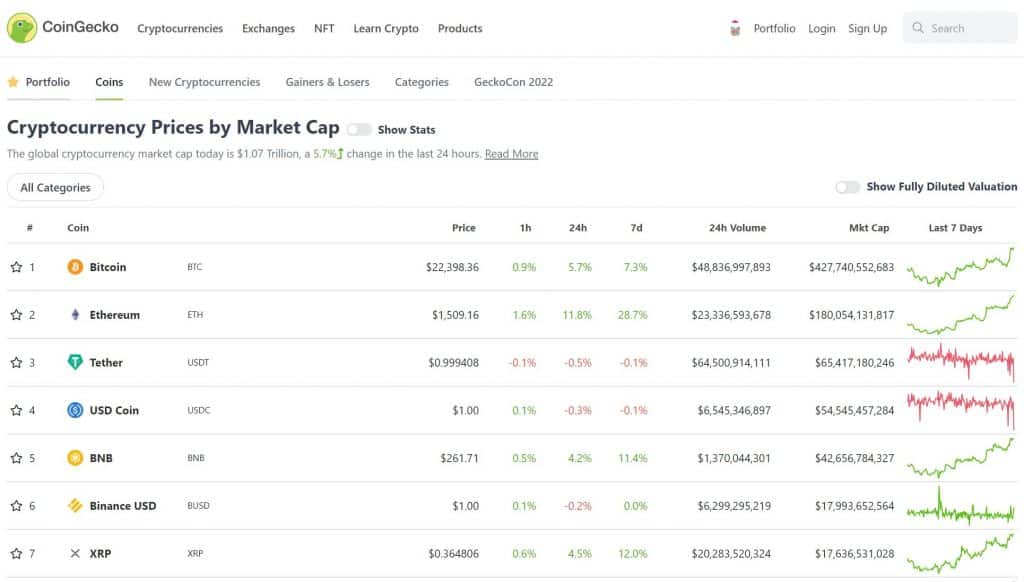 However, CoinGecko also goes beyond that and separates itself from CoinMarketCap by displaying a project's social data (e.g., Twitter or Reddit followers or Telegram users), assigning its own security score, or by sharing developer stats from the project's GitHub repository.
What CoinGecko and CoinMarketCap do have in common, though, is their upbringing. It took co-founders Lee and Ong almost four years until they were able to go full-time. Previously, they worked on the project next to their day jobs.
Today, its founders run a well-diversified business that extends beyond tracking blockchain-based asset prices. For example, CoinGecko also has its own learning center that features industry-related news, a podcast, an extensive crypto glossary, a newsletter, and much more.
CoinGecko, furthermore, organizes an annual event dubbed GeckoCon, which features content from 120+ speakers and entails over 40 sessions.
The business side of CoinGecko also keeps growing. In 2021 alone, its API that supplies other companies with data was called over 200 billion times.
Source: CoinGecko, CoinGecko Annual Report
2. CoinStats
Headquarters: Yerevan, Armenia

Founder(s): Narek Gevorgyan

Year Founded: 2017
CoinStats helps over 1.5 million users manage their crypto portfolios all within its native Android and iOS apps. Since its inception, over 500 million transactions as well as $100 billion in portfolio assets have been tracked and stored via the app.
The platform currently displays prices as well as other data points for over 8,000 different tokens from over 400 exchanges. Users can connect their wallets, whether it's Binance, Coinbase, MetaMask, or any other, to automatically update the performance of their portfolio.
Users, at least in the United States, can even purchase coins directly within the app using their debit card or Apple Pay. Additionally, they can share their portfolio with other users, subscribe to relevant news, set up price alerts, and more.
Founder Gevorgyan, who got the idea for starting CoinStats after he set up various spreadsheets during the 2017 crypto bull run, has managed to raise $4.4 million in funding for the app thus far.
Recently, CoinStats has unveiled its own wallet that enables users to connect to other DeFi exchanges including Uniswap, PancakeSwap, Polkadot, and more. This enables them to earn yield (up to 20 percent APY) on their crypto holdings.
Source: CoinStats, Crunchbase, HackerNoon
3. Blockfolio (now FTX Signal)
Headquarters: Sant Monica, California

Founder(s): Charlie Mason, Edward Moncada, Peter Lau

Year Founded: 2014
Blockfolio, after having raised $17.5 million in venture funding, was acquired by crypto exchange FTX for $150 million in August 2020. Exactly a year later, FTX announced that it would be merging Blockfolio's portfolio tracking capabilities into its core app.
The app, which is now known as FTX Signal, counts over six million users in 200+ countries. The app, apart from featuring direct updates from project teams as well as general news, shows the latest price (and other related data) for more than 10,000 cryptocurrencies.
Additionally, FTX Signal is working together with over 500 exchanges that provide its app with the necessary trading data.
Another key feature of the FTX Signal app is the collaboration it has with developer teams. 500+ projects, including Monero, DASH, NEO, Ethereum Classic, and more, post regular updates on the app's feed.
Blockfolio / FTX Signal, unlike CoinMarketCap, has been tightly integrated into the core FTX experience. While you can purchase tokens via CoinMarketCap (where you'll be redirected to Binance), it still acts as a separate entity – most likely to preserve its status as an independent reporting tool.
FTX Signal, on the other hand, is assigned a section in the core FTX trading app. That means you can not only track your portfolio's performance but purchase and sell tokens all within one single app, earn interest on your crypto deposits, and more.
Source: Cointelegraph, Crunchbase, FTX Signal
4. CoinTracker
Headquarters: San Francisco, California

Founder(s): Chandan Lodha, Jon Lerner

Year Founded: 2017
CoinTracker's primary use case is actually not portfolio tracking but ensuring that its users, which collectively hold $50 billion (equal to about 3 percent of the overall market) in crypto-related assets, are compliant with U.S. tax laws.
The app offers various pricing plans, ranging from 25 yearly transactions to unlimited, that provide users with compliant and nearly instant tax filings. Similarly, businesses can also take advantage of CoinTracker's white-label solution to offer their own customers tax-compliant trading.
Founders Lodha and Lerner got the business off the ground after participating in Y Combinator, the world's most prestigious startup accelerator. They then went on to raise over $100 million in funding while their business is currently being valued at $1.3 billion.
However, its portfolio tracking capabilities, which act as the backbone of the tax filing product, are nothing to scoff at either. CoinTracker supports over 10,000 crypto assets and is integrated with 300+ exchanges and wallets.
Your portfolio is, therefore, automatically synced and updated in near real-time. CoinTracker's portfolio tracker, which is also available for free or by paying a subscription fee, offers daily updates, the ability to track performance over time and by asset, allocation overviews, and much more.
Source: CoinTracker, Crunchbase
5. Coinbase
Headquarters: San Francisco, California

Founder(s): Brian Armstrong, Fred Ehrsam

Year Founded: 2012
Most crypto enthusiasts know Coinbase, the last company on this list, as an exchange on which they can trade dozens of different tokens. However, just like Binance and FTX, Coinbase has invested heavily into beefing up its portfolio tracking capabilities as well.
The exchange, unlike its competitors, has built those features in-house, though. Coinbase's portfolio tracker is part of its Pro version, which is available when paying a monthly or yearly subscription fee.
Coinbase's portfolio product enables traders to segregate their trading strategies, view balances and orders of each portfolio, transfer funds between each portfolio, implement production-level testing of new strategies, and many more.
For anyone not willing to pay, Coinbase also offers a fairly simple overview of price developments for close to 10,000 crypto assets.
While not disclosed, it can be assumed that the data is actually provided by CoinMarketCap itself. Back in December 2021, a glitch in CoinMarketCap's API led to an exponential increase in asset prices, which made many users believe that they suddenly turned rich – only to be disappointed hours later.
Coinbase also offers a variety of other data points when navigating to a project's page. For example, the exchange features trading volumes (24hrs, among others), market cap, circulating supply, typical holding times, social signals, and even extensive descriptions as well as links to its whitepaper.
Naturally, traders can, furthermore, purchase tokens right from the portal if they have an account with Coinbase.
Source: Coinbase, MarketWatch