Streaming shows and movies have become an integral part of our daily routines. In fact, streaming recently has recently overtaken cable consumption for the first time in history.
Netflix, which has pioneered the format, remains firmly in the driver's seat. In recent years, competing platforms like Disney+, Amazon Prime, and Apple TV+ have all managed to snap up market share.
One fairly new entrant to the streaming game is Zeus Network, which was launched in 2018 by producer Lemuel Plummer as well as influencers DeStorm Power, Amanda Cerny, and King Bach.
We can't know for certain who owns how much of the company since Zeus Network remains in private ownership.
However, there are a few cues that help us decipher who might own how much. First, Plummer remains the firm's CEO to this date and is the one that is most involved in Zeus' day-to-day activities.
He, furthermore, invested portions of his own money to get the streaming service established. We can, therefore, assume that Plummer is likely the majority owner of the Zeus Network.
DeStorm Power, Amanda Cerny, and King Bach, who all created content for the platform when it launched, are therefore minority shareholders of Zeus.
Furthermore, Plummer also managed to attract investors for his business. Seasoned media executives Jonathan Rogers (NBCUniversal Media) and Harold Lewis (Variety) both invested an undisclosed sum into the company prior to its launch.
In the coming sections, we will detail the rise of Zeus Network from a tiny startup to a company that not only works together with some of the biggest influencers but has media conglomerates like Viacom concerned to the point that they filed cease-and-desist letters.
First of All: What Is Zeus Network Actually?
The Zeus Network is an on-demand video streaming platform that is headquartered in Burbank, California.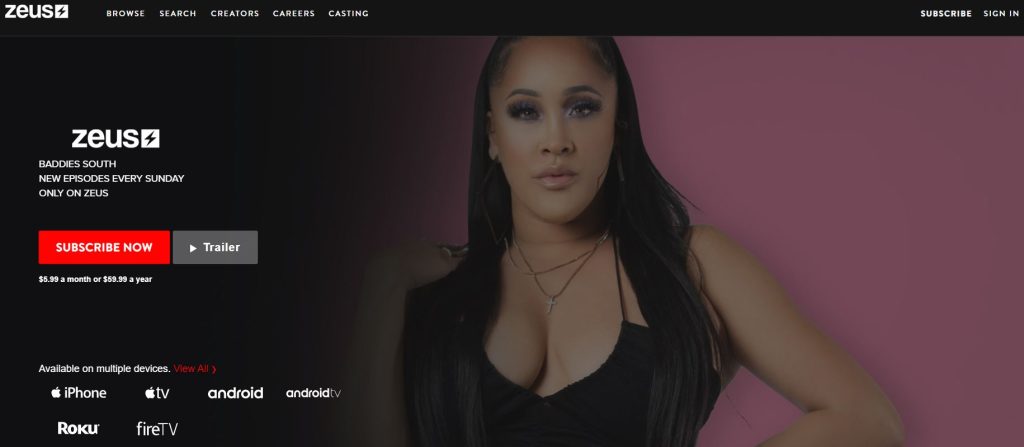 What sets it apart from services like Netflix is the fact that most of its content is created in conjunction with social media influencers.
Those influencers, which include creators such as Blac Chyna or Joseline Hernandez, have a combined following of over 100 million people across all of the platforms they are active on.
Most of the content that Zeus Network creates is unscripted such as reality TV shows. However, the platform also creates scripted shows.
One of the major differences compared to content created the traditional networks is that the influencers are given significant creative freedom in how they want the content to look and feel.
The Zeus Network, unlike platforms like Pluto TV, is not free to access. Instead, viewers either pay $5.99 a month or $59.99 a year to be able to access the content.
That content is then distributed via all major streaming devices. It can be accessed via your computer, Android or iOS smartphones and tablets, as well as video players like Apple TV, Amazon's FireTV, and Roku.
Detailing The Rise of Zeus Network
It wouldn't be too far-fetched to say that Zeus Network co-founder and CEO Lemuel Plummer has media production literally running through his blood.
He grew up in Detroit, Michigan where his parents owned and operated three local television stations in the city.
Now, this is already an impressive feat in and of itself given that most TV stations are owned by large corporations.
And it's even more remarkable considering that his parents are black and were doing that at a point in time when racial injustice was far more present than it is today.
Plummer, after wrapping up his Film studies at Full Sail University, moved to the television mecca of Los Angeles to get his career started.
He started off as a production assistant for the ABC show dubbed Extreme Makeover: Home Edition in 2007.
Learning the ins and outs of the television industry allowed him to rapidly advance his career. After 2.5 years at ABC, he decided it was time to take the next step.
He eventually ended up getting a first-look deal at BET, making him one of the youngest-ever African American executive producers the network had ever hired.
At BET, he oversaw the production of multiple shows including The Family Crews, Sunday Best, I Can Sing Too, Vindicated, as well as The Monique Show.
After another three years, in 2013, he finally decided to branch out on his own. He launched a production company called L. Plummer Media, which sold shows to a variety of networks such as Oxygen.
Meanwhile, media consumption was visibly shifting away from linear television towards streaming platforms that simply offered a more convenient viewing experience.
Simultaneously, the proliferation of social platforms such as Instagram or YouTube began to shift the power away from large media conglomerates toward creators.
For example, two of those creators, namely Amanda Cermy and King Bach amassed millions of followers by posting funny and witty content on the short-form video platform Vine.
We detailed the meteoric rise and subsequent fall of Vine – have a read!
However, what Vine and to a certain extent even YouTube was lacking was the ability to properly monetize the content one created. On top of that, content creators were still at the mercy of another party, in this case huge social platforms, which could turn off their traffic and monetization on a whim.
Plummer figured that portions of these issues highlighted could be solved by launching a streaming platform that actively involves those very same content creators.
And with DeStorm Power, Amanda Cerny, and King Bach onboard, he had the necessary cache to immediately garner interest.
After months of intensive preparations, Plummer and his other co-founders officially launched The Zeus Network on July 13th, 2018.
King Bach, for example, created his own show dubbed Your Best Life, detailing how America's most famous and wealthiest people set up their homes.
Unfortunately, not everything went as planned. The platform wasn't accessible over the course of several days. Some shows had misspelled names of celebrities such as Snoop Dogg or were showing incorrect timestamps.
Luckily, those quirks were luckily resolved over the coming weeks. In October 2018, the Zeus Network managed to strike a distribution deal with video platform Vimeo, which further expanded its reach.
Over the coming months, Plummer attract a variety of other influencers to the platform including Blac Chyna who would go on to have her own show on the platform.
Zeus Network, furthermore, began to somewhat move away from scripted content towards unscripted one.
The latter one is often just much easier and thus cheaper to produce. Secondly, it would also be a more natural fit with both the creators and the audience that Zeus attracted.
Unfortunately, controversies would surround the firm as well. In March 2020, Tokyo Toni, the mother of Blac Chyna who also starred in her Zeus show, claimed that Zeus, in spite of promising to do so, hadn't paid the money they owed her.
Five months later, in August, B2K lead singer Omarion not only accused the company of similar malpractices but even filed a lawsuit against Zeus.
And just to make matters worse, Zeus was accused of stealing a show from a Black-owned production company without proper attribution nor payments in November.
Luckily, this didn't seem to affect the company's growth too much. Many of its subscribers signed up to the network after seeing highlight clips of the shows that were shared across a multitude of social channels.
Additionally, Zeus Network is the only streaming platform that allows its fans to directly comment on episodes, which further drives engagement and loyalty. This certainly creates a unique viewing experience given that many of its shows are loud and provocative.
As a result, some of its shows would be picked up by traditional cable networks and thus displayed on television.
Plummer would even receive cease-and-desist letters from networks like Viacom and VH1, which hoped to stall the firm's growth that way.
However, Zeus would continue to be surrounded by controversy as well. In March 2022, Andrew Caldwell, who appeared on Bad Boys Los Angeles, claimed that Zeus Network "created an unsafe and toxic environment for everyone involved" and that he was even sexually harassed.
What's Next for The Zeus Network?
While Zeus does not publicly disclose revenue or subscriber numbers, it is not only here to stay but can potentially prove to be extremely disruptive.
Take, for example, Google Trends. The below-mentioned graph clearly highlights that interest in the firm has been steadily rising over the past few years.

Plummer himself certainly has ambitious goals for the company. In a 2021 interview with Forbes, he stated that they "are on the road to creating a billion-dollar company, and that's the goal."
Furthermore, he wants to become one of the key representatives for African-American ownership and push the boundaries of what is possible.
For me, ownership is something that is special to me. It's very important for us as African-Americans to really create a different mentality than just being a talent or being an employee. We need to get to the place where we're owning our stuff, where we're bosses. To me, that's one of the marks that I want to leave and when it comes to everything that I'm doing. I like being the first black person that really do certain things, launching an SVOD. I think I was probably the first young, 30-something-year-old African-American network owner so that was a big deal saying, 'Hey, in my twenties I'm probably the first African-American, 24- , 25-year-old owning a full-service production company, selling shows to networks.

Lemuel Plummer via Black Star Atlanta
As far as Zeus Network is concerned, there are certainly grander plans in place as well. Not only is the firm looking to get into more scripted television but it also wants to host award shows and eventually create live programming.
There are even plans to create subsidiaries that focus on other forms of media including music, events, and more.