Executive Summary:
MoviePass was a platform that allowed users to attend a set number of movies in exchange for paying a monthly subscription fee.
MoviePass failed because its business model was unsustainable, due to lack of focus, loads of competition, as well as internal struggles within the company itself.
What Is MoviePass?
MoviePass was a platform that allowed users to attend a set number of movies in exchange for paying a monthly subscription fee.
Over the years, the company experimented with different pricing structures and altered how many movies one could watch a month (ranging from 3 up to unlimited).
After signing up, users would receive a MoviePass debit card, powered by MasterCard, via mail. Once the user is within 100 yards of the cinema, he or she then activates the card to buy the ticket.
In the backend, MoviePass would then actually purchase the ticket from the theatre at a discounted rate. During its heyday, MoviePass was available at over 91 percent of all cinemas in the United States.
Later on, MoviePass also added a Surge Pricing feature that would force users to pay an additional fee for certain in-demand movies.
MoviePass could be accessed by visiting the company's website or by downloading any of its mobile apps (available on Android and iOS devices).
The app eventually shut down in September 2019 after years of public and internal turmoil. How it came to be, who was behind it, as well as the reasons for its demise, will be covered in the next two chapters.
What Happened To MoviePass?
MoviePass, formerly headquartered in New York City, was founded in 2011 by Stacy Spikes and Hamet Watt.
Spikes, prior to launching MoviePass, was running the Urbanworld Film Festival, an event that promotes movies and other forms of art created by minorities he himself co-founded in the mid-1990s.
Ten years later, around 2005, Spikes was looking for a way to expand the festival to something year-round. Around the same time, he had a conversation with Travis Reid, the then-CEO of Loews Cineplex who suggested that subscriptions for movies could be a feasible idea.
Spikes built out an SMS protocol. Unfortunately, a year later, in 2006, Loews and AMC merged which put their conversations to a sudden standstill. For the next five years, he received several rejections from all major cinema chains in the United States.
Eventually, Spikes was introduced to Hamet Watt, who at the time was running NextMedium, a venture-funded ad platform focused on in-program advertising (product placement and brand integration) in entertainment programming.
The two hit it off immediately and decided they would want to work on MoviePass together. Luckily, Watt had amassed dozens of VC contacts from his time at NextMedium, which allowed the team to raise a $1.5 million seed round from AOL Ventures, True Ventures, and more.
In July 2012, after months of working on the product, the team was finally ready to unveil the first beta version of MoviePass, a $50 monthly subscription plan that allowed users to watch any movie they want at any participating cinema.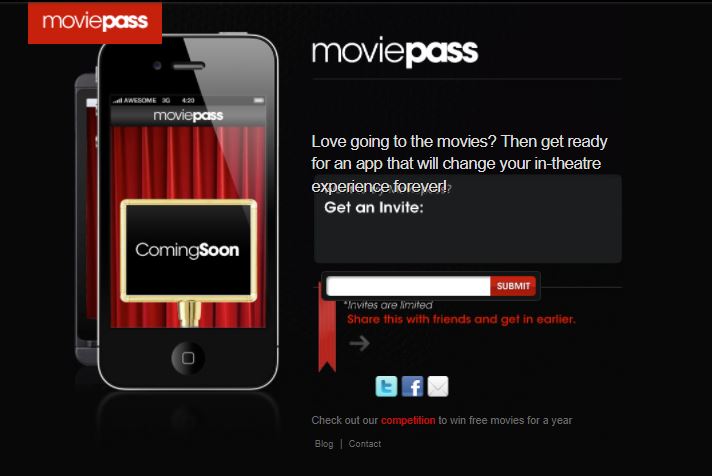 The product was supposed to be unveiled on July 4th during a San Francisco launch party. Even magazines like Variety issued cover stories about MoviePass. Unfortunately, the 19,000 people that tried signing up on the first day caused MoviePass' servers to crash.
Back then, MoviePass was built into MovieTickets.com. They built directly into their API and even gave them funds upfront to pay for the tickets. However, the worst was yet to happen.
A day after the launch, Spikes and Watt get a call from AMC which made it clear that it would not work together with the founders. To make matters worse, AMC was one of the main shareholders of MovieTickets.com and essentially forced them to abandon its partnership with MoviePass.
Over the next three months, the team scrambled to find a way to make this thing work. First, in late August, they had tried a partnership with theatre voucher provider Hollywood Movie Money. The partnership would require users to log into their account, print a single-use voucher, and show it at the ticket counter. Spikes and Watt quickly figured that this was way too inconvenient, especially compared to the convenience that other subscription services like Netflix or Spotify had pioneered.
But then the two founders finally had their proverbial lightbulb moment: credit cards. To be able to make it work, every user needed to do their credit-card transaction dynamically in real-time. This required the team of five to build real-time loading with geolocation capability, which essentially meant that they had to geolocate every theater in North America.
As a result, the team would enter the ZIP and address of every cinema. Then, after they found that particular cinema, they navigated the pin towards the cinema's location to note down the longitude and latitude coordinates.
The whole process took them around 90 days. In order to continue operating the business, they raised another small bridge round from True Ventures. Finally, on October 2nd, 2012, MoviePass' iOS app was unveiled to the public.
They launched the Android app four months later (February 2013). In the meantime, MoviePass also changed its credit card provider. The service was initially launched with Discover but MasterCard soon got wind of its rising volume. The MasterCard partnership added another layer of legitimacy to MoviePass.
Over the coming months and years, the founding team continues to deliberately grow the platform. In September 2014, the team manages to raise another $2.2 million in funding. However, the bigger news came when, in December, MoviePass announced a partnership with AMC for an all-you-can-see plan between $35 and $45 per month.
Unfortunately, the partnership eventually broke apart despite the fact that AMC was able to uplift visitor numbers by over 100 percent. Not long after, Adam Aron became AMC's newest CEO and decided that the best way forward for AMC was to build its own subscription program.
Despite the setback, MoviePass was well on its way to becoming a profitable business. At the beginning of 2016, it had around 20,000 subscribers. In order to take the business to the next level, Spikes and Watt brought in Mitch Lowe, one of the co-founders of Netflix and as well as former CEO of Redbox and Quarterly, as MoviePass' newest CEO.
While Spikes agreed to become COO and thus focus on operations, Watt would focus on raising another round of capital to finance MoviePass' expansion plans. Over the next few months, the trio pursued a bottom-up approach, that is to sign on small theatre chains (such as Studio Movie Grill) to accumulate negotiation power for the bigger names.
After a little over a year of fundraising, the team finally found an investor in Helios and Matheson Analytics Inc. (HMNY), a Nasdaq-listed company that distributes various software products and consulting services.
They agreed to a deal that would provide them with $25 million in funding for 51 percent of the company. One of the requirements for the investment to go through was that MoviePass would temporarily drop its subscription price to $10 per month until it had attracted 100,000 subscribers.
Within 48 hours, MoviePass had hit that subscriber goal. The demand even sent its website crashing down yet again. Moreover, AMC publicly announced that it would block MoviePass customers from seeing its films.
Despite their agreement, CEO Lowe and HMNY founder and CEO Ted Farnsworth soon abandoned their mutual understanding. HMNY, as a result of the publicity MoviePass received, was able to grow its stock price from $2 to over $39 by September 2017.
MoviePass capped the year off by hitting one million subscribers in December. This prompted Lowe and Farnsworth to pose in front of the AMC in Times Square, which many executives in the cinema industry took as a direct insult.
Then, on January 9th, 2018, both Spikes and Watt received an email that read that their services were no longer needed. Farnsworth and Lowe had essentially ousted the two founders. The four had clashed various times before the firing because Spikes and Watt pushed them to reinstate the previous pricing structure. Farnsworth and Lowe certainly had other plans for the business.
They thought that MoviePass would eventually be able to sell the data it was generating to other companies in the movie business. Not only that, Farnsworth and Lowe even had ambitions of getting into the movie business themselves.
On January 19th, ten days after the firing and right after hitting 1.5 million subscribers, they announced the launch of MoviePass Ventures, a new division that would acquire and release movies with the help of a film distributor. The idea was that it could use the MoviePass platform to boost the performance of the movie and participate in future DVD and digital sales. A week later, MoviePass acquired its first movie, American Animals, for $3 million.
That same day, MoviePass pulled support for around AMC cinemas across the United States. In the meantime, more and more customers began issuing complaints about the service. For instance, it sometimes took MoviePass three to four weeks to deliver its credit card. Customer support was being overwhelmed with requests and often not even responding at all.
Instead of solving those problems, MoviePass execs continued to publicly celebrate hitting new subscriber milestones. On February 8th, 2018, MoviePass had managed to cross the 2 million subscriber mark.
The first signs of concern wouldn't be too far away, either. In early March, MoviePass began to prevent some of its subscribers from buying tickets for the newly released movie Red Sparrow.
To make the situation even worse, CEO Lowe came out a few days later and told an audience at a Hollywood event that "we know all about you." He then doubled down on his sentiment by saying: "We watch how you drive from home to the movies. We watch where you go afterwards."
This caused some major public backlash and even forced MoviePass to remove some of its features. And instead of acknowledging his mistake, Lowe backtracked and said he never meant that MoviePass would track a user's movements.
In order to avoid more bad press, MoviePass decided to drop the pricing of its annual subscription from $99 to $89 per year. It also managed to score a partnership with Marc Cuban's indie theatre chain Landmark Theatres. A week later, in early April, it was even able to work out its issues with AMC and reinstate all of its cinemas.
That same week, MoviePass (vis-à-vis HMNY) also acquired news website Moviefone from Oath (Verizon) for $1 million in cash as well as $8 million worth of common shares in HMNY. Moviefone would then be used to promote MoviePass.
In mid-April, an independent auditor for HMNY said it had "substantial doubt" regarding its ability to stay in business. "MoviePass currently spends more to retain a subscriber than the revenue derived from that subscriber and MoviePass other sources of revenue are currently inadequate to offset or exceed the costs of subscriber retention," the auditor's report read. HMNY was effectively burning through $20 million per month to keep MoviePass operational.
To continue financing the business, HMNY was forced to sell $150 million in new stock, which not only caused its share price to further drop but made many of its existing shareholders publicly voice out their displeasure.
MoviePass had also quietly removed the unlimited movie option from its website and replaced it with a bundle in partnership with iHeartRadio, which allowed customers to only watch a handful of films every month. After a two-week hiatus, the unlimited plan was reinstated in early May, though.
Despite its dire financial situation, HMNY announced a partnership with Beverly Hills-based production company Emmett Furla Oasis Films (EFO Films) in late May (by acquiring 51 percent of the company). The two companies agreed to form MoviePass Films LLC, which would focus on creating and distributing their own films.
Meanwhile, MoviePass Ventures released Gotti, its second movie, in early June. The movie became both a critical as well as a commercial flop. The movie only ended up making around $6.1 million, a far cry from its $10 million budget.
Competition in the market also began heating up. MoviePass had already competed against Sinemia, a similar service, for the past few months. In June 2018, AMC also finally launched its own subscription service right after MoviePass crossed the 3 million subscriber mark.
The increase in competition, as well as failed investments, forced MoviePass to become a little more creative when it came to monetization. In early July, it introduced surge pricing, which forced users to pay an additional fee for certain in-demand movies. However, users would soon begin to wonder how it arrived at its pricing structure since some of those movies didn't seem to be that much in demand.
Amid severe funding issues (HMNY was only able to borrow $5 million after stating it wanted to raise $164 million via bonds), MoviePass again began to restrict access to major movie releases in late July. Furthermore, the app experienced multiple outages in the month of July alone (more on that later).
To stop the bleeding, MoviePass, on July 31st, announced that it would raise monthly prices from $9.95 to $14.95 per month. In the meantime, HMNY's stock price was on a freefall, falling as low as 5 cents per share in early August.
Days later, on August 6th, MoviePass rejiggered its pricing structure once again. It decided to stick with $9.95 per month but limited the offering to three movies per month. MoviePass Films LLC also announced its first movie production with 10 Minutes Gone, a movie starring Bruce Willis.
The situation at MoviePass got worse as the days progressed. Days before the launch of its new pricing, it began forcing users to choose between two films at extremely inconvenient hours. Moreover, it began re-subscribing users that had previously opted out.
Around the same time, HMNY posted its results for the second quarter. The company had lost a whopping $104.6 million, which could all be attributed to MoviePass. Up until that point, MoviePass had already lost more than $126 million in total.
MoviePass continued to estrange its users by forcing annual subscribers into the more expensive monthly plans, which prompted even more people to unsubscribe. The bad news just continued to mount when, in early September, the firm's Chief Product Officer Mike Berkley left the company after six months. MoviePass' Chief Marketing Officer Natasha Muller had previously departed in May after assuming the job in January.
Despite countless bad press, HMNY was somehow able to raise an additional $63 million in funding on October 14th. However, three days later, The Hollywood Reporter revealed that HMNY was under investigation by New York's attorney general who is looking for evidence that it had misled investors about its financial well-being.
To cap the year off, MoviePass, once again, decided to change its pricing structure by introducing three new tiers. It also announced that Lowe would be handing over day-to-day operations to Executive Vice President Khalid Itum (while remaining the company's CEO).
Itum itself had a troubled past after his former employer sued him for charging personal expenses on the company's debit card. He was then ordered to do 300 hours of community service and pay a $750 fine.
A month into Itum's new role, in January, trouble would ensue yet again. Eric Jeng, who worked as a product manager for a little less than a year, had accused executives at the company of inappropriate behavior.
Although he didn't specify any names, subsequent reporting revealed that he was referring to marketing consultant Bob Ellis. Multiple employees had threatened to quit the company if Ellis wasn't removed. Even though CEO Lowe told employees that Ellis had indeed been let go, he still was present at various meetings and events. Ellis himself was a close friend of Ted Farnsworth.
To make matters even worse, the letter issued by Jeng also referenced an Instagram picture that showed Ellis and multiple other MoviePass and Helios executives enjoying themselves on a yacht in Miami during an event that Itum had previously described as a "business" meeting.
In February 2019, HMNY was finally delisted from the Nasdaq stock exchange after its stock had bottomed out at 2 cents a share. In the meantime, MoviePass continued its pricing limbo with the introduction of a new unlimited plan, costing $19.95 per month, in March.
The executive team also attempted to spin off MoviePass from Helios and create a new subsidiary called MoviePass Entertainment Holdings Inc., which would own the MoviePass service and its other film-related assets.
Meanwhile, MoviePass also tried to sue Sinemia, one of its major competitors, for allegedly infringing on its patents. Although the judge allowed MoviePass to pursue the lawsuit, he was also quick to point out that the basis for the lawsuit was fragile at best. Weeks later, though, Sinemia ceased its operations in the United States, which essentially rendered the lawsuit worthless.
After much deliberation, MoviePass, on July 8th, announced that it would shut down the platform for several weeks to update the app and figure out a sustainable business model. In the meantime, AMC Theatres, Regal Cinemas, and Cinemark Theaters had all managed to introduce their own subscription programs.
While MoviePass was rolling out its revamped app to new users, a security researcher discovered an exposed database on one of the company's many subdomains. This meant that for the previous few months, MoviePass had essentially exposed tens of thousands of customer credit card numbers as well as personal credit card details.
In the end, this didn't really matter as MoviePass, on September 13th, announced that it would shut down the service a day later. But MoviePass wouldn't be MoviePass if even its closure didn't go without problems. Weeks after shutting down the service, MoviePass was still charging its customers. To its credit, the company allegedly refunded those charges days later.
Months later, in January 2020, Helios & Matheson Analytics Inc. finally declared Chapter 7 bankruptcy. The plan was to auction off MoviePass' assets, such as propriety code or certain operating metrics, for a minimum of $250,000. Unfortunately, no one at the auction, which took place in June, was willing to pay that price.
However, this was still not the last we heard of MoviePass. In March 2021, somebody secured the MoviePass Ventures domain and launched a countdown clock. Many reporters began to speculate whether MoviePass was going to be relaunched.
In the end, it turned out to be a joke. After the countdown clock expired, the website owner posted the following message: "This website was made with around $20, with no purpose other than to fool friends. It was tweeted out by a twitter user who we have no affiliation with, and the media picked it up from there. Some articles claimed this was an 'official MoviePass website' which was completely fabricated by those journalists."
Moreover, both Lowe and Farnsworth continued to grapple with the ramifications of their failure. In June, they both agreed to pay $400,000 in civil penalties for "engaging in numerous unlawful, unfair, and fraudulent business acts and practices."
The lawsuit accused the two execs of multiple shady practices. For instance, they continued to charge customers who had canceled their subscriptions and falsely advertised MoviePass as an unlimited service when it wasn't.
In October, they also settled with the FTC for an undisclosed amount. The settlement stated that they had intentionally deceived customers. More precisely, the lawsuit alleged Lowe of having ordered MoviePass employees to change user passwords so that they couldn't access the service. He even deliberately picked users, particularly the ones that were frequently attending movies. Additionally, they then sent misleading updates to customers regarding those password issues.
While Farnsworth and Lowe are out of the picture now, a familiar face would soon return. In November 2021, co-founder Stacy Spikes announced that he had purchased MoviePass for much less than the $250,000 it initially was auctioned off for. He now plans to relaunch the service sometime in 2022.
Why Did MoviePass Fail?
MoviePass failed because its business model was unsustainable, due to lack of focus, loads of competition, as well as internal struggles within the company itself.
Let's take a closer look at each of these in the section below.
Unsustainable Business Model
The single biggest reason why MoviePass failed was because its business model was simply unsustainable.
During the first few years of the company, when Spikes and Watt were still leading it, MoviePass charged users between $14.95 to $49.95 per month.
The pricing structure was based on countless tests that it had run and even allowed MoviePass to near profitability right before the Helios investment.
Spikes and Watt made the assumption that, just like a gym membership, users would only be watching a limited number of movies in a given year. If a customer, on average, would only watch one movie per month (at an average ticket price of around $9.50), then MoviePass would be already profitable on a per-user basis (not accounting for operational cost, cost of issuing the cards, etc.).
Over time, as its subscriber base grows, MoviePass would then be able to negotiate discounted rates with the theatres, which would further increase its margins.
Farnsworth and Lowe completely turned that concept on its head. Instead of meticulously growing its subscriber base, they opted for a more aggressive approach.
As the first order of business, they lowered the price of the subscription to $9.95 per month, which meant that its margins would be severely lowered.
The aggressive pricing strategy also upset many of its theatre partners, which started to refuse to do business with MoviePass altogether.
As a result, they were also not willing to negotiate discounted rates any longer. Therefore, MoviePass sometimes lost money on the first redemption of a ticket.
Additionally, its unlimited offering was further accelerating the company's demise. As previously stated, a core assumption was that customers would simply not use the service that often. After all, the average movie-goer in the United States only goes to the cinema around four times a year.
However, in the case of MoviePass, its subscribers ended up seeing more than two movies in a month (2.23 in March 2018 according to Business Insider).
MoviePass backtracked by adjusting its offering multiple times. For instance, it temporarily removed the option to see unlimited numbers of movies, only allowed customers to watch movies at obscure times, or restricted access to certain movies altogether.
The constant change of its subscription plan also ended up both confusing as well as dissatisfying customers who left the service in masses. This caused its subscriber count to shrink from 3 million in July 2018 to a mere 230,000 subscribers a year later.
Additionally, this also rendered another business line, namely advertising, almost worthless. One of the assumptions that Lowe made was that MoviePass would be able to recoup some of the money it lost by selling anonymized data to other companies as well as helping promote movies within the app.
While the company did end up making some money from those promotions, it did not become a significant line of business. Moreover, Lowe also stated that he wanted to convince theatres to get a cut of concession sales (such as popcorn). Unfortunately, due to their lackluster relationship, they all ended up refusing those proposals.
Lastly, another problem was that MoviePass' financial performance was fully transparent as a result of the quarterly filings made by Helios & Matheson. Kevin Landis, a tech portfolio manager, put it best when he said:
"The transparency is killing them. You don't hear about how much money Uber loses every time you get in one of their cars, you hear about how fast it's growing. What we're looking at now is one of the best examples of why you don't go public" in the early stages of a technology company's growth."
Indeed, the transparency likely hampered the trust that potential investors and customers alike had in the company. Nevertheless, the single biggest reason why MoviePass failed was that its pricing was simply not sustainable.
Lack Of Focus
Another reason why MoviePass failed was that it had worked on too many ideas at the same time – all while its core business was still bleeding money.
As previously stated, MoviePass had launched two additional business units, namely MoviePass Ventures and MoviePass Films, which would focus on the production and distribution of movies.
For example, it had invested $3 million to acquire the rights to American Animals. While the movie did end up grossing around $4 million worldwide, it certainly deflected attention away from its core business.
While American Animals may have been a slight commercial success, its subsequent release of Gotti wasn't. The movie cost $10 million to produce and only generated $6.1 million at the box office.
The theory was that MoviePass would be able to turn a huge profit on those movies by heavily promoting them within the app as well as on Moviefone, which HMNY acquired for $1 million.
Similarly, MoviePass Films was just as much of a failure. After acquiring 51 percent of EFO Films, which granted them distribution rights to movies like Lone Survivor or Rambo, it ended up not doing anything with the venture apart from signing a deal with Bruce Willis for a future movie that was never released.
Ultimately, MoviePass and its other divisions simply didn't have the synergetic relationship that Lowe and Farnsworth hoped it would have.
Competitive Landscape
While MoviePass became the pioneer when it came to movie subscriptions, it soon would compete both against similar services as well as the theatre chains' own subscription programs.
Just months after its price slash to $10 per month, all major chains in the country, including AMC, Cinemark, Regal, and more, had all come out with their own offering.
Additionally, many of those competitors simply had better offerings, such as access to more and higher-quality movies (including 3D and IMAX, which MoviePass lacked).
Since the major chains are present in every major city across the country, MoviePass did not possess any distribution advantage.
To that extent, some competitors even refused to accept MoviePass customers. And since they were the ones owning the rails, they could dictate the terms.
Furthermore, because everything was done in-house, those theatre chains were simply able to offer a much better service. For example, users could already purchase their snacks right within the app.
In the end, MoviePass didn't possess any defensible moats around its subscription business model, which made it easy for competitors to enter the space and copy it.
Internal Turmoil
Lastly, MoviePass also went under because of the many problems that it faced within its own organization.
As previously mentioned, Eric Jeng, a former product manager at the company, had highlighted that many of his colleagues were unhappy about the handling of Bob Ellis, who had exerted inappropriate behavior towards females.
This is probably best exemplified by the loss of two of its Chief Marketing Officer and Chief Product Officer who both quit the company within a matter of six months.
Additionally, both of its founders were ousted after they allegedly managed to steer the company towards profitability.
However, it seemed that both Lowe and Farnsworth had greater ambitions and enjoyed being in the spotlight more than building a sustainable business. Their aggressive pricing tactics had essentially rendered all of the relationships that Spikes and Watts managed to build worthless.
Eventually, both theatre chains as well as the company's own employees had turned against the eccentric Farnsworth and Lowe.