Executive Summary:
Ko-fi is a platform that allows content creators to receive financial support from their fans and followers.
Ko-fi makes money from platform fees as well as a premium subscription program called Gold, both of which are paid by its creators. The company operates on a freemium model.
How Does Ko-fi Work?
Ko-fi is a platform that allows content creators to receive financial support from their fans and followers.
However, unlike platforms such as Patreon that take a cut from the donations made, Ko-fi gives 100 percent to the creator.
So far, the 1+ million creators on Ko-fi have netted over $150 million in donations. Apart from getting paid by your fans, Ko-fi offers a variety of other features.
At the center of its platform stands the dedicated page that each creator can set up for himself or herself.
Once the page is set up, there are a variety of features that creators can access, including:
Directly messaging with supporters
Update followers on progress via posts or show off work in galleries (exclusive content can also be put behind a paywall)
Set up goals for crowdfunding campaigns
Create a shop where supporters can purchase digital or physical goods
Integrate their profile with Discord, Zapier, and other tools
As a result, Ko-fi has become a suitable alternative for creators of all types, whether those are artists, cosplayers, podcasters, streamers, or writers.
Ko-fi also offers a dedicated Explore section where it highlights some of its most prominent and promising creators.
How Does Ko-fi Make Money?
Ko-fi makes money from platform fees as well as a premium subscription program called Gold, both of which are paid by its creators.
Although it is technically true that Ko-fi charges 0 percent on donations made by supporters, that doesn't necessarily apply across all the ways creators can make money via the platform.
Ko-fi currently offers three tiers that creators can access, namely Free, Contributor, and Gold. All of these incur different costs for creators, which can be found here.
While members on the Free plan do not pay for receiving one-off donations (or from crowdfunding campaigns) they are charged a 5 percent fee on monthly recurring donations, shop sales, memberships, and more.
However, members on the Free tier do not get access to extra perks such as supporter-only content, scheduling posts, exclusive page colors, and so forth.
This is where the Contributor and Gold options come into play. With Gold, creators are charged a monthly fee of $6 to $8. In exchange, they can not only access the extra perks but also do not pay a commission on any payments (e.g., donations, shop sales, etc.) they receive.
The Contributor tier lies at the intersection between the two other options. Creators are not charged a monthly subscription fee but can still take advantage of the extra perks Ko-fi offers.
In return, they will have to pay a 5 percent fee on any one-off donation they receive or crowdfunding campaign they establish, on top of paying for shop sales, membership tiers, and so forth.
Now that we've established how Ko-fi makes money, let's take a closer look at how its revenue streams tie into the firm's overall business model strategy.  
The Ko-fi Business Model Explained
Ko-fi largely operates on a freemium business model, meaning its advanced features can only be accessed by paying a fee.
The 0 percent fee on donations, which is prominently featured on its website, likely acts as a hook to get creators into the ecosystem.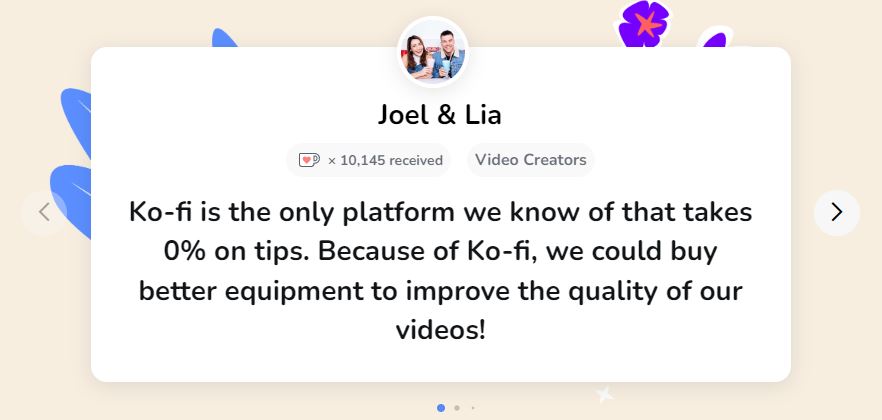 This is effectively used as a counter-positioning mechanism against its venture-funded competition, which includes platforms like Buy Me A Coffee or Patreon.
Ko-fi thus positions itself as a platform that does everything to maximize the revenue of its most valuable asset: creators.
By being kind of free (remember the non-donation fees), it has an easier time attracting new members.
Creators are consequently retained by offering them all kinds of different features to monetize their fan base.
They can create their own shops and sell all kinds of items, launch a crowdfunding campaign to reach a certain fundraising goal, and even offer exclusive memberships to their fans.
That variety of monetization options then enables the company to also attract all kinds of different creators. For instance, an artist is much likelier to monetize his or her audience via a shop while a podcaster would probably benefit more from Ko-fi's membership plans.
Consequently, the more benefits they derive from Ko-fi, the likelier they are to stick around. And this is also where Ko-fi's subscription offering comes in.
Popular creators will inevitably hit a point where the 5 percent fees could be eating into their margins. To avoid those, Ko-fi offers them a subscription that can cost as little as $6 per month.
As a result, creators are not only incentivized to stick around but probably will end up recommending Ko-fi to their other creator friends, thus acting as a free marketing channel on behalf of the company.
Ko-fi can get away with charging so little because it is bootstrapped and therefore does not have investors to report to. Those investors might want to see the company turn up the revenue dial, which would negatively affect creator retention.
The other factor the majority of Ko-fi's employees, at least according to data from LinkedIn, are based in Southeast Asia, a region where labor is substantially cheaper than what competitors like Patreon would have to pay for their workforce.
Who Owns Ko-fi?
Luckily, since Ko-fi is incorporated in the United Kingdom, we do get access to its ownership data since companies in the country are obligated to file annual returns.
That information is commonly listed on the Companies House website, which is an agency for the company registrars of the United Kingdom.
Ko-fi is incorporated as Ko-fi Labs Limited and its annual statements can be accessed here. Under the People section, we see that both Simon Ellington and Nigel Pickles are registered as company directors.
However, Nigel Pickles remains the person with significant control of Ko-fi Labs. He currently owns 75 percent or more of all outstanding shares (a detailed figure is not required to be disclosed, unfortunately).
His ownership stake is little surprising given that he was the one who started Ko-fi all the way back in 2012 when it was merely a button that could be embedded into other websites.
This seemingly all changed when Ellington joined the company towards the end of 2017 (according to his LinkedIn profile).
Ko-fi, as outlined above, has since grown from a simple website button to a platform that is in serious contention with venture-backed firms like Buy Me A Coffee or Patreon.
The fact that it has stirred away from raising outside capital also remains the reason why it can get away with not charging creators. Investors would likely pressure the founders to ramp up monetization to maximize their own return on investment (ROI).