TSMC, which is short for Taiwan Semiconductor Manufacturing Company, manufacturers chips on behalf of other firms.
The company, which is headquartered in the Hsinchu Science Park (Taiwan), was founded in 1987 by Morris Chang.
TSMC is what experts refer to as a pure-play foundry. That means it does not design and sell chips itself but produces them on behalf of other companies.
For example, Apple has its 5 nanometer (nm) chips, which are used in iPhones and other products, produced by TSMC. The foundry, in turn, charges Apple and its other customers a fee for each of those chips.
But why would customers not produce chips themselves? The simple answer is cost. TSMC, just in 2022, stated that it aims to invest a whopping $44 billion to increase production capacity (while spending $30 billion the year prior). By 2023, the firm wants to have invested $100 billion over a three-year period.
While companies like Apple do have the financial means to take portions of their production in-house, many simply can't afford such capital expenditures. Additionally, beefing up one's fixed cost structure could pose a significant financial risk if demand were to dry down.
The company generated NT$1,587.42 billion (~ $58.43 billion) in revenue in 2021, representing an increase of 18.5 percent from the year prior. With gross margins of > 50 percent, TSMC is also highly profitable.
TSMC's business, furthermore, is well diversified to weather any industry-specific downturns. In 2021, TSMC manufactured 12,302 different products for 535 customers according to its annual report. Here's a breakdown of its revenue by both countries and industry segments: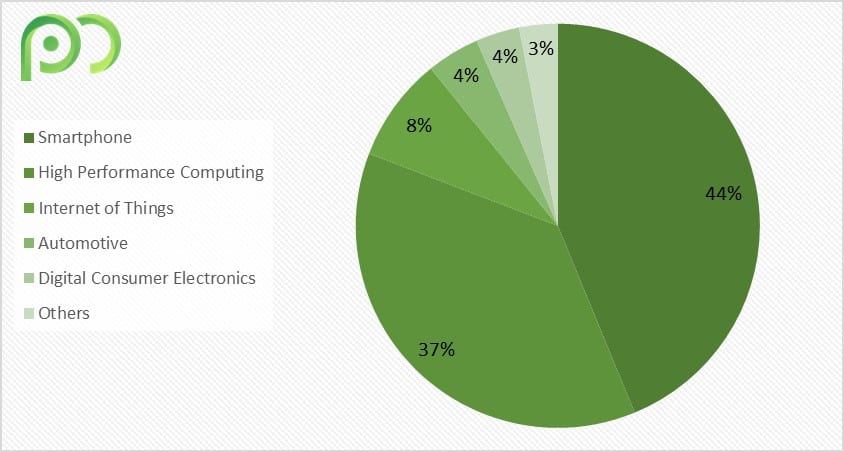 Portions of the $100 billion that TSMC aims to invest will be used to boost revenue in regions such as Europe while fending off rising competition in China as well as the United States.
The firm derives around a third of its income from 7-nanometer chips, followed by 5-nanometer and 16-nanometer options.
All in all, TSMC's market share is currently equal to 53 percent, making it by far the most valuable and successful company in the foundry space. However, that type of success wasn't always guaranteed.
A Quick History Of TSMC
Its founder, Morris Chang, earned his Bachelor's and Master's Degree at MIT in electrical engineering from MIT and went on to work for Sylvania Semiconductor over the next three years.
He eventually joined Texas Instruments (TI), which paid for his Stanford Ph.D. In 1967, he was promoted to general manager of the Integrated Circuits department, TI's most important one at the time.
Chang continued to rise through the ranks, eventually being named group vice president of all TI's semiconductor business. Unfortunately, the tables turned when he was moved to TI's consumer business, which was in very poor shape at the time.
Revitalizing the consumer business proved to be a quasi-impossible task. Some even speculated that TI's executives wanted him to fail due to his Chinese heritage (he was born and raised in China before he moved to America for his studies).
Whether or not this was true, Chang felt that he was stuck. He, therefore, resigned from TI in 1983 and spent some years at competitor General Instrument. Eventually, the government of Taiwan kept calling, asking him to help revitalize the country's technology landscape.
In 1987, with the backing of the Taiwanese government as well as Dutch technology powerhouse Philips Electronics, he was able to launch TSMC at the tender age of 52.
The purpose of TSMC was to aid Taiwan's chip design industry, which at the time had to have its chips manufactured abroad. Simultaneously, the advent of personal computers, gaming, as well as the internet led to an exponential increase in chip demand, which TMSC was perfectly situated to capitalize on.
By 1992, TSMC had already risen to become the world's biggest foundry. Two years later, TSMC went public on the Taiwan Stock Exchange while closing deals with the likes of AMD. Most of the revenue it generated would be immediately reinvested to solidify the firm's market-leading position.
In 1996, it became the first Taiwanese company to be listed on the New York Stock Exchange (NYSE), which enabled TSMC to add another $500 million to its balance sheet.
Throughout the decades, TSMC continued to grow at a rapid pace. Meanwhile, founder Morris Chang stepped down from his CEO role in 2005 only to return four years later. He eventually retired back in 2018.
TSMC itself hit the wider public consciousness during the outbreak of the Covid-19 pandemic. Supply chain issues as well as increased demand led to a shortage of chips, which was amplified by the money that governments around the world began to print.
Additionally, geopolitical risk, namely the threat of China invading Taiwan, also created cause for concern. As a result, governments around the world began to subsidize chip foundries in an effort to diversify the sourcing of chips.
Today, TSMC is valued at over $400 billion. The company, furthermore, employs more than 60,000 people across the globe.
Methodology
The methodology with which competitors of TSMC are ranked is based on publicly available data. Information such as revenue, the number of customers, the number of employees, and anything else in between will be considered.
Since TSMC's customers (more on that later) are located across the globe, we will consider all existing semiconductor foundries.
It has to be noted that this analysis should not be seen as an endorsement of either service. It is merely a summary of the competition that TSMC currently faces.
So, without further ado, let's take a closer look at the top 10 competitors of TSMC.
1. Samsung
Headquarters: Seoul, South Korea

Founder(s): Lee Byung-chul

Year Founded: 1938
Most people know Samsung as one of the world's biggest manufacturers of electronic consumer devices such as its Galaxy phone series. What many, however, are unaware of is the fact that its share of the foundry market is the second highest globally, totaling 18.3 percent.
This feat is particularly impressive given that Samsung has only been in the foundry business since March 2017. It produces chips ranging from 3nm to 45nm. The firm announced that it plans to invest $151.5 billion in the construction of fabs. Between 2017 and 2020, Samsung spent $93.2 billion to establish the business.
Those hefty investments have enabled Samsung to cross 100 clients in early 2022. Its five biggest customers, which account for roughly 14 percent of all sales, include Qualcomm alongside its sister firm Samsung Electronics, Apple, Best Buy, and Deutsche Telekom.
Revenue-wise, Samsung's foundry business generated close to $20 billion in annual revenue coming from eight production sites located in China, South Korea, and the United States. However, the service also experienced some headwinds.
For once, Samsung currently investigates lost funds that were set aside by its foundry business to be invested into production capacity expansion. The service, furthermore, suffers from low yield (= quantitative measure of the quality of a semiconductor process) for its 4nm chips, which prompted Qualcomm to switch back to TSMC for its Snapdragon 8 Gen 1+ production.
Source: Android Headlines, DigiTimes, Korea Herald, Samsung Foundry
2. United Microelectronics Corporation (UMC)
Headquarters: Hsinchu Science Park, Taiwan

Founder(s): Robert Tsao

Year Founded: 1980
UMC, which is Taiwan's second-largest foundry service, was spun out of the Industrial Technology Research Institute. It became the first private integrated circuit (IC) firm in the country. And five years later, in 1985, it managed to hit another first: becoming the first listed semiconductor company in Taiwan.
Interestingly enough, Morris Chang was the firm's chairman at the time of its IPO. In 1995, UMC pivoted from producing its own products to becoming a pure-play foundry. Another five years later, the foundry went public on the NYSE, becoming the first Taiwanese Semiconductor company to do so.
TSMC and UMC have, furthermore, engaged in various feuds throughout the years. Chairman and founder Robert Tsao, in 2004, criticized Morris Chang for excluding stock-based compensation for TSMC employees. The two founders, after retirement, put their differences to rest.
UMC, in spite of those issues, has remained one of the three biggest foundry services for years. The firm, which employs over 20,000 people worldwide, has 12 fabs in production that collectively produce 800,000 wafers per month.
In 2021, UMC generated NT$213 billion (~ $7.6 billion) in revenue while growing over 20 percent compared to the year prior. Gross margins were equal to 33.8 percent. UMC itself largely competes in the same markets as TSMC, namely automotive, mobile, IoT, wearables, and more.
Source: Taipei Times, UMC
3. GlobalFoundries
Headquarters: Malta, New York

Founder(s): AMD, Mubadala

Year Founded: 2009
GlobalFoundries (GF or GloFo) claims to be the largest silicon wafer supplier not dependent upon the chip powerhouses China and Taiwan. The firm, for example, is the only one with manufacturing facilities in Singapore, Europe, and the United States.
In fact, GloFo currently has 14 production facilities spread across the globe. Around 15,000 people are employed across those facilities. Additionally, GF states that it currently has 200+ global customers as well as over 100 manufacturing partners.
GlobalFoundries was originally spun out of AMD, which wanted to go fabless and spin off its semiconductor manufacturing business. Emirati state-owned holding company Mubadala financed a majority of the launch.
The firm, as a result of the global demand increase, was able to go public on the Nasdaq stock exchange back in October 2021, raising $2.6 billion in the process. That same year, GF generated $6.6 billion in revenue, up 36 percent year-over-year and equal to a market share of about 7 percent.
Interestingly, GF and TSMC have also battled each other in the legal domain. Back in 2019, GF filed a patent infringement lawsuit against TSMC. Months later, TSMC filed a counter lawsuit. In October of the same year, the two companies ultimately settled out of court.
Source: GlobalFoundries, Investor Relations GlobalFoundries, Wccftech
4. Semiconductor Manufacturing International Corporation (SMIC)
Headquarters: Shanghai, China

Founder(s): Richard Chang Ru-gin

Year Founded: 2000
SMIC is the largest semiconductor company out of China, which has invested hundreds of billions in the past to raise homegrown champions. However, being partially state-owned also means that the firm has been dragged into the disputes that China and the U.S. have been carrying out.
In December 2020, the U.S. added SMIC alongside other Chinese tech firms (including DJI) to a trade blacklist. Officials said they were concerned that the chip manufacturer is actively aiding China's military.
SMIC, in spite of those trade sanctions, has been going strong nonetheless. In 2021, the firm generated $5.44 billion in revenue, up 39 percent year-over-year. It plans to use the majority of that revenue, $5 billion in 2022, to set up new plants in Beijing, Shanghai, and Shenzhen (adding to its six existing fabs in China and Taiwan).
Interestingly, success didn't always seem so certain. SMIC, which went public on the NYSE in 2004, was delisted 15 years later (2019) due to low trading volumes.
The firm's foundry services, which mostly serve clients in the automotive and IoT space, focus on larger chips, ranging between 14nm to 65nm. 17,300+ people are currently employed by SMIC.
5. Hua Hong Semiconductor
Headquarters: Shanghai, China

Founder(s): unknown

Year Founded: 1996
Hua Hong, much like SMIC, was established as a result of China's ambitions to boost its semiconductor industry. The firm, in 2003, launched its foundry services, which now entail 8" (200mm) and 12" (300mm) wafers. Generally, Hua Hong produces nodes between 0.5um to 90nm.
Its foundry service flow entails everything from selecting the technology, over designing, all the way to assembling and testing. The production facilities of Hua Hong are all located in its home country of China.
In 2021, Hua Hong generated $1.63 billion in annual revenue on decent margins of around 25 percent. The firm itself grew revenues by over 50 percent that year.
This feat is particularly impressive given China's zero Covid policy. However, both Hua Hong and SMIC have kept operating at 100 percent capacity despite the country's restrictions.
Source: Annual Report Hua Hong, Hua Hong
6. Powerchip Technology
Headquarters: Hsinchu Science Park, Taiwan

Founder(s): Frank Huang

Year Founded: 2008
Powerchip Semiconductor Manufacturing Corp., or PSMC, offers foundry services as well as design, manufacturing, and test services. The firm is the sixth-largest contract chipmaker in the world and the third-largest in Taiwan – right behind TSMC and UMC.
In December 2021, PSMC went public on the Taiwan Stock Exchange (TWSE), which provided the company with enough capital to build another plant in Miaoli County, Taiwan. The firm currently operates two 8-inch and three 12-inch fabs while employing 7,400 people.
In 2021, PSMC generated NT$65.6 billion (~ $2.2 billion) in revenue while posting a net income of NT$16.09 billion (around $540 million). Much like TSMC, it also invests heavily into launching new production facilities as well as product lines while boasting impressive operating margins of 42 percent.
Source: Annual Report Powerchip Technology, Powerchip Technologies, Taipei Times
7. Vanguard International Semiconductor Corporation (VIS)
Headquarters: Hsinchu Science Park, Taiwan

Founder(s): unknown

Year Founded: 1994
VIS and TSMC have been working together since the former's founding days. In fact, TSMC was one of its biggest shareholders and helped the firm get off the ground. Moreover, VIS started working as a subcontractor for TSMC as early as 1999 – a year after it went public.
VIS began as a manufacturer of dynamic random-access memory (DRAM) chips. However, in 2000, the firm announced that it would move away from being a DRAM manufacturer towards offering foundry services. Four years later, it completely abandoned the DRAM business and became a pure-play foundry business.
The firm, which currently employs over 6,000 people, generated NT$43.95 billion (~ $1.57 billion) in revenue on profits of NT$11.82 billion (~ 410 million) in 2021. The firm invested close to NT$10 billion into new production facilities and other expenses over that same timespan.
Those expenditures are also reflected in VIS' sales performance. It shipped over 2.8 million 8" wafers in 2021, which it aims to grow to 3.2 million in 2022. Those wafers and its other products are currently produced in seven facilities across Asia.
Source: Annual Report VIS, VIS
8. Nexchip
Headquarters: Hefei City, China

Founder(s): Hefei City Construction Investment Holding (Group) Co., Powerchip Technology Corporation

Year Founded: 2015
Nexchip, towards the end of 2021, overtook South Korea-based DB Hitek to become one of the world's ten biggest foundries. In 2021 alone, the firm grow by almost 50 percent while generating revenues of more than $1.6 billion.
The firm's rapid growth is not really surprising given that both the Hefei city government of China's Anhui province as well as Taiwan's Power Semiconductor Manufacturing have invested heavily to establishing the foundry.
In fact, they spent a combined 12.8 billion CNY (~ $1.91 billion) to launch the firm's first facility. By the end of 2021, Nexchip's production capacity reached 100,000 wafers per month. The firm primarily specializes in 150nm/110nm/90nm/55nm chips.
Source: Design & Reuse, Nexchip
9. Tower Semiconductor
Headquarters: Migdal Haemek, Israel

Founder(s): National Semiconductor

Year Founded: 1993
Tower Semiconductor, incorporated as TowerJazz, claims to be "the leading foundry of high value analog semiconductor solutions." The firm primarily specializes in 200- and 300-millimeter chips that it produces across seven facilities in Italy, Israel, Japan, and the United States.
Its creation was a result of the acquisition of National Semiconductor's 150mm wafer fabrication facility, which was located in Migdal Haemek. A year later, in 1994, the chip manufacturer went public on both the Nasdaq and Tel Aviv Stock Exchange.
Back in 2020, TowerJazz officially rebranded into Tower Semiconductor to highlight its global presence. With 5,500 employees and 300+ customers across the globe, it certainly remains a formidable competitor to TSMC.
The firm's presence was only strengthened when, in February 2022, Intel announced that it agreed to acquire Tower Semiconductor in a deal worth $5.4 billion. The year prior (2021, Tower generated $1.5 billion in annual revenue, up 19 percent from the year prior.
Source: Investor Relations Tower Semiconductor, Reuters, Tower Semiconductor
10. Intel
Headquarters: Santa Clara, California

Founder(s): Robert Noyce, Gordon Moore

Year Founded: 1968
Intel, since 2013, has been offering foundry service and began producing chips for Altera using the 14nm process. Other firms, such as Netronome, Microsemi, and Panasonic, followed not long after. Unfortunately, due to Intel's inability to meet demand, it decided to close the business down in 2018.
Meanwhile, it acquired its biggest customer, Altera, in 2015. However, due to exponentially increasing demands, Intel relaunched its foundry service back in March 2021. The firm has invested heavily into getting the offering, dubbed Intel Foundry Services (IFS), off the ground.
That same month, it announced that it plans to spend $20 billion to open two chip fabs in Arizona. A year later, in March 2022, it unveiled plans to invest another €33 billion to build plants in France and Germany as well as boost R&D, manufacturing, and foundry services in Ireland, Italy, Poland, and Spain.
And as previously stated, Intel also acquired Tower Semiconductor for $5.4 billion to boost its presence in other regions and expand production capabilities. Lastly, Intel set up a $1 billion fund to support early-stage startups and established companies that could become customers of IFS.
Nevertheless, Intel's foundry service is still in its nascent stages. In Q1 2022, IFS generated $283 million in revenue, a 175 percent increase YoY. However, IFS only accounts for around 1.5 percent of the company's revenue thus far – a figure that is expected to rise greatly in the coming years.
Source: Fierce Electronics, Intel, Intel, Intel