Executive Summary:
OpenSea is an online marketplace that allows users to purchase, sell, and trade non-fungible tokens via its website.
OpenSea makes money from service fees. These fees are paid whenever a digital asset is successfully sold via the platform.
Founded in 2017, OpenSea has grown to become the world's largest NFT marketplace. It has raised more than $427 million to date.
How OpenSea Works
OpenSea is an online marketplace that allows users to purchase, sell, and trade non-fungible tokens (NFTs).
Users can transact a variety of different digital collectibles, including art, music, domain names, trading cards, and dozens more.
OpenSea was initially powered by Ethereum smart contracts but has now also added support for the Klaytn andf Solana chain. Additionally, it now uses the Ethereum layer-2 protocol Polygon (MATIC) to decrease trading costs while increasing execution speeds.
NFTs can be purchased using Ethereum's own token Ether (ETH). On top of that, more than 150 other currencies, such as DAI or UNI, are also accepted.
In order to make a purchase, users simply connect their crypto wallets (such as MetaMask). Digital collectibles can either be bought directly by accepting the fixed price the seller set or by bidding on it (leaving the seller to either accept or decline the offer).
Similarly, if you intend to sell something on the platform, you simply connect your wallet, upload the NFT you intend to offer, and set a price for it.
OpenSea, furthermore, lists all of the past transactions (such as sales, transfer, bids, and more) a given NFT recorded. That allows interested buyers to track the value of and interest in the asset over time.
More than 34 million NFTs have been uploaded on OpenSea so far. These are traded by the 300k + users that are part of the platform.
OpenSea Company History
OpenSea, headquartered in New York City, was founded in December 2017 by Devin Finzer (CEO) and Alex Atallah (CTO).
Both founders, prior to starting the company, amassed quite an impressive resume, to say the least. CTO Atallah graduated from Stanford with a degree in Computer Science in 2014. A year prior, he had sold hostess.fm, a global platform for nightlife venues, to SFX Entertainment.
He then went on to work at Palantir and Zugata as a software engineer until branching out as a founder again. In 2016, he launched Whatsgoodly, a social polling platform that he grew to over 300,000 users.
Meanwhile, Finzer's resume is nothing to scoff at either. In 2013, after graduating from Brown University, where he studied Mathematics and completed his college studies with a 4.0 GPA, he went on to work as a software engineer at Pinterest.
He then, in 2016, went on to launch Claimdog, a tool that allowed you to find if a business owes you money by searching state unclaimed property databases. He successfully sold the company to Credit Karma where he stayed on as an Engineering Manager until starting OpenSea.
Around the time of his exit, Finzer also became increasingly interested in the domain of blockchain and cryptocurrencies. He not only studied the underlying technologies but eventually realized that he wanted to commit his professional career to it.
It, therefore, became a question of figuring out what exactly to do. Back then, the CryptoKitties project became a huge tech culture phenomenon where people were buying CryptoKitties for hundreds of thousands of dollars – and essentially became the poster child for NFTs at large.
Together with Atallah, he drew up some rough ideas and applied to enter prestigious startup accelerator Y Combinator, which provided them with $120,000 in seed funding. Initially, their project was centered around the concept of sharing Wi-Fi bandwidth using blockchain technology (dubbed Wificoin).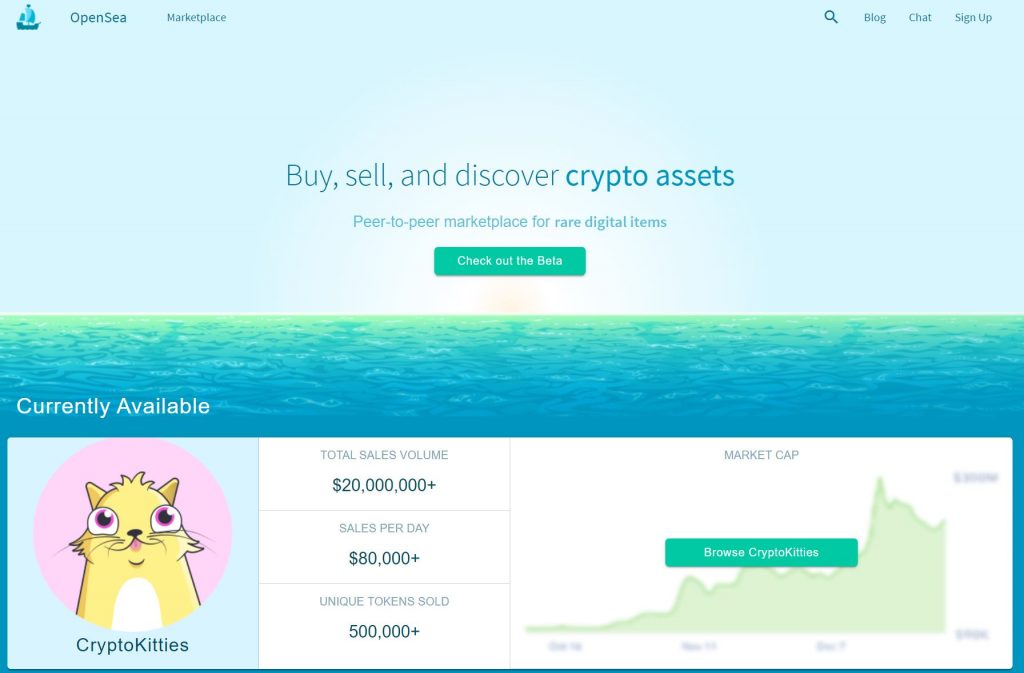 However, they quickly pivoted to OpenSea, which they released in February 2018. By the time they got on stage to present the platform (March 18th, 2018), OpenSea had already managed to sell $500,000 worth of digital collectibles.
The participation in the accelerator program provided them with enough exposure to be able to raise their first institutional round. In May, high-profile crypto investors like 1confirmation, Founders Fund, Blockchain Capital, and more poured $2 million into the business.
In those early days, OpenSea primarily relied on game developers to drive business. Those developers, such as CryptoKitties, were looking for additional revenue sources with which they could monetize their characters. Naturally, OpenSea offered such an avenue.
Over the coming months, OpenSea continued to add more categories and features to its platform. For instance, in October, it introduced bundles, which allowed sellers to offer their collectives in, as you've guessed, bundles.
This was alleviating some of the "gas fees", which are payments made by users to compensate for the computing energy required to process and validate transactions on the Ethereum blockchain. This was particularly troubling for offerings that only sold for very little and where the actual gas fee was higher than the sale price itself. Bundling, therefore, allowed sellers to simply command higher prices.
Then, in December, OpenSea made its first acquisition by purchasing competing NFT marketplace Atomic Bazaar for an undisclosed amount. The acquisition also extended the number of features that OpenSea was able to offer, such as item-to-item bartering.
Throughout 2019, OpenSea continued to add more features to its platform while partnering with various artists and developers. In June, for instance, it launched a Deadpool-themed NFT in cooperation with Fox Entertainment.
The continuous growth allowed the team to raise another round of funding in November. This time, investors contributed a total of $2.1 million to the firm's balance sheet.
By the end of the year, OpenSea was considered to be the undisputed leader amongst NFT marketplaces. At the same time, the company has already become profitable. 2020, fuelled by stay-at-home orders as a result of the coronavirus pandemic, was certainly no exception in terms of continuous growth.
However, 2021 would become the year that finally propelled the company to completely new heights. First, it started the year by raising $23 million from Andreessen Horowitz and angels like Mark Cuban and Alexis Ohanian (founder of Reddit).
Over the past six months, transaction volumes on the platform had grown one hundredfold, with daily volumes exceeding $10 million. A month prior, an NFT called Beeple had been sold on Nifty Gateway for a record-breaking $6.6 million, officially reigniting interest in the domain. And OpenSea was there to fully take advantage of it.
Then, in July, OpenSea's team managed to raise another round of funding. This time, investors valued the company at a whopping $1.5 billion while contributing $100 million. In less than four years, OpenSea had managed to become a unicorn.
The funding came on the heels of the platform's strongest month. In June, it saw transaction volumes rise to $160 million. At the same time, OpenSea announced that it would incorporate Polygon, a popular Layer 2 Ethereum blockchain that offers a more energy-efficient infrastructure (and thus lower gas fees).
Portions of the funding were also used to remove all associated gas fees for creators, buyers, and sellers on the marketplace. This, in turn, propelled transaction volumes to never-seen-before heights.
August proved to be an even more historic month for the company and industry as a whole. A whopping $3.4 billion in transaction volume was recorded on its Ethereum blockchain during the month, which didn't even take transactions from Polygon into account.
Unfortunately, not everything was always going according to plan. That same month, OpenSea had to delist Polygon-based copy of CryptoPunks, Polygonpunks, after Larva Labs, the creator of CryptoPunks, issued a DMCA takedown request. However, Polygonpunks were brought back in late September after a successful appeal.
Meanwhile, OpenSea had to fight an even bigger battle. On September 15th, news emerged that one of the firm's employees (later revealed as Nate Chastain, its Head of Product) was trading on confidential information.
Chastain had gotten wind of what NFT projects would be promoted on OpenSea's homepage, which often would lead to a temporary boost in prices. He then sold off the NFT soon after the promotion. Chastain ultimately resigned two days later.
To make matters worse, OpenSea was also allowing the sale and trade of antisemitic and Nazi-glorifying artwork, which only added to the controversy. Despite those issues, OpenSea remains the undisputed market leader in the NFT space with a market share of more than 95 percent.
Others also began to take notice. In October, Coinbase, one of the world's biggest cryptocurrency exchanges, announced it would launch its very own NFT marketplace in late 2021. Interestingly enough, Coinbase was one of the investors in OpenSea's 2018 seed round and shares a common majority investor in Andreessen Horowitz.
Despite those hiccups, OpenSea continued to remain the undisputed market leader in the NFT space. Not only was the platform able to score partnerships with the likes of Adobe or Vogue Singapore but also managed to hire rock star employees like longstanding Lyft CFO Brian Roberts.
However, the hiring of Roberts came with his own set of problems. In an interview with Bloomberg, he said it that "it would be foolish not to think about going public." Many users were angered as a result of this statement since they felt the platform would be selling out.
Instead, OpenSea raised another round of funding. In January 2022, investors poured in $300 million into the company. It used portions of that funding to expand its product line, for instance by partnering up with MoonPay, adding Solana-based NFTs, and acquiring NFT aggregator Gem, among other initiatives.
How Does OpenSea Make Money?
OpenSea makes money from service fees. These fees are paid whenever a digital asset is successfully sold via the platform.
The service fee is equal to 2.5 percent. Meaning if an NFT worth $100 is being sold, then the platform gets to keep $2.50. The fee structure is in line with other competitors of OpenSea such as Magic Eden or LooksRare.
OpenSea provides its marketplace infrastructure completely free of charge. As such, it doesn't cost anything to list an NFT.
The marketplace's dominance arose from the easiness of usage as well as the low fees associated with it. New projects can be uploaded within a few clicks.
On top of that, OpenSea covers all associated gas fees, which in turn encourages both buyers and sellers to transact more often (and thus increases liquidity in the marketplace).
Additionally, the platform offers a vast array of categories to purchase from, ranging from trading cards all the way to domain names. This is largely in line with what other marketplaces, including Mintable or Rarible, offer as well.
Lastly, OpenSea has also been engaged with influencers and the blockchain community at large right from the get-go. Richard Chen, a General Partner at 1confirmation (one of OpenSea's first investors), said that the founders "did a great job living in Discords to discover new NFT projects."
The business model of OpenSea can be classified as an online marketplace. OpenSea acts as a (mostly) secure and reliable intermediary between buyers and sellers.
Buyers benefit from knowing that they receive authentic items. Meanwhile, suppliers can tap into a readily available pool of buyers, which drives up their selling price. As a result, the fees they pay are likely offset by the greater price that they can command.
Furthermore, OpenSea has added various measures to combat copying and thus protect the work of creators. In May 2022, for example, it added copy detection and verification features.
OpenSea Funding, Valuation & Revenue
OpenSea, according to Crunchbase, has raised a total of $427.2 million across nine rounds of venture capital funding.
Notable investors include Y Combinator, Andreessen Horowitz, Coatue, SV Angel, Founders Fund, and angels like Shopify founder Tobi Lütke, Mark Cuban, Tim Ferriss, and many others.
OpenSea is currently valued at $13 billion after raising $300 million in Series C funding, led by Paradigm and Coatue, in January 2022.
The company does currently not disclose any revenue figures to the public. It may do so during future funding announcements.
Who Owns OpenSea?
OpenSea, as previously indicated, remains in private ownership and is thus not obligated to disclose its ownership structure with the public.
However, it can be assumed that the founders still retain a large stake. After all, they raised the majority of their money at the absolute height of the NFT market.
This is supported by the valuation figures provided for its Series B and Series C round. OpenSea raised $100 million at a $1.5 billion post-money valuation (Series B) and $300 million at a post-money valuation of $13 billion.
This means that the firm gave up a combined 9 percent in those two rounds. Nevertheless, investors in its previous rounds probably were able to acquire a bigger stake due to less hype around NFTs and the crypto industry as a whole.
Andreessen Horowitz, which led two funding rounds, is likely OpenSea's biggest institutional shareholder.